What Are The 5 Most Comfortable Work Boots For Men?
Work boots and shoes are standard wear for many jobs – construction, manufacturing, and transport are just a few of the industries requiring such wear. Anyone who works on concrete all day knows that solid foot support is critical to performance.
The kind of slippery surfaces you'll find in a cannery, while working on a boat, or when moving freight require other features in a boot.
Many industries impose specific safety requirements when it comes to the kind of boots that their workers can select. Their primary consideration is safety, and rightly so. But how many employers also have comfort requirements?
Since those boots are going to be on a worker's feet for many hours on a daily basis, it's also obvious that comfort is going to be a very important issue when choosing a brand: what are the most comfortable work boots for men to buy?
Scroll down to read reviews!
Most Comfortable Work Boots For Men: Comfort….or Lack of Discomfort?
Ah, comfort…..what exactly does that mean when we're talking about work boots? Comfortable work boots aren't going to provide the same kind of comfort that bedroom slippers or house-shoes do. Maybe we should talk about the "absence of discomfort" in regard to anything you have to wear on your feet for 8+ hours a day.
The most comfortable work boots then will be those that don't hurt your feet while you're doing your work.
What kind of hurt are we talking about here? Well, basically there are three kinds of discomfort you want to avoid in selecting work boots:
Abrasion: Causing pain by rubbing against your skin or squeezing your toes;
Insufficient Support: It will makes your legs ache when you've been standing on a hard surface for a long time
 Painful feet are distracting and dangerous
It's important to emphasize that such discomfort on the job has all kinds of negative effects. Leg pain can move up into the back; once you've got a back condition, you're looking at long-term sick leave and expensive visits to physical therapists.
Something similar will happen with corns, bunions, fungus infections, and chronic blisters caused by your footwear. But it gets worse: painful feet and sore legs aren't just an inconvenient annoyance. They can be downright dangerous.
Constant minor pain distracts you when you need to focus on activity in the work environment, and that means you are putting yourself and others around you at risk. So it stands to reason that paying attention to comfort (or lack of discomfort) when choosing work boots is important.
Features that contribute to comfort
What do you look for in boots when it comes to ensuring your comfort at work? You obviously want them to fit properly, to be as waterproof as possible, and to be safe on the job.
But modern technology has developed some great new features in boots that go a long way to making it pretty easy to find a safe and comfortable pair.
A lot of research, for example, has gone into the lining of the work boot. You can find boots now with waterproof linings that allow you to work longer under wet circumstances. Nylon mesh lining works like a second sock, that "wicks" humidity and perspiration away from the skin.
The development of EVA (ethylene-vinyl acetate) has allowed the creation of soles that function as "shock absorbers" when working on concrete. Workers who must deal with electric currents can find comfortable steel-toe work boots that in fact do not contain steel: instead, the toes are reinforced with a special static dissipative substance. You can also find boots with dielectric and electric hazard outsoles.
Here are a few examples of work boots that can make positive contributions to that comfort factor.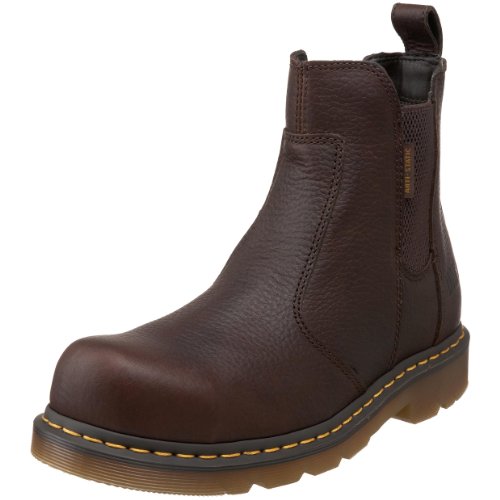 "Chelsea" refers to the style of this boot, which slips on rather than being laced up; special elastic sections at the ankles keep the boots snug while you're wearing them. The toe is reinforced with steel and meets all anti-static requirements for a work boot; some wearers may find that the interior rim of this reinforcement rubs against their toes, so be sure to try these on and wear them around the store for a while before committing to them. Special "PU" EVA footpads in the soles make working on concrete much more endurable; the pads can be taken out to prevent a build-up of moisture and bacteria. They also have a wicking lining.
You might also be interested in;
Dr. Martens Unisex WONDER BALSAM Gray Shoe Polish OS which is great for leather boots such those above.
Caterpillar touts these boots as specifically designed for comfort on the job. They have been specially contoured to fit the human foot, whether standing, walking, or moving more strenuously. The Diagnostic comes 200 grams of insulation plus a nylon mesh lining: your feet will stay warm in cold weather and dry in warm weather. The Diagnostic, like the Doc Martens Chelsea, have removable EVA inserts to absorb the stress of working on very hard surfaces. The boots are waterproof up to the ankle, which could be a drawback if you are working in particularly deep or grassy areas.
If you do not require a reinforced toe in your work boots, the Timberland PRO may be what you're looking for. The collar of this boot is padded, guaranteeing that above-the-ankle abrasion will not be an issue. The outsole is made of an oil-resistant rubber to cut down on the risk of slipping, while the nylon mesh lining has been treated with an anti-microbial substance to control odor and bacterial build-up.
Like the PRO Soft Toe, this style has the anti-microbial lining and slip-resistant rubber outsole. The steel toe-box provides an unusual amount of room, making them one of the most comfortable steel toe work boots for men. This toe-box makes the boot run a little wide for some people, so again, try them on and walk around in them a bit before buying.
Read our full review here of one of the most popular boots.
This is another soft-toe style, one that looks good in a variety of contexts.  This is a boot we have mentioned before so it's no surprise it makes our list again. The Raider's lace-up leather shaft is just 6″ in length, making it a little less intrusive at the ankle; the ankle has a padded collar for less abrasion. The "contour welt" in the name of this boot refers to the stitching, allowing the boot to bend at the same place the foot naturally bends and thus avoid repeated abrasion. They also come with a moisture-wicking lining to guarantee humidity control.
These are some of the most comfortable work boots for men available. They demonstrate that you don't have to compromise safety when you go for comfort.
For more information, feel free to visit the individual work boots reviews pages.