6 Best Work Boots for Landscaping
These Boots Were Made for Slogging
Having the right work boots just might be one of the most important things to consider if you plan on doing extensive landscaping. One of the first things you want to make sure of is that they are waterproof. Of course, they also need to be durable, comfortable and safe. Basic garden work boots may not be up to the rigors of everyday use, and the best boots for lawn care aren't always the best work boots for landscaping.
The correct footwear can reduce stress on your feet and prevent injuries. Breathable footwear cuts down on the possibility of acquiring foot odor, or even a fungal infection. Women's and Men's landscaping boots have different features, and it's important to get the proper fit to prevent calluses.
Scroll down to read reviews
Good work boots for landscaping usually meet certain safety requirements. Professional landscapers choose work boots that conform to the ASTM/ANSI standards for footwear. The Occupational Safety and Health Administration (OSHA) requires that every company assess the hazards of the job and develop guidelines for appropriate footwear.
We looked at reviews for many of the top sellers to find the best men's work boots for landscapers. We wanted to find out what qualities stood out among the best brands. Here are some of the criteria we used to make comparisons:
Durable but lightweight
Cushioned inside with a tough outer sole
Excellent grip and traction
Reinforced toes
Waterproof yet breathable
Ankle support and flexible fit
Safety certified
Best Work Boots for Landscapers
There are two basic models of landscaping boots, lace-up and pull-on. Some people prefer the lace-ups for a snug fit while others like the toe-to-calf waterproofing of the Wellington-style boots. We've narrowed it down to the top six, which includes three of each type. Price is also a consideration, although you can't really put a price on comfort and safety. Some reviewers report getting their money's worth from the high-end brands through years of use.
Affiliate links may be present throughout the Bestworkbootsideas.com site and we (the site owner) may earn a commission from any sales made from recommending products on this site at no extra cost to you.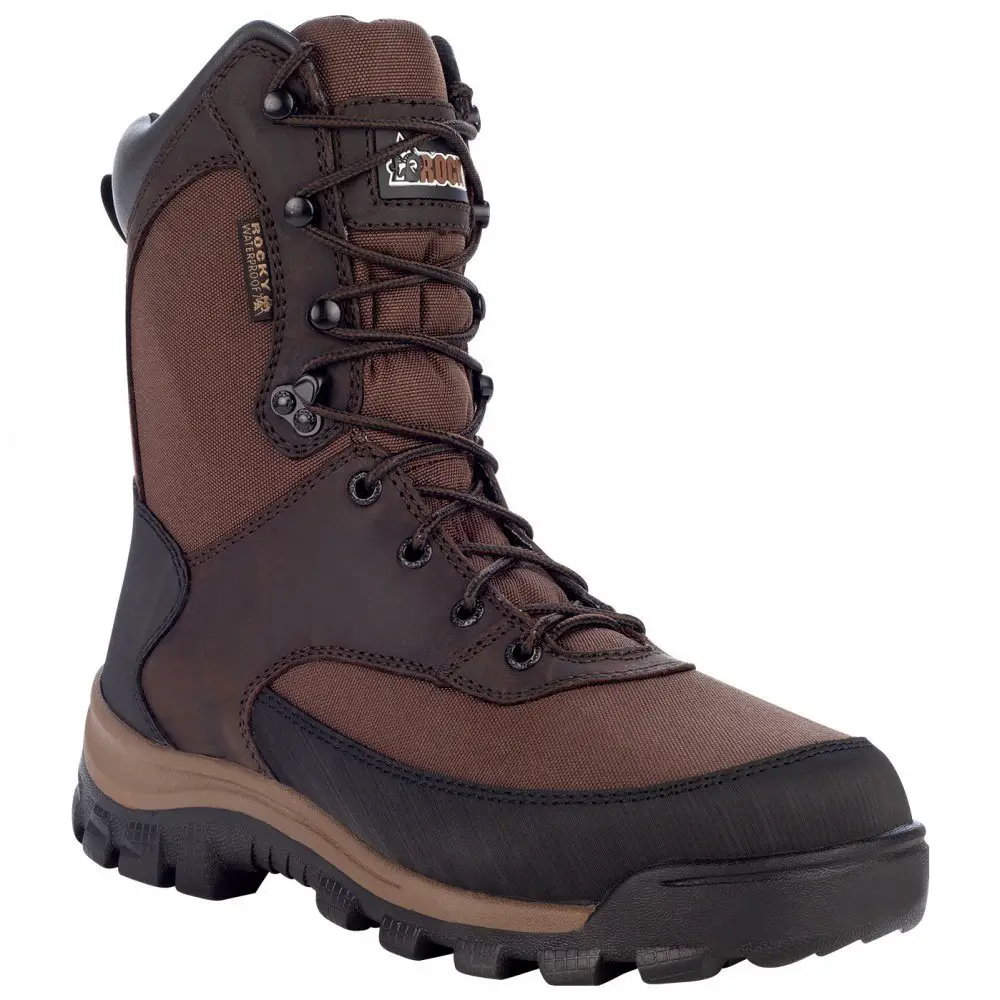 As the name indicates, these boots are both waterproof and insulated. Made with leather and heavy canvas, the lace-up boots have a rubber heel for gripping and a rubber toe to resist abrasions. The boots are insulated with 800 grams of Thinsulate, a compact and effective insulating material. They have rugged nylon laces that will withstand the elements and a padded collar for comfort. It is advised that women generally go for two sizes smaller.
Reviewers describe the Rocky Men's Outdoor Boots as warm, comfortable and waterproof, with a good fit. They are breathable and flexible, with hardly any break-in period, and keep feet dry in rain and snow. Wearers report that these landscaping boots have good traction, whether walking on gravel, muddy ground or wet pine needles. The top half of the boot has hooks for the laces, making them easier to put on and take off and it also has a removal footbed.
2. Danner Men's Vicious 8-Inch NMT Work Boot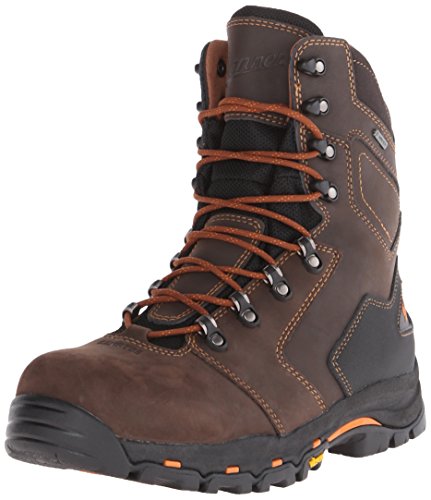 >> Check latest prices here <<
These landscaping boots are all leather and have reinforced metal grommets on the outside. They also feature the speed-lace system of hooks at the ankle instead of grommets. The rubber sole is designed to make them oil and slip-resistant using Vibram technology and are waterproof. These boots have extra room in the toe for compression when carrying heavy loads, and they have a non-metallic safety toe. The midsole is padded for comfort and shock absorption. The composite toe adheres to ASTM standard F2413-11 I/75 C/75 EH as well as Electric shock resistant heels and soles.
Wearers recommend ordering a half-size larger than usual, especially if you plan on using thick socks with them. The boots provide good traction on a variety of surfaces. These landscapers' boots do have a short break-in period, mainly because of the extra safety factor of the composite toe. The waterproofing works well, and several reviewers commented that they like the sporty look of the boots.
3. Chippewa Men's 8-Inch Waterproof Insulated Work Boot
>> Get latest prices here <<
These all-leather boots have a wicking lining to prevent moisture and are waterproof like the other two lace-up brands. They have reinforced grommets on the foot and easy to lace hooks on the ankle. Waterproofing is enhanced by an inner leather boot liner underneath the outer lace-up covering. Like the others, it has a thickly treaded rubber outsole and uses Vibram technology. Goodyear Leather Welt construction means you know they will be durable.
These high-end boots for landscaping are pricey and, as one reviewer put it, "you get what you pay for." The boots are durable, even under extreme conditions such as road salt and oil. This is truly an all-purpose pair of boots, and they are going to keep your feet dry if you slog through mud on a regular basis. The only drawback is that they do need to be broken in over a couple of weeks. After that, though, users report a comfortable and long-lasting fit.
4. Georgia Men's Giant Wellington Work Boot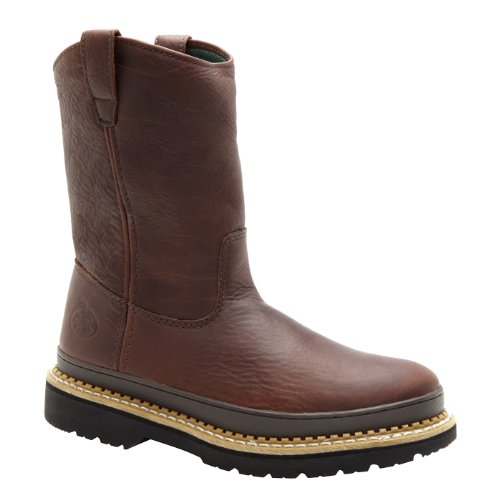 >> Find latest deals here <<
Although lace-ups are good boots for landscaping, some people prefer a boot they can slip on and off. Wellingtons are also the best bet if you plan on spending much time in standing water. They tend to have a higher shaft, like these 10-inch Wellingtons by Georgia Boot. The boots have a thick, rubberized sole and toe guard, along with a steel shank (the part of the boot between the insole and outsole).
Reviewers say that these boots are comfortable, lightweight and flexible. They do need to be broken in, but the boots are comfortable and, according to wearers, stylish and good looking. They can easily transition from work to play. The Giant Wellingtons run a bit large, and it is recommended that you order a half-size smaller than usual.
5. Carhartt Men's Rugged Flex Mud Wellington Work Boot
>> Get the latest deals here and here <<
The Carhartt Mud Wellington boasts insoles that have five layers of cushioning. Made of waterproof leather, the boots have thick rubber soles. The leather has a neoprene finish to repel mud and grime, and the midsole has extra padding for a comfortable fit. The inner breathable membrane helps keep feet dry in hot weather.
These boots also tend to run a half-size larger than expected, but not for everyone. If you find a good deal online, it might be a good idea to try them on in the store first. The composite safety toe has an ASTM 2413-11 EH rating that includes protection against electrical hazards. Wearers report that the waterproofing and insulation work well.
6. Irish Setter Men's Wellington Work Boot
A bit higher priced than the other two Wellington-style boots, the Irish Setter Wellies are good work boots for landscaping. They have shallow treads that tend to retain less mud and are easier to clean. Not everyone likes this, however, as some people prefer a thicker tread. With an 11-inch shaft, the boots provide a bit more coverage. But the calf sarea is somewhat narrow, so these wouldn't be a good choice if you have a wide foot.
These boots were originally sold by RedWing and wearers suggest adding RedWing boot oil to maintain the effectiveness of the waterproofing. The leather on these Wellingtons is soft and, although there is a short break-in period, they fit comfortably afterwards.
And the Best Work Boots for Landscaping Are….?
All of these brands are all well made, comfortable and suitable for landscaping. Among the three lace-up brands, we chose the Rocky brand as the best, in part for superior comfort and flexibility. These boots are also reasonably priced and should hold up well in landscaping conditions.
We selected the Carhartt boots as the best of the three Wellingtons for the same reasons, beginning with comfort and flexibility. They also have extra waterproofing and a high safety rating. Like the Rocky boots, we believe these are a good choice for all-weather landscaping boots.
There you have our recommendations when it comes to well-fitting, waterproof landscaping boots. Hopefully, these details will help you determine the best work boots for your unique needs.