Finding the Best Breathable Work Boots for You: 5 Top Choices of Footwear for Tough Jobs
Breathable work boots are one of the main features men look for when purchasing new work boots. Work boots need breathability for a number of reasons. Deterioration of fabrics such as leather often is contributed to non breathability. Swollen and achy feet are often caused by the lack of air in the boot. Comfort is associated with breathability. Work boots that have that breathability factor keep air circulating so sweat doesn't accumulate and more importantly last longer and wear better than work boots that don't have a breathability factor.
Besides breathability, what are some other factors to consider?
Scroll down to read reviews
Durability: How will the work boots stand up under various conditions?
Work boots made of durable materials that are waterproof and have air pockets can protect your feet from wet weather. Work boots with steel toes can be very heavy and uncomfortable but are sturdy enough to withstand heavy pressure and punctures. Work boots that use aluminum alloy have approximately the same strength as steel but weigh less. Boots made of leather with a rubber compound work better in rainy weather. Non-metallic work boots with nylon mesh and leather keep feet cool and comfortable on hot, sticky days. Composite toes made of a composite of materials such as kevlar, plastic, carbon fiber, fiberglass or other nonmetallic material are a good alternative work boot for security conscious environments.
Structural integrity is important. Work boots that last maintain their shape, but are flexible enough for breathability. Thick leather that hasn't been treated (full-grain leather) maintains its shape better than soft pliable leather. Genuine rubber resists slips better than synthetic rubber and lasts longer without losing its slip resistant properties. Steel re-enforced toes withstand compression pressure and puncture better than composite toes.
Comfort: What are the comfort factors for work boots?
The comfort factor is the biggest consideration besides the safety factor that most people look for in a work boot. Depending on the work environment, the best work boots are those that allow your feet to breathe. Hot weather boots are designed with lighter fabrics and materials that can regulate inside and outside temperature. Waterproofing is a key comfort factor if you plan to work in or near water. Air pockets and removable boot insoles make a difference in how comfortable your feet are. Boot design plays a key role in providing comfort. Thick, flat soles with reinforcements around key areas like the heel and toe when combined with extra padding in areas that rub against your foot are the ideal features in a comfortable work boot. Flexible rubber soles ensure that you won't slip and create a good support system for you. Cushioned insoles provide relief from common foot problems that occur while standing for long periods of time. Work boots that are lightweight take a load off your feet.
Safety: What is the best work boot for my occupation?
Construction workers that work with very heavy objects or are exposed to nails, glass and other sharp objects should invest in traditional steel toes that meet or exceed ASTM standards. Workers that are out in cold temperatures could look into composite toes that have the same protective features as the steel toes but are more lightweight and can insulate feet better. Composite toes are often the best bet when the work environment requires that you remain metal free. Welders and others who work around hot materials and falling embers need metalarsal guards to protect their upper foot and toe areas. Work boots with fire resistant kelvar material are what firefighters often turn to for their footwear needs. Rubber outsoles provide protection from slip and fall accidents and abrasion injuries. Workers in the industrial manufacturing industries that deal with hazardous materials need rubber outsoles that are slip and abrasion resistant especially when working in rugged terrains. Rubber outsoles with high performing Vibram® provide maximum traction on both wet and dry surfaces. Electricians and industrialists working with electricity should invest in work boots that are free of metallic substances and have a special conductive insole that repels static electricity.
Stability:How reliable are my work boots?
Stability in your work boot depends on its construction. A poorly constructed work boot will fall apart in three to six months. A well crafted work boot however can last you for years and years. How the work boot is constructed depends on weight, flexibility and performance.
Cement Construction – Work boots that have a cement foundation are firmly cemented to the upper sole of the boot and can't be re-soled. These boots are lightweight and flexible, but are subject to de-lamination over time.
Goodyear® Welt Construction – The upper and lower end of the sole is stitched together with a leather strip or welt. It is then stitched together through the welt which makes it more durable and easily re-soled
KEEN Utility Welted Construction – This new innovation combines the cemented toe surface while creating a flexible stability in the footwear by using the Goodyear® welt construction technique. Welders and other occupational workers that do a lot of bending and flexing their feet appreciate the stability with this new innovation.
Fit: How long will it take to break in my work boots?
The wearability factor of your work boot depends on the fit. If you get a work boot that is too big for your foot, you risk having it fall off at a critical moment or cause needless strain on your ankles and heels. If you get a work boot that is too small for your foot, you risk foot injuries. Soft pliable leather has a shorter time period of "breaking in" than thicker whole grain leather. Work boots that have pressure pads and cushioned insoles can decrease the break in time with some work boots having no break in time at all. You want to make sure the work boots don't pinch your toes and fit the contours of your foot.
Technology: What technology is out there to address common foot problems and how does it work?
Gore-Tex® fabric is designed for extreme breathability while keeping feet dry with their patented Gore-Tex® membrane. Work boots that contain this membrane wick away sweat and release moisture while keeping your feet dry. Thermolite®, Thinsulate®, Primaloft® and Smartwool® materials provide isolation from cold temperatures by utilizing a combination of natural materials such as fleece and shearling and recycled materials such as plastics. Alternate outsole materials such as thermoplastic polyurethane (TPU) and ethel-vinyl-acetate (EVA) provide lightweight cushioning and flexibility. This is essential for workers that are on their feet all day. AeroTek™, Maxum Lite and AeroGrip™ are outsole shoe designs that provide slip resistant safety. Otholite® uses a patented open foam technology with multi-layers of foot comfort to both support and maintain breathability. Pillow Cushion™ technology uses existing memory foam to create cushioning and comfortable support for feet. Cambrelle® linings offer abrasion resistance by using bi-component fibers that allow freedom of movement. Super fabric materials create a strong barrier to cuts, punctures and abrasions while remaining flexible. This material is used in the upper sole. Ion-mask™ technology with its new hydro management nano processes combines the breathability factor with the chemical resistant capabilities that hazmat teams look for in a work boot.
Style: Does my occupation affect what style of work boot I purchase?
Yes or No….? Yes, some hazardous occupations require a certain style of work boot. Steel toed work books are still the best work boots for construction workers that work around sharp objects and hazardous materials. Loggers and other tree experts require special features like a tall heel and a good quality shank in their work boots. Many of these steel toed work boots still have traditionally rounded toes and laced up uppers.
No, technology has made it possible for some construction workers to wear boots that look more like athletic shoes. Synthetic materials are being utilized for certain industries that are not normally hazardous and have been tested to withstand compression. Depending on your occupation, you may be able to get athletic looking shoes that handle electric shocks and are sturdy enough to wear at some construction sites.
An important thing to remember is that in every occupation, breathability is one of the key factors that most shoe and boot manufacturers should consider in addition to the other factors such as durability. The breathability factor is the key factor that makes the best work boots for sweaty feet.
There are five top choices for the best breathable work boots that meet or exceed the criteria we've set up.
 Our 5 Best Breathable Work Boots Reviewed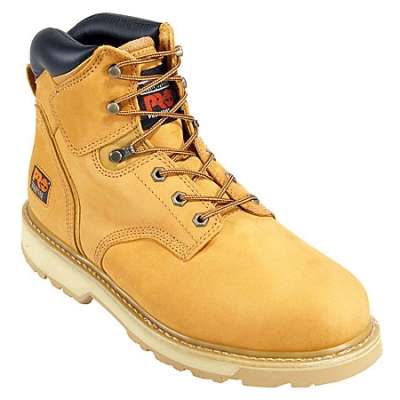 Timberland has been in business for over 30 years and has a good reputation for quality work boots.
a. Breathability: fabric lining with antimicrobial treatment for odor control
b. Durability: leather, cast metal top hooks
c. Comfort: open cell polyurethane foot bed and midsole, padded collar, removable sock liner
d. Safety: steel toe construction meets ANSI safety standards, anti-slip, oil and abrasion rubber outsole.
e. Stability: Goodyear welt construction
f. Fit: Two day break in period
Construction workers like this boot because of its durability and comfort. Customers thought that this boot held up very well in all sorts of situations on the job. Customers also tell stories of wearing Timberland boots for years.
Click here to read our full review.
>> Click Here to read customer feedback, specs and prices for the Timberland PRO Men's Pitboss 6″ Steel-Toe Boot  <<
---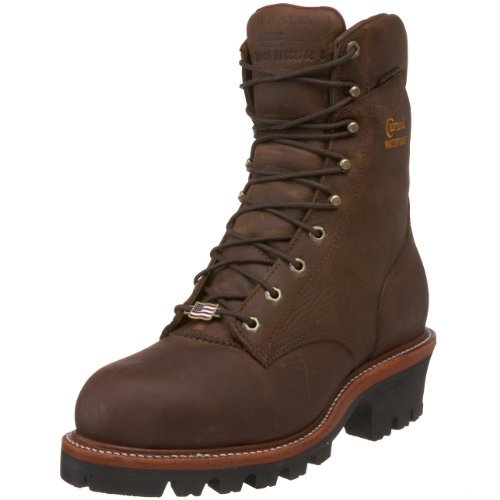 Chippewa has been making high quality boots since 1901. They pride themselves in creating top quality American made boots and shoes designed for loggers and other workers.
a. Breathability: Ruby Dri-Lex 2000 lining – Unique technology that distributes moisture to keep your feet dry and fresh.
b. Durability: Oil tanned full grain leather uppers, Vibram® synthetic sole. Waterproof using Chip-A-Tex technology.
c. Comfort: Chip-A-Tex waterproof booties, triple ribbed steel shank for ankle support, removable orthotic insole
d. Safety: Steel toe and electrical hazard tested. Adheres to ASTM F2415-05 and can withstand upto 18,000 volts.
e. Stability: Goodyear leather welt construction
f. Fit: Good fit
These boots have good durability and comfort. Most customers enjoyed the fact that they are American made and are of high quality materials.
>> Click here for Latest Prices <<
---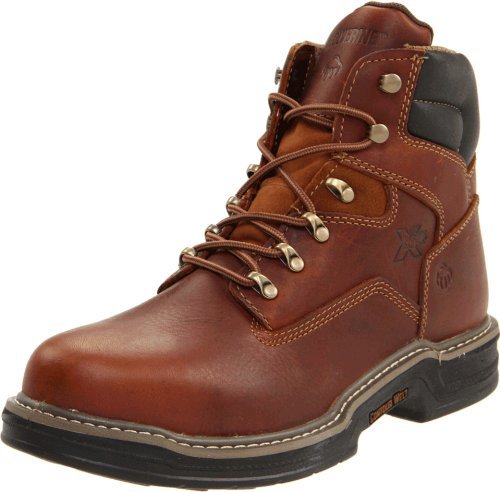 Founded in 1883, Wolverine has provided high quality footwear using hand crafted and innovative technologies for over 130 years. They strive to be the world's most comfortable boots.
a. Breathability: Moisture managing mesh lining
b. Durability: Full grain leather foot and shaft
c. Comfort: Padded collar, multi shock absorbing compression pads on outsoles, removable full cushion foot bed, nylon shanks
d. Safety: Rounded steel toe, rubber sole
e. Stability; Single stitched welt, contour welt construction
f. Fit: Minimal break in time
Customers liked the cushioned insoles and their durability. Most of the customers thought they were also very flexible and kept their feet nice and warm.
>>  Check the Latest Prices Here <<
---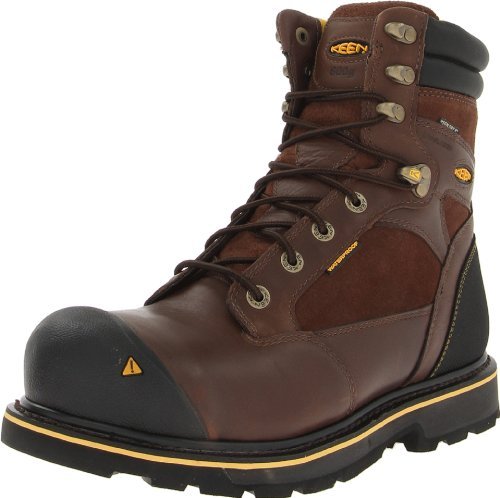 Keen is a very community and environmentally focused company driven to help nonprofits worldwide. Their dedication to serving others shows in the outstanding quality of their products.
a. Breathability: Keen Dry waterproof breathable membrane that releases heat and perspiration.
b. Durability; Waterproof nubuck leather upper
c. Comfort: Hydrophobic/hydrophilic 2-zone comfort technology lining and removable thermal heat shield footbed
d. Safety: Composite toe, meets ATSM standards for non slip (ASTM F1677-96) and electrical hazards (ASTM F2412-11 / ASTM F2413-11 I/75 C/75), oil and slip resistant non-marking rubber outsole,
e. Stability: Goodyear welt construction
f. Fit: No break in period, very comfortable
These work boots are stylish and comfortable. Customers who purchased these boots can't say enough about how sturdy and waterproof they are in the most adverse situations.
>> Click Here and Here for Latest Prices <<
---
Weinbrenner Shoe Company has been making quality boots since 1892 with the introduction of "jobber" boots. All of the Thorogood brand boots have been quality tested to meet and exceed domestic and international safety standards.
a. Breathability: Cotton drill vamp lining. A moisture management technology that allows the work boot to stay cool and fresh.
b. Durability: Oil tanned leather uppers and fiberglass shank
c. Comfort: Removable dual density Ultimate Shock Absorption insert, Poron 4000 comfort cushion.
d. Safety: Vibram® rubber wedge outsoles. Meets electrical hazard upto 18,000 volts. Slip resistant and adheres to ASTM F2913-11.
e. Stability: Goodyear welt construction
f. Fit: No "break in" period
Top quality USA made boots are hard to find. Most of the customers who review this product brought it because it was American made. They cited the quality in the product and loved the comfortable feel of the leather. They also thought that these boots were compatible to Red Wings pricier Moe Toe boots.
>> Click here to Check Latest Prices <<
---
Our Choice for the Best Breathable Work Boot Is?
It was extremely difficult to choose between the five listed here as the best breathable work boot. Timberland, Chippewa and Wolverine had the mesh lining which is proven to work to distribute air through the boot area. Chippewa, Thorogood and Wolverine had the Made in America quality to them. Keen's membrane was interesting, but looking at the five of them, the one that stood out was Timberland. Chippewa came in second place. Wolverine came in third and Keen came in third place. Thorogood came in last place because it was difficult to prove their breathability.
Timberland PRO series work boots has the breathability factor that people look for in their work boots. Yet again this boot has come up trumps. They provide the support and comfort that most people look for in breathable work boots. Timberland lightweight breathable work boots stand the test of time, which in our opinion makes them the best of the five breathable work boots we reviewed in this article.