Best Work Boots Ideas
Find your next safety boot
Buying Guides | Information | Tips | How To's | Product Overviews and more
---
---
Best Work Boots: What You Need to Know
So here's the scenario. You work in an environment where you are on your feet all day, maybe there is heavy lifting, walking or even running involved.
Maybe even all of the above!
Now when you do eventually finish your tiring shift, and get home, all you want to do is to put your feet up but can't because your feet are sore, bruised and in pain.
Sound familiar? Well hopefully by selecting the best work boots for your feet, you can be less harsh on them.
Great footwear is that which is comfortable whilst you work. Sometimes your workday can be unpredictable, and therefore you need work boots that are not only going to be untroubling but also last you a significant amount of time.
Good quality footwear should be seen as an investment and therefore area you don't really want to skimp on.
As you search through the many different brands of footwear, you want to ideally find ones that are made from high-end materials.
It's also important to wear them for their functionality since they are going to protect your foot as well as provide you with support for strenuous activities.
Regardless of what you do, you need to have a quality shoe – and often this needs to be a workboot above anything else.
Characteristics of Work Boots
The more you know about the various characteristics of work boots, the easier it will be to find the ones that will suit your needs.
You cannot simply go blind into the buying process and need to know how to be selective of the right product.
There are too many brands and models to simply choose a pair of work boots with your eyes closed.
Instead, you need to know how the various characteristics impact the boots.
Such characteristics include:
Outsole
Construction material and Durability
Lace-up
Insulation
Breathability
Waterproof / Water Resistance
Each of these is important to consider on their own…
The sole is typically going to be made of rubber.
It has a very distinct heel and some may have a greater tread on them than others.
This is to protect the boot from slipping if you work with chemicals or in an environment where there is a risk of slipping.
If you are going to be working outdoors or in an area where there are slippery surfaces, you want a tread that will keep you steady.
If you work in environments where there is high heat, an outsole that is heat resistance will be required.
This is ideal for occupations such as Welders.
As the sole starts to wear down and you lose the tread, it's time to start looking for a new pair.
As for the construction material, it is usually going to be made of leather.
The leather is often treated to a suede or with rubber protection in order to make it easy to clean.
If you are going to be working in areas where your boots are going to be exposed to dirt, paint, or various other elements, you want to be able to clean off your boots with ease.
Generally, a good wipe down with a clean cloth should do the trick.
Additionally, the construction material needs to be considered because this is going to help you determine how long your boots are going to be around.
If the boots are made up of vinyl, cloth, or some other material, you may find that you are replacing your boots far more than you would prefer.
Again the choice will be determined by your line of work and how you use the shoes on a daily basis.
Another common characteristic of work boots is those that lace up.
If you find a zip up work boot, you aren't going to get the same rugged fit that you would otherwise get.
Even within the laces, you need to look at whether the shoelace is capable of holding a strong grip.
The eyehole and shoelaces should also need to be looked at to ascertain whether or not the constant abrasions wear the shoelaces out.
Most of the work boots have a corded lace to ensure the knot stays in place – otherwise, you may spend too much of your work day re-tying your shoes.
Finally, you want to look at insulation.
This may be one of the most important characteristics of work boots for you, based upon where you live.
If you live in colder elements, you need the insulation to ensure that your feet stay warm, thus your whole body keeping warm.
However, if you live in warmer elements, you may want to avoid the insulation because your feet may get too hot and sweaty which could lead to an unbearable workday.
What you want are work boots that are breathable and allow the moisture to leave the feet yet keeping them protected from water.
This is just a guide so please evaluate your working conditions and environment and not the weather first.
Each and every boot has a different list of characteristics so ideally, you should take the time to understand what characteristics are important to you.
Do you need them to be waterproof?
Do you need them to last a long time?
Do you need them to protect you from heavy falling objects?
Take a look at the kind of work you undertake on a daily basis and this should help you to prioritize and decide on which features are important.
There are plenty of boots on the market, so you will never have to settle with anything that you are not entirely happy with.
As with any brand, there are pros and cons of each.
For example, you may find that one brand is significantly more expensive than another.
However, if that brand also is highly durable, it may be worth buying it.
If you spend $150 on one pair of boots that lasts two years, it is actually the more affordable boot in comparison to a $50 pair of boots that you have to replace every six months.
When Work Boots are Used
You have to look at when workboots are going to be used.
You may use them in construction, home renovation, agriculture, forestry, culinary purposes, or even hunting.
Ultimately, there is no industry where you cannot wear work boots.
Some office individuals even prefer to wear this type of footwear simply because they never know when work is going to take them out into the field.
Any time there is a lot of walking, lifting, or general work, it can be advantageous to be wearing strong footwear because of the support it offers.
Some of the most popular industries that use workboots are those in the construction, engineering and emergency services.
Even the army is a good example of where you would wear specific footwear.
Even if you don't work in one of these areas, you can still benefit from a solid workboot.
Simply take a look at the footwear you're wearing now and ask these questions:
Do you need more support?
Are your feet protected?
Are the shoes comfortable?
Are your shoes strong enough to withstand the elements you expose them to?
Are they properly insulated?
Once you provide honest answers to these questions, you can then start to really understand what you need.
If you go on any of the workboot websites, you will find that no one limits them to a particular industry simply because anyone and everyone can use them.
There are even some students who choose to wear them into the classroom because they like the aesthetics.
In fact, they are even considered trendy and very fashionable. It's ironic how you don't need to even wear work boots to work!!!!
Buying for Men vs. Women
One of the most common issues with buying work boots is trying to find women's boots.
As much as there is talk about equality and there are plenty of employers who will hire a female worker, it's almost impossible to find footwear for women that have the same variety as men's.
This begs the question: What is the difference between work boots for men and women?
The honest truth is that there is no difference, except for the size and in some cases the color.
If you're a woman and searching for a good pair of work boots that you can wear on a work site, you don't have to search all over kingdom come in order to find a pair that you are happy with.
You'll probably end up looking for a very long time if you insist on finding workboots specifically designed for women. 
We are well aware that the ratio of work boots available for women compared to Men is huge.
We would definitely like to see a much bigger selection of choice for women but this is ultimately down to the manufacturers.
The good news is, you can find plenty of work boots for men.
Don't get hung up on the fact that they are made for men as they'll fit your foot in a similar fashion.
You simply need to know how to choose the size that is right for you.
If you buy shoes that are too large or too small, it's ultimately going to cause you a lot of pain or prevent the necessary protection.
The best way to figure out whether the shoes are going to fit or not is to make sure that you are buying the right size.
The conversion between men's shoe sizes and women's shoe sizes is relatively simple.
If you take a women's shoe size 10, subtract two sizes and you will look for a men's shoe size 8.
It is important to know that sizes are going to vary from brand to brand.
This means that you may wear a men's shoe size 8 and one brand and a 9 in another.
If you purchase online, you simply want to find a store that offers a conversion or that has a great return policy so that you can make a return and ensure that you get the best possible fit.
If you already have past experience on certain brands, then even better as you are already au faix with the fit.
Brands That Specialize in the Best Work Boots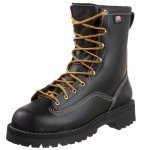 There are a lot of different workboots in today's market.
The more you know about the different brands, the easier it will be to search for ones that are going to meet your needs.
Many people find that they continue to go back to the same brand over and over again because they've had an excellent experience.
This could be down to a combination of fit, functionality and price.
You may find that one brand offers boots around the $75 point while others are $200+ or more but provide you with features that you want.
As long as requirements are met, you also tend to find that you will be happy to pay a little bit more for quality.
Who wants to purchase a low-quality product and risk harming your feet?
Everyone has different needs and different price points – which allows you to find a brand ideal for you and your needs!
Some of the top brands that you will find in today's market that offer work boots include:
Timberland – Timberland boots are known for being affordable and rugged.
Caterpillar – Caterpillar boots are known for being quality boots that can last a long time.
Keen Milwaukee – Keen Milwaukee has many models and are durable for many years.
Carhartt – Carhartt is known for being high-end and can double as a dress shoe.
Danner – Danner is often seen as the epitome of the work boot and are highly durable.
Wolverine – Wolverine boots are weatherproof, waterproof, and available in many styles.
Haix – A brand that specializes in boots for the rescue services.
These are just some of the top brands that you will find offering workboots.
Depending upon the industry that you work in and the characteristics that are important to you, you may find that one brand is better suited than another.
For example, Timberland is popular with those who work outdoors while Carhartt provides a more professional look.
Ideal for those who work in the office and need to go on site periodically.
Reading reviews of the different brands and understanding the various models that exist will help you to choose which one is going to be right for you.
Take a look at each of the brands and see which ones fit your price range and which ones do not.
If you cannot afford $300 pair of boots, there is no reason looking at that particular brand.
Work within your budget and then start to choose based upon all of your needs.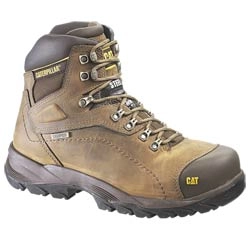 One of the easiest ways to find a pair of correct footwear through the many different brands and models is to make a list.
Grab a piece of paper and a pen and start making a list of each and every characteristic that you absolutely need.
This may include color, sole material, the height of the boot, insulation, and various aesthetic qualities.
Once you have a list of what you need, it will be easy to find the right boots.
If you find a pair that doesn't have everything that is on the list, you can cross off and move on to the next one unless you are happy to compromise.
The best workboots are out there, you simply need to find which ones will work for you.
There is sadly no 'one work boot fits all'.
The term 'best' is very subjective.  It's like asking the question 'What's the best restaurant?', or 'What's the best food?'. 
The answer is usually, 'it depends'.
Similarly, with work boots, the best work boot will be that which addresses the requirements of the problem or occupation.
Take the time to make some comparisons and then shop a few different online stores to ensure that you obtain the best price possible.
When you have better workboots, you will find that you are more comfortable throughout the day and can protect your feet against a variety of different work situations and weather conditions.
This site provides plenty of information, buying guides and reviews to help you make an informed choice.
All the best with your search.