Are Doc Martens the Snowy Day Saviors?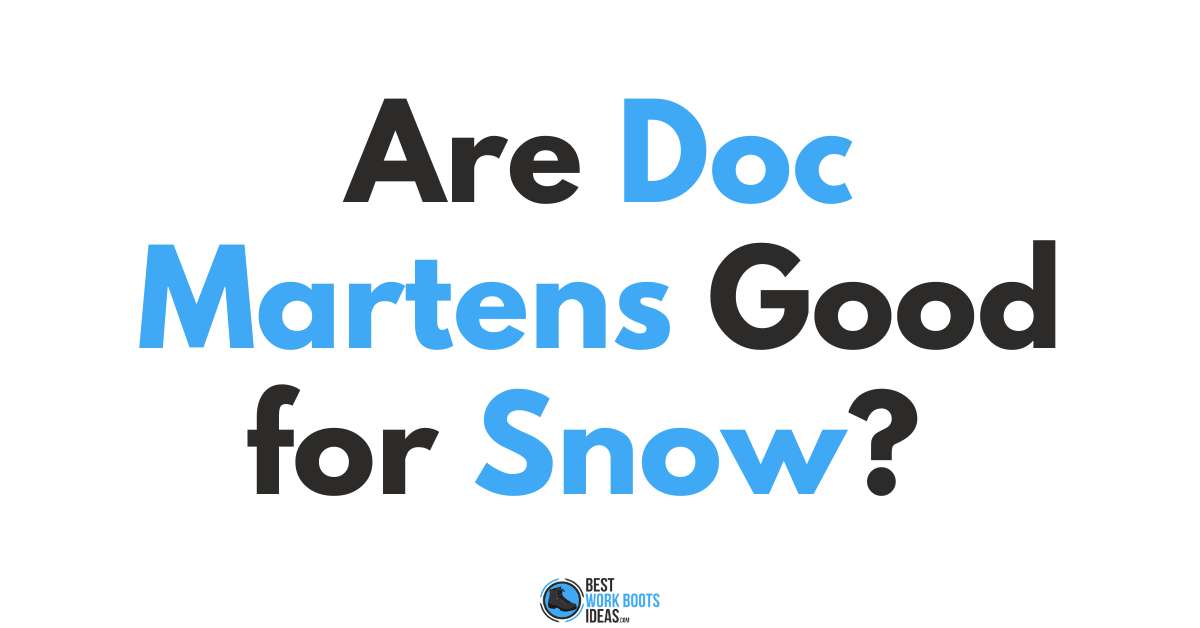 A Frosty Question: Are Doc Martens Good for Snow?
They can be dependent on the model and how you prepare them. 
The classic leather Docs are not designed specifically for snowy conditions as they lack insulation and their soles may not provide the best traction on icy surfaces. 
However, with a pair of thick socks and some waterproofing spray they may hold their own against a light snowfall.
What Do I Know?
You might be wondering why you should listen to me ramble about work boots in the snow. 
I've spent years studying and wearing footwear, specifically safety boots and have had my fair share of tumbles in slippery weather just so that you don't have to.
My expertise lies in understanding what makes a boot suitable for different environments such as a construction site or a snowy sidewalk. 
I've written extensively about this topic on this website where I dive deep into questions just like this one.
What Lies Ahead
In this article, we're going to dig deeper into our frosty question. We'll look at:
The issues with using Doc Martens in the snow.
The consequences of wearing unsuitable footwear in wintry conditions.
Solutions to make your Docs more winter-friendly.
Comparisons with other popular boot brands like Timberlands.
So buckle up! It's time to step into the world of work boots in winter.
The Issue: Doc Martens vs Snow
Doc Martens are iconic boots known for their durability and style. 
However, they were initially designed as work boots and not winter boots. 
Air-cushioned soles provide excellent comfort but may lack grip on icy surfaces compared to specialized winter footwear.
While Docs are made from high-quality leather that offers some natural water resistance, they aren't fully waterproof or insulated which is crucial when dealing with cold temperatures and wet conditions that come with snowfall.
There are a few specific boots such as the 1460's and several other winter boots that may be able to handle some light snow, but if you're working in the snow then probably not a good idea to go for the Docs. Sorry!
Professions That Demand Snow-Ready Work Boots
There are several professions where having work boots designed for heavy snow conditions is not just a luxury, but a necessity. 
Let's delve into a few of these.
Construction Workers: Construction doesn't stop when the snow starts falling. 
Workers in this industry often find themselves on job sites exposed to the elements, including heavy snow and ice. 
For them, insulated, waterproof boots with high traction soles are crucial to keep their feet warm and prevent slips and falls on icy surfaces.
Snow Removal Crews: This one's a no-brainer! 
Those tasked with clearing our roads and sidewalks of snow need boots that can stand up to hours of trudging through deep drifts. 
These workers need boots that offer maximum insulation and waterproofing, along with soles designed for maximum grip on slippery surfaces.
Utility Workers: Whether it's power line technicians or telecommunications workers, these folks often have to work in all kinds of weather to keep our essential services running. 
In snowy conditions, they need boots that can keep their feet dry and warm while also providing the safety features required by their job like electrical hazard protection.
Outdoor Recreation Workers: Think ski resort employees or park rangers who work in snowy regions. 
They spend long hours outside in cold temperatures and need footwear that offers excellent thermal insulation, water resistance and comfort for long wear times.
In all these professions, safety, warmth, comfort and durability aren't just desirable boot features but absolutely essential! 
Choosing the right winter work boot can make the difference between a productive day at work or one filled with discomfort (or even potential injury).
Consequences of Wearing Unsuitable Footwear
Wearing unsuitable footwear in snowy conditions can lead to several problems:
Slips and Falls: Without proper traction, you risk slipping on icy surfaces.
Cold Feet: Lack of insulation means your feet will get cold quickly.
Water Damage: Non-waterproof shoes can get damaged by moisture leading to shorter lifespan.
These issues aren't just uncomfortable; they could potentially be dangerous too!
Solution: Making Your Docs Winter-Friendly
| | |
| --- | --- |
| Features | Benefits |
| Waterproofing Spray | Protects your boots from water damage |
| Thick Socks | Keeps your feet warm |
| Traction Pads | Provides extra grip |
By applying a waterproofing spray regularly, you can enhance the water resistance of your Docs significantly making them more suitable for light snowfall days.
Pair them up with thick woolen socks which act as an additional layer of insulation keeping your feet cozy even when mercury dips low.
For those particularly icy days consider adding slip-on traction pads which will give you that much-needed grip reducing chances of slips and falls significantly.
Nuances and Details
While these solutions can make your Docs more winter-friendly, remember that they still won't perform as well as dedicated snow boots. 
This is especially true during heavy snowfall or extremely low temperatures since they were originally designed as work boots and not winter ones!
Also keep in mind that sizing plays an important role here too! 
If you're planning on wearing thick socks, ensure your Docs have enough room because Doc Martens don't run big.
And if you're looking for alternatives then Timberland's might be worth considering. 
This is because some models are designed specifically for snowy conditions offering better insulation and good traction right out-of-the-box compared to classic leather Docs. 
Remember though every foot is unique so always choose what feels most comfortable and safe for yours!
What Should I Look For When Buying Snow boots?
If you're considering buying a pair of boots for snow, then the table below should give you a good idea of what to look for.
| | |
| --- | --- |
| Key Features | Benefits |
| Waterproof Material | Keeps your feet dry, preventing cold and dampness from seeping in. |
| Insulation | Provides warmth in cold/winter weather, keeping your feet comfortable even in freezing temperatures. |
| High Traction Soles | Prevents slips and falls on icy or snowy surfaces, ensuring safety while walking or working. |
| Durable Construction | Ensures the boots can withstand harsh winter conditions without falling apart. |
| Comfortable Fit | Allows for long hours of wear without discomfort, which is crucial if you're working long shifts. |
| Roomy Toe Box | Accommodates thicker socks for added warmth without squeezing your toes. |
| Breathability | Prevents sweating and overheating, which can lead to cold feet in freezing temperatures. |
Work Boots for Snow to Consider
Below are some work boots to get you started;
Timberland PRO Men's 6″ Pit Boss Soft Toe: These boots come with Timberland's signature waterproof leather upper and insulation, providing excellent warmth in cold weather. We're big fans of this boot so please feel free to read our dedicated article on this boot.
Carhartt Men's 10″ Waterproof Insulated PAC Composite Toe Boot: These boots offer superior warmth with their 1000 LiteFire insulation and have a waterproof membrane to keep your feet dry.
Wolverine Men's I-90 EPX BOA CarbonMax 10 Inch: Known for its durability, this boot also features a waterproof leather upper and moisture-wicking mesh lining, making it an excellent choice for snowy conditions.
KEEN Utility Men's CSA Philadelphia+ 8″ Thermo Waterproof Work Construction Boot: This boot is equipped with KEEN.WARM insulation (rated to -40°F / -40°C), making it perfect for those working in extremely cold environments.
Striding into the Snow: A Doc Martens Summary
So, are Doc Martens good for snow? 
Yes and no. 
Although they're not specifically designed for snowy conditions, they can certainly handle a light dusting with the right preparation.
However, if you're planning to walk through heavy snowfall or icy terrain then you might want to consider boots specifically designed for these conditions.
Remember that while Docs offer durability and style in spades, their classic models lack the insulation and grip needed for harsh winters. 
With some waterproofing spray, thick socks and traction pads you can give your favorite pair a winter upgrade.
Don't forget about sizing.
If you plan on layering up those socks for extra warmth then make sure your Docs have enough room. 
If you're looking for alternatives that are ready to tackle the snow right out of the box then Timberlands might be a good alternative.
So while Doc Martens can be made more winter-friendly with a few tweaks here and there,  remember they were originally designed as work boots so tread carefully when it comes to icy conditions!