What are the 5 Best Slip On Steel Toe Work Boots for Your Feet? Our Choices for You + FREE Buyer's Guide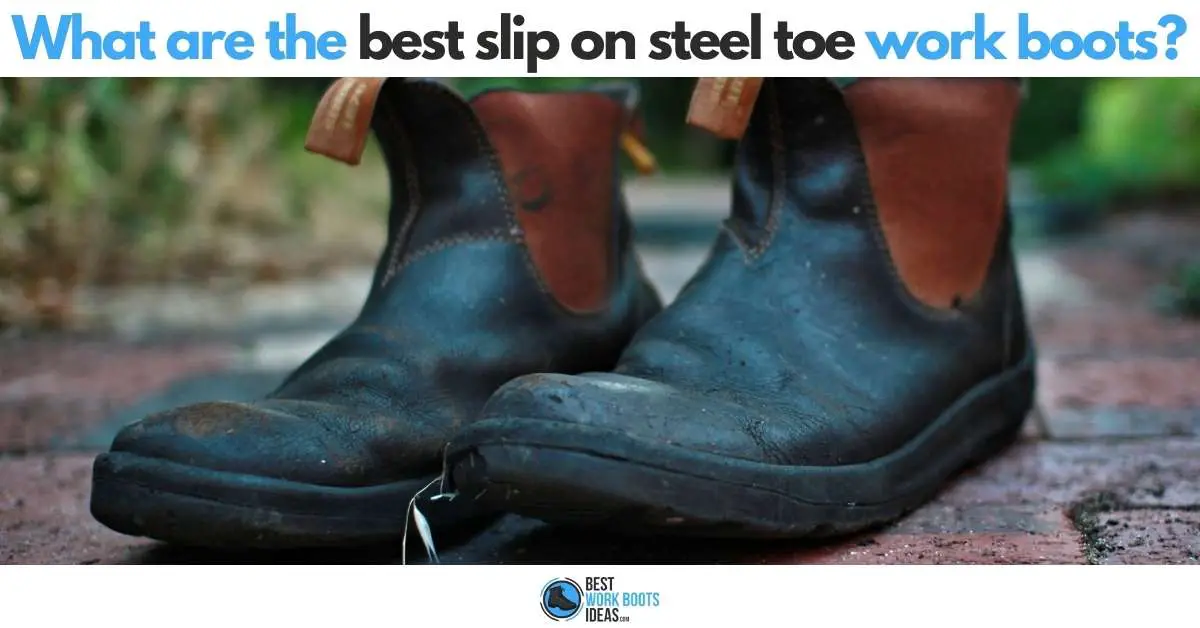 Sometimes you need the protection of a safety toe work boot and the convenience of a slip on shoe at the same time.
In this situation it's perfect to have a slip on steel toe work boot ready to use. 
I don't think this is what they were talking about when they said "there's a shoe for every foot," but the shoe fits in this instance. 
Okay, I'm done making shoe puns by using shoe-related proverbs, but I'm just starting to get into everything you need to know to find the best slip on steel toe work boots.
Read on
Slip On Steel Toe Shoe Features to Consider
There are features that make for a particularly good pair of slip on work shoes. 
I would know, as I used them for many years. 
I had a contracting business that specialized in interior, finish carpentry. 
This meant that I spend a substantial portion of my time walking around the inside of someone's finished home. 
In most cases, they had been living there long enough that it was their home and not just some house. 
Some of you reading this are already aware, when you show up on a Monday morning and they're living their life, there's a bit of discomfort as they let you in.
The last thing I ever wanted to do was get their home dirty. 
Everyone's polite and says you can leave your shoes on, but they're so much happier when you take them off. 
If I had to lace and unlace boots all day, I never would have gotten anything done.
Slip on work shoes present the ability to be courteous to your customers while maintaining a respectable level of protection for your feet. 
Let's check out some of the features that you should look for when shopping for a pair of slip on work shoes.
Slip Resistance
Slip resistant outsoles make sure your boots maintain contact with the ground. 
The last job I did, it rained and snowed the entire week I was there. 
This is important to know because their driveway was oil-leaking asphalt, their walkway was mossy slate, and their entry was a painted wood porch with mini-sheets of ice on it. 
It was a collection of the most slip-encouraging surfaces found in residential construction.
The slip resistant outsoles kept me on my feet that whole week and allowed me to finish the job, intact.
Waterproof
Waterproof shoes make for happy, healthy feet. 
The whole, keeping your client's home clean, thing doesn't work if you take your shoes off and your socks are soaked. 
Besides that, keeping your feet and shoes dry will make sure they don't start to stink…or worse
Don't assume it's waterproof, make sure there's a guarantee in the product description. 
You'll probably want to grab something made of a full-grain leather, a waterproof membrane, or a mixture of the two
Remember that there's a difference between water-resistant and waterproof work boots.
Flexibility
Being able to get around with ease is one of the best aspects of slip on work shoes. 
If you're trading off the level of protection that you get from full size, laced work boots, make sure you're getting something in return for it. 
Look for shoes with cement and direct attach outsole construction methods. This will help you avoid problems that arise from rigid footwear. 
Shock Resistance 
Reduce the amount of stress your body is under by getting slip on shoes that feature at least some form of shock resistance.
Shock resistant features can be found in the outsoles, midsoles, insoles, footbeds, or in patented designs particular to a brand, so there's no "correct answer" with shock resistance.
I suggest you just read the descriptions and look for EVA (ethylene vinyl acetate) or PU (polyurethane) midsoles, memory foam insoles, or something that speaks about limiting shock.
Buying Guide Feature Overview
Slip Resistance – remain upright even on treacherous terrain
Waterproof work boot – stay high and dry
Flexibility – get around with ease and prevent fatigue
Shock Resistance – limit the stress on your feet and knees
Our Top Picks
The Florsheim Coronis push the limits on fashion within the work shoe world. 
These handsome slip on work shoes are made of genuine leather and feature a steel toe cap that keeps your feet protected while you walk on the job in style
The liner is made of microfiber suede to limit any blistering that could occur over the course of your work.
The Coronis come with a padded insole that features the Florsheim Comfort Gel Heel that is anatomically designed to limit the levels of physical stress you'll experience. 
Slip resistant outsoles adhered with a traditional Goodyear welt construction ensure stability and reliability for the entirety of the time they're in your possession.
Pros
Slip resistance
Shock resistant 
Fashionable
Durable
ASTM 2413-18 I/75 C/75
Electrical Hazard protection (EH) Rated
Cons
Not waterproof
Poor flexibility
Model Number/SKU: FS2006
Substance and style are both present with the Twisted X Chukkas. 
These Moc Toe slip ons feature exteriors made from rubber-coated full-grain leather.
This gives the Chukkas waterproof capabilities from not one but two exterior materials.
Just underneath is a steel toe cap to keep you protected, even though you wouldn't guess it's there from looking at them.
The Chukkas offer their patented SD footbed that is moisture-wicking, machine-washable footbed that keeps your feet dry.
Beneath that is their composite XD insole that provide comfort and stability
Keep moving down and you'll reach their molded rubber Twisted X outsoles. These outsoles are both oil and slip resistant. Even better, they're cemented to their uppers so you'll get peak flexibility from these slip on shoes.
Pros
Slip resistant
Waterproof
Flexible
ASTM 2413-18 I/75 C/75 Rated
Cons
Model Number/SKU: MDMST03
A familiar name for heavy machinery, CAT is there for your feet too!
The Concludes are built with full-grain leather uppers that are as durable as they are handsome. 
With a static dissipating steel toe, wearing these will limit your static charge at the same time you keep your toes safe from any falling objects. 
Their nylon mesh liners are breathable in addition to being very comfortable.
The footbed is made of EVA for shock absorption and is removable, allowing you to wash it whenever the need arises. 
The Concludes' T963 outsoles are made of slip, oil  and abrasion resistant rubber outsoles that will give you a grip and prevent any slips. They're constructed using a cementing method that also delivers flexibility when you need it most.
Pros
Slip resistant
Flexible
Breathable
Moderate shock resistance
ASTM F2413-11 I/75 C/75 rated steel toe
Cons
Model Number/SKU: P90098
The Eagle Ones combine the strength of full size boots with the convenience of slip ons.
Working from the outside in, the Eagle Ones have full-grain SPR leather exteriors. Beyond that, the exteriors are also reinforced with the Georgia waterproof system, ensuring your feet stay dry. 
Just like any respectable work boot, they feature a steel toe cap that meets ASTM standards for impact and compression. 
Get ready for comfort and shock resistance as the Eagle Ones come with an AMP (advanced memory polyurethane) insole, as well as an EVA midsole that will provide your body with two layers of protection before any shock waves ever reach it.
Making our way down, these slip-on work boots (unlike many) come with a TPU (thermoplastic polyurethane) shank that provides further support without the limitations in mobility seen with steel shanks.
Now we're out to the outsoles. Made of rubber, these beauties are slip, oil, heat, chemical, and abrasion resistant.
There's no terrain to fear when you're wearing the Eagle Ones
Pros
Highly shock resistant
Flexible
Waterproof boot
ASTM 2413-18 I/75 C/75
Electrical Hazard (EH) rated
Slip resistant 
Cons
Model Number/SKU: GB000337
The Florsheim Wilys will have you prepared and protected.
Genuine black leather exteriors are durable and polishable. Under that you're kept safe with an ASTM rated steel toe just as you'd find in your regular work boots.
The liners are constructed with a moisture-wicking nylon mesh, so any moisture produced during the course of work will be drawn away so your feet remain dry. 
The Wilys provide shock resistance with a removable EVA cushioned insole (footbed) and the Florsheim Comfort Heel to limit the stress on your feet that comes from a full day of work. 
PU outsoles take shock resistance further and their direct-attach construction ensures that you remain mobile and agile throughout the day. 
Pros
Flexible
Moisture-wicking
Shock resistant
ASTM 2314-18 I/75 C/75 rated
Cons
Not waterproof
Not slip resistant
Model Number/SKU: FS208
Our Choice
The Georgia Boots Eagle Ones delivered features that went far and above the competition.
As would be expected, it's difficult to provide the same features in a slip on as you would find in a traditional work boot. 
I outlined a number of features in the beginning, and wasn't even sure if I would find any product that delivered them all.
I was pleasantly surprised to see that Georgia Boots is delivering a well-rounded catalogue and didn't skimp when it came to slip-ons
So there you have it. What we think are probably the best slip on steel toe work boots.
If however, you feel you want to look at a different safety toe type, then you might be interested in a composite toe or alloy toe boot.