How Do I Choose the Best Pull On Work Boots? FREE Buyer's Guide + 5 Choices to Get you Started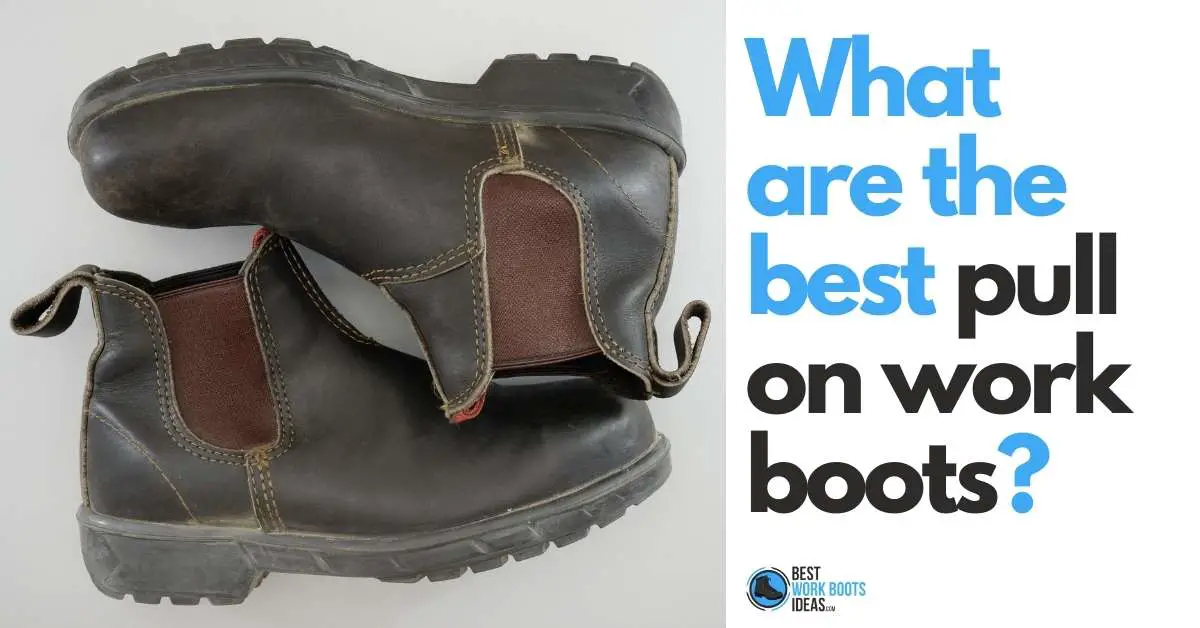 Not all great boots share the same style. Nowhere is this more true than with pull on work boots. 
Although many work boots you see are laced, there's a reason why pull on work boots still exist. They have abilities and features that simply can't be matched by their laced cousins. 
That said, it's not simply the style that makes a pair of boots great, it's the care that goes into manufacturing them.
Today I'm going to go over some of the best pull on work boots available on the market.  
Pull On Work Boot Features to Consider 
Anyone trying to find a new pair of pull on work boots probably works in conditions that many people would consider treacherous. 
Regardless of your working conditions, it's possible to limit the risk and discomfort by showing up each day in a pair of boots designed to handle everything that you do. 
Here are some features common to pull on work boots that are worth looking into before you pull the trigger and make a purchase you might regret. 
Shock Resistance
Finding a pair of pull on work boots that resists the shock to your feet and legs is definitely desirable. 
It doesn't have to be a huge height you're jumping from, simply slamming down on your feet all day can lead to injuries that make work miserable or impossible. 
One of the less desirable aspects of pull on boots is that they are generally less supportive.
Fortunately, there are a number of ways that manufacturers have mitigated this design flaw. 
There are out-, mid-, and insoles that offer shock absorption so you don't feel every step. 
Add a cushioned footbed and you can negate all the negative effects you might associate with pull on boots in the past.
Waterproofing
If you're looking for pull on work boots, waterproof was probably the next word in your mind. 
It's important to make sure that you find a pair that offers a waterproof guarantee as soggy feet can lead to serious problems like trench foot.
Fit
If you want to know how pull on work boots should fit then we have written an entire article on this.
Be sure to have a read.
Breathability
Nothing smells good that doesn't get fresh air. Add heat and moisture to the situation, and you could be asking for skin and fungus problems. 
Don't assume that a boot can only be waterproof or breathable, technology has advanced so you can have both. 
Seek it out, your feet, and significant other will thank you 
Pull Tabs
This may seem like a non-issue, but you need something to hold onto when pulling on boots.
I can speak from personal experience on this. I would pinch and pull fasteners from wood instead of going to grab a pair of vise-grips, I'd end up throwing my hand braces on at night because the muscle was twitching from irregular amounts of use. 
This is the exact same motion as trying to pinch the collar of a boot while pulling it on. Do yourself a favor, get boots with decent pull tabs.
Buying Guide Feature Overview for Pull On Work Boots 
Shock Resistance – Limit the shock waves running through your feet and legs 
Waterproofing – Keep your feet dry so work doesn't become uncomfortable and painful
Breathability – Prevent odor and fungus from developing on your boots and feet
Pull Tabs – Limit the amount of physical effort it takes to put your boots on
A pair of comfortable work boots are something we would look for as a standard feature.
Affiliate Disclaimer
Affiliate links may be present throughout the Bestworkbootsideas.com site and we (the site owner) may earn a commission from any sales made from recommending products on this site at no extra cost to you.
Our Top Picks
Rocky RXT 11 Inch Pull-on Waterproof Composite Toe Work Boot
The Rocky RXTs take us out of the gate with an impressive array of features. 
The exteriors are 100% waterproof and with their cast Polyurethane (PU) construction they offer exceptional abrasion and tear resistance. 
Besides their waterproof capabilities, the RXTs come with the Rocky Pass breathable lining that allows for sweat and moisture to escape your boots. This ensures your feet will stay dry regardless of where the wet is coming from.
These boots take shock resistance and comfort to a different level with their memory foam EnergyBed LX footbed and patented Rocky Rebound cushioning found from their EVA midsole.
Instead of simply absorbing shock, these boots return the energy to the wearer. 
The slip and oil resistant outsoles have the added benefit of additional shock resistance, making the RXTs as kind as boots can be to your feet
Deep, double stitched polyester straps to assist the boots on to your feet
The RXTs also feature a Goodyear welt construction, composite toe cap for safety, and a thermoplastic polyurethane (TPU) shank for stability and mobility.
Pros
Meets ASTM 2413 I/75 C/75 EH
Electrical hazard protection
Waterproof
Excellent shock resistance
Composite toe cap
Cons
Model/Style Number: 
Ariat Groundwork H20 Western Work Boots
The Groundwork H20s put the users comfort first, and are best suited for ranchers and other workers who spend their days in the mud.  
The exteriors are made of waterproof, full grain leather to keep you dry and in style. The interiors of these boots have the Waterproof Pro membrane and a mesh liner to double down on Ariat's waterproof promise. 
Heading to the interiors of the Groundwork H20s you'll find the 4 Layer Rebound (4LR) comfort system with a contoured insole that cushions and supports your foot. 
Additionally, the insole is both moisture-wicking and odor absorbing to keep your feet dry and odorless.
A lightweight shank, slip and oil resistant outsole, and 90 degree heel will keep you agile and upright at the same time.
For ease of use, Ariat designed the boots to feature 4 stitched and embroidered pull loops to make getting your boots on as easy as can be 
Pros
Easy to put on
Comfortable
Waterproof
Slip and Oil resistant 
Moderate shock resistance
Cushioned insole
Cons
Limited safety features
Not breathable 
Model/Style Number:
Irish Setter Crosby 11 Inch Waterproof Pull-On Nano Carbon Composite Toe EH 
The Crosbys offer many features. Let's get into them. 
First, they are 100% waterproof with a full grain leather exterior and UltraDry waterproofing technology that ensures absolutely nothing is making its way from the world to your foot.
They feature a nano carbon composite safety toe with Armatec abrasion resistance. This ensures you're protected yet not slowed down.
The Crosbys are all about performance with the ExoFlex technology that allows for a more perfect fit, EnerG energy returning, dual density, EVA midsoles that goes beyond shock resistance, and StableFlex construction technology that combines a cement construction in the forefoot with traditional welt construction in the heel. 
Add to all that a flexible non-metallic shank and you're moving in these boots like they're athletic shoes.
The outsoles are heat, oil, chemical, abrasion, and slip resistant. The heat resistance is rated up to 475 degrees, so as long as you're not stepping in lava you should be safe.
Two, deep, full grain leather pull tabs to help get the boots on your feet
Pros
Safety features galore (ASTM F2413-11 M I/75 C/75 EH)
Excellent shock resistance
Rubber outsole (heat resistant)
Agile
Decent pull tabs
Cons
Model/Style Number:
Georgia 11 Inch Muddog Pull-On Steel Toe Comfort Core 
Named the Muddogs, you might guess at the type of performance you'll get from these Georgia boots. 
Exteriors made of waterproof, SPR full-grain leather that keeps you dry and protected from chemicals, and an additional TPU shell at the base of the uppers to protect the leather from mud.
These boots have a mesh lining that is both high-abrasion and moisture-wicking to keep your feet dry. 
The Comfort Core footbed is unique in that besides absorbing shock, it also features an air flow system that pulls air in from the insole keeping your feet dry from top to bottom.  
PU midsoles work to absorb shock before it ever reaches your feet, and Oil and slip resistant rubber outsoles give an additional level of shock resistance and flexibility.
I can't forget the steel toe, and electrical resistance that meet ASTM standards.
Two pull tabs and four finger holes give you many spots to help these boots onto your feet 
Pros
Shock resistant
Waterproof
Highly breathable
Rubber outsole
Pull tabs and finger holes
ASTM I/75 C/75 EH rated
Cons
Steel toe is heavy and conducts the cold
Model/Style Number
Carolina 8 Inch Waterproof Composite Toe Wellington Work Boots
These Wellingtons are ready for anything.  
Full-grain, waterproof leather uppers covering a ASTM rated composite toe cap for safety. 
The waterproof Scubaliner membrane backs up the leather to ensure that waterproof means what Carolina says. 
The inners feature a moisture-wicking mesh liner. 
Going further to keep your feet dry, the AG7 PU comfort system starts with a removable moisture wicking foot bed. 
Under that is a PU insole, and under that is a PU midsole. 
This creates three levels of shock resistance to ensure your feet don't feel the pain that these boots will. 
A non-metallic shank, rugged EH-rated rubber outsoles, and a cement construction all work together for excellent mobility and flexibility.
Full-grain leather pull tabs give these rugged boots a handsome finish onto your feet.
Pros
Shock resistant to help reduce foot fatigue
Waterproof
Breathable
Rubber outsole
ASTM I/75 C/75 EH rated
Full grain leather upper waterproof boot
Flexible
Cons
Model/Style Number
Our Choice
The Rocky RXT was the first pull-on boot I checked out, and it turned out to be the best. 
It offered almost everything I wanted to see. 
It's slightly unorthodox (no full grain leather exteriors) but the reality is that it performed better than the competition. 
It just needed a bit more with the pull tabs and I would have been thrilled. 
If you're someone who doesn't need an 11 inch boot, I highly recommend the 8 inch Carolina Wellingtons.
From the perspective of the best looking boots, I think the award goes to the Ariat Groundwork H20's.
Honestly, I could stare at them all day long.  They are just stunning to look at.
Do remember that the boots selected are generic.
If you have a job that asks for a specific requirement, then please consult your PPE manual.
For example, a welder may need a metatarsal guard.