What is a Moc Toe Boot? Learn About This Age Old Style and Whether You Need It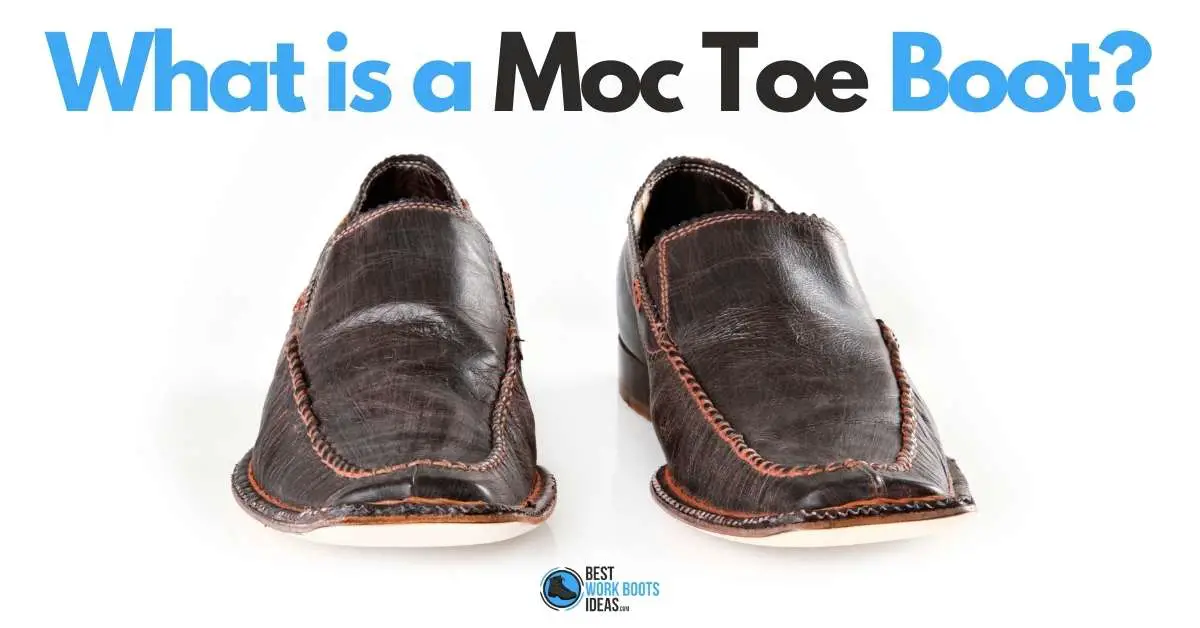 With so many products and styles to choose from, it can feel a little overwhelming to hear about yet another style. 
Dont worry, Ill make it quick, easy, and youll finish reading this knowing what a moc toe boot is.
The moc toe gets its name from Moccasin, a shoe design used by indigenous people of the Americas. Hence the name moc toe.
That means that this is a design that goes back countless centuries, and could arguably be the first shoe design.
Yes, there have absolutely been some updates since European settlers began copying the design. 
That said, the modern moc toe work boots you see being sold by every major manufacturer are visually, quite similar to their footwear ancestors.
Okay, enough history, lets get into the characteristics that define a moc toe boot.
What Makes a Boot a Moc Toe Boot?
Stitching Design
A moc toe boot is identified by a U-shaped seam at the front of the boot. 
This seam, depending on the manufacturer, can protrude quite a bit. 
Its a loud, attention grabbing style, but there are practical reasons for this.
The thick, hearty seam right on top of where your toes are allows for two different things. 
First, the positioning of the seam creates a natural toe box that is able to withstand a little abuse.
Even without a protective toe cap, youll find that moc toe boots will perform under difficult conditions.
Secondly, the positioning of the seam results in extra room for your toes to move and breathe.
Unlike more traditional boot construction styles, the vamp doesnt have to make its way to way to the soles to be attached.
Dont know what a vamp or toe box is? 
Dont worry, youre definitely not alone. 
Let us go over that right now so you can know what a Moc toe looks like, and exactly how its different from the boots youre used to.
Outsoles
Moc toes often have relatively flat outsoles that are specifically designed to absorb shock. 
Youll also find that they often have a light tread pattern. 
Youre not going to find anything with deep ridges, or hearty lugs.
This makes moc tocs excellent for work on flat surfaces where spilled oil, water, and other liquids might cause you to take a spill of your own. 
In contrast, I would not recommend this style boot to anyone thats dealing with challenging terrain. 
It just wont give you the grip on the raw earth you would want from, a loggers boot, for example. 
Theres also the visual aspect, which people seem to either love or hate. 
Moc toes almost always sport a noticeably bright white outsole that draws attention to them.
For some reason, when theres a white outsole on some running shoes or sneakers, its not all that noticeable. 
On a pair of boots, its the first thing you see when someone walks up in a pair.
To be fair, I dont know if moc toe outsoles actually are bigger than their work boot counterparts. 
I do know that the white color they usually come in makes it look like that is the case. 
Generally work boots come with outsoles in brown, black, or other dark colors.
Oh and youll often find Ironworkers wearing Moc Toe style boots.
Comparing Moc and Non-Moc Toe Design   
Moc toes differ from traditional boots in two distinct ways. 
There is a seam above the toes, and the vamp does not come down to get attached to the soles.
To get a better idea of what that means, lets take a look at a more traditional style boot. 
In this instance Im going to use the Red Wing Supersole Style 953
See the area that covers the top of the toes and foot? 
We call it the vamp. 
In many work boots, the vamp essentially encompasses the entire front of the foot. 
It is adhered to the soles either through stitching, or through modern cement/direct attach construction.
This results in a boot that will be a little tighter in the toe area then you will find in moc toe boots.
With moc toe boots, the vamp is like a little island and it never makes contact with your soles in any way. 
What it connects to is a piece called a blucher. 
This piece bridges the gap between vamp and soles. 
The blucher is affixed to the soles, and wraps around to meet the back halves called the quarters.
Check out our breakdown of the different parts of a work boot if you want to learn more 
Whether or not moc toe boots suit  your style or your needs, its always good to round out your knowledge about the different products available on the market. 
So what is a Moc Toe boot? A Summary
What might be an unnecessary buy this year could be exactly what youre looking for in the coming years.
There are many brands such as Red Wing,  Thorogood and Wolverine that offer the Moc toe style.
Remember that the Moc Toe is just style, nothing else.
As a result, youll find plenty of waterproof boots built using techniques such as Goodyear Welt construction.
The Red Wing classic is a good example of this.
A good example of a Steel Toe Moc Toe boot is the Wolverine W08289 (affiliate link).
Whether its durability, traction or a wedge boot which incorporates a Moc Toe style, you can be sure to find whatever you are looking for.
Work responsibilities shift, or even change entirely! 
It saves time to have a complete understanding of the gear available, and, to me at least, its just fun to know.