What are the Most Comfortable Steel Toe Boots For Men? 6 Options + FREE Buying Guide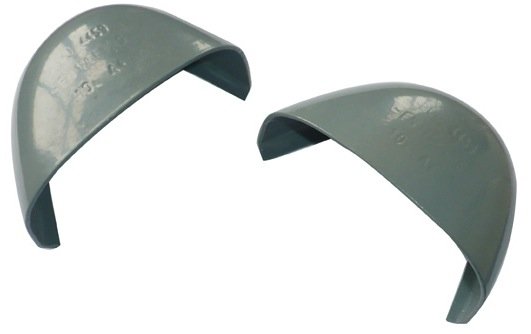 Steel toe boots are a standard part of the wardrobe for some people who have physically demanding jobs.
When looking for a new pair of shoes, try to find a boot that provides the comfort required when working a long day as well as the safety needed for the task at hand.
This article will explore the most comfortable steel toe boots available, boot safety standards, and the pros and cons to consider when making a purchase.
---
1. Dr. MartenNs Men's Icon Industrial Strength Steel Toe Boot (2295)
4. Bates Men's 8 Inches Steel Toe Side Zip Work Boot
---
Purpose of a Steel Toe Shoe
Any footwear with a steel toe aspect is essentially a safety shoe. It is sturdy foot wear that has a reinforced toe area that protects from falling objects or debris.
Protection from electricity and chainsaws can also be provided.
This feature is usually combined with a midsole plate that protects the wearer from puncture wounds such as from a rusty nail.
Many professions that are around heavy machinery make wearing such protective foot wear mandatory.
Some people that might wear steel toe foot wear would be construction workers, electricians, engineers, and manufacturers.
These industries deal with heavy materials and you want to take the necessary precautions to avoid a foot injury that could leave you impaired for life.
Below is a video from the UK but the concept is still the same.
Different Types of Toe Caps
Steel toes come in boot, shoe, sneaker, and clog varieties by a number of designers.
The first step to purchasing this type of shoe is to know what you need.
Is ankle protection a necessity or is it fine to have them exposed?
The second step is to think about the type of toe needed.
There are traditional steel toe, aluminum toe, composite toe, and carbon composite toe options available. The steel toe is simply a frontal area made of steel.
The aluminum toe option weighs less than steel toes making for an easier stride.
A composite toe is a non-metallic safety toe for environments where steel is not appropriate.
It is not as cold in cooler temperatures and allows for entering a metal detector without disruption.
A carbon composite toe keeps weight at a minimum while maintaining strength.
All of the options meet or exceed the ASTM (American Society for Testing and Materials) standards for compression and impact.
Footwear Safety Standards
American manufactured steel toe safety footwear will show the appropriate safety symbols and will also have an additional coding system on at least one shoe of each pair.
There are 6 symbols you may see for steel toe boots that have both steel toes and sole reinforcements.
A green triangle means grade 1 toe and sole protection and is to be used for heavy industry.
A yellow triangle represents grade 2 toe and sole protection and is used for light industry.
A white square with an orange Omega symbol have soles that provide electric shock resistance in an industry where exposure to live electrical units are possible.
A yellow background showing the letters SD in green means the soles have anti-static protection and are used where static discharge can be hazardous.
A red background with a black letter C and grounding symbol means the soles are electrically conductive and are used where low electrical charges may be present.
The final symbol is a white background with a green fir tree which features a protection to chainsaws for forestry workers.
The additional coding system will have 3 lines.
Line 1 identifies ASTM standard and the toe protection standard for the year it was made.
Line 2 will contain gender, impact resistance, and compression resistance.
Line 3 states additional standards that are met such as conductive properties and electrical protection.
Any absence of these means the standard is not met.
Some important questions around Steel Toe Boots?
You might be interested in some of the articles below which address a number of specific questions around Steel Toe.
Affiliate links may be present throughout the Bestworkbootsideas.com site and we (the site owner) may earn a commission from any sales made from recommending products on this site at no extra cost to you.
Six Top Work Boot Reviews of the Most Comfortable Steel Toe Boots
1. Dr. Martens Men's Icon Industrial Strength Steel Toe Boot (2295)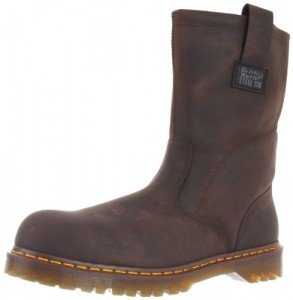 This reliable, toughly constructed, leather work boot features padded ankle support and boasts slip-resistant construction.
These water-resistant, electrical shock absorbing boots are perfect for protecting the users from numerous onsite hazards.
One complaint is that these boots are not traditional Doc Martens, but this can be a positive aspect as the quality and durability is excellent.
The boots adhere to ASTM 2413-05 I/75 C/75 and EH safety standards.
If you like to grind hard, these boots are a pretty tough and a good bet.
2. Keen Utility Men's Pittsburgh Steel Toe Work Boot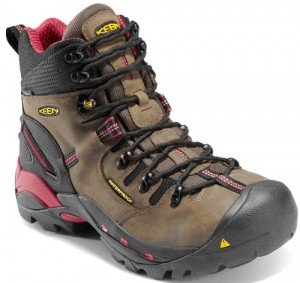 Check latest prices with Eastern Mountain Sports
Founded in 2003, Keen is a company that develops sturdy footwear with their signature black bumper toe coverings.
Designed with the industrial city of Pittsburgh in mind, this utility boot exemplifies the city's tough working nature.
Hiker's, in particular, have a taken a liking to this boot but the Keen Pittsburgh caters for a great deal more.
This boot has breathable, waterproof leather, skid-resistant soles, and protects against electrical hazards, making this shoe perfect for the city of steelworkers too.
Take a read at our full review to get a feel for this boot.
3. Caterpillar Men's Second Shift ST Work Boot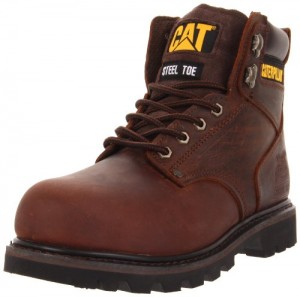 Check latest prices with Shoebacca
No other brand represents hard work quite like Caterpillar who are known worldwide for their heavy equipment.
Cat's Second Shift line is a product that remains true to the company's robust legacy of strength and hard work.
This single stitched steel toe boot features a lace up, leather shaft for added support and comfort.
This is one of the most popular work boots on the market.
4. Bates Men's 8 Inches Steel Toe Side Zip Work Boot
Bates has been well known since the 1800's for making tenacious footwear for those in uniform. This is a different grade of work boot.
Designed for military and police enforcement these boots are hardy and ready for a myriad of situations.
The boots have long-lasting tread and a very comfortable design, featuring a side zipper for ease of getting in and out of the boot.
5. Wolverine Men's 6 Inch Steel Toe Electric Hazard (EH) Moc Toe Work Boot (W08289)
Check latest prices on Shoebacca.
Few brands are as rugged as Wolverine.
The hard as nails, optimal steel toe boot has a cushioned and springy sole that is perfect for a variety of hardscrabble jobs.
The boots are constructed with Goodyear welt construction and consist of full grain leather.
They adhere to ASTM F2413-18 M I/75 C/75 Electric Hazard (EH) rated steel toe.
The boot is also treated to resist oil and abrasion.
Shanks are made from lightweight nylon to prevent you from getting tired.
6. Timberland PRO Men's Pitboss 6″ Steel-Toe Boot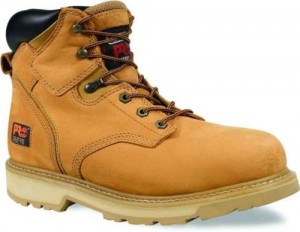 Click Here to Read Our Full Review
For nearly 100 years, Timberland has been making sturdy, dependable work boots that withstand the tests of time.
The Pitboss meets all ASTM standards and offers a lot more toe room than the average work boot.
These stout boots will protect the user from electrical hazards as well as wet or slippery surfaces.
This boot also features a sock lining to help prevent painful blisters.
The outer leather is a bit stiff, but after some wear, this improves greatly.
This is one of our most popular boots time and time again.
Our Choice – The Winner
Out of the most comfortable steel toe boots reviewed, I would choose the Keen Pittsburgh Work Boot.
It's extremely durable, comfortable, and has the most beneficial resistances available for most job situations.
Stylistically, I like the fact that the boot doesn't look like a typical work boot.
A great all-rounder suitable for most tough working conditions.
Individual preferences will vary depending on need, so feel free to try any of these boots yourself.