How do you find the Most Comfortable Work Boots? Our Ultimate Guide Equips You With the Knowledge You Need and Respite for your Feet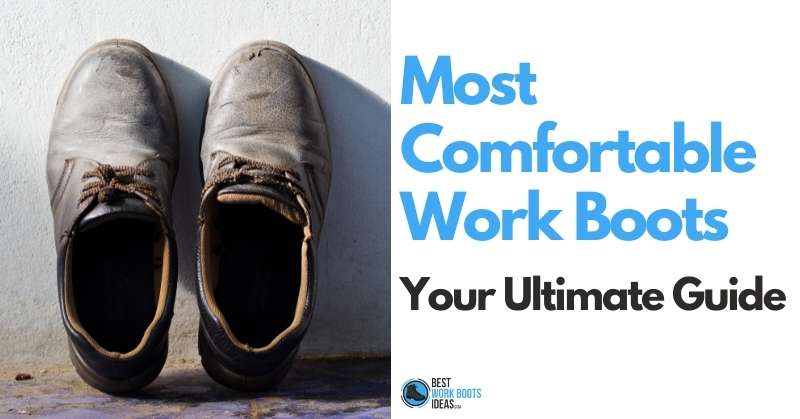 The Most comfortable work boots are those that give you relief you from physical pain, prevent discomfort and those which are suited to your particular needs.
So let me guess.
You' ve probably already visited a few sites and read a few articles on the most comfortable work boots right?
You were presented with several work boot recommendations and had to click a link which took you to a shopping site?
However, having read that information, you're still unsure.
This article is going to be a bit different.
I'm going to give YOU back control.
In this article, I'm going to go through all the things you need to know before you buy your next work boot.
It's going to be packed with tons of knowledge to help you with your decision making process.
I'll also provide examples of brands and their comfort technology so you're aware of whats out there in the market.
Read on.
Lets be clear on the Definitions First
The Collins dictionary defines the word 'Comfortable' as;
'Giving comfort or physical relief'
'Free from affliction or pain'
Let's look into this a bit further.
A Comfortable Work Boot is Subjective
You've probably searched for that ONE work boot that is comfortable for every situation.
Call it the Swiss army knife of safety footwear.
Sorry to be the bearer of bad news but this mythical safety boot just doesn't exist.  
In fact it's very unlikely to ever exist.
Let me explain.
For a work boot to be comfortable, a number of factors such as your occupation, health condition or the particular activity that you need it for come into play.
For this reason it's important that your work shoe is 'fit for purpose'?
For example, would you wear a Metatarsal work boot to go hiking?
If you're an Ironworker, would you dare to wear 10 inch Logger boots?
Maybe you have a foot condition such as flat foot, plantar fasciitis or wide feet and need a specific fit? 
If you were to purchase a work boot that contradicted your particular requirement,  would it be comfortable or uncomfortable?
Hopefully you get my point.
Buying Guide Features Overview
An overview of the key features you should look for when trying to find a comfy pair of work boots;
Fit
Breathability
Cushioning
Heel Cushioning
Ankle Support
Weight
Durability
Traction
Suitability and Fit for Purpose
Let's go through them in detail below.
What Features Makes a Comfortable Work Boot?
In a study published in Applied Ergonomics in 2021, 632 people were surveyed about the comfort of their safety footwear.
45% of men acknowledged that comfort in their safety footwear was a problem.
60% of women also said that their safety footwear was not as comfortable as their regular shoes.
These results are fascinating but not totally surprising.
There are however some common features that can help reduce discomfort.
Let's summarize each point and understand why it helps comfort.
Fit
Probably this biggest factor that contributes to having comfy work boots is the fit.
In a study published in Journal of Ankle and Foot Research in 2017, it was determined that the fit of the shoe was one of the most important factors. 
Just because you've purchased a pair from a particular brand in the past, it doesn't mean they'll fit now.
Unfortunately there's no standard size when it comes to work boots.
Your first priority is to ensure the boots fit.
Go into a store, order online, it doesn't matter.  Try on as many as you can.
I'm not going to go into all the intricate detail here.
However, we wrote a whole article on how work boots should fit, so you should definitely read that.
Breathability
Your feet need to breathe just as you do.
Why does this affect comfort?
Just imagine standing all day and working in wet socks.
As you work, moisture builds up inside your shoe as a result of sweating.  
If there isn't a way for that moisture to leave, it's going to make you very uncomfortable.
In some cases this could be quite dangerous too.
A breathable work boot allows the moisture to escape from the shoe without letting any moisture in.
Full grain leather is naturally breathable and durable hence why it is usually the best choice for work boots.
Moisture wicking lining is also another method where water vapor (from sweat) can escape but raindrops can't get in.  
If your feet stay dry, you'll be much happier and comfortable.
Heel Cushioning and the Footbed
Heel cushioning plays a very important part when it comes to comfort.
In a study conducted by Agnes Huebner et all and published in Industrial Ergonomics (2015), it was concluded that heel cushioning helps reduce the muscular effort required.
In addition, wearing the right type of inserts contributed to reduced muscle strain on the back. 
Whilst we're not talking about inserts right now, it's important to find a boot that provides a cushioned insole.
It will provide a level of shock absorption and protection for the long term.
As part of their technology, some boot makers also include a cushioned insole or a well cushioned EVA midsole.
Waterproof Leather / Water resistance
As mentioned above, any kind of moisture will have a detrimental effect on comfort.  
As a result, having a work boot that has some kind of waterproof membrane feature that prevents water getting into the boot should definitely be a consideration.  
Especially if you work in a wet environment.
Ankle Support
Ankle support provides comfort that allows your foot to stay firm inside your shoe and where range of motion is not too much of a concern.
Research has also shown that wearing the incorrect footwear size can also contribute to painful ankles
Insulation
Keeping your feet warm in cold climates will also affect your comfort level.
If you DO work in the cold, then a winter work boot that has the correct level of insulation must also be taken into account.
Technology such as Thinsulate can help reduce or overcome cold with a well insulated boot.
Construction and Durability
Goodyear Welt Construction 
This is more of a long-term consideration when it comes to comfort.  
If you want your boots resoled, then you won't have to break in your shoes again which can save you time and pain.
Weight 
A study published in the Foot and Ankle Journal (2017) suggested that the weight of a boot had an impact on workers ability to do their work.
As a result, wearing a heavy boot may affect how "comfortable" the boot feels.  
In this context, we're looking at how fatigued your feet may feel after standing on your feet all day.
The extra weight that you need to carry all day long will eventually tire you out.
A lightweight boot is therefore much more comfortable but this should not be at the expense of safety.
Please always remember to consult your PPE manual as you may need to wear heavier boots for your job.
What Features Makes a Boot Uncomfortable?
Unfortunately, in the safety footwear business, it can sometimes be a trade off between comfort and safety.
There are a number of features of a work boot that can make your feet 'less' comfortable than if you were wearing a pair of sneakers.
Just a side note, you should never compare the comfort of sneakers to work boots as they both serve a different purpose.
Anyway, that's not to say that work boots shouldn't be comfortable.
Toe Type
Toe protection usually reduces the level of comfort.  However, in many cases, it's likely you'll need to wear some kind of toe cap.
Steel Toe Boot
A steel toed boot has many advantages in that it's primary purpose is to keep your toes safe.  
However, steel toe caps can cause pain, are heavy and cause tiredness.  
The amount of room it can take up inside the toe box area can also limit wiggle room.
If not worn correctly, the metal can sometimes rub against your feet causing pain and discomfort.
You might want to learn more about how steel toe boots should fit.
Alloy toe
Similarly, alloy toes are made of metal and can also in the case above cause discomfort.  
Composite Toe
Composite toe boots are the most comfortable out of the safety toe types.  This is because they are light, take up less room yet still offer a high level of protection.
Soft Toe Work Boot
The soft toe is probably going to be the most comfortable out of the toe types because errrrrr, there's no toe cap and therefore no protection.
The shape of the toe such as round, square or asymmetrical will also have an effect on comfort levels.
Health Reasons
Occasionally through genetics or health conditions your work boot may become uncomfortable.
An example of this is wide feet, plantar fasciitis, flat feet or where the shape of your foot may change over time.
As a result you may need to alter the shoe and customize it based on your needs.
Construction of your work boot
Steel or Fibreglass Shanks can also in some respects cause discomfort.  This comes in the way of the sole stiffness.
The inability to flex your foot might get some use to.
Other Considerations
Balance and the Way You Walk
Balance is a feature which I haven't seen mentioned much.  
We know subconsciously that it's an important factor, but we don't appreciate just HOW important.
Having work boots that allow us to keep our balance has an effect on our entire body.
Evidence suggests that an ill fitting boot can potentially alter the way we walk and have a long lasting impact on our bodies.
Research suggests that a number of design features influence your gait.
These are;
Shaft height
A higher shaft height can actually make you unstable due to the reduced range of motion in your ankles which can also affect your hip mobility.
Traction / Slip Resistant
Ensuring that you avoid tripping or falling  rubber sole will help 
Work Boot Brands – Comfortable Work Boot Technology
Virtually every reputable brand that sells safety shoes has some kind of comfort technology.
Below I'll showcase some of these brands and their technologies.
Timberland 
Timberland has its own Anti-Fatigue comfort technology which is designed to convert shock absorption back into energy.
Wolverine
Durashocks is the name of the comfort technology by Wolverine.
Red Wing
CuShin comfort technology protects the shin area and was made with hunters in mind.  
DynaForce is an insole/footbed technology absorbs shock and spreads this out to the rest of the shoe to reduce pressure.
Justin's
The J-Flex Flexible Comfort System is Justin's own technology.  It incorporates a cushioned insole with a further 'triple density insole board' for further comfort.
Caliber Comfort System – This technology gives you multiple facets of comfort by pairing a TPU injection molded outsole.
Carolina
I'm quite impressed with the amount of technology that goes into Carolina shoes.
In terms of comfort they have the 'Overtime Comfort System' which is a footbed like no other.
Pillow Cushion technology  which is a layer of additional memory foam wrapped around your feet which is incorporated inside the existing insole system.
Cambrelle and Dri-Lex moisture wicking technologies to keep your feet dry and breathable.
AG7 and AG8 Footbeds which adds additional comfort support and enhanced arch support.
Maxum Lite and AeroTrek technologies to keep your feet from slipping.
Work boots and shoes are standard wear for many jobs – construction, manufacturing, and transport are just a few of the industries requiring such wear. Anyone who works on concrete all day knows that solid foot support is critical to performance.
The kind of slippery surfaces you'll find in a cannery, while working on a boat, or when moving freight require other features in a boot.
Many industries impose specific safety requirements when it comes to the kind of boots that their workers can select. Their primary consideration is safety, and rightly so. But how many employers also have comfort requirements?
Since these safety shoes are going to be on a worker's feet for many hours on a daily basis, it's also obvious that comfort is going to be a very important issue when choosing a brand: what are the most comfortable work boots for men to buy?
---
Our Top Picks – 
Scroll down to read reviews!
1. Dr. Martens Men's Fusion Safety Toe Chelsea Boot R13351201 
3. Timberland PRO Men's Soft Toe Boot
---
Most Comfortable Work Boots For Men: Comfort….or Lack of Discomfort?
Ah, comfort…..what exactly does that mean when we're talking about work boots? Comfortable work boots aren't going to provide the same kind of comfort that bedroom slippers or house-shoes do.
Maybe we should talk about the "absence of discomfort" in regard to anything you have to wear on your feet for 8+ hours a day.
The most comfortable work shoes then will be those that don't hurt your feet while you're doing your work.
What kind of hurt are we talking about here?
Well, basically there are four kinds of discomfort you want to avoid in selecting work boots:
Abrasion: Causing pain by rubbing against your skin or squeezing your toes;
Insufficient Support: It will make your legs ache when you've been standing all day on a hard surface.
Humidity and Heat: They cause a build-up of moisture and heat that your work-socks can't handle. If you work in a very hot environment or your feet get sweaty, then you will need to consider a pair of boots that are breathable. Otherwise, a build up of moisture can cause fatigue.
Fit: Badly fitted work boots can be very uncomfortable and in some cases can also be unsafe.
Painful feet are distracting and dangerous
It's important to emphasize that such discomfort on the job has all kinds of negative effects.
Leg pain can move up into the back; once you've got a back condition, you're looking at long-term sick leave and expensive visits to physical therapists.
Something similar will happen with corns, bunions, fungus infections, and chronic blisters caused by your footwear. But it gets worse: painful feet and sore legs aren't just an inconvenient annoyance. They can be downright dangerous.
Constant minor pain distracts you when you need to focus on activity in the work environment, and that means you are putting yourself and others around you at risk.
So it stands to reason that paying attention to comfort (or lack of discomfort) when choosing work boots is important.
Features that contribute to comfort
What do you look for in boots when it comes to ensuring your comfort at work? You obviously want them to fit properly, to be as waterproof as possible, and to be safe on the job.
But modern technology has developed some great new features in boots that go a long way to making it pretty easy to find a safe and comfortable pair.
A lot of research, for example, has gone into the lining of the work boot.
You can find boots now with waterproof linings that allow you to work longer under wet circumstances.
Nylon mesh lining works like a second sock, that "wicks" humidity and perspiration away from the skin.
The development of EVA (ethylene-vinyl acetate) has allowed the creation of soles that function as "shock absorbers" when working on concrete.
Workers who must deal with electric currents can find comfortable steel-toe work boots that in fact do not contain steel: instead, the toes are reinforced with a special static dissipative substance.
You can also find boots with dielectric and electric hazard outsoles.
Affiliate Disclaimer
Affiliate links may be present throughout the Bestworkbootsideas.com site and we (the site owner) may earn a commission from any sales made from recommending products on this site at no extra cost to you.
Here are a few examples of work boots that can make positive contributions to that comfort factor.
1. Dr. Martens Men's Fusion Safety Toe Chelsea Boot R13351201 
"Chelsea" refers to the style of this boot, which slips on rather than being laced up; special elastic sections at the ankles keep the boots snug while you're wearing them.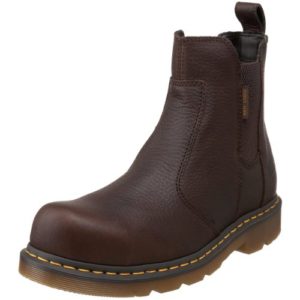 The toe is reinforced with steel and meets all anti-static requirements for a work boot; some wearers may find that the interior rim of this reinforcement rubs against their toes, so be sure to try these on and wear them around the store for a while before committing to them.
Special "PU" EVA footpads in the soles make working on concrete much more endurable; the pads can be taken out to prevent a build-up of moisture and bacteria. They also have a wicking lining.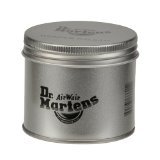 You might also be interested in;
Dr. Martens Unisex WONDER BALSAM Gray Shoe Polish OS which is great for leather boots such those above.
Caterpillar touts these boots as specifically designed for comfort on the job.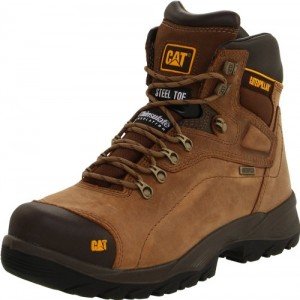 They have been specially contoured to fit the human foot, whether standing, walking, or moving more strenuously.
The Diagnostic comes 200 grams of insulation plus a nylon mesh lining: your feet will stay warm in cold weather and dry in warm weather.
The Diagnostic, like the Doc Martens Chelsea, have removable EVA inserts to absorb the stress of working on very hard surfaces.
The boots are waterproof up to the ankle, which could be a drawback if you are working in particularly deep or grassy areas.
3. Timberland PRO Men's Soft Toe Boot
If you do not require a reinforced toe in your work boots, the Timberland PRO may be what you're looking for.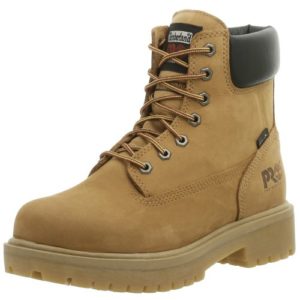 The collar of this boot is padded, guaranteeing that above-the-ankle abrasion will not be an issue.
The outsole is made of an oil-resistant rubber to cut down on the risk of slipping, while the nylon mesh lining has been treated with an anti-microbial substance to control odor and bacterial build-up.
Like the PRO Soft Toe, this style has the anti-microbial lining and slip-resistant rubber outsole.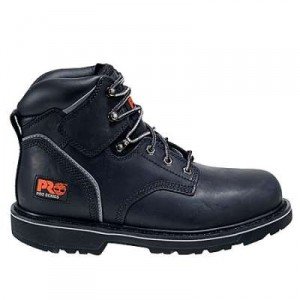 The steel toe-box provides an unusual amount of room, making them one of the most comfortable steel toe work boots for men.
This toe-box makes the boot run a little wide for some people, so again, try them on and walk around in them a bit before buying.
Read our full review here of one of the most popular boots.
This is another soft-toe style, one that looks good in a variety of contexts.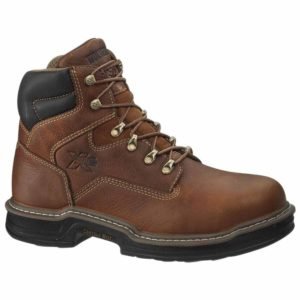 This is a boot we have mentioned before so it's no surprise it makes our list again.
The Raider's lace-up leather shaft is just 6″ in length, making it a little less intrusive at the ankle; the ankle has a padded collar for less abrasion.
The "contour welt" in the name of this boot refers to the stitching, allowing the boot to bend at the same place the foot naturally bends and thus avoid repeated abrasion.
They also come with a moisture-wicking lining to guarantee humidity control.
Summary and Wrap Up
These are some of the most comfortable work boots for men available.
They demonstrate that you don't have to compromise safety when you go for comfort.
Don't forget to always check your personal protection equipment (PPE) requirements before you make your purchase to ensure you have the correct work boot for your job.
For more information, feel free to visit the individual work boots reviews pages.