What are the 5 Best Pull On Waterproof Work Boots for Men like You? [Mini Review + Buying Guide]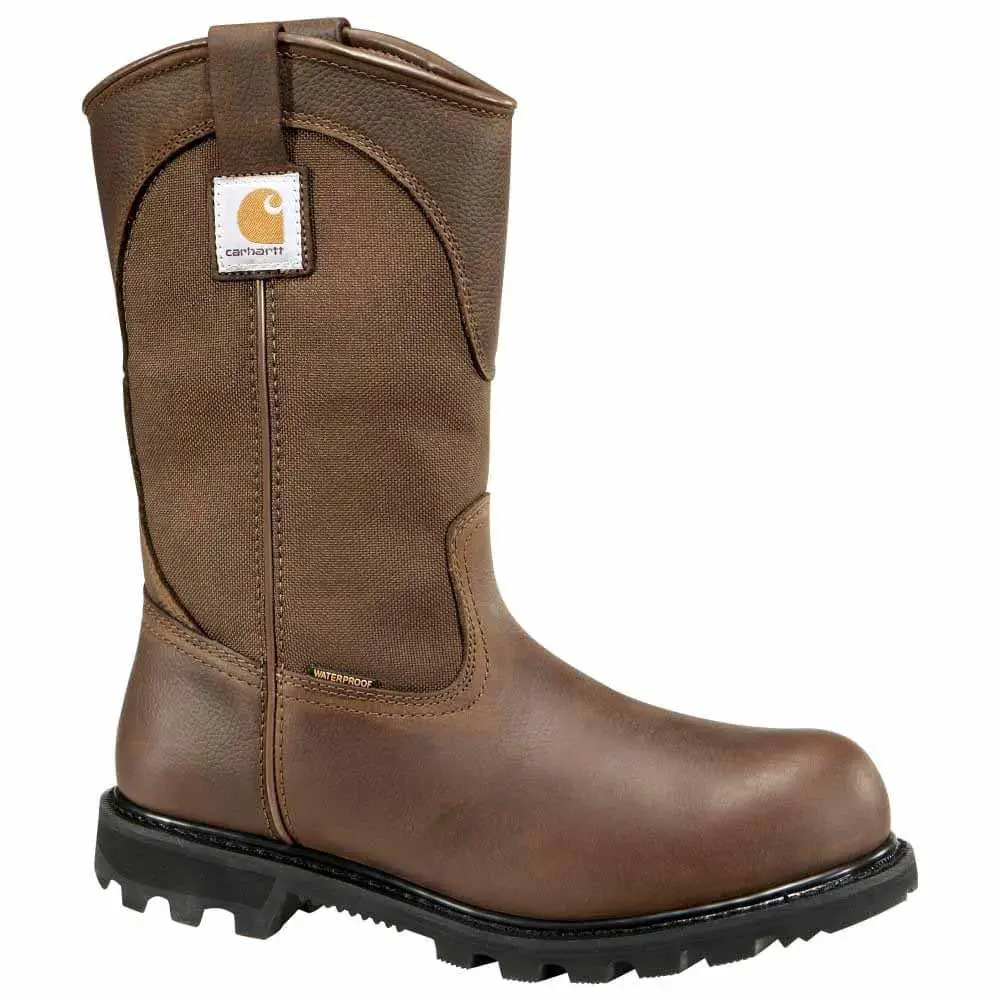 You're out at work, standing on your feet for a straight 8 hours. A painful and recurring scenario, right?
Since your feet carry you on all day (both literally and metaphorically), a decent pair of work boots should be an essential part of your work gear.
There are some requirements for such boots, especially if you work in a tough environment.
Think about waterproof chemical resistant work boots with durable composite toes. These definitely will make your life easier!
Throughout this article, we'll be reviewing the Best Pull-On Waterproof Work Boots followed by a Buying Guide to help you identify which ones suit you best.
Scroll on.
What are 'Pull-On' boots?
They're laceless boots that you just pull onto your feet and you're ready to go!
They're popular in various industries, including those who work in industrial building sites or even landscape gardeners.
You've probably heard about Wellington boots, which are basically rubber pull-on rain boots made of PVC.
Pull-on work boots are similar in terms of being laceless and suitable for wet environments, yet they're usually more durable in terms of manufacturing material and toe type.
Are 'Pull-On' Boots Different from 'Slip-On' Boots?
Many people confuse 'Pull-On' with 'Slip-On' boots. Truth is that they're not the same.
Slip-on boots usually have a shaft of 1 or 2 inches above the ankle.
Pull-on work boots have much taller shafts to provide leg protection.
This is usually between 8 to 12 inches in height.
Slip-on boots are similar to laced boots, only without the laces; meaning they're a bit bulky and sporty.
However, pull-on boots have more resemblance to cowboy boots.
Our Top 5 Pull-on Waterproof Work Boots
Below is our shortlist of the Best Waterproof Pull-on Work Boots that we hope will help make your life a tad easier.
Note: The list below is based on generic waterproof pull-on work boots for most situations and not for a specific job purpose.
Affiliate links may be present throughout the Bestworkbootsideas.com site and we (the site owner) may earn a commission from any sales made from recommending products on this site at no extra cost to you.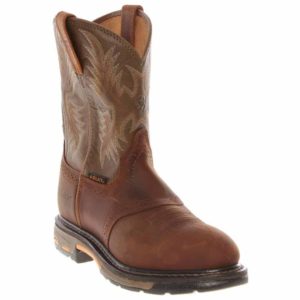 On-site engineers love these boots!
As they're made for tough work environments with the sole purpose of providing you with protection and comfort at the same time.
They aim at the reduction of foot fatigue and proper body alignment, such requirements are crucial for those who spend a long time on their work sites.
These boots come from Ariat, premium apparel and footwear manufacturer.
Ariat established its position in the industry with the frontline workforce in mind. This explains their care about the small details.
It features a firm rubber sole that's durable, stable and slip-proof.
Also, it's shock-absorbent to reduce strain on the hips and lower limbs.
These boots are our favorite for a couple of reasons.
First, they feature Ariat's patent-pending U-Turn Entry System, which allows easy entry for your feet with a suitable fit, regardless of foot shape.
In addition, incorporated heel stabilizers maximize balance and mitigate foot fatigue.
Finally, the polyester cover provides watertight protection that won't allow water to get in.
While most of the waterproof boots are made of Gore-Tex, this product is made of leather with a waterproof coating material.
So, the risk of this coating gradually wearing out is still present.
Pros
Shock absorbent
Comfortable compared to others
Good value to money ratio Features heel stabilizers
Features heel stabilizers
Cons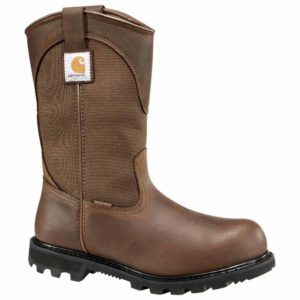 These rugged waterproof weather versatile boots are all you need for a rough work environment.
If you're looking for boots to withstand heavy loads like mining or construction work, these are a great choice.
What makes these boots a solid contender is that, unlike the others, they're not 100% leather.
They're 55% Leather and 45% Nylon with a rubber sole.
Technically speaking, this is a higher water-repelling degree than all-leather boots.
Carhartt, a leading manufacturer of work apparel in the US, incorporates a range of technologies to make their attire durable and suitable for work.
The boots come with Storm Defender Waterproof Protection.
This means they are completely waterproof as well as breathable to keep your feet fresh.
This particular shoe absorbs terrain stress and provides you with shock resistance through its PU Strobel pad and PU cushion insole. This gives your feet their long-lost comfort.
They're extremely durable as well.
Various online reviewers have reported a 1 to 3 year-life.
To protect you against compression hazards, it features a steel safety toe to protect against impacts.
We like the fact that it is stitched using Goodyear Welt Construction and not just glued.
Subsequently, making it more reliable and repairable.
Worthy to note is that this pair is also oil and slip-resistant.
Pros
Waterproof using Carhartt Storm defender technology
Meets ASTM 2413-17 safety standards
Chemical resistant
Abrasion-resistant leather
Flexible cushions
Slip-resistant
Electric hazard protection up to 18,000 volts (in dry conditions)
Breathable and reduces odor by using Fast-dry technology.
Cons
Inside stitches might get loose
Steel toe might be narrow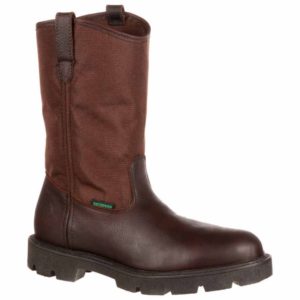 Finding durable waterproof work boots that are affordable is hard. Georgia Boot Homeland Wellington boots are here to smash this myth.
One of the cons of waterproof materials is that they're not breathable.
However, Georgia waterproof technology prevents water from getting in, yet lets sweat and air out.
This is achieved through its porous air circulation channels that also prevent bad odor. An advantage that helps it stand out among its rivals.
Georgia Boots are in high demand in the US, this comes as no surprise; they're elegant, durable, waterproof and all of that comes at a pretty reasonable price.
This boot is made of full-grain waterproof leather with 900d Cordura fabric. Traction is guaranteed too.
Thanks to the directly attached out-sole that's made of oil-resistant PVC.
Speaking of good impressions, while waterproof boots have a reputation of being stiff, Georgia Wellington defies this convention through its TDC insole cushions.
Your feet will feel comfortable when you put them on.
Pros
Waterproof
Scratch-resistant
Fit as advertised
1 year warranty against manufacturing flaws
Cons
Some reviewers complained of a stiff shaft
Boot's sole might crack after a while
Not insulated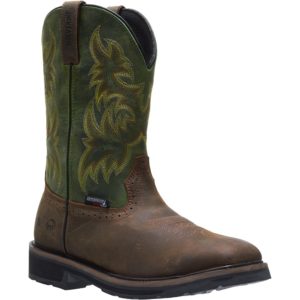 These cowboy styled boots have all that you're looking for in a classic Wellington plus a full-grain waterproof leather body.
Making them the ultimate stylish work boots.
Wolverine is an iconic brand that handcrafts its boots to arm you against any type of challenges you'll be facing at work.
True to their claim, they live for the fight and they're constantly improving their products to help working men conquer everyday casualties.
Your comfort is a priority here, the footbed is fully-cushioned for your feet's comfort and they have a full internal mesh-lining for moisture.
They also feature dual rubber and compression-molded outsole, which is slip-resistant.
Unfortunately, some reviewers reported it breaks easily.
On top of that, these boots are oil, chemical, heat, and abrasion-resistant. It has cement construction and a steel (Square) toe.
Beware of the sizing, as they're a bit bigger than standard boots (because of the toe box).
Make sure you take a look at their size chart first.
Pros
Waterproof
Trendy fashionable look
Steel shank
Removable footbed so you can insert your own insoles
Comfortable
Cons
Sole breaks easily
Sizes are bigger than usual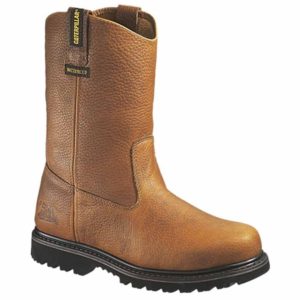 The slogan of these boots is: Rough, Tough, and Ready.
They live up to the expectations and combine durability, flexibility together with style in a one-of-a-kind pair of work boots.
The full-grain leather upper, lining and seam sealing ensures your feet stay dry.
The Nylon mesh will keep your feet fresh.
No need to talk about Caterpillar, we just want you to know that they have a full range of Men's waterproof footwear collection, tailored to meet your needs.
Whether you're a construction worker or an adventurer looking for convenient boots, you'll find what you want there.
Make sure to check them out.
Now, back to our Edgework Pull-Ons. They've got SuperWelt construction for forefoot flexibility and they're made of sturdy full-grain leather.
Besides, the outsole is oil and slip-resistant.
It features a steel toe, as well, to protect against compression and impact.
PU footbed cushioning grants comfort, while the PVC Midsole provides shock absorbance and overall support.
Pitfalls include an irregular sizing, where they run a bit bigger than expected.
Some users reported the tearing of the inner lining as well.
Pros
Steel shank
Great for comfort
Rich mahogany-colored leather
Breathable
Steel toe – ASTM F2413-11 I/75 C/75
Electric hazard protection up to 600 volts in dry conditions
Durable
Cons
Bigger than regular boots
A bit heavy
How to Choose The Best Pull-On Waterproof Work Boots?
When there's a multitude of options, the choice is never easy.
In the buying guide below, we will equip you with the knowledge you need to know to make a purchase decision.
Waterproof vs. Water-Resistant Boots
Some people use these two terms interchangeably, thinking that both mean something that will keep your feet dry.
In fact, they're different in terms of material, comfort, and safety level.
Read on.
Technically speaking, to describe something as water-resistant it means that it's able to resist water penetration to some extent, not entirely.
When we call something waterproof, it means it's impervious to water.
Water-resistant boots are made of normal leather or any other material like polyesters, especially synthetic ones, as they tend to be more watertight than natural polyester.
Materials like Thinsulate can be used too.
They are then coated with water-repelling material like silicone.
The coating will eventually wear off, making the boots lose their water-resisting ability.
As a result, this method is considered to be the lowest degree of waterproof protection.
Waterproof boots are much more advanced; they're made of materials that can be fully submerged in water without getting wet.
A waterproof technology such as Gore-Tex or Neoprene can be incorporated to keep your feet dry.
Are There Other Differences?
The short answer is Yes. But, in terms of what?
Numbers always get us a more accurate picture of things.
If you're a numbers person, we recommend you check the IP Rating; an international standard that determines to which degree something is resistant to water.
This covers everything from attire to electronic devices.
Extra protection comes at a cost. Waterproof boots aren't as comfortable as water-resistant ones.
Mainly, because of the materials they're made of, which are always stiff, which means they won't be comfortable to wear for long hours.
This makes it a deciding factor if you're going to wear the boots for long periods of the day.
On the other hand, water-resistant ones are more breathable and flexible. Hence, more comfortable.
Which One Should I Choose?
The fact that waterproof boots provide higher protection levels than water-resistant ones doesn't mean that you should always favor them.
It depends on many factors; your profession, the weather, and duration.
If you work in an industrial environment, where you're potentially surrounded by toxic liquids or chemicals, you should opt for waterproof boots.
This is to reduce the risk of anything seeping into your shoes.
If you regularly go on activities like hiking or fishing, you should opt for waterproof boots, due to the excessive muddy terrain.
Water-resistant boots are suitable for less severe weather conditions.
This includes normal wet terrain, light rain, light snow, and even dry weather in summer.
It'd be convenient with mild activities like walking and gardening.
What to Look for in Your Pull-On Waterproof Work Boots?
A number of factors come to play when choosing the most suitable work boots.
Let's go through them below.
Comfort
If you work one of these jobs with long shifts of you standing on your feet, you shouldn't compromise comfort for anything.
Look for boots with flexible inner cushioning and proper heat dissipation to allow for air circulation.
This is essential in case of waterproof boots, as they might block the heat.
Durability
Make sure your boots are made of sturdy material and have a strong outsole.
This is serious when it comes to your safety.
Don't opt for low quality just for the sake of a lower price.
Fit
We have written an entire article for you on how pull on work boots should fit. Definitely take a read of that.
Safety
Work boots aren't just to protect you against water or toxic chemicals.
They should also help protect you against compressions or unexpected incidents.
That's why you should look for security features like composite toes, anti-slip outsoles, and shock protection.
Ensure they all adhere to the relevant safety standards.
Size & Weight
The heavier your boots are, the faster they'll cause fatigue to your feet.
Try your best to go for lightweight boots for easier mobility.
One way of reducing the weight is to avoid any heavy safety toes unless you absolutely need them.
Also, consider their length, taller boots provide you with better protection against water and mud.
Hence, they're favorable in such environments.
ASTM Rating
This is known as the Standard Practice For Testing Water Resistance Of Coatings In 100% Relative Humidity.
Simply it's an indication of how much the coating of your boots will withstand being subjected to water and/or corrosion.
For more info, check this.
Wrap Up
We've tried to compile this list of versatile options to suit everyone while trying to hold to performance criteria that include comfort, durability, water-repelling, and price.
Try to point out your needs and match them with options provided by these items on the list, we're sure you'll find one that suits you!