Save Time and Money While Keeping Boots Your Feet Already Appreciate: Become an Expert on Boot Resoling and Its Benefits with This Free Resoling Guide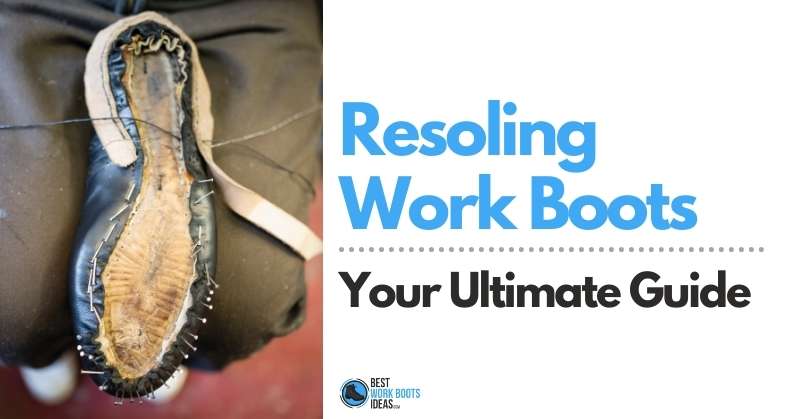 Having a good pair of boots, there's nothing better than that.
Buying a new pair of boots? 
Eh, I can think of a handful of things I'd rather do besides that.
Fortunately, there might be an alternative to buying a new pair when your boots' outsoles are lacking soul, traction, and depth.
That's why today I'm going to try to save you some time and money by discussing resoling work boots. 
What's This About Resoling a boot? I Thought They're Done When the Sole Wears Out
Resoling is the process of removing a boot's outsole and replacing it with a new one.
It's an amazing and highly skilled technique that requires an expert to complete. 
With a quality pair of boots you can resole them several times and prolong their lifespan for years and even decades.
While researching this article I discovered an expert cobbler and his amazing video detailing every step of the sole replacement process. 
I'm putting this video right up front because I feel that when you see what the process actually looks like you'll immediately have a different opinion of resoling.
I didn't intend to watch this entire video, I was just trying to find something that accurately depicted the process.
Once I turned it on, I was mesmerized. 
That's saying a lot because I've watched a good number of these videos while writing articles on the differences between blake stitch, storm welt and Goodyear welt construction methods.
It's truly an art form, and after watching it I'm surprised that resoling is as cheap as it is. 
Out With the New and In With the Old: 3 Reasons to Resole Boots That Your Feet (and Wallet) Will Love!
Resoling boots allows you to avoid the painful process of breaking in a new pair, and can often be cheaper than a new purchase as well. 
Boots are unique and dynamic tools that better fit your foot the longer you wear them, and are worth holding onto if all possible.
Save Some Money
Getting boots resoled is likely to save you a couple bucks when compared to buying a new pair of equal quality.
Even if that's not the case and it's a financial wash between buying new or resoling, the next two reasons will convince you
Avoid Discomfort and 'Breaking In' Period
Buying a new pair is certain to come with a period where your feet hurt and there's no way around that fact. 
Cast your mind back to all those times when you bought a new pair but had to endure all that pain.
Resoling will allow you to put your feet right back in boots they're familiar with without the need for breaking into them.
Better Fit
Besides avoiding pain or saving money, the boot that already knows you is going to deliver a better fit than any other boot on earth. 
Rather than start over in finding your perfect fit, push further with the work you've already done with the pair on your feet. 
Despite all the informational articles and buying guides I write, I have to admit that buying boots can be risky. 
There's no water-tight way to know how a boot is going to feel once you're wearing it. 
With that in mind, it's best to hold on to something that works as long as you can.
As the old adage goes: if it's not broke, don't fix it. 
Regarding boots, we can look at the uppers and insoles as something that's not broke. 
The only thing that needs fixing is those darn outsoles that never last as long as you'd like them to.
Can All Boot Styles Be Resoled?
Most styles can be resoled, but that doesn't mean every boot can be resoled. 
Cowboy boots, hiking boots, and work boots all have a variety of construction methods, some of which permit resoling, others which do not.
This would be a really good time for you to check out articles on the various boot construction methods, particularly cement and the comparison of Blake stitch and Goodyear welt. 
You might also be interested in Storm welt construction vs Goodyear welt to get a better understanding of how all these construction methods work.
What Types of Boot Constructions Can Be Resoled
Blake stitch, storm welt, and Goodyear welt construction methods are the three primary styles of boot that can be resoled. 
There are other styles suited for a resoling as well, so if you're not sure the possibilities for your boots, take them to your local cobbler.
It's safe to say that if you have a pair of work boots or cowboy boots, 99% of the time they're made using one of these methods.
It's because of the way they are put together that allows them to come apart without being destroyed. 
Keep this in mind when buying a future pair. That said, not 99% of boots are resoleable, so it's good to know which construction styles aren't resoleable   
Which footwear brands allow resoling work boots?
Most boots in the Heritage collection from Red Wing are built using Stitchdown and Goodyear Welt Construction methods.
Irish Setter is also part of the Red Wing Boot company. There are way too many styles to put in this article but there are plenty that are built using Goodyear welt.
If you're looking to by a pair of Keen then the Cincinnati is the only style that can be resoled as it is built with a Goodyear Welt Construction.
This has been confirmed on the Keen website.
Justin are quite interesting. Many of their boots seem to have some form of stitching. However, there is nothing that I have seen that confirms they use a technology such as Goodyear or Stitchdown.
What they do have is their own technology called "Opanka Construction" which alludes to something similar to Goodyear Welt.
However, we can't be 100% they are resoleable.
If you have a pair of Ariat shoes, then the company offer a resole/repair service via a third party.
They can be either work or cowboy boots.
Simply fill out a form, send some pictures and they'll send you a quote.
Are There Any Types of Boots that CAN'T Be Resoled?
Cement or direct attach construction methods cannot be resoled.
These particular construction processes rely on adhesives that eventually erode, weather, and lose their holding power. 
It's not possible to safely and effectively reattach them the way they were at the factory.
You might think that you can just re-glue them, but that'd be an incorrect assumption. 
Think of an adhesive hook that you put on a wall to hold a towel or painting. 
That hook works for a while, but eventually it dies and lets go.
It's possible to reglue it, but even then it's not going to deliver the same hold. 
As I'm writing, I'm looking at Ikea mirrors on my wall. 
Seven of them are perfectly square, one is not, my wife suggested I take it off and reattach it.
I explained that it's not possible. Adhesives, besides wood and wood glue, are usually one-and-done type situations.  
The same principle applies to Cement and Direct Attach methods.
That doesn't mean that these styles of boots are not good.
There are many reasons why you NEED direct attach or cement construction.
However, that's outside the scope of this article.
You might be also interested in what to do with an old pair of work boots as opposed to just throwing them away.  
Don't worry, we've got you covered.  
Where Do I go to Get Boots resoled?
You can always go to your local cobbler to resole your boots. 
It might even be the case that your work boot brand offers a resoling service at their factory. 
You might want to check the company website to see if your brand makes this available to their customers.
Alternatively, they may be able to make a recommendation if they don't provide a service themselves.
How Much Does it Cost to have Boots resoled and other things to consider When Resoling Boots
The cost to resole a pair of work boots depends on a couple factors, but it's safe to say that a standard pair may cost anything between $100-200.
Some factors that affect the price of the resoling are the following:
Your boots' construction style
Type of outsole you choose (Brand, style)
Condition of the boot
Expertise and reputation of the business doing the work
Blake stitch constructions consist of a single stitch, so it's usually less expensive to get a Blake pair resoled. 
Storm welt constructions are the heartiest, so it takes greater effort to detach your old sole, costing more.
If you're sending your boot back to the manufacturer for resoling, you won't have to worry about choosing an outsole. 
If you're taking it locally, you'll have to take this into consideration.
There are different brands of outsole to choose from, with the Vibram sole being the most sought after product. 
If you're not sure about the brand, style, or material outsole you want, speak with an expert cobbler about the type of work you do, and they'll point you in the right direction.
The condition of the leather uppers, and how brutal it is underneath your insole will be another factor that affects the price of a resoling. 
All the remaining glue, dirt and grime needs to be cleaned and chipped off before the new sole is applied.
I can't give you a hard and fast number for what it will cost for your specific boots, so check with your brand or cobbler. 
In Closing
I can't speak on your behalf if your boots are worth being resoled. 
I've had pairs I loved, others I wanted to be done with as soon as possible. 
Aside from the outside, if the rest of your boot is in good condition, then this is a good candidate for resoling.
Just double check the construction method to make sure it can be resoled.
I hope this information has clarified for you whether or not you can resole the pair you're looking at or not. 
You might also be interested in learning about boot construction methods.