Treat Your Feet: What are the 3 Best Work Boot Brands? Three Choices to get you Started on your Next Purchase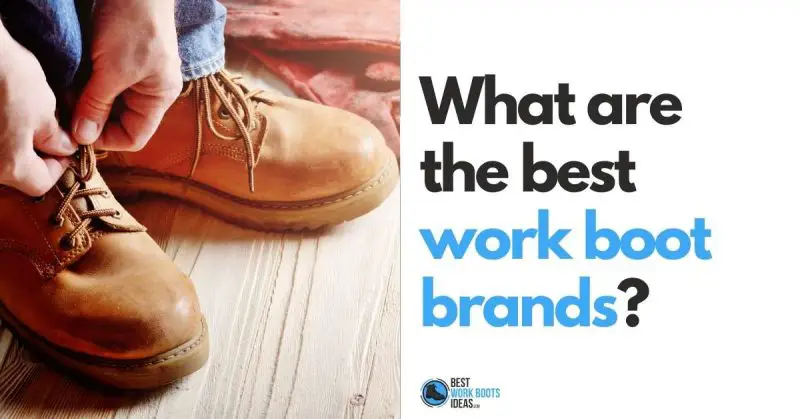 One of the 3 best work boot brands would have to be Red Wing, Chippewa and Timberland PRO. This is due to their reputation, vast experience of the industrial environment and a large availability of features and styles available to purchase.
Whether you're a weathered veteran of trade work or just starting as an apprentice, the best thing you can do for your work and body is to grab a pair of quality work boots. 
With so many brands available to choose from, it can often feel like an overwhelming task to pick a good one. 
That being the case, I wanted to take the time to write about the top 3 work boot brands you should look at when picking up a new pair.
No delays, Let's get into it!
Red Wing For The Win
Red Wing is the closest thing there is to a gold standard in terms of work boots. 
Widely recognized by trade workers as protective, comfortable, and reliable, Red Wings are an excellent choice for anyone that cares about their feet on the job.
While applicable for any trade work, Red Wings are most often found on construction sites where workers swear by their support, protection, and style. 
My friends in plumbers and pipefitters Local 9 and carpenters Local 254 both call Red Wings the only boot they'll wear.
Named after Dakota Chief Red Wing, Red Wing Shoe Company was founded in 1905 by Charles Beckman in Red Wing, Minnesota. 
By the end of the 19th century, Red Wing was a boom town producing wheat and stoneware products, yet, there was an unmet demand for quality footwear for workers to stay at the top of their game.
With two US manufacturing plants, one in Minnesota and the other in Missouri, Red Wing remains a proudly American company that employs over 2000 employees and remains committed to their founder's mission of helping the working person where they need it most.
This allows the company to produce more than 1.2 million pairs of shoes and boots each year for customers across America and the world. 
Some proud moments in Red Wing's history include: 
1917 – Designing and manufacturing the boots used by US soldiers in the First World War
1927 – Designing and manufacturing The Gloria, the first womens' recreational boot 
1933 – Becoming the first footwear company to include a steel toe in their boots
1942 – Producing boots for US paratroopers in the Second world war
Besides making quality footwear, Red Wing owns and operates the S.B. Foot Tanning Company which provides all the leather needed to manufacture their products and the products of other businesses.
As stated by current CEO Mark Urdahl, "we are the only footwear company that has visibility into the entire product cycle." This involvement of each and every step of the boot-making process is unique in the industry and sets Red Wing apart from the competition.
Beyond making a premium-quality boot, Red Wing offers unparalleled customer service. 
This commitment to their customers includes a 30-day money-back guarantee for any reason and a 12-month warranty against any defects that might occur
All this comes together to put Red Wing at the very top of the most dependable work boot brands around. 
Red wing shoes cover a wide range of features and styles that suit most industrial settings.
A number of work boots come in narrow, regular and wide fit.
Red Wing and Safety Toe Coverage
With regards to the safety toe, Red wing has you covered.
Steel toe, Aluminum toe and and non-metallic toe are available in many styles so your toe box is safe from falling objects.
If you want 6, 8 or 12 inch boots, they've got them too.
Red Wing Work Boot Features
Features wise there are many to name.
There are numerous shoes that offer electrical hazard protection, insulation and are waterproof.
If you work in tougher environments, then there are boots that also come with a metatarsal guard, puncture and heat resistance.
Red Wing Technologies
Some of the technologies the Red Wing company employ include;
A Vibram Outsole which helps with traction.
Thinsulate insulated boot technology to keep your feet warm in extreme cold weather.
Gore-Tex to ensure you have a waterproof boot.
Boa-FIT System for a more comfortable work boot.
Chippewa Strong, Chippewa Reliable
Chippewa is another American boot brand that has walked with the US as it developed into an international superpower. 
Then and now, Chippewa produces premium quality boots and footwear suitable for the most demanding occupations and situations.
Since then, Chippewa has remained a mainstay for American workers that regularly find themselves in rugged outdoor terrain and challenging climates. 
If you find yourself riding the line between civilization and nature while at work, Chippewa is a great brand for you.
Established in 1901 in Chippewa Falls, Wisconsin, the first Chippewa boots were designed and produced for loggers in the paper and lumber industries. 
To workers, these boots quickly became as essential as the axe they carried to work each day.
As a result, the company expanded into a larger workshop that still stands today. 
Since March 1994, this building has been part of the National Register of Historic Places (#94000133). 
While that factory is no longer operational, Chippewa continues to make all their boots in the US at their Missouri factory. 
Huckberry did a great profile of this brand that you can check out once you've read this article.
This is not a brand that rests on its laurels, Chippewa continues to invest in new technologies that has resulted in their patented Chip-A-Tex membrane and the Nano composite toe. 
It is a brand that combines sturdy traditionalism with next generation ingenuity.
This ingenuity isn't a recent development, pushing the envelope is something Chippewa has been doing for decades. 
In 1937 they invented the first engineer's boot for railroad workers who needed a combination of protection and professionalism. 
Just a couple years later, with the outbreak of WWII, Chippewa was contracted by the US Military to develop a boot for their 10th Mountain Division that would perform in the most difficult conditions.
A testament to their quality, the military turned to Chippewa again when developing boots for ultra-high altitude U2 pilots in the 1950s and 60s. 
At the time, this was the furthest from Earth humans had ever traveled, and to protect our best, the government turned to Chippewa.
I could go on for awhile about all that this company has done, but here's a just a couple more quick picks of their accomplishments:
1957 – First company to use Vibram outsoles in their boots, the gold standard of outsoles
1963 – Released the first outdoorsmen boot to protect against snakebites
1969 – Invented the padded collar. All brands that offer this are modeling Chippewa!
[more info on features should go here e.g.
If we fast forward today, Chippewa boots comprise of varying models and styles that encompass many different features for work and outdoor.
They have specialist ranges for if you're a Logger, need wedge work boots or even a hiking boot.
They also have a great selection of Pull On work boots.
One of my personal favorites is the Arador Steel Toe collection.
It looks the business and has more features than you can think of.
A Chip-A-Tex® Waterproof membrane, steel toe, Goodyear storm welt construction and a vibram outsole to name a few.
Anyway, I digress.
If you want rugged quality, Chippewa is a no-brainer choice that will serve you for years.
Chippewa is part of the Justin Brands which also own Justin, Justin Work, Tony Lama and Nocona Boots.
Timberland: The GOAT Of Work Boot Brands?
Timberland is definitely the most widely known brand from this list and for good reason, they've successfully connected their brand to the American worker through reliable products and excellent marketing.
Timberland boots are best described as a multi-purpose work boot. 
They can be used in a variety of settings, a fact that makes them an excellent choice if your work is general and you're not interested in an extremely specified design.
Ask a person walking down the street to visualize a work boot, the odds are they'll picture a classic pair of "Timbs." 
If your product has a recognizable nickname, you know it's a hit.
Besides manufacturing quality work boots, Timberland also produces a wide variety of footwear and clothing. 
This has launched them into the public consciousness across the US and world. 
You're just as likely to see Timberland products worn casually as professionally.
The company's reputation is on another level.
Don't let their popularity fool you though,
Timberland stays true to its roots.
As recently as 2010, boots still make up ⅔ of Timberlands sales.
Timberland – How it began
The Timberland Company's history begins in 1952 when Nathan Swartz bought a 50% stake in the Abingdon Shoe Company. 
Swartz was a Russian immigrant who had worked in New York City shoe shops and gained the hands-on experience needed to produce quality footwear. 
He relocated to Newmarket, New Hampshire and worked to build boots that helped both workers and hikers conquer the challenging mountainous terrain and weather that area is known for.
Timberland's Big Break
Swartz's big break came in 1973 when they released "The Timberland," the world's first fully waterproof boots. 
The model was so popular that the company was renamed Timberland, the name it has operated under ever since.
This technology was possible due in part to Swartz's 1968 invention, injection-molded construction. 
Predecessors to The Timberland were labeled as waterproof while their 1973 franchise boot was guaranteed waterproof; this development was an industry-first.
Some of the waterproof testing even involved putting the prototype in a factory toilet overnight and checking it in the morning.
Since then, Timberland has gone on to produce a variety of footwear, work gear, and sports apparel that you're likely to see anywhere on Earth where there are people.
Community Initiatives
Beyond gear, Timberland has gotten involved in community projects that include:
2005 – Co-founded the Leather Working Group (LWG) that minimizes tanneries environmental impact
2009 – Began recycling plastic bottles to use as materials in their manufacturing process. As of 2018 over 345 million bottles had been used to make Timberland products
2018 – Invented ReBotl, a new material made entirely from recycled plastic for the purpose of building boots
Manufacturing Locations
The manufacturing of Timberland boots usually happens in the Dominican Republic. 
There are some Timberland products that are made in the US with American materials, but not all. 
If this matters to you, check their website, or ask the salesperson (in store or online) to find out the country of origin.
I'm hesitant to give any hard facts about their materials and manufacturing, as there are a variety of products and they're not always made in the same place or with the same materials. 
Timberland is by far the largest company on this list, and it's not uncommon for large companies to source and build their products in different ways and means. 
Don't be put off by this fact, Timberland's knowhow allows them to make a quality product no matter where it comes from.
Our Favorite Timberland Pro Boot
Over the years, there is one work boot by Timberland whose name keeps coming up again and again.
It's the Timberland Pro Pit Boss.
We reviewed it here and we've found it to be one that has really stood the test of time.
Technologies and Features that Timberland Use
Like all the other brands mentioned above, Timberland's work boot brand 'Timberland Pro' encompasses many of the features you'd expect working in an industrial environment.
For example;
Goodyear welt construction to keep your footwear lasting long.
A full grain leather upper to ensure high quality boot construction and protection from the elements.
Electrical hazard protection
A steel toe cap. However, there are also many boots that also encompass composite toe and no safety toe either.
Timberland PRO also has a well established comfort system to provide cushioning, protect from shock absorption and reduce fatigue.
Who Understands Safety Boots? This Guy Right Here
I grew up in Monmouth County, New Jersey, the son of a self-employed contractor and a nurse.
Proper footwear was never something my family skimped on, as my parents understood that the right shoe for the job was almost as important as knowing your profession.
As an adult, I got into the trades and established a contracting company before I relocated for my wife's work. 
As a result, I'm familiar with what makes a good boot, and why it matters that you have one.
I've experienced what happens when you're properly prepared with your shoes, and I've witnessed what can happen when you assume that being prepared doesn't matter.
I'm telling you all this because besides writing articles, I read them too. 
I often see the "author," only to later discover the same picture in Shutterstock. 
I instantly doubt everything I just read and feel like I have to go back to square one in looking for the answers to my question.
I want you to know I'm a person writing this, not a random content producer from India, The Philippines, Argentina, or even the US that wouldn't know a boot if it hit him in the head.
Are Less Known Safety Boot Brands Poorly Made?
No! You can find premium, American-made, boutique work boots from many less-known brands.
Just because a boot isn't popular doesn't mean it's of poor quality.
Many smaller companies put their heart and soul into every pair, and I'm looking forward to doing some profiles on boot companies I think my readers would be interested in. 
Wrap Up
There are dozens of work boots brands that I could've mentioned.  
However, I didn't want to overwhelm you so I stayed with a few the brands I feel are highly reputable, provide quality products and have stood the test of time.
There's a wide world of work boots out there and I'm just getting started telling you about it.