Are Timberlands Good for Snow? What Should You Consider if you Want Warmer and Dryer Feet?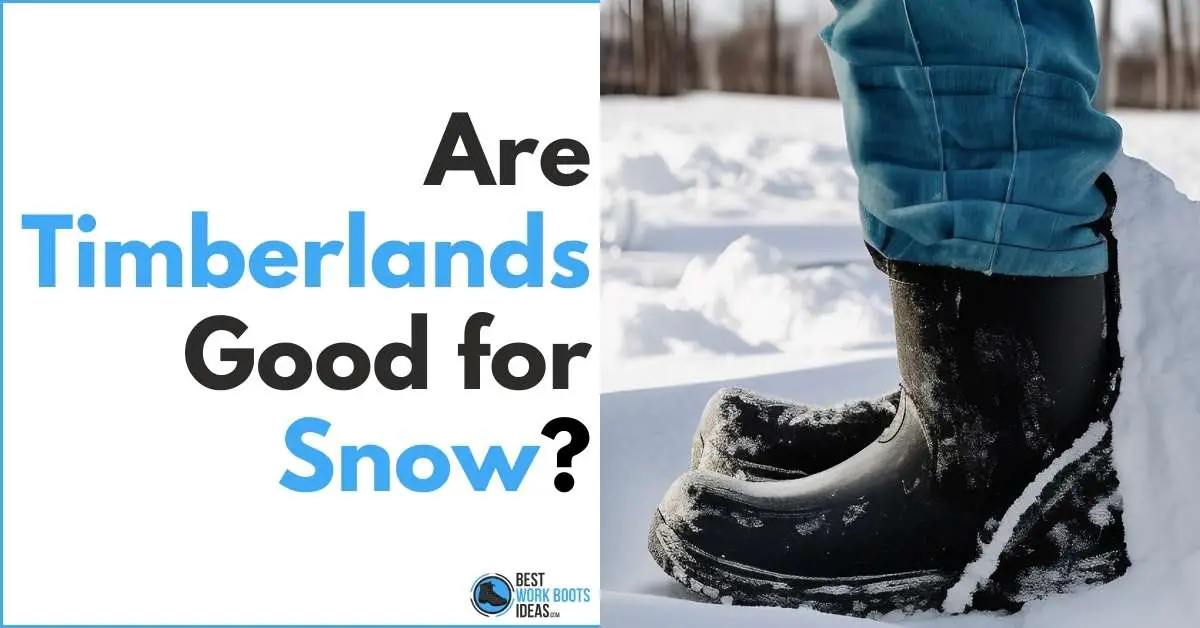 In my many years of buying boots, there's one brand of shoe which I've brought time and time again.
When you hear the name TImberland, it's synonymous with quality.
Their iconic boot, made of nubuck suede leather and a wheat color probably comes to mind.
In this article I'll answer the question that you've searched for and also look at what options you have for a possible winter work boot made by the Timberland company.
Especially if you work in cold weather and icy conditions. 
Here's Your Problem
Working in a cold and damp environment isn't really anybody's cup of tea and I'm sure neither you or your feet want that too.  
Not finding the right boot won't make your problem go away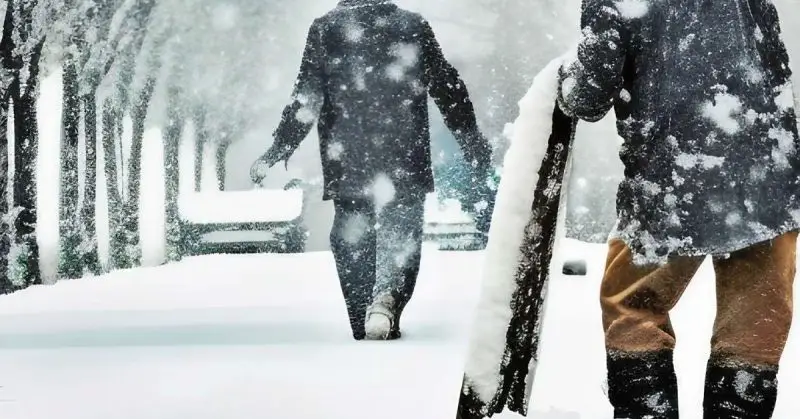 Whilst the snow can be amazing to look at, it can be a real problem if you've got to work in that environment without the correct footwear.
Now I don't know about you, but I've had instances where my boots have had a leak and the water has seeped right through to my socks and feet.
It's horrible. 
Especially if you've got to work all day with wet feet.  
What makes it even worse is when it's -4C outside and you can't feel your feet.  It's very uncomfortable, cold and really impacts your ability to work.
Then there's the scenario where the snow turns to ice.  The first thing I think as I'm walking out of the house towards my truck  is "I really hope I don't slip", and, "How am I gonna walk on that?".
I know that feeling. The last thing you want is to get injured and take time off work.  
And, if your current boots aren't going to even support you then you're already in trouble even before you've left the house.
Personal safety becomes paramount.
However, with the right pair of work boots, you can mitigate this and get your feet protected.
So What should you look for when considering a Snow / Winter Boot?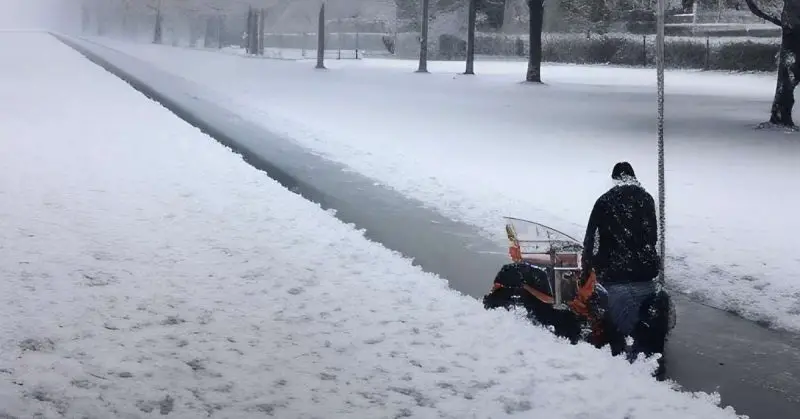 Now if you're in the market for a pair of winter work boots that protect you from severe cold weather, what features should you look for?
Do You Struggle with the Cold?
You know that pain you get in your toes and joints when your feet are soo cold because they've been exposed to icy weather? 
What you need is good levels of insulation that will give your feet that extra warmth and comfort.   
Many Timberland boots come with PrimaLoft insulation technology which should solve this problem and keep your feet nice and warm.
With Ice comes Water
Keep your feet dry and protect them from wet, slushy and snowy conditions by ensuring they are a pair of waterproof boots. 
A number of Timberland models are made with waterproof leather or a membrane as well as a sealed seams to ensure your feet stay dry.
Avoid Trippin'
You really want to avoid slipping or tripping in icy conditions.  The key here is to have good traction.  
Look out for a boot with a thick rubber outsole and deep lugs for good tread and good grip.
You want a heel but not too high.
TImberland boots come with ExoSpine technology which helps to give you a better heel fit.
How about some Ankle Boots?
Working on slippery surfaces (icy conditions) means you should also consider some kind of protection around your ankles.  
A padded collar should help give you the support needed to ensure your foot is protected from being injured, from the elements and also comfortable.
Just make sure its a firm fit.
Any boot from 6 inch upwards should be a good option.  
You might even want to consider a pull on if this doesn't interfere with the type of work you do.
3 Timberland Snow Boots You Should Consider
Based on the points mentioned above, below are a few ideas for Timberland snow Boots as a starting point for you.
Timberland claim this boot to run true to size.  This means you don't need to go big or small when ordering this boot.
Keep your feet dry with a seam sealed construction and waterproof full grain leather.  
A solid rubber outsole means good grip and support.
You'll want to keep your feet warm in low temperatures so these boots come with an insulated lining.
Having a breathable boot also means your feet will feel fresh regardless of the weather conditions.  
Other benefits include shock absorption and electric hazard protection.
If you're looking for a workhorse, then look no further than the Boondocks.
Waterproof Leather supported by a waterproof membrane will keep your feet and toes nice and dry.
For traction, the Vibram Fire & Ice outsole will keep you moving with confidence.
A combination of a goodyear welt and cement heel construction means you'll be able to replace part of the sole without needing to buy another pair. 
I'll be honest, the combination of Goodyear welt and cement isn't something I've seen from any manufacturers so its quite an interesting take on the construction method.
ExoSpine technology will help your heel fit properly as well as the overall structure of the boot.
As you can imagine there are also a magnitude of other features that will help you such as a breathable lining, electrical hazard and a composite toe if your toes need protecting. 
This particular style seems to run a size bigger so just be mindful when ordering.
When you're working in snow, one of the major issues you want to keep at bay is water and cold.
These Helix Pull on boots aren't just very good to look at but are probably just what you're looking for to keep your feet warm and dry.
Being a Wellington style means that they'll be a lot higher than a 6 or 8 inch boot.  
That means more parts of your leg to insulate and keep warm.
The waterproof and breathable membrane will protect from water and moisture.
Whilst this is a soft toe boot, it offers electrical hazard protection and anti fatigue technology so you can be standing on our feet all day,
A decent size rubber sole along with exospine technology will ensure good grip and a durable pair of work boots for snow.
They run true to size so order your usual size.  
Avoid these features when buying Boots for Snow
Now while Timberland have an array of boots for cold weather, not all will be ideally suited for snow.
As much as I love the Nubuck leather look, it's probably not a good option for very wet conditions as you can damage the material.  
In fact any kind of nubuck or suede isn't a good idea. 
Do you really want to spend time cleaning stains out with a suede brush when you get home from work?
Instead go for the full grain leather.which is generally waterproof and more durable in wet and snowy conditions.
A flat tread or any boots with little or no lugz isn't going to help you much unless you're working on asphalt which is completely the opposite temperature.
Conclusion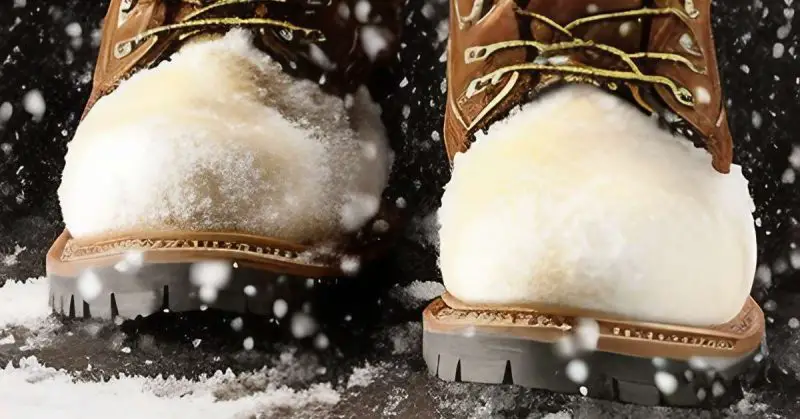 So to answer your question;
Are Timberlands Good for Snow?
In short, Yes. Provided your outdoor boot has the correct features for the snow and winter, your feet should be fine.  Ideally you need to ensure they are durable, waterproof and insulated which should protect you and your feet from the snow. Good grip is also essential.
On a final note, remember that the above are just the minimum requirements for icy conditions.
If you need any further protection such as a steel or composite toe, then please don't forget to factor this in as part of your buying process.
You should always consult your PPE manual or speak with HR if you are unsure.
TImberland boots are definitely a good pair of shoes to invest in as there are many styles that cater for most weather conditions.  
The company also has a solid reputation for providing shoes with good durability.