What are the Best Work Boots For Asphalt? Your FREE Buyer's Guide + 5 Options for working in extreme heat.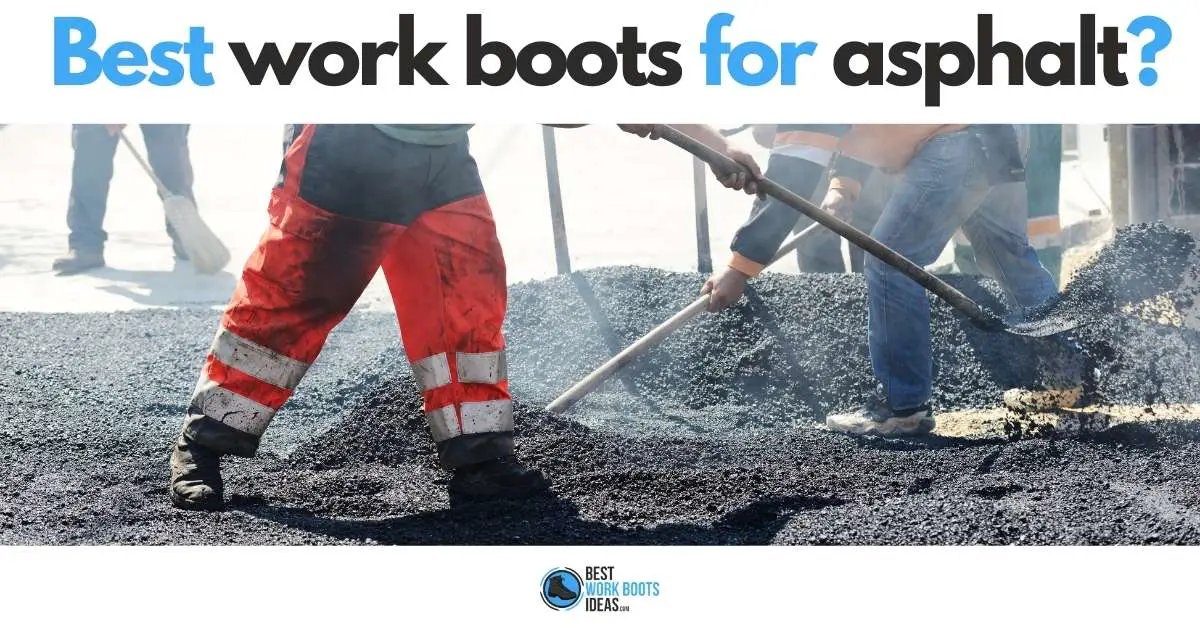 Working with asphalt is an extremely taxing job on your body.
There's no choice but to be on your feet all day, working on unstable surfaces and extreme temperatures. It's among the professions where the wrong pair of shoes simply isn't an option.
You might slide by with the wrong shoes on a construction site, but asphalt work is different, the ground beneath your feet will tell you if you chose correctly, not some foreman.
With respect to that point, let's dive into the features you should look for and the boots that will deliver them. Here are the best work boots for asphalt.
Work Boot Features for Asphalt Workers to Consider
As I already stated, asphalt work is a horse of a different color.
I'm not so much suggesting that you get boots with the following features, rather I'm telling you that these are the features you need in order to be safe at work.
Failure to go onto your job sites properly prepared could result in discomfort and a lack of mobility in the best case.
In the worst case it could result in melted outsoles, falls, and burns. Pay heed to the following features and avoid all the suffering! Let's see what they are.
Heat Resistant Soles
You'll need heat resistant outsoles to prevent the hot asphalt from eating away at the bottoms of your new boots.
I imagine this is not a point I need to drive home too hard. Whether you're experienced with asphalt work or getting into the profession, I'm sure you know that it's an extremely hot substance when it's being laid down.
From a purely financial perspective, who wants to ruin a pair of boots?
From a medical perspective, who wants third degree burns on their feet?
Anyone who doubts the seriousness of asphalt burns can check out OSHA's list of reported asphalt injuries.
Waterproof
Although asphalt work is not done in the rain, there's a million ways to soak your foot unrelated to rain falling from the sky.
It's best to prepare for any and all situations so when you're standing on new asphalt, it's not turning your soaked foot into a mini sauna and creating bigger problems down the line.
Flat Outsoles
Asphalt is sticky and will attach itself to any sort of nook it can find. It's best to avoid giving it a 90 degree heel or deep lug patterns to work into.
Besides the danger and discomfort of adding weight and material to the bottom of your boots as you work, no one wants to spend extra time working to chip dried asphalt out of their boots' lugs at the end of the day.
Composite Toe Cap
For the same reasons that you need heat resistant outsoles, it's wise to grab a pair of boots that feature a composite toe cap.
Steel or alloy toe caps are going to respond to the extreme temperatures of fresh asphalt and act as a miniature oven for your toes.
Composite toe caps are unreactive to temperatures and as an added bonus, they're lighter so you'll be less tired by days' end. 
Buying Guide Feature Overview
Heat Resistant Outsoles – Stay safe from the extreme surface temperatures
Waterproof – Don't go from soggy to steamy, keep the water out!
Flat outsoles – Limit asphalt build up on your boots by limiting where it can hide
Composite Toe Cap – Don't make your toe cap a toaster, go composite to resist the heat
Our Top Picks
Affiliate Disclaimer
Affiliate links may be present throughout the Bestworkbootsideas.com site and we (the site owner) may earn a commission from any sales made from recommending products on this site at no extra cost to you.
Irish Setter Men's Ashby Safety Toe Wedge Work Boots
Our list begins with the Irish Setter Ashbys. These wedge boots offer a nearly flat outsole that has just enough tread to give you traction but not enough to collect asphalt.
The hearty outsoles are made of a rubber and ethylene vinyl acetate (EVA) mixture, and are heat resistant up to 475 degrees. This will ensure your boots stay intact even if you step directly in some fresh asphalt.
Additionally, they are slip and oil resistant, ensuring that any oil collected from your work won't affect you on other surfaces.
These boots feature an aluminum toe cap that will keep you safe, but perhaps a little warmer than you would like. Fortunately, the depth of the soles is substantial so it won't be close to the ground.
The exteriors are built with Trout Brook leather that is naturally water resistant.
Model Number: 83606
Pros
Excellent heat resistance
Excellent outsole shape
Slip and oil resistant
ASTM F2413-11 I/75 C/75 EH Rated
Goodyear welt construction
Full-grain leather uppers
Cons
Alloy toe cap
Not fully waterproof
KEEN Utility Men's Chicago Waterproof Safety Toe Work Boots
The KEEN Chicago work boots are bound to be a hit with asphalt workers everywhere. 
These Chicagos feature a rubber outsole that's built to withstand temperatures up to 572 degrees, so you'll be safe even if stepping in asphalt directly off the truck.
The outsoles are also ASTM-rated for slip and oil resistance. 
Advertised with a 90 degree heel, the depth of the heel and tread pattern was not substantial enough for me to ignore everything else these boots offer.
These boots feature a composite, carbon fiber toe cap. This offers the best toe protection available while transferring none of the heat of your worksites to your toes.
The waterproof leather exteriors are coated with a PFC-free, durable, water-repellent finish. 
This is backed up by the KEEN.dry waterproof and breathable membrane to ensure you stay dry in all senses. 
To top it off, the KEEN.ReGen energy returning midsole returns energy to your feet to make your days less exhausting.
Model/Style Number: 1024182
Pros
Waterproof and breathable
Excellent heat protection
Entirely non-metallic construction
Composite toe cap
ASTM F2412-18, ASTM F2413-18 I/75 C/75 EH rated
Cons
Outsole not flat
Tread pattern deeper than I'd like
Cofra Asphalt US Road Boot 8-inch Heat Resistant Safety Toe
Cofra has designed this boot with asphalt workers in mind and no one else. 
The outsoles are a mixture of polyurethane and nitrile that can resist temperatures up to 572 degrees for a minute.
Additionally, the outsoles are entirely flat and without lugs or treads to trap asphalt and debris.
The Heatdefender PU midsoles work to ensure that none of the heat from the road makes it to your feet. The PU also limits the shock felt by your feet and legs from stepping down all day.
Even the insoles in these boots are PU and heat resistant, giving you three layers of protection.
The thermic insole foot bed offers puncture resistance to keep sharp objects from making it through the skin and also insulates against high temperatures.
These boots come with a composite toe cap to ensure that you're kept safe on the job without exposing yourself to unnecessary heat.
Printed leather exteriors are water repellant so any water you get hit with will run right off.
Model/Style Number: 26720-CU0
Pros
Excellent heat resistance
Excellent outsole shape
Puncture resistant foot bed
Composite toe cap
ASTM 2413 I/75 C/75 rated
Cons
Not waterproof
Printed leather, not full grain
Irish Setter Crosby Men's 11in. Waterproof Pull-On Nano Carbon Composite Toe EH Work Boots
These pull on boots are sure to make any asphalt worker feel safe. 
With heat resistant rubber outsoles that are tested up to 475 degrees, there's nowhere you'll step that causes problems.
Completely waterproof materials with additional UltraDry waterproofing, the uppers of full-grain leather and nylon also offer low thermal conductivity so you it's not just your soles that are protected from the heat.
These boots don't just deal with heat, they feature a composite toe cap, and gas/oil/abrasion/slip resistant outsoles so safety is an all around concern.
The dual-density midsole with energy returning features makes each step throughout the day easier.
The outsoles do leave something to be desired with the tread pattern slightly more aggressive than I'm comfortable with, but the overwhelming number of features still make these boots a great choice for asphalt workers.
Model/Style Number: 83936
Pros
Heat resistant soles and exteriors
Composite toe cap
Entirely waterproof
ASTM F2413-11 M I/75 C/75 EH rated
Cons
Tread pattern
Not flat outsoles
Wolverine Men's I-90 DuraShocks Moc-Toe 6″ Waterproof Safety Toe Work Boots
The DuraShock moc-toe wedge boots will keep you comfortable while paving.
The exteriors are entirely full-grain leather, backed up by a waterproof and breathable membrane. Interiors are breathable and moisture wicking so you won't build up sweaty feet while working.
The outsoles offer a flat surface with a bare minimum tread that will ensure you're not collecting passengers on your boots nor leaving treadmarks in the fresh hot pavement you've just paved.
The TPU outsoles are slip, oil, chemical, and heat resistant so you won't need to worry about what you're stepping on so long as it isn't sharp!
The DuraShocks also feature the DuraShock technology (go figure) that dispels shock and returns energy to your foot making for a less physically demanding day.
To finish it off, these boots feature a composite toe that keeps you safe without extra weight or heat.
If you want to if Wolverine boots are good, then read the article we wrote about it.
Model/Style Number: W201096
Pros
Waterproof and breathable
Flat outsoles with minimum tread
Heat, oil and chemical resistant
Composite toe
Cushioned insole (with focus on the heel)
Shock absorption from the sidewalls
ASTM F2413-18 I/75 C/75 EH rated
Cons
Our Top Pick
At the end the Cofra Road Boots were without real competition. 
It was the only boot I found that thoroughly detailed their heat resistance temperatures and the amount of time they could withstand that temperature (click the link to see for yourself). 
The completely flat, treadless outsoles ensure you won't be leaving marks in your fresh work.
If you're a roofer, you might be interested in looking at the best work boots for roofing.