Thorogood Boots vs Red Wing: How to Pick The Top American Work Boots Brand for YOUR Feet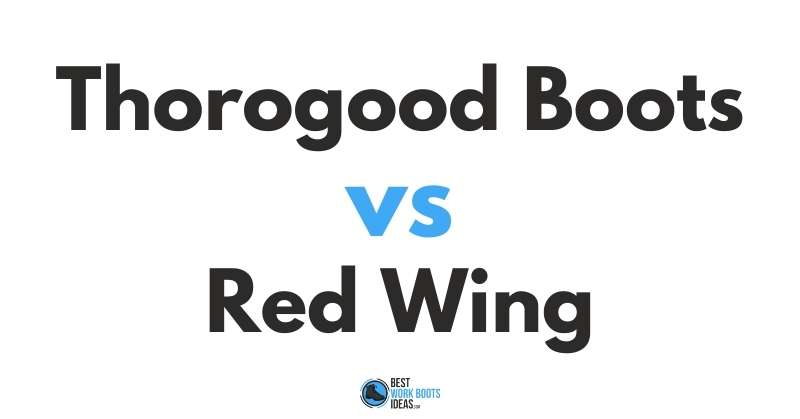 When looking for boots, many people want an American-made pair. 
American-made boots are premium products, but there are choices even in this department.
Today I'm covering two brands worth looking into: Thorogood and Red Wing. 
Both have areas in which they shine, others where they're lacking.
After reading, researching, and a good amount of writing, I've got some takeaways about how they match up. 
When brands distribute information about the superiority of their product, they lean into the things that suit them. 
My job here is to cut through the noise, and tell you the real ins and outs.
Let's proceed and see what those all are!
Know the Top Brand For Your Work: When Should I Buy Thorogood or Red Wing?
The quick answer: if it's only about work and never fashion, you're better served by Thorogood. 
If you want your boots to offer multi-functionality or non-work functions, turn to Red Wing.

If you have an occupation that poses particular challenges, Thorogood (in my opinion) does a better job of offering specific products.
Red Wing provides products of excellent quality but chooses to advertise them more broadly for a number of professions and uses.

Thorogood has remained true to its original 1917 mission to provide specific products for "jobbers." Their catalogue is extremely detailed and allows you to quickly find products catered to military, fire, and even public safety jobs.

Red Wing made a choice in the 1980's to focus on more casual uses in their product. This has resulted in a greater selection of leisure footwear.

There are no hard and fast rules, it's all about what your needs are.   
Key Similarities between Thorogood Work Boots and Red Wings
The Moc Toe Boot
As you'd expect from a major safety footwear brand, both firms offer the most common safety features and styles.  
As an example, both companies have a Moc Toe style work boot.  
For Red Wing the 'Classic Moc' comes from their 'Heritage' range that was first introduced in the 1950's.  If you know your work boots then you'll instantly recognise the look of these.
You'll also find a range of Thorogood Moc Toe boots in their 'American Heritage' and '1957 Series' ranges.
Whilst we won't go into which brand of shoe one is better or worse here, there is plenty of debate online.
Built to last with Goodyear Welt Construction
According to the Red Wing website, the majority of the Heritage footwear range is built using Goodyear Welt Construction.  
This generally means that the boots are resoleable.
Similarly, you'll find a large portion of Thorogood Boots also incorporate Goodyear Welt construction.
Safety Toe Protection Features
As you'd expect, both brands have an abundance of safety toe features.
If you're searching for Steel toe or composite toe then both Thorogood and Red Wing have quite a large selection.
From Red Wing some of the models that include a steel toe include; 
King Toe 
Supersole 2.0 
Dynaforce 
Truhiker 
Loggermax 
Truwelt 
Maxbond 
Injex 
Rioflex 
From Thorogood some of their steel toe models include;
American Heritage Midnight Series
American Union Series
1957 Series
USA Logger Series
Signature Series
Soft Streets Series
V-Series
Having scanned through a number of these styles, I did notice that the ones I searched adhered to the ASTM F2413 standard.  
Please make sure you double check the individual boot you are interested in.
Electrical Hazard (EH) Support
Both brands have plenty of options for those looking for electrical hazard protection safety footwear.
There's even a Hiking Boot Style for you
I was also quite excited to see that both brands offered a hiking boot and had a model dedicated to them.
From Thorogood you have the Cross Trex style.
From Red Wing, the Truhiker model should suffice.
Comfort and Fit
One key feature that I believe we should all get as a default is, a comfortable work boot.
For many of the Thorogood range, shock absorption is included with the removable insoles.  I'm not aware of a particular technology unlike some other brands.
Red Wing seems to be similar in that they have a Polyurethane footbed but nothing that I'm aware of in terms of actual comfort technology.
This doesn't in any way say that the boots are not comfortable.  Some brands just like to create their own comfort technology and market it.  A classic example of this is Timberland Pro with their Anti Fatigue technology.
Know Your Thorogood and Red Wings Sizing Tendencies to Experience the Most Comfortable Fit
Both Red Wing and Thorogood offer such a variety of styles, so there's no "tendency" for their sizing to run large or small. 
Both manufactures suggest that you go to a store to be fit for the exact boot you want. 
This runs contrary to current trends of online shopping, but will result in the finest fit.
This is in direct contrast to a specific style of footwear like bunny boots. 
I did an entire article discussing how to fit them because it's only one boot, not hundreds of different styles and products.

Regret to tell you this, but I don't think the internet is gonna' help with this one. You need an actual person to help in this department.  
Modern Boot Technology and Features: Does Thorogood or Red Wing Take the Top Spot?
Both Red Wing and Thorogood offer products with the most modern tech available on the market. 
Neither Brand has a competitive edge in the sense of their technology. 
If there's a certain feature you're looking for, I can almost promise you'll find it in either company catalog (see below for similarities).

Again, Thorogood focuses more on work-usages while Red Wing focuses on leisure footwear.
Don't get it twisted though, there's a lot of overlap in terms of the products they provide. 
If you work "in the trades" and aren't more specific than that, you're fine with either brand.
Made In USA: How to Know if You're Buying American or Getting Duped
Brands promote the good facts and bury the less favorable one. 
If it's American-made, you'll definitely see that promoted loudly. 
If you don't see a "MADE IN USA" tag somewhere on the product or webpage, I guarantee it's foreign made.

I advise you always look each pair to find where it's manufactured. 
When I started writing this article I believed all Thorogood products were American made. 
After looking at a number of products on their website, I finally found an imported pair.

I am in no way saying that non-American made footwear is inherently of lesser quality. 
I just know that the further you get from the owners, the more likely it is that a blind eye will be turned to any shortcomings in the production process.
Thorogood: Wisconsin Boots for All American Workers
Thorogood reigns supreme when it comes to manufacturing quality, as they have managed to keep more of their production American.

The majority of Thorogood products are made at two factories located in Merril and Marshfield, Wisconsin. 
With raw materials that are 98% American-made, this is a brand that remains committed to supporting our nation and its communities from all angles.

Thorogood acknowledges that while the current trend is to outsource and cut costs, their philosophy is to build something consumers want to invest in. 
This perspective is unique, and certainly something that encourages spending a little more to get a lot more use from your boot. 
Red Wing: Born in the Land of 10,000 Lakes 
Red Wings continue to be made and/or finished stateside at locations in Red Wing, Minnesota Potosi, Missouri, and Danville, Kentucky. 
The Red Wing company has made some admirable efforts to figure out how to return 100% of their manufacturing to the US, but it isn't quite there yet.
Don't be confused about "Red Wing" manufacturing most of its products abroad, this is inaccurate. 
The Red Wing Shoe Company operates a handful of brands (Irish Setter, Red Wing, Vasque) and these subsidiaries are made abroad to offer consumers a less expensive choice.
While there was a period during which Red Wings were stitched in the Dominican Republic and finished in their American Factories, this is now changing. 
In recent years, the company has made a great effort to return all aspects of manufacturing to their original factory.  
Who Tests Best? Learn About Thorogood and Red Wing Testing Procedures
With separate off-site facilities specifically dedicated to research and development, Red Wing beats out Thorogood when it comes to testing. 
This isn't to say Thorogood doesn't do quality control, they do, Red Wing portrays itself to be more….thorough. 
Thorogood
The quality-control department of Thorogood conducts 10 tests of their products before leaving the factory. This ensures a reliable product that workers can trust in the toughest of situations. 
Red Wing
Red Wing has a state-of-the-art testing facility in the states. 
All products are subjected to strenuous internal testing before being sent to ASTM facilities to get the ratings required by OSHA and many individuals before they're work-site approved.
Union-Strong: Are Thorogood and Red Wing Boots Union-Made? 
Thorogood proudly demonstrates a commitment to union labor by staffing all its factories with union workers. 
Red Wing, on the other hand, doesn't specify if their workers are all union members, which leads me to believe they're not; this makes me lean towards Thorogood here.
Since 1946, Thorogood has proudly made their products with union labor, making them a favorite amongst union workers. 
This is a company that understands it matters to consumers who make the products they're buying. 
To be specific, members of UFCW Locals 688 and 717 are responsible for the majority of Thorogood boots that leave the factories.

Rule of thumb: if there's some fact that would reflect positively on a company and they're not announcing it loudly and proudly, it's probably not. 
I understand that some Red Wing workers are union members, but not all.
Outsourced labor and its management knows that they were chosen in an effort to reduce costs.
This incentivizes keeping mum about any issues, lest those on the corporate board decide it's too much of a headache to produce abroad and want to return production home.
Want to Know What's in a Quality Boot? Material Sourcing for Thorogood and Red Wing Boots
Red Wing sources its own leather internally, allowing them a level of quality control that Thorogood simply isn't able to match. 
As leather is the primary material in most work boots, this is a huge win for Red Wing and a major reason for their continued quality and popularity.

In 1987 the company obtained the S.B. Foot Tanning company, which uniquely positions it to produce and supply all the leather needed for its boots.
Red Wing CEO Mark Urdahl has noted how the company has an unmatched level of control over their products and the materials that go into making them. 
This is uncommon, and something to be envied by Thorogood or any work boot brands

I can't stress strongly enough how important it is to be in control of your own material sourcing. 
Besides the cost savings that get passed on to the consumer, the ability to prevent any quality control issues from emerging once the boots are being used is much stronger at Red Wing.
How Reliable Are Thorogood and Red Wing Warranties? Boot Brands That Won't Abandon You
The warranty offered by Red Wing is thorough, clear, and generous. 
Red Wing is clearly committed to customer service even after the boots have left the store, something I can't say as easily about Thorogood. 
Red Wing Boots Warranty
Disclaimer:  Please double check the Warranty period as this could change.
Red Wing really goes above and beyond when it comes to warranties. 
Without a single question, the company accepts returns within 30 days of purchase. 
Any product failure within the first 12 months of use is covered by their warranty.

This fact should be kept in mind as even in the best of circumstances, material failures and human error will occur. 
It's always good to have a company that's willing to stand behind their products even after you've brought them home and used them
Thorogood Boots Warranty
On the other hand, the warranty offered by Thorogood looks like it was written by their lawyers' lawyers. 
Wordy, unclear, a thoroughly obnoxious read, everything on that page tells me they're only refunding product failures in the most heinous of situations. Not a good look, Thorogood!
Affordable or Just Adorable? A Quick Comparison of Thorogood and Red Wing Boots
The costs are relatively even between Thorogood and Red Wing boots, with Red Wing capping out a little higher. There isn't an extremely notable difference in this department, however.

The truth is that neither company makes discount boots. If you're interested in either brand, prepare to drop at least $150, and as much as $400 for models jam-packed with features.
Thorogood and Red Wing Ownership Situations: Know Who Pulls the Strings Behind the Curtains
A notable fact about Thorogood is that they've been employee-owned since the 2000's. 
This is a huge factor that differentiates Thorogood from the competition. 
Red Wing is owned by the Sweasy family, but much less information is available on this. 
While most manufacturing workers have a limited level of personal involvement in the company, each Thorogood worker has the greatest incentive to continue producing a boot that consumers will recommend to friends.  
Don't Panic! Happy Feet in Either Thorogood or Red Wing Boots
Whether you grab Thorogoods or Red Wings, your feet and body will be well served. 
Both brands are appropriately considered premium products and do more to ensure quality in every pair they produce than the vast majority of footwear available.

Be patient, diligent, and ask the right questions. 
You'll end up with the pair you need