Are Wolverine Boots Good? A Complete Updated Guide That Explains Everything You've Been Wondering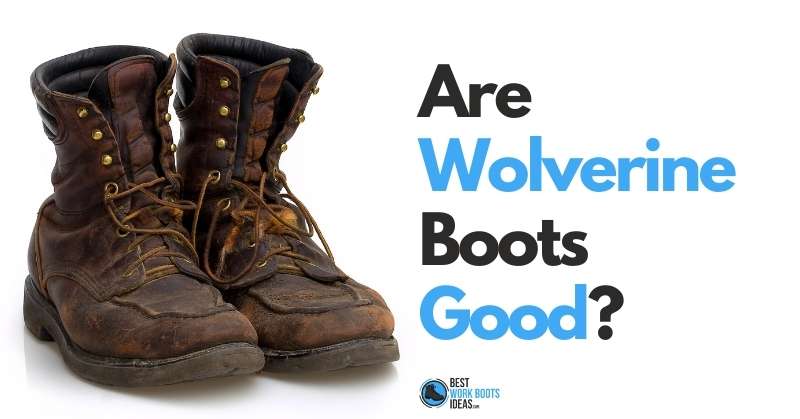 Wolverine is an American footwear company that has been around since 1883. In that time, they've remained committed to providing workers with footwear that works as hard as they do to keep them comfortable and safe.
Today I'm going to look into whether they've stuck around because they deliver a quality product, or if it's just dumb luck.

No time to waste, let's do this already!
I'm Busy Today, So Just Tell Me Already: Are Wolverine Boots Good?
The short answer is yes, Wolverine boots are a high quality brand of footwear that you can't go wrong with. They're an American business that's been around for almost 140 years. They've developed a number of technologies to improve the experience of workers with tough jobs.
I warn you, don't stop reading here and buy a pair of boots without trying them on. 
There's no magic information that will allow you to know how a pair of boots will work for you. 
I've said this in articles on how to fit military boots, how to fit cowboy boots, and how to fit steel boots, .
Even with quality products you're required to take some time to figure out what works for you.
Keep reading to see some of the specific reasons I'm telling you that Wolverines are good. 
I get pretty detailed in this article as there was a readily-available wealth of information; thanks Wolverine!
What Are Unique Features of Wolverine Boots?
Wolverine has many patented features unique to their boots. Contour Welt construction,
MultiShox Comfort System, DuraShocks outsoles, EPX footbed, and the Carbon Max toe cap are all technologies brought to life by inventors at Wolverine. That's an impressive list!
There's a lot of discussion about different parts of a work boot coming up so it's a good idea to review the different parts of a work boot. 
If you think Dr. Scholls makes insoles, you need to review the link I just provided. For the record, Dr. Scholls makes footbeds, not insoles.
What is Contour Welt?
Contour welt technology blends the traditional strength and stability of Goodyear welt construction with the flexibility and comfort of a cement construction. The Welt is designed to give in the areas where the foot and boot bend, allowing for a more natural stride.

This technology offsets the primary downside of Goodyear welt construction, that it can be a little stiff to walk in. Fortunately, unlike cement-to-welt construction boots, this style can be resoled when it's time. This saves you money and discomfort that comes with a new pair.
What are Wolverine DuraShocks?
DuraShock is a branded design of outsoles with several unique features. These designs return energy to your foot and provide greater stability than traditional outsoles.
Both the front and back of the outsole are built with compression pads. To stop shock at the source. 
If any gets beyond that front line, there are several more defenses past that.
The outsoles have an H-frame construction that expands while you're walking. 
This absorbs energy and shock instead of your foot and body. 
Additionally, this expansion works to propel your foot forward, ever so slightly.

I understand that you might be a little skeptical about how much of a difference that could really make. 
With something you're doing thousands or even tens of thousands of times per day, small energy savings make a big difference by day's end.
A number of Wolverine boots also come with a Vibram rubber outsole which is ideal for traction and grip.
What are EPX Footbeds?
EPX Footbeds are a unique design of footbed that provides relief to your feet through different designs. Multi-density foam, notched and shaped in different ways allow these footbeds to perform far better than the footbeds you're probably used to.

To start, there are two layers of foam that make up the footbed. 
The bottom layer is firm, high-density to provide stability and even weight distribution. 
The top layer is soft, low-density for comfort and shock absorbing.

On the bottom of the footbed in the area of the ball of your foot, there are numerous horizontal notches that allow it to bend with your foot and boot as you walk. 
This is intentionally coordinated with the Contour Welt design that does the same thing.
Underneath the heel there is a honeycomb or hexagonal pattern notched out as well. 
This allows the footbed to expand upon impact, absorbing even more energy.
I'm very intrigued by this design, and didn't know much about it other than friends telling me "dude, they're the best." Thanks, Brian, very thorough and enlightening review!

As I noted in a recent article about work boots and back pain, I'm a big advocate of insoles because they changed my life. 
Perhaps I gotta pick up a pair of Wolverines too to see how the EPX footbeds work for me.
What is a Carbon Max Toe Cap?
This is a composite toe cap designed by the engineers at Wolverine. What makes this toe cap special is its strength, its extremely low weight, it's resistance to temperature or electrical currents, and its slender profile.

This design uses the carbon fiber nanotechnology that's so sought after but rarely the material used when you see a composite toe.

I had discussed TPU toe caps and composite toe caps in earlier articles. 
You can double check me by reading them if you'd like, but I'll give you the gist here. 
I like composite toes when they're like the Carbon Max, but not so much when they're made of older materials!
What Are 1000 Mile Boots? Are They Good Too?
1000 mile boots are a branded style made by Wolverine. They're a traditional boot made in the same fashion as their debut year in 1914. While there are a variety of material options, the notable feature on all styles is the arched collar at the top of the boot's throat. 
One of the unique options are the leather outsoles paired with a rubber heel cap made by Vibram. 
Wolverine said they wanted to keep the classic design while giving consumers the option of modern outsoles and choice in leather. 
While these boots are quite handsome, and expensive ($300-400), they're only suitable for after work hours and not the job site. 
Not a single pair in the 1000 mile boot series comes equipped with a safety toe or any other features required by osha and the ASTM f2413 test.

Bummer! Maybe you can grab a pair anyway for hitting the town after work is done on Friday…or Saturday.
What Jobs Are Wolverine Boots Good For?
Wolverines are great for anyone that's working in commercial construction, industrial production, or any other trade where standing tall and avoiding injury is a requirement. 
Over the years, we've mentioned and reviewed many Wolverine boots.
Are Wolverine Boots Good For Hiking?
Wolverines are better than most work boots for hiking, but I wouldn't recommend buying them for this purpose. You also have to make sure you're not getting a casual Wolverine design, as those would be pretty bad for hiking.

I discussed this topic in an earlier article about the differences between hiking boots and work boots. 
You might want to give that a look if this is the question you're trying to answer. 
Wolverine does have a product called the Spencer Waterproof Hiking Boot (W05103) which may be of interest.  It comes with a waterproof nubuck leather upper and cement construction.
Are Wolverine Boots Good For the Snow?
Yes! There are many tall and slip-on boots made by Wolverine that are suitable for the snow. I highly recommend you consider how long you plan to be outside wearing them though. The longer you're in the elements, the more the cold will get to your feet.

If you're planning on a full work day, or a hearty hike, look into getting a pair with some Thinsulate insulation.  
A winter boot wouldn't be complete if it wasn't waterproof and had a Vibram sole.  Wolverine offer all of these features and plenty of options.
However, if you're looking for a work boot with a particular cap and these features, the list might not be a large.  However, there still are some options.
For a shoe that is insulated, has a composite toe and waterproof, the Wolverine Hellcat Ultraspring Carbonmax is a viable option.
For a waterproof boot that has a steel toe option, the Wolverine Durashocks are a good choice.  There are Wellington and 6 inch options.  
You might also want to consider the Marauder model.
Are Wolverine Boots OSHA Approved?
Wolverine boots offer a number of models that come with the protective toe cap and other features needed to pass the ASTM f2413 test that OSHA requires. That is not to say any pair of Wolverines will be OSHA approved, as they have many soft toe and casual models as well.
All you'll need to do to be clear on this is to check the manufacturer's specs before buying. 
By doing this you'll be able to quickly see whether or not a particular pair is safe for the work site or not. 
I do recommend checking out their casual designs, as Wolverine does an excellent job of building fashionable and stylish boots that make you look good.
As far as Wolverine work boots go, there is quite a good selection suitable for most type of jobs.  
Do Wolverine Boots Fit True to Size?
The word on the street is that the work boots fit true to size, while the 1000 mile casual boots run large. It's definitely a thing worth checking in person, even if you plan on ordering them online. 
Thankfully the majority of credible retailers will allow you to return the boots before a certain period.  
Just double check the retailer's website to be sure and to give you some peace of mind.
Are Wolverine Boots Made in the USA? 
Some Wolverine boots are made in factories in Michigan, but it's not accurate to say Wolverine products are made in the US. It's best to check the manufacturer's or vendors details before buying if American-made goods are something that's important to you.
There are currently 51 offerings direct from Wolverine that are in the "Made in USA" section of their online store. Look a little closer, and you'll see that number is a little bit inaccurate. When you remove all the casual shoes, socks, and luggage tag, the number is far less.
Wolverine currently offers 6 styles of men's work boot that are made in the USA. While I understand that we'd all probably prefer a boot that's made stateside, it's not always economically feasible.

If you're set on grabbing a pair of American-made boots, check out an article I wrote on the best widely available work boot brands. While not an article on companies that only build American, these companies do the best job amongst the major providers.
I'm Not in Michigan, but I'm A Wolverine Now
I hope you guys enjoyed learning about all the features found in Wolverine boots. 
Even for me, sometimes things regarding boots can start to seem the same, but Wolverine really does produce a quality product that any worker would be happy to wear.
Durability and comfort made with full grain leather are just many of the features and options available when you buy a Wolverine boot.
To answer your question, are Wolverine boots good?  The answer is definitely a yes.