How Do Ariat Boots Fit? Never Stop Learning, Increase Your Footwear Knowledge NOW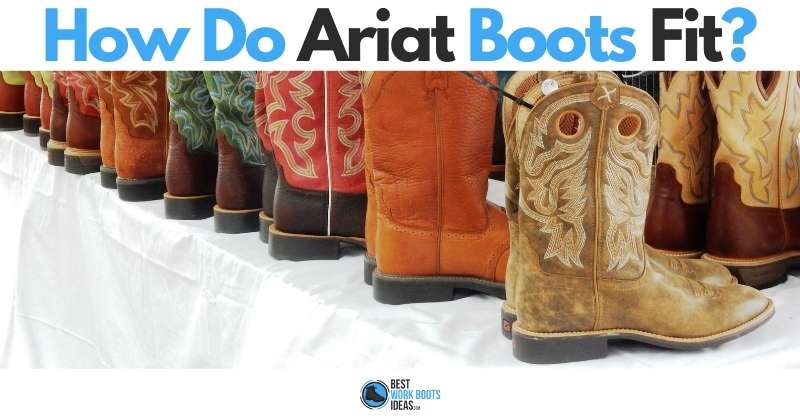 It's generally accepted that Ariat boots run a half size larger than your normal size, so if you're a 12, start looking at 11.5. A boot is never just a boot. Brand, style, and model make a difference in how a boot fits. Try each pair on to ensure they're the right size.
Today I'll discuss Ariat boots, in particular, so you'll know where to start to get the perfect fit with this brand.

Let's explore the specifics so that you can get suited up correctly!
Do Ariat Boots Run True To Size?
No, Ariat boots tend to run a ½ size larger than many well-known work boot brands. 
Click the link for the official Ariat size chart page where you'll find the length and wide width for your feet.
Just print off the pdf and you'll get an idea of your Ariat boot size. 
How Should Ariat Boots Fit?
Ariat boots should fit just like any other boot, even if the numerical size is different than you're used to. 
The most important thing is patience. 
The purchasing process isn't a 10-minute event. 
Several factors go into the fitting process for work boots and cowboy boots.
If you're interested in learning more about how work boots should fit, we've got you covered. 
The same goes for how cowboy boots should fit. 
Getting deeper into the details, we've also done an article on how steel toe boots should fit.
Should You Size Down With Ariat Boots?
Yes, it's a good idea to drop ½ a shoe size compared to your normal street footwear. That said, there's no answer I can give you here that's always true. 
There's no advice you can rely on without testing for yourself. Even on our site, no article can tell you better than your own feet.
With fitting clothing, and particularly footwear, it's best to avoid shortcuts. 
Measuring and sizing boots is not as simple as measuring a liquid or weighing an object; there are numerous variables in the process. 
Any one of these variables, the length or width of your foot, the height of your instep, or the pronunciation of your foot's arch, can result in a boot that simply doesn't fit in reality, even though it may appear perfect on paper. 
Put concisely, one measurement won't give you all the information you need to make the proper purchase for your feet. 
As I've said before, an impatient shopper is far more likely to come home with a boot that isn't right for their feet. 
If you've had this experience in the past, I'm sorry to be the bearer of bad news, but that one's on you, not the boots.
Does Ariat Provide a Sizing Guide For Their Products?
Yes, Ariat provides an extremely thorough sizing guide. You can start by downloading and printing this PDF that will allow you to measure your feet. 
Further, they have tables and charts to help you determine what that measurement translates to in terms of their products.
I'm not going to say that no other boot brands provide this much help, but Ariat was particularly thorough in their assistance to their customers. 
My hat is always off for brands that do their utmost to ensure their customers get the best possible experience from their products. 
How Do I Properly Measure My Foot for Ariat Boots?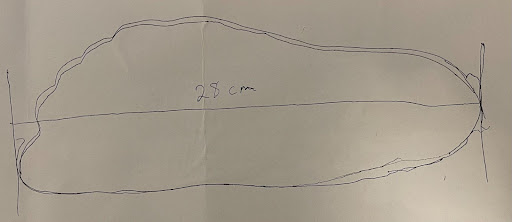 The best way to get solid answers and avoid merely guessing is to go to a shoe store. 
However, you can start at home by tracing and measuring your foot on a sheet of paper. 
Look above, I did this experiment myself and compared my results to Ariat's sizing chart.
It's best to have someone help you with this, as you can see by the inconsistent lines above.
When doing carpentry, I would hold the piece firm with a clamp, then trace. If that wasn't an option, it became a two-person job with one person holding firm and the other tracing.

The devil is in the details with carpentry, and the same is true with sizing your foot for a new pair of Ariat boots (or any work boots for that matter). My rudimentary demonstration was just that, a demonstration. 
So, what did I discover? I discovered that the common belief amongst footwear enthusiasts that Ariat boots run big was true. 
Normally, I purchase size 12 shoes (US size), but according to my measurements, Ariat says I would be best served by a size 11.5 of their boots.
Anyone in the trades probably already knows, the tracing I did was rather rudimentary. If I was at work and tracing out a piece of molding or sheetrock, you better believe I'd be using my eraser to try again. 
For the purposes here, however, it was enough to confirm what I've read.
After doing this, you're still going to want to head to an Ariat or respectable footwear dealer that sells Ariats. 
The associates there can double-check your measurements in terms of length, width, and even the height and width of your calves if you're considering getting some tall-throated cowboy boots.
Things to Consider When Sizing Your Foot For Ariat Boots
It's extremely important to wear exactly what you would wear to work when measuring your foot.
If you work in cold climates and usually wear thick socks, wear or bring them to the store. 
If you use any moleskin or other accessories to prevent blisters, corns, or bunions, wear them.
Something that applies to me particularly, and probably many of the people reading this, is the use of orthopedic footbeds. 
I always bring a pair of the insoles I regularly wear when I go shopping for any kind of footwear.
Even when grabbing a pair of new dress shoes for my wedding, I bought a deep enough pair to handle the hearty footbeds I use. 
If you focus on the breadth (widest part) of your foot, this should naturally fit well. 
Check out the images below to allow me to demonstrate my point.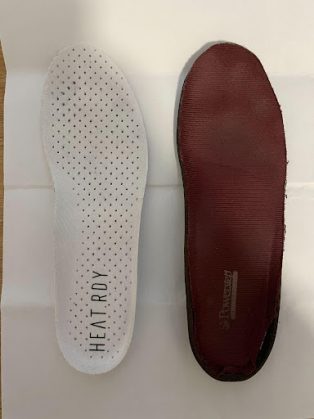 What you're looking at above is the stock footbed that came with a pair of Adidas sneakers on the left and the insoles I use on the right. Not much of a difference when you look overhead, but now take a look from the ground level.

From this angle, you can see the orthopedic footbeds I use are substantially heartier than what Adidas included when I bought them. 
The arch with my maroon footbeds is also considerably more pronounced than Adidas's stock inserts.
This isn't my attempt to dump on Adidas; I like their products and use them as casual sneakers. 
I just know that I have to go into the purchase with the mindset of bringing all the gear I need to work, walk, or play in comfort. 
Don't Neglect the Toe Area
Don't neglect the toe area. 
Based on what I said above about having the correct width, the toe box should be quite comfortable.  
However this may depend on the toe type.  
A large portion of Ariat's western boot catalog consists mostly of square toe shape caps so just be mindful of this.
Why Does Getting A Perfect Boot Fit Matter?
Failure to get properly fitted boots can result in everything from momentary discomfort to lifelong foot deformity. 
There are physical conditions only fixed with surgeries, and even then, it improves the problems caused but doesn't completely undo the damage caused over time.
I discussed some of the physical problems that can come from steel toe boots (and other toe types, too) that are poorly fitted. 
It may seem like it's not a big deal, and some coworkers in the trades might even tell you to "walk it off" or something much more vulgar.
Perhaps an unpopular opinion amongst the grizzled veterans of your local union or construction company, but finding the right boot fit is amongst the most important things to do for your work. 
It goes beyond that; get the fit right for your sneakers, dress shoes, tactical boots, and hiking boots.
Look below at this image provided by Jessica Dobson for her article in "Ergonomics." 
This lets you see that there's so much more going on when you measure your foot than simply the length. 
Failure to acknowledge the other measurements will come at your own peril.

[image goes here]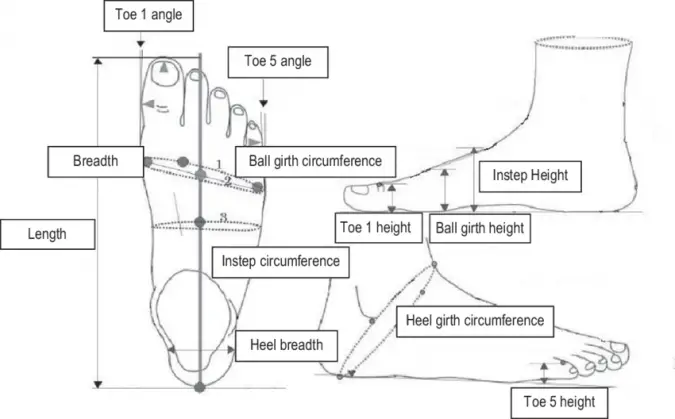 If you need a refresher on all the different parts of a work boot (and the parts of the foot they correspond with), check out the article we've done on that. 
It will help you understand the importance of getting a boot that fits you specifically.
My Soles Need Repair – What now?
Thankfully Ariat boots can be resoled so you might not need to buy a brand new pair. Read the full article to understand the types of Ariat boots that can be resoled.
Wrapping Up and Rolling Out
My work is done here, for the moment, as I've provided you with all the information about Ariat boots, as well as more details on work boots and cowboy boots in general. 
If you have an interest in western boots and are asking the question "are cowboy boots comfortable?" then read the article which gives you a bit more insight.

A proper fit makes for a happy person, so take the time to get your fit right; you'll thank yourself later.