How Should Pull On Work Boots Fit: Learn These Tips Before Your Next Purchase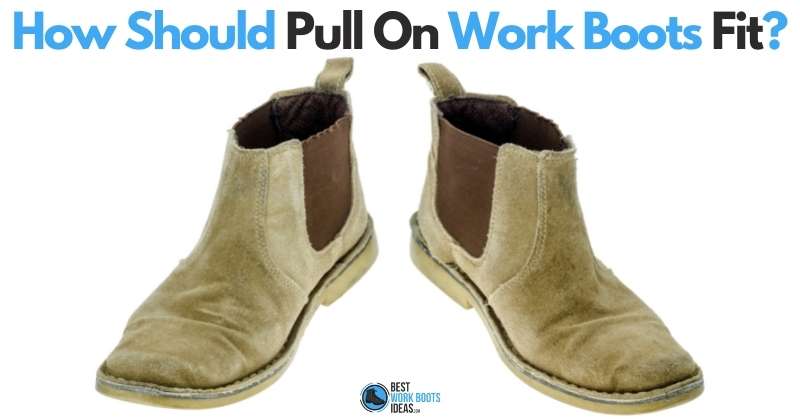 If you can easily slide your entire foot into your Pull on work boot and there's lots of room then they're too big. If you have to really struggle to get them in they're too small. Most of your foot should be able to slide into the boot and the rest being supported by a pull on tab.
When it comes to safety, it's important to have the right fit when wearing any type of boots.
This is especially true for pull on boots, which can be more difficult to put on if they're not the correct size.
In this article, we'll discuss how you can ensure a proper fit when purchasing these types of boots.
What are Pull On Work Boots
Pull on boots are a type of footwear that is different from traditional safety boots.
They are made to be pulled on, as opposed to being laced up.
This makes them much easier to put on, especially when you're in a hurry.
You wont see any laces on a pull on work boot.
The sizes can vary from 6 to 11+ inches with a variety of safety features.
Cowboy boots are also an example of pull on boots.
Examples of Pull On Work Boots
Which Brands make Pull On Work Boots?
Below are just a few of many brands that you may want to consider.
Justin
Double H
Cody James
Twisted X
Caterpillar
Carolina
Carhartt
Wolverine
Georgia
Muck Boots
Red Wing
How My Non Safety Timberlands Fit
I have a pair of non work Timberland Pull Ons.
I use them almost everyday when I'm not in a safety work environment.
Why?
They're really easy to put on and are very comfortable.
Rather then sneakers or lace ups, I'm always inclined to wear them first.
Its almost as though my eyes default on them.
When I was trying them on in the Timberland shop I made sure that they were easy to put on but snug at the same time.
Since there's no luxury of laces, you're relying on the fit of the shoe to support your entire foot.
I can run, walk or jog in them and they don't feel too tight or loose.
There's no heel slip and I didn't need to break into them.
What I found was that a pull on boot should fit like any other boot.
The opening where you enter your foot should be a bit tight so you're almost forced to use the pull tab and slide your heel inside.
That seems to have worked for me.
Which Occupations are most likely to wear Pull On Boots
There are a few different occupations that are most likely to wear pull on work boots.
These include construction workers, miners, and firefighters.
This type of footwear is perfect for these types of jobs because it is so easy to put on and take off.
Cowboys also come to mind, although they have a much wider opening.
How Do You Know If Pull On Work Boots Are Too Tight?
If your boot is too tight, it won't be able to fit easily over your foot.
When you attempt to put your pull on work boot on, the opening will be quite tight and the fabric may get bunched up when trying to slide the boot down your foot.
There will also be discomfort around the ankle or in the toes when wearing this type of shoe for an extended period of time.
How do you know if your pull on work boot is too loose?
You should also pay attention to how much give there is when pulling on these types of boots. If you can fit more than two fingers underneath the front area of the pull on shoe, it may be too big.
Pros of Pull On Work Boots
They are easy to put on
They are comfortable
They provide good support since they fit snugly
They are available in many different styles
Cons of Pull On Work Boots
If they are too big, there is a greater chance for your foot to get injured since the shoe doesn't stay put
If they are too tight, it may be uncomfortable, especially if you wear them for an extended period of time.
They are not as practical for warmth since they don't lace up
Why Is It Important To Have The Right Fit?
Safety is always of utmost importance, whether you're at work or out playing in the yard with your kids.
And when it comes to safety footwear, having the right fit is crucial.
Boots that are too tight can cause discomfort and lead to blisters.
On the other hand, boots that are too loose may come off during an accident or fall, which could lead to further injury.
We have a whole category dedicated to 'Fit' so feel free to take a read.
Do Pull On Work Boots Have Safety Features?
Yes they do.
Pull on work boots are just like your safety shoes, except without the laces.
Most major of the renowned brands offer a composite, alloy and steel toe boot option.
If you're looking for a waterproof shoe or a particular toe shape, there is a likelihood that it is available,
Just by it being a pull on does not hinder its safety performance.
However, having said that, do always check with your PPE requirements if you can wear this type of shoe without risking your safety.
How Do Pull On Work Boots Differ From Conventional Safety Footwear?
Conventional safety footwear typically consists of hard-toed shoes with a steel or composite toe cap and a puncture resistant sole.
The boots can be slip-resistant or non-slip depending on the material used in the outsole.
This type of boot usually has an upper made from leather, nylon, manmade fabrics, mesh or other materials.
In contrast, pull on work boots are specifically designed for easy entry and removal by pulling them over the foot like a regular shoe because they don't have laces or zippers that can get in the way when putting them on quickly during an emergency.
Pull on boots are typically made of a lighter material, less durable than conventional safety footwear.
Conclusion
When it comes to safety footwear, it is important to have the correct fit so that you are comfortable and safe when wearing them.
This is especially important when it comes to pull on work boots, which can be easily put on and taken off.
If they are too tight, you may experience discomfort and blisters.
If they are too loose, they may come off during an accident or fall.
Hopefully this has given you some insight and knowledge to help you with any future purchases.