Keen Utility Men's Pittsburgh Steel Work Boot Review: Is it the Right Choice For You?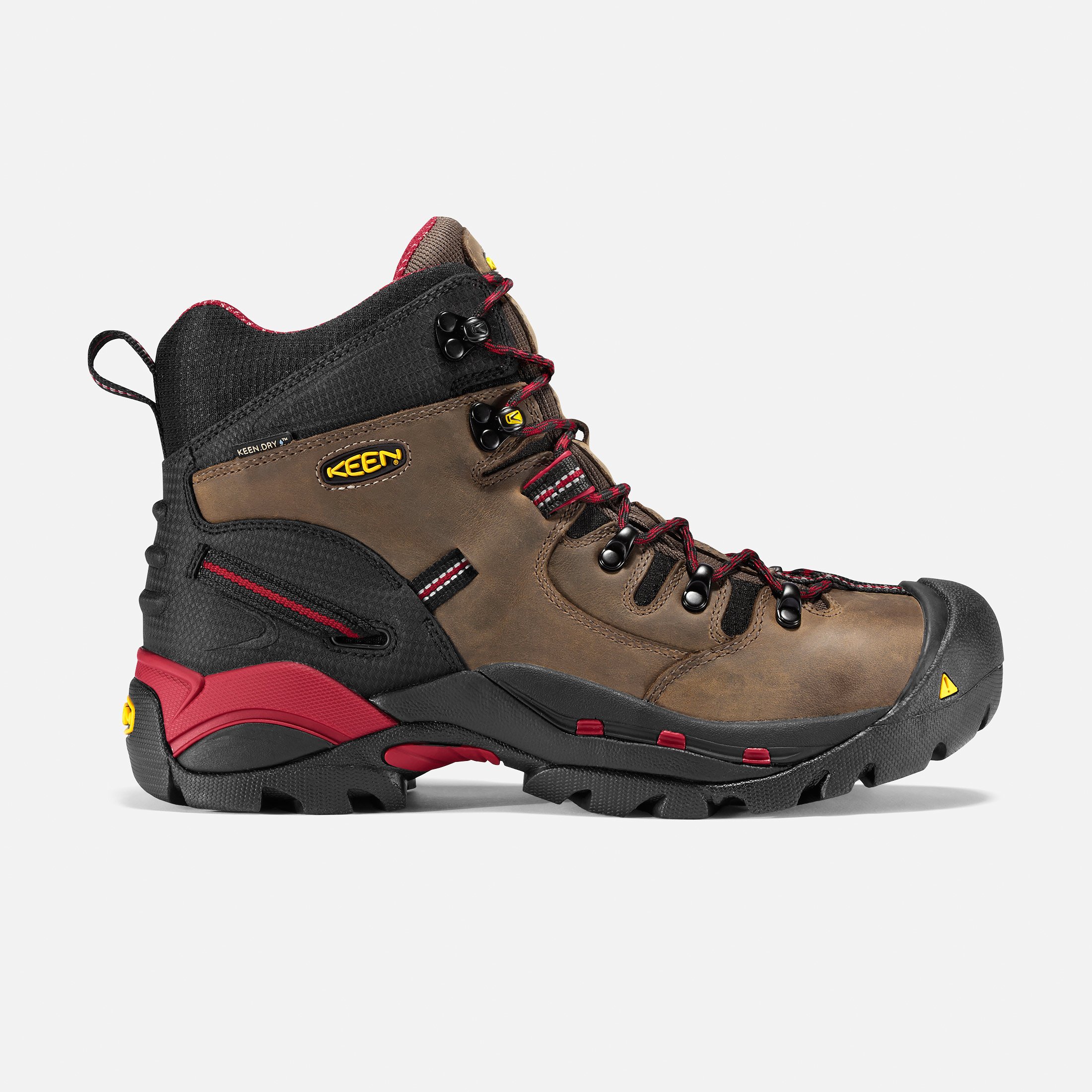 Check the latest prices;
Work Boots are among the most personal items that we buy.  First of all, a good work boot must fit, and few of us have perfect size 10, medium width feet that can slip into any brand with confidence, with no need to try it on.
In addition, your work boots have to suit your professional needs.
When you're on your feet all day, comfort is the major concern, but no one wants boots that fall apart or leave you vulnerable to injury.
Work boots are a necessity, but they are also an investment.
You don't want a long break in period nor a boot that doesn't last an expected amount of time.
In this review we cover every detail of the Keen Pittsburgh Steel Toe Work Boot, which is an over the ankle mid level work boot with a good reputation for comfort and safety.
The Keen Pittsburgh also comes in Soft Toe and ankle height models.
This review only discusses the steel toed over the ankle type, and when we say 'Keen Pittsburgh' or 'the Pittsburgh' we are referring only to the Keen Pittsburgh Steel Toe Work Boot, model #1007024.
Keen Footwear – The Company
Keen is a US company, based in Oregon. They used overseas production at one time, but announced in 2012 that they were bringing production back to the US.
Because of this, some sites that sell Keen still say that they are made overseas, while others say they are made in the US.
All of the Keen work boots on the market today are made in the US.
Somewhat less known for work boots than its competitors Red Wing, Timberland and Carolina, Keen work boots have a devoted following.
Keen was founded in 2003, and is distributed worldwide.
Their starting product was a sandal with toe protection suitable for boating and sailing, which became popular immediately.
Keen is noted for donating their advertising budget and profits to charitable causes such as natural disasters, veteran's organization, and conservation corps work.
Boot Specifics
Weight
Weight: The Keen Pittsburgh Steel Toe Work Boot is described as comfortably 'lightweight' for a mid level work boot.
According to Keen, the boot weighs 30.9 ounces, but clearly the boot size in question will make that variable.
Other sites describe it as weighing between 3.2 lbs and 3.8 lbs.In addition to the many other uses, the Pittsburghs are heavy and excellent for hiking (although that is not really going to be covered here).
The heel is a 90 degree angle, and the height is described as 'over the ankle', 'mid-top' or a '6 inch boot'.
The lacing is six high, and two of the lace hooks near the toe of the shoe have a locking design that maintains pressure and keeps the boot firmly fitted.
Pittsburghs come with durable black synthetic laces and include an extra pair of black and yellow laces.
Feature s and Characteristics:
Materials
Pittsburghs are made of 'nubuck' leather, which is real leather with a suede like finish.
The outsole is oil and slip resistant, made of non marking rubber.
The insole is 'synthetic textile', which is likely nylon.
Pittsburghs have a 'thermoplastic urethane shank'. A thermoplastic most likely refers to polyurethane.
The shank is a stiff plastic built into the sole.
The steel toes are made of steel (some brands use aluminum), and of an asymmetrical design that is very popular for comfort.
The steel cap curves so it is roomier for the big toes and curves in where small toes are.
This toe style is referred to as the 'left and right asymmetrical safety toe'.
While lightweight for a steel toe, Pittsburghs are very strong, withstanding a 3 lb hammer test.
Fit and Sizes
Keen states that these boots are true to size, and customer reviews agree.
Other vendors claim '86%' true to fit.
The available sizes range from 7 to 15.
They do come in half sizes. Keen Pittsburgh's come in two widths, D, or 'medium', and E, which is wide.
Wide sizes in general range from E, EE, to EEE, so it's unclear whether an E boot is a good fit for people with extremely wide feet.
Keen recommends choosing your size based on the size of the street shoe you wear.
Keen states that the Pittsburgh models run true to size.
Comfort and 'Breaking in':
Customers rave about these boots fitting 'right out of the box', and of their comfort.
The Pittsburgh's easy break in and comfort for long work days on a variety of work surfaces is outstanding among work boots. The tongue is notably soft. All this could make long work days easier.
Waterproofing:
The Keen Pittsburgh is waterproof, water resistant ('hydrophobic/hydrophilic') Hydrophobic means water resistant, while hydrophilic means water loving.
The water loving part refers to the footwear lining, which wicks water to keep feet free of sweat.
Customers that need waterproof footwear note that these boots are very waterproof, and remain so even when the soles start to wear.
Available Colors:
Pittsburghs come in Bison, Wheat, Slate Black, Black, and Raven/Yellow, the last being a more modern look for a rugged boot.
Your foot health:
Pittsburghs have 'anatomically engineered' arch support, constructed of the thermoplastic urethane noted above. They are also rated for their arch protection in instances of crushing weight.
While not designed for any particular foot or back issues, the removable insoles make it convenient to add prescription orthotic inserts for joint pain relief, injures, and medical corrections.
The insoles are described by Keen as: 'Removable metatomical dual-density EVA footbeds work with dual-density compression-molded EVA and polyurethane midsoles to deliver lasting support and cushioned protection'.
Customer reviews state that Pittsburgh arch support is 'comfortable'.
Safety and Foot Protection:
Safety is critical in choosing a work boot, as are professional standards. The Keen Pittsburgh Steel Toe Work Boot meets or exceeds numerous safety standards:
Meets ANSI X41 Pt99 electrical hazard protection standards. ANSI is the American National Standards Institute. X41 Pt99 rates electric shock and static hazard resistance. This is a high rating and exceeds most workplace standards.
Meets or exceeds ASTM F2412-11. (ASTM American Society for Testing and Materials) F2412-11 defines the test methods that measure the resistance of footwear to a variety of hazards that could cause injury, including impact, static hazard, and electrical shock.
ASTM is 2413-05. m/i/75/c/75 EH. This is the ASTM's electrical hazard rating. 2413-05 covers impact resistance, compression resistance, metatarsal protection, shock resistance, and protection against puncture M id Male, F is Footwear, 1/75 = (resistance to) Impact of 75 foot pounds, 5 is Compression rating of 75, (2500 lbs). C/75 eh refers to additional electric and static rating values.
ASTM certifications are recognized internationally.The Pitsburgh has reflective webbing for additional safety and visibility, and full-length torsion plates (insoles) and contoured heel locks enhance stability.
These boots are resistant to electric shock, rated for this by both ANSI and ASTM.
They also exceed in withstanding compression, falling items, punctures, and other hazards.
Pittsburghs are electiostatic dissapating, which means that they do not build up a static charge.
Static charges can cause sparks that cause explosions in flammable conditions.
The oil and slip resistant rubber outsole provides a secure grip.
The steel toes work as they should, and are strong for their weight.
Build and Construction:
Technologies
Keen has a number of proprietary technologies, including its waterproofing, which is called Keen.dry, which lets vapor out of the boot while not letting water in, and the highly functional 'left-right asymmetrical safety toe' is unique to Keen.
The Keen Key Tech full-length TPU torsion plates and contoured heel locks mentioned above are also proprietary technology.
The 'left and right asymmetrical safety toe' is Keen technology, although isn't clear that it is patented.
Durability
The Keen Steel Toe Pittsburgh is a well crafted boot. Its stitching is excellent, and great care is given to its construction.
Most reviewers are more than satisfied with the Pittsburgh's durability, reports of which range from 1 year to 2 years.
Design and Style:
The Pittsburgh Steel Toe is a mid duty work boot, or a 6 inch boot.
Insulation:
Keen does not mention that the Pittsburgh is insulated.
Breathability:
The Pittsburgh is moisture wicking, has odor control, and the technology appear to be proven, as there have been no reports of the boots smelling even after heavy use.
Non Marking:
Pittsburgh soles are non marking, making them acceptable in all sorts of work and other situations.
Aesthetics:
Pittsburghs are old style, rugged looking mid duty workboots, yet offer modern touches of color if you desire it. They look good enough to wear to casual social occasions, and many people do.
Occupations suited to Pittsburghs:
Variably described both as suitable and too heavy for hiking, these are designed for construction, masonry, electric, steel work, HVAC service, carpentry, mill work, machine work, landscaping, and more.
Pittsburghs are particularly good for jobs that involve a long work day with a great deal of standing and walking, and they exceed expectations in waterproofing.
Pittsburghs meet or exceed regulated standards such as ASTM.
What people are saying:
The buzz around Keen Pittsburghs is almost universally positive.
This is a well liked boot.
Comfort is praised overall, with mentions that Pittsburghs fit right out of the box, with no break in period, that they are light on the foot, and that the waterproofing is exceptional.
The negative reviews were about durability, but one reviewer made it clear that he was using the Pittsburgh for work too strenuous to be expected of a mid duty work boot.
Pros
There a lot of positives about the Keen Pittsburgh Steel Toe Work Boot. They excel in comfort, versatility, waterproofing, and the famous asymmetrical steel toes, which are comfortable even for feet that don't usually adapt well to hard toes.
Little to no 'break in' period.
They are also praised for durability, lasting 1 or 2 years in occupations that normally wear out boots more quickly.
Cons
The durability of the Pittsburgh may not exceed that which is expected of a mid level work boot.
Pittsburghs are not insulated, so they may not be suited for extremely cold work. ​​​
Pittsburghs may not be adequately heat resistant for certain jobs.
Verdict for the Keen Utility Men's Pittsburgh's:
The Keen Pittsburgh Steel Toe Work Boot is an excellent boot in the mid duty class, meeting or exceeding expected performance in several categories.
Pittsburghs also excel in comfort.
If you are looking for a similar women's work boot then you may want to consider the Women's Keen Utility 1007014 Detroit Steel Toe Hikers.