Carhartt CMF6366 Composite Toe EH Rugged Flex Work Boot: Is this the ideal Safety Footwear for You?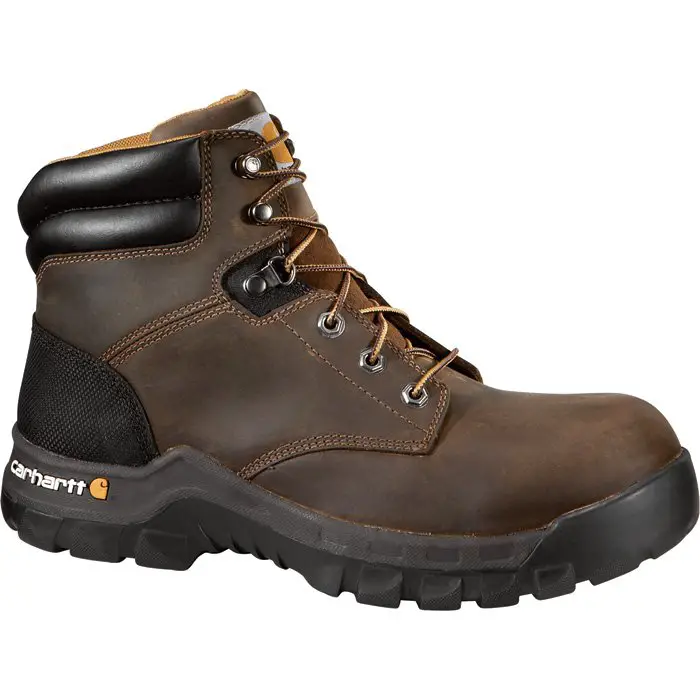 If you're looking for a boot that is a work horse but very versatile, you can't go wrong with the Carhartt CMF6366!
Below is a comprehensive overview which includes features, pros, cons and more.
Please remember that it is a generic overview of the product and not specific to a particular job role.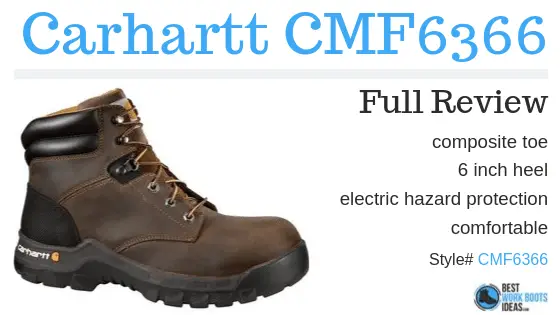 The Brand
When you buy from Carhartt, you know you're purchasing from reputable boot brand.
Carhartt have been around a while, since 1889 in fact. It still remains a family owned business and celebrates 130 years (at the time of writing).
Carhartt focus on quality apparel for the working person and prides itself on its rugged construction, innovation and quality.
In terms of Carhartt technology for work boots, they have Rugged Flex and Storm Defender.
Comfort
If you stand on your feet all day or spend time going up and down a ladder, the Carhartt CMF6366 will help your feet stay comfortable.
That means you can focus on doing a solid day's work in comfort rather than worry about your feet hurting at the end of the day when you get home.
When it comes to the fit, they would be considered almost true to size.
If you'd like extra comfort, there is the option of adding your own inserts, even though the current ones are pretty good.
This is great option for those who may need to add additional support because of their weight or health issues such as Plantar Fasciitis.
As with most work boots, you'll need to spend at least a few days getting used to the boots and 'breaking in' to them so they can adapt to your feet.
With the boots being 6 inches high, there is good ankle support and cushioning.
The midsole (the middle part of the shoe) consists of EVA polyurethane which means it will be very comfortable by absorbing any shock.
Toe Style
Do you work in an environment where things can potentially fall in your feet?
I'm sure you don't want to break one of your toes right?
Instead of coming with a heavier steel toe, the Carhartt CMF6366 comes with a pretty tough Composite toe.
What this means is that it's incredibly strong but also light too.
Thankfully you won't feel like you're walking around in heavy space boots.
Safety Features
Electric Hazard Protection. Conforms to ASTM F2413-11 EH.
Composite toe protection. Confirms to ASTM F2413-17 standards.
Durability
If you expect your boots to take a battering, then its best to assume they'll probably last no longer than a year.
Otherwise for medium use, you could probably get more than a year out of them.
Slips and Trips
There is a very likelihood you will work in an environment where there is a trip hazard.
The slip resistant sole will protect you from worrying about slippery floors.
No more tiptoeing slowly like a ballerina and a lot less "close calls".
Outsole
A rubber outsole that uses "Rugged Flex" technology means really good grip and traction.
Climbing up ladders and working on sites where there is dust should be easy.
Electric Hazard
The last thing you want is to step on an electrical circuit and potentially fry your toes.
Upto 18,000 volts of protection (in dry conditions) means your feet will be protected against any contact.
They adhere to the ASTM 2413-17 Electrical Hazard standard.
Breathability and Odors
Another issue you've probably faced is moisture in your boots when you sweat.
These boots have breathable technology which means your feet will stay cool and fresh and not feel like you're in a puddle of sweat…yuck!
To manage odors, the lining uses FastDry technology. Nobody wants smelly feet do they?
Looks and Style
You can't help but admire how good looking these pair of boots are.
Aesthetically they are pleasing to look at and I'm sure you'll agree you wouldn't mind wearing a pair boots like this to work…or maybe even out and about!
Carhartt CMF6366 – Overview of Features
Composite toe – Adheres to ASTM F2413-17 standards.
Composite shank (not steel)
Water resistant (not waterproof)
Slip resistant
Electric Hazard (EH) protection. Adheres to ASTM 2413-11-EH standard.
Cement construction
Full grain oil tanned premium leather uppers.
Removable insoles
FastDry® technology reduces odors, ensures that your feet remain fresh and breathable.
6 inch boot – which means you have good ankle support.
Construction
The boots are built using Cement construction.
This means that the outsole cannot be replaced. Once it wears out, the entire boot will need to be replaced.
If you're looking for a boot that can be resoled, then Goodyear Welt Construction is a much better option.
The uppers are made of full grain leather.
This is the best type of leather you can buy as it hasn't been altered and is of the highest quality.
As a result, the boot is strong, durable and moisture resistant.
Pros
Affordable – you get a lot of boot for your money.

Comfort – Very little or no breaking in period required

A Very good looking pair of boots.

Removable inserts.

Safety features such as EH and safety toe.
Cons
Construction – the outsole consists of Cement construction which means that the sole cannot be repaired or replaced. However, this should not be a deal breaker.

Laces – Carhartt, if you're reading this, please make the laces a bit thicker. They seem to be on the narrow end.

Insulation – The boots have no insulation so you're feet might get a little cold in the winter.

If this is not a deal breaker for you then you might want to consider wearing a pair of thick work boot socks to keep your feet warm.

Not Waterproof – The boot is water resistant only.

Water resistance will generally be ok for most occupations, even outside.

However, if you need your feet totally submerged in water, you should go for the water proof version.
Questions
1. Will it set off metal detectors?
No, because the shoe comprises of a composite toe and NOT steel toe.
2. Are these boots waterproof?
No, this style is water resistant. If you'd like waterproof work boots, try model CMF6380 which incorporates Carhartt's Storm Defender waterproof technology.
3. Are the insoles removable
Yes, the insole can be removed and you can insert your own.
Maintenance of Your Boot
Its advisable not to use any kind of oil or waterproofing to your boots or you will void the Carhartt warranty.
Please check with your purchase but the manufacturer's warranty is usually for 1 year.
Upto that point, we would recommend you don't do anything to void the warranty.
After the warranty or guarantee period, you may want to consider using some kind of silicon base material since the leather has already been treated using silicon.
Disclaimer: Please do your due diligence and carry out your own research before doing this.
The boot is imported from China
It is suitable for a variety of conditions and professions.
For example, if you're an industrial mechanic who works in almost 100F with high humidity and come across working with electricity, this boot will be ready for you.
Just imagine you're a painting contractor and need to stand on concrete all day, walk up and down ladders and climb on scaffolding. It will probably be able to handle that too.
What if you're an Electrician on a construction site? The fact that you're probably on your feet for upto 12 hours a day means that these lightweight boots will give you some respite from lugging around heavy boots.
Wrap Up
To summarise, this is a good everyday work boot. It is lightweight, comfortable and has a strong composite toe without the weight of a steel toe.
It has tons of safety features to protect you from all kinds of hazards but at the same time being gentle to your feet.
Before any purchase, always consult your Personal Protection Equipment (PPE) guidance to ensure you have all your requirements covered to allow you to do your job and to also ensure you have the correct boot.