What are Work Boots, the Difference Between Normal Shoes and WHAT you Should Know Before Buying Your Next Pair.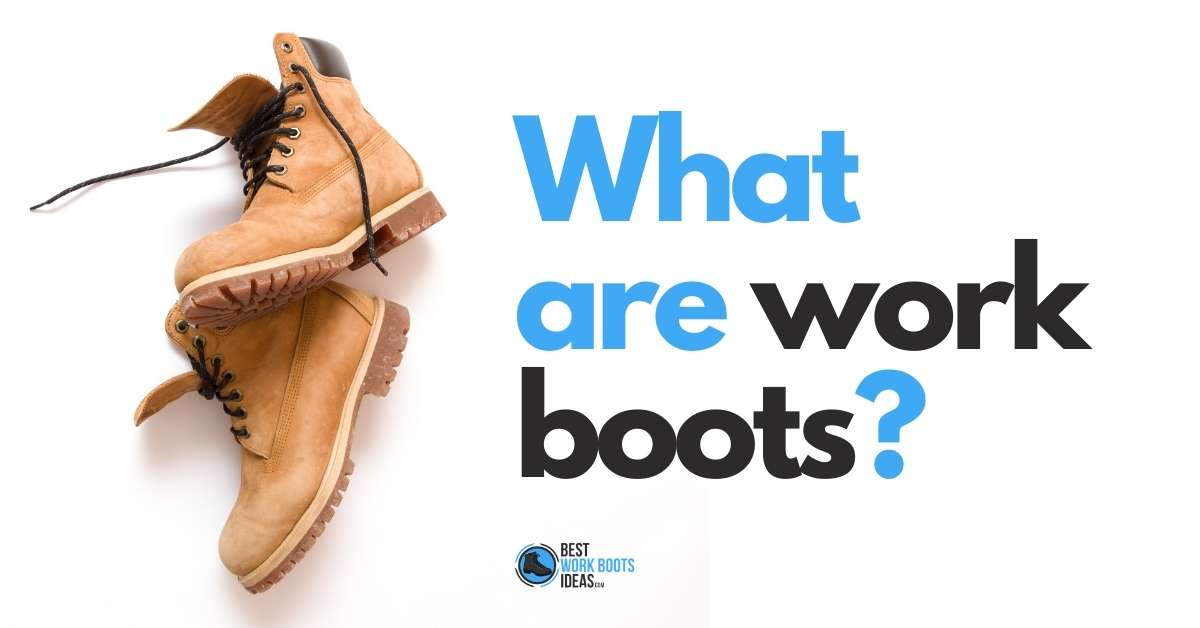 There are many types of protective footwear, each designed to help you achieve a specific goal.
Work boots have certain characteristics that set them apart from other types of everyday shoes, and even other types of boots.
It's important to know what those characteristics are, so that you have a mental checklist to refer to the next time you're looking to buy a new pair.
I am someone that used work boots every day I went to work.
As an employee, and eventually as an owner of a contracting business, work boots were among the most important tools I owned.
Even if you're not a person that works in the trades, it's wise to have a pair of work boots for any tasks that might arise.
I was helping a friend renovate his new home this past summer.
Foolishly, I wore sneakers instead of boots, and that day demonstrated to me why I should always show up to work in the proper equipment.
I stepped on a nail twice (both missed my foot).
I destroyed the outsides of my sneakers, and a shower wall we were demolishing collapsed unexpectedly, barely missing landing on me.
My friend, a union plumber, reasonably asked "why the hell would you come over to help me without boots?"
My experiences have shown me that I need work boots, at work and in my free time.
I can't speak for you, but what I can do is go over some of the qualities and characteristics of work boots so you can decide for yourself.
The best way to know if you need a thing, is to know what that thing can do for you.
I'll elaborate on some of the common features and qualities that allow us to call particular boots "work boots."
You might also want to familiarize yourself with the parts of a work boot.
What are Work Boots?
Work boots are a type of footwear that protect your feet from the common dangers in manual labor.
Work boots are an invention of the 20th century designed to protect the feet of the person wearing them. They are often casually referred to as "safety boots" or "steel-toe boots."
Their primary function is safety, not comfort, so first-time users often note that the boots are difficult to walk in.
This is true for a short time, but I can speak from experience: users get used to their new boot and can get around quite easily once they've broken into them.
Work boots are distinguished as such because of their emphasis on safety.
Other boots (i.e. hiking boots) may allow you to get around in comfort.
However, there's almost nothing they do to keep you safe when the unexpected happens.
The first safety measure included in boots (besides the boot itself) was the steel toe.
There are a number of safety features that have been added since the introduction of the steel toe.
But to this day, you can hear a foreman on a jobsite ask the new worker if he has steel toe boots on.
He's not actually concerned if the toe is made of steel, he's asking if the worker has boots that meet common safety OSHA safety requirements.
Below is an overview of OSHA requirements and OSHA itself, as well as what additional safety features are found in modern work boots.
What Is OSHA?
OSHA stands for the Occupational Safety and Health Administration. It was established in 1970, and is the US government body that sets the requirements for workplace safety gear.
Even if you're not in an industry where you need to worry about your boots meeting OSHA standards, knowing what OSHA is and what they do is a good way to judge whether a pair of boots is going to protect your feet.
Some work boot safety features that can meet OSHA requirements are:
Impact / Compression / Crushing
Slip / Oil Resistant Soles
What are Work Boots Made From?
Work boots are made out of durable and study materials designed to handle work and and weather.
Work shoes can be made from a number of materials, but they are most frequently made with full-grain leather uppers.
This is the part of the boot that starts at the top down to where it meets the outsole.
Nylon and rubber are also used to construct the upper.
However, it's widely accepted that full-grain leather is the material of choice for most companies making work boots.
The tanning process for leather results in a naturally water-resistant material.
Additional processes by manufacturers can upgrade your boot material from water-resistant to waterproof.
The materials used for outsoles are a bit more varied.
The main three materials used are rubber, ethylene vinyl acetate (EVA), and urethane compounds.
Different soles result in different performance, so its good to know what you use your work boots for prior to making a purchase.
In terms of how they are built, you'll find that most safety footwear uses direct attach, cement or Goodyear welt construction to name a few.
Work Boot Features
Here are some of the features that you will find in safety footwear that allow the manufacturer to sell them as work boots as opposed to simply "boots."
Safety Toe Cap within the Toe Box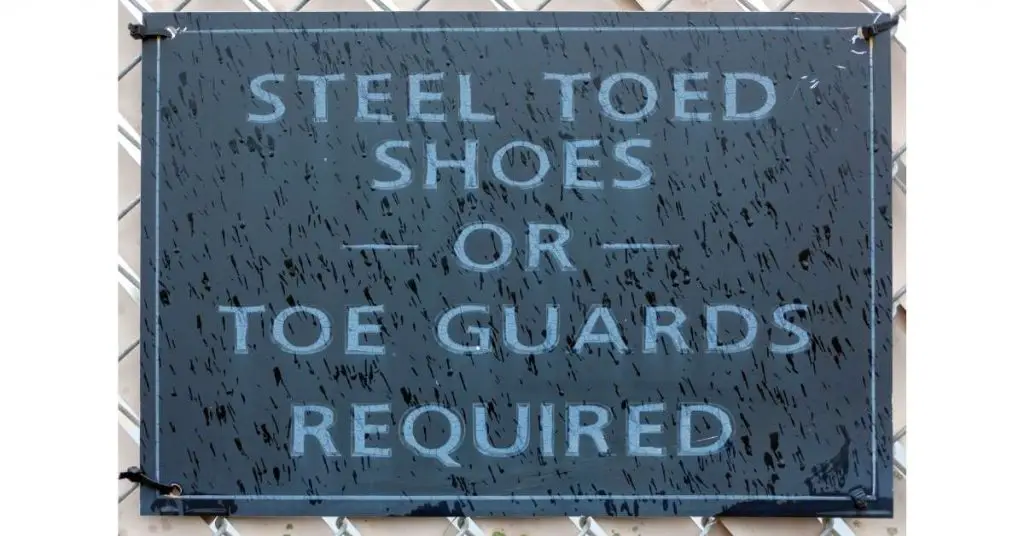 The toe cap protects your toes from being crushed or crunched by a falling object.
The toe cap is commonly referred to as a steel toe, but that's just a figure of speech.
Toe caps can be made from many materials including: steel, alloy metals, composite non-metal materials.
The purpose of the toe cap is to prevent injury to your toes from forward motion (stubbing) or from something falling on top of them.
Toe caps can prevent some pretty frightening injuries that can happen even in your backyard. Just check out this video to see how a toe cap stands up to an axe.
Toe caps are the one safety feature required by OSHA in almost all construction or industrial settings, and there's good reason for this.
No matter how carefully we move through life, people drop things and depending on what it is and how high it falls from, it can do a fair amount of damage.
I broke a toe dropping a jar of salsa on my foot, and that was in the pantry of my own home! I have no desire to recreate the experience with a hammer, shovel, or anything designed to do some damage
If you work in an industry where you need to cover the entire front and top part of your foot, you may also want to consider a metatarsal guard.
You'll often find welders wearing these type of safety boot.
What may also surprise you is that 'soft toe' boots exist that offer no toe protection.
We wont go into the detail in this article but they can also be classified as a safety shoe.
Outsole Resistance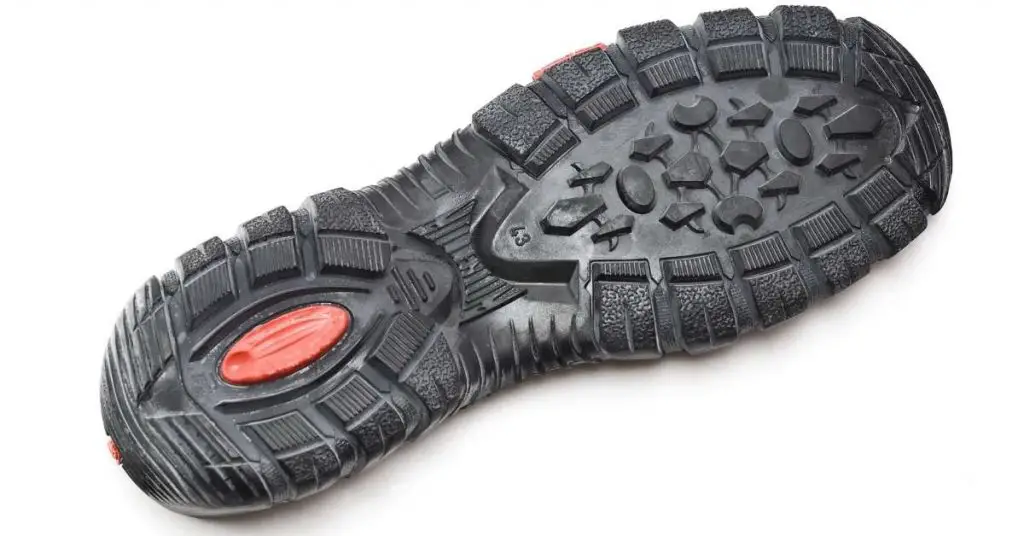 Outsoles are responsible for fighting back against the conditions you're working in.
The outsoles of work boots, commonly referred to as simply "soles," do way more than touch the ground. Modern outsoles can feature a number of resistance offerings that keep you safe no matter where you're working
Slip Resistance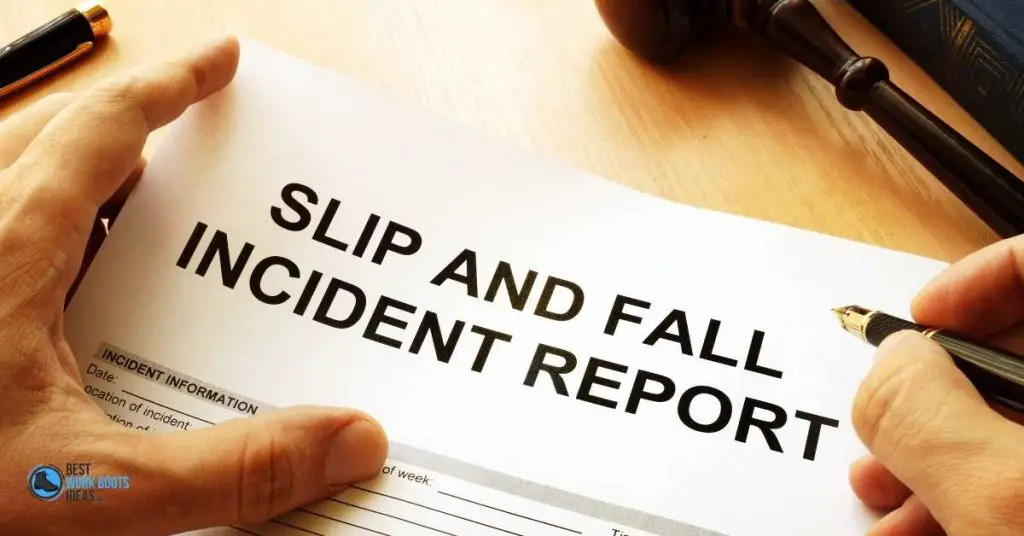 Slip resistance outsoles keep you on your feet and off your rear end.
There are two aspects of slip resistance.
The first is achieved by constructing outsoles with a softer rubber that allows for more traction and friction when they make contact with the ground. This is helpful when walking on smooth surfaces like polished concrete and tile.
The second is by creating a lug pattern (the notches) that allow for the boot to grip. This is helpful on both rough and smooth surfaces.
Slip resistance is something required by OSHA in almost all of its domains. This includes places that you might not initially consider like restaurants and hospitals, in addition to places you would expect, like factories and construction sites.
Electrical Hazard (EH) Resistance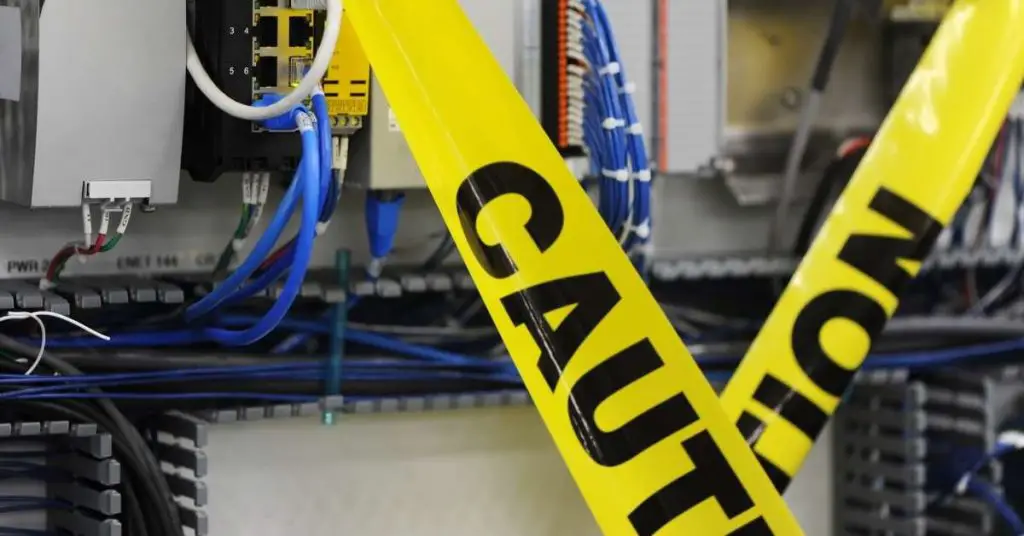 EH resistance limits the shock to your body when accidentally making contact with a hot wire. I say shock in the figurative and literal sense.
EH resistance is another feature found in the outsoles of some work boots. Probably not something you need to work in the garden, but there are definitely instances in which a hidden wire can appear and you'll be better off in EH resistant outsoles than to be without them.
Heat and Chemical Resistance
Heat and Chemical resistant outsoles stand strong in cases where normal outsoles would melt away.
For people that come in contact with high temperatures or dangerous chemicals, this is a feature that's well worth the price.
Burns can take you out of work for a long time while you heal. It doesn't matter either from heat or corrosive chemicals.
Insulation
Insulated work boots allow you to spend extended periods in cold weather without discomfort or damage to your feet.
Insulation is nothing specific to work boots, every person on earth is likely to have some piece of clothing that's insulated.
That said, if you live in a climate that can get cold, or even brisk, look into grabbing a pair of insulated work boots so your feet stay warm throughout whatever task you're handling.
If you're looking to purchase an insulated boot, technology such as Thinsulate by 3M is a good example.
Puncture Resistance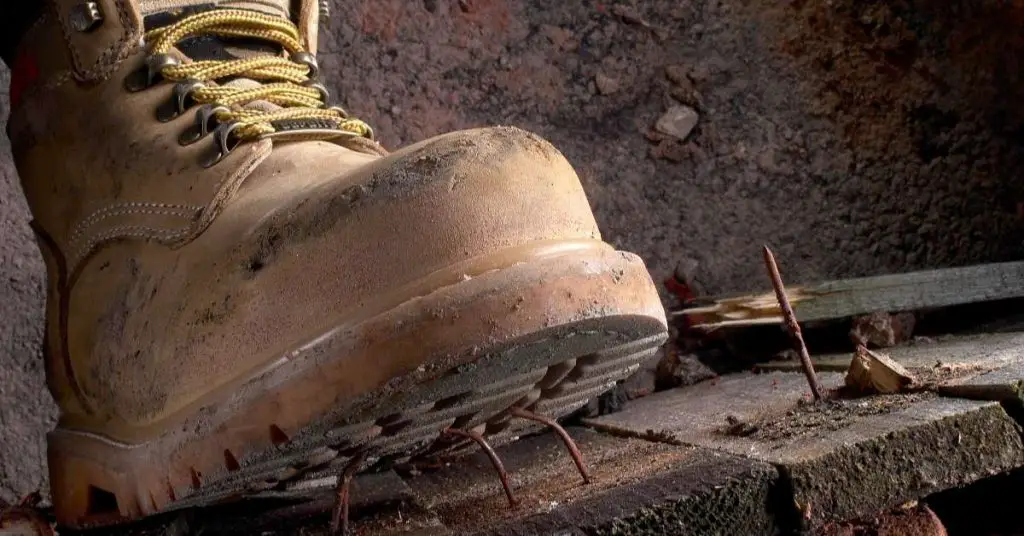 Puncture resistant boots create a shield between the sole of your foot and anything that could pierce it.
On a job in heavy industry or construction, it's not a matter of if but a matter of when you'll step on something sharp that will pierce your outsoles.
For this reason, many boots offer puncture resistant midsoles that stop sharp objects before they reach your foot.
It's one of the most notable features that distinguish work boots from other types of boots.
Durability
One of the key differences between the shoe you wear everyday and your safety boot is their ability to take a battering.
Work boots are meant to be tough.
They need to not only be comfortable, but be resilient in a number of really harsh conditions.
Work Boots at Work, Work Boots at Home
You don't realize you need work boots until the moment of injury.
Accidents happen and when someone isn't wearing work boots (like my experience this summer), it's only luck that's the difference between nothing and potentially life-changing injuries.
There's nothing quite like the moment you realize your life would have changed for the worse if it wasn't for the boots you were wearing.
Speak with anyone wearing safety shoes that's been on the receiving end of an average lawn mower or weed wacker, they'll tell you just how happy they were to be wearing work boots that day.
Whether your job requires it or you're just learning about an unfamiliar product, work boots are a good investment.