Are Cowboy Boots Comfortable? Learn About How to Get the Best Fit in This Unique Boot Style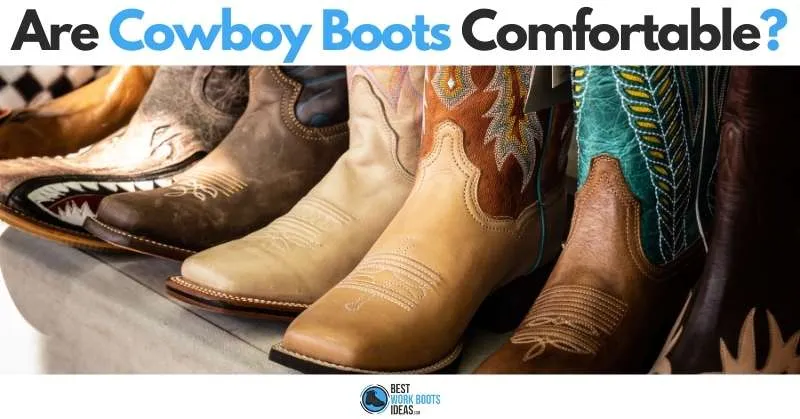 One of the most comfortable boot styles is cowboy boots and for very good reason. 
Cowboy boots give an unmatched fit that improves over time as the boot forms more tightly to the foot. 
Additionally, their durability explains their popularity even against more modern boot designs.
Today, I'll cover how cowboy boots give such an excellent fit, how that can be achieved, and other features that define this iconic style.

Are Cowboy Boots Comfortable?
Yes! Cowboy boots are comfortable due to their natural construction materials that form to the foot over time. Full-grain leather uppers and cork insoles are both living materials in the sense that they respond to temperature and moisture content to become more pliable.
The beautiful thing about these natural materials is that flexibility and comfort increase while remaining durable for the long haul. 
This isn't like a plumber choosing between a plastic hose and iron pipe; with leather and cork, users get the best of both worlds.
Do remember that cowboy boots aren;t always comfortable out of the box and there are a few things you can do to make them a better fit.
How to Pick the Best Fitting Cowboy Boots
Picking a new pair of cowboy boots requires patience. The secret to getting a great fitting cowboy boot is going to a shoe store that will take the time to properly measure your foot and offer many options. If it appears the salesperson is impatient, leave; this decision cannot be rushed.
Because no laces allow the wearer to adjust an ill-fitted boot, a proper fit is more important with cowboy boots. 
The ratio of space between the heel and toe and the footbed to instep must be perfect for you.
Further, the width of the toe box needs to be big enough for your toes to rest comfortably, not jammed together. 
What should I look for when buying Comfortable Cowboy Boots?
As with buying any kind of work boot, you'll want to look at some of the key areas that contribute to comfort of a shoe.  These are primarily the following.
Try a lot of new cowboy boots before you Buy
This will give you an idea of how comfortable each brand is and allow you to make up your mind as to which boot to go for.
Take your time and don't rush.
Size Varies
The size you wear for one brand may differ for another so don't assume that they'll all fit.  
This is a very common mistake so avoid it if you can.
Fits snugly against the instep.
One of the best ways to know whether the boot is comfortable is that the middle of the boot (instep) should be snug.
It shouldn't be so snug where it feels too tight but enough so that it feels like someone is holding your foot in place.  
If you think that you'll be comfortable wearing this for several hours then this is a good sign.
Heel Slippage – Up and Down
In addition to a comfortable instep, the heel should move up and down an inch or so.  This is known as 'heel slippage'.
Over time this will reduce as you break into the shoe although it may not disappear completely.
Your Toes Should Be Comfortable
If your toes are being squashed together or feel really tight then the fitting is incorrect.
Your toes should lay flat which is the sign of a good fitting cowboy boot.
Wear Your Socks for a Comfortable Fitting Western Boot
Take along the socks that you're most likely to wear.  
It's amazing how much of a difference they'll make to the comfort.
There are specific cowboy socks you can purchase.  
However, they are usually a lot thicker and you may need to purchase half (½) a size bigger boot.
In addition to the features above, you should also look out for a cushioned insole since you'll be on your feet all day. 
How Do I Get My Cowboy Boots to Fit Best?
Time and usage are the most important things to get the best fit, but you can take action to speed up the process. Regularly applying leather conditioner, soaking the boots, and wearing them at any opportunity, even unusual times, will provide you with a better fit than time alone.
One of the most hotly contested methods to getting a good fit for cowboy boots is soaking them and wearing them until dry. 
The natural properties of full-grain leather will result in expansion when wet and contraction during drying. 
The result is a form-fitted boot for your foot specifically.
Some argue that this is damaging to the leather, but it's not an issue with proper precautions. 
If you're looking for more information on how to fit or stretch cowboy boots, we have a whole article that covers that topic.

What Are Cowboy Boots Made Of?
Cowboy boots are usually made out of full-grain leather but can also be made with modern synthetics and exotic natural materials. Alligator, ostrich, elephant, snake, and goat are just a couple of other construction materials that have been used in the past. 
As cowboy boots are just as often worn for fashion as for utility, it's rare to see cowboy boots made with non-natural materials. 
When boots are made like that, they usually have a different design, rubber outsoles, and are referred to as slip-on work boots.
What Are the Features of Cowboy Boots?
Cowboy boots are pull-on boots with tall throats. They're made with full-grain leather using the Goodyear welt construction method. Unlike the majority of work boots, cowboy boots have outsoles and heels made of stacked leather. 
Why Do Cowboy Boots Have Tall Heels?
Cowboy boots have tall heels because they were originally designed to be used as a riding boot by ranchers, farmers, and other workers who rode horses on a regular basis. The tall heel caught the lip of the stirrup while riding and prevented the rider's foot from slipping forward through the stirrup.
This design feature has continued long past the point of its physical utility and now exists merely as a stylistic feature. 
No zero-drop cowboy boots have been created yet, at least to my knowledge.
Why Do Cowboy Boots Have Smooth Outsoles
Cowboy boots have smooth outsoles for the same reason they have raised heels; it once was an important feature for those riding horses. Any tread or pattern on the outsoles could have created resistance or trapped a riders' foot in stirrups as they tried to get free.
This is not something that many individuals have to think about when making footwear choices in the present. Certainly, some people do, but for many in the past, it was a matter of life or death whether one could free themselves from the stirrups of a galloping horse.
Why Do Cowboy Boots Have a Square Toe?
Not all cowboy boots have a square toe! This is a common misconception that a cowboy boot must have a square toe shape, and cowboy boots come with various toe box designs. Regardless of the toe design, each should provide enough wiggle room.
Pointed toe boots were originally designed to make it easier for sliding feet into stirrups.
Square toe boots were designed with ranch work in mind.
The 'snip toe' is another offshoot of the pointed toe shoe that was designed with an aesthetic view.
Or in other words, just to look good.
A round toe boot will give your toes much more room and space to move around.
How Long Do Cowboy Boots Last?
Cowboy boots are extremely durable and can last for years and even decades. While outsoles and leather do wear away with time and usage, proper maintenance can prolong the life of a pair of boots. Further, resoling and leather repair are possible for skilled cobblers.
Keep in mind that resoling boots require they were made using certain construction methods. Faux cowboy boots made using bondwelt or cement construction methods won't be resoleable. 
Are Cowboy Boots OSHA Approved? Are There Steel Toe Cowboy Boots?
Yes and no. While there are boots made with steel toes that might look like cowboy boots at first glance, it's more accurate to call them pull-on work boots. These boots often have the aesthetic design features of cowboy boots with rubber outsoles and toe caps to meet OSHA's standards.
It's telling that the product titles of these style boots are something along the lines of "Western Pull-On Boots" or "Pull-On Rancher Boots" as opposed to just calling them cowboy boots.
Manufacturers understand it's not in their interest to completely misrepresent their product.
What Are Cowboy Boots Used For?
Cowboy boots are great for farm work, fieldwork, or casual outdoor usage where there's little risk of falling or crushing objects. The tall throat of this boot style prevents stones or other debris from getting inside the boot, and the natural water resistance of leather keeps feet dry.
Although their popularity is always changing, cowboy boots have remained a staple of the fashion world for decades. 
It's safe to say they won't be disappearing anytime soon. 
What Brand of Cowboy Boots Are There?
There are many traditional cowboy boot brands.  Some of these include;
Ariat – They also offer a Roper Boot style. You might also be interested to know how Ariat boots should fit if you're looking at purchasing a pair.
Beck Boots – They also offer handmade cowboy boots as an option.
Stockman Boots by R.M Williams (Based in Australia)
Carolina
Lucchese
Andersen Bean Boots
Giddy-Up, Friend
So to answer the initial question, are cowboy boots comfortable?  The answer is yes.
Whether you choose to grab a pair, already have a pair, or just wanted to know what people were saying about cowboy boots, I hope you get what you want. 
This boot style has been serving individuals in the country and city alike for many years, and for good reason.
If you've purchased new cowboy boots, you might be interested in learning how to break into them to make them more comfortable.