What Are The Best Work Boots for Welders? 5 Options + Your FREE Buying Guide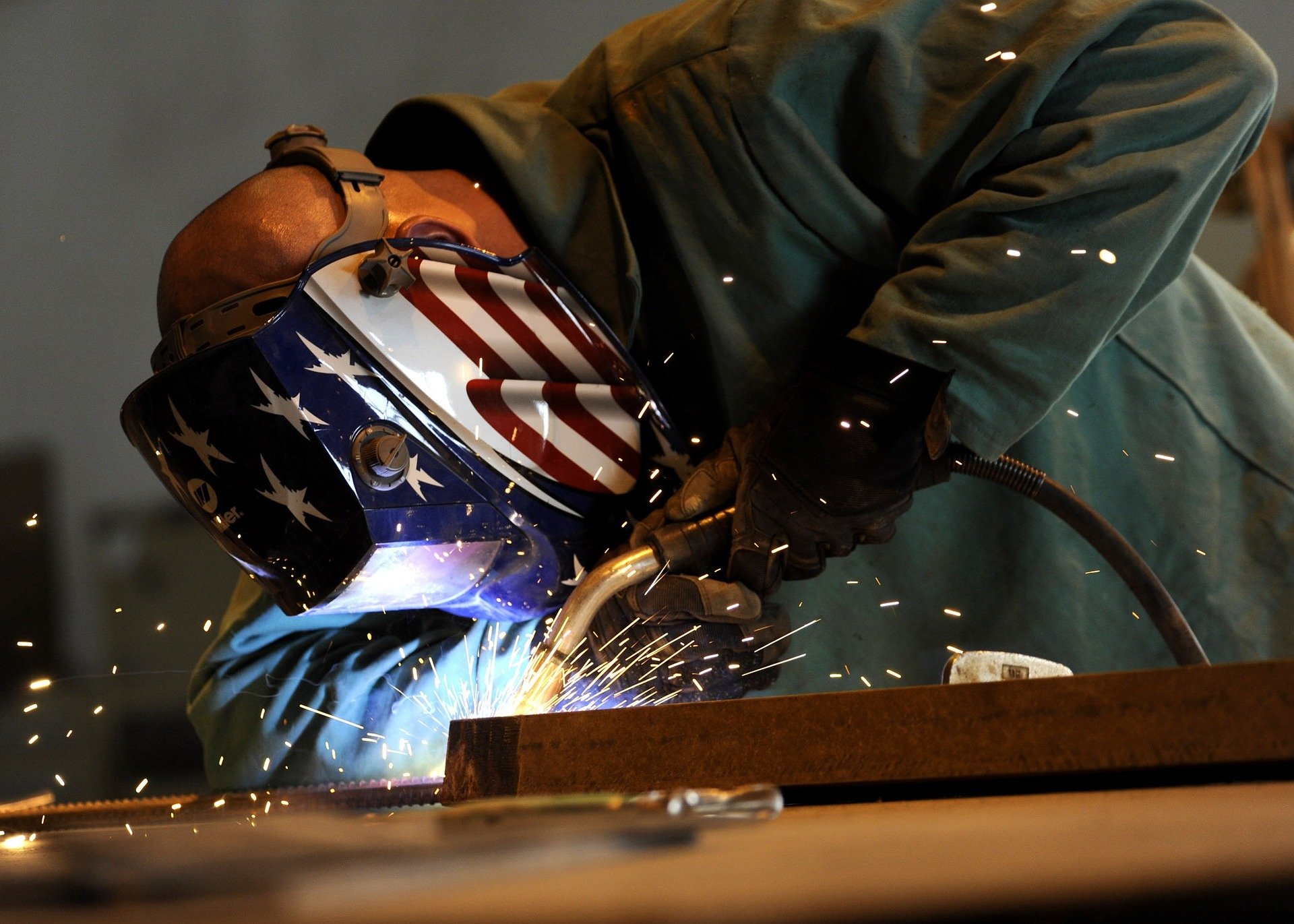 For those of you that can't wait and read the entire article, below are the safety shoes we think are the top work boots that are ideal for welders.
Otherwise please scroll down if you want to see more detail on how we came up with this list and some more detail on each safety shoe.
Scroll down to read the reviews
---
Our Top Picks
Thorogood 11 Inch Men's Heritage I-Met 2 Steel Toe Internal Met Guard Pull on Wellington Work Boot – 804-4841
---
As a welder, finding suitable work boots can be a challenge, especially when you work in such demanding conditions.
This article will use a multiple step process to find you the ideal work safety shoes for welding.
Firstly, I will look to identify the day to day hazards you face as a welder with regards to footwear.
Once the above is understood, we will then identify key criteria that you need to do your job properly and safely.
Based on these criteria, we will scour the web to find the best work boots for welders such as yourself.
By the time you finish reading this article, you should be in a much more informed position to allow you to make a decision on which work boot to purchase.
Best Welders Boots – Our Top Picks
Affiliate links may be present throughout the Bestworkbootsideas.com site and we (the site owner) may earn a commission from any sales made from recommending products on this site at no extra cost to you.
---
1.  Iron Age Men's Galvanizer Slip On Steel Toe Boots for Welding – EH Slip Resistant Metatarsal Guard (IA5230)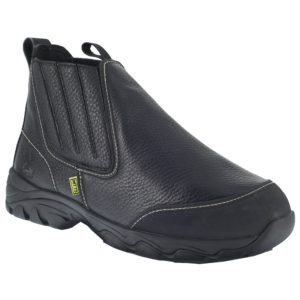 Why we choose this for you.
If you want a boot that's a workhorse and loves sparks, this is a good bet.
It has a Steel Toe and an internal metatarsal guard so the front of your foot is essentially protected from falling objects. Not only does it look good but its pretty safe too.
Heat resistant with Kevlar stitching. It means your feet wont feel any excess heat….nice!
Electric hazard protection
Slip, oil and chemical resistant
High abrasion so it's not afraid to get scratched.
No laces so you don't need to worry about them burning.
This is one seriously tough boot so it's also suitable for other heavy-duty jobs.
Available in Black and Brown
Iron Age is a reputable brand which has been around since World War 1. In the 1920's, they were one of the first boot brands to utilize Steel Toe boots.
They make tough boots for tough jobs!
Check latest prices with ShoeBacca
110% Price Match Guarantee
---
2.  Michelin 6 Inch Sledge Steel Toe External Metatarsal Guard EH Breathable Work Boot – XPX761
Why we chose this for you.
Has a protective steel toe which means your feet are protected from all those heavy items.
Has a really 'mean' looking external metatarsal guard (rated class 75)
Electrical Hazard (EH) protection – ASTM F2413-05
Shock absorbing phylon midsole
Full grain leather uppers. This means your boots will be very durable and strong.
This is the highest quality leather available for boots.
The outsole is resistant to Chemicals, Oil, Heat, Heat and slipping.
You can therefore focus on your welding and not worry about slipping and hurting yourself.
Ankle height shaft
Breathable so your feet will stay fresh not get too sweaty
Light and Comfortable to wear
Good tread for better traction.
Other info
Very comfortable and true to size.  We aren't aware of them needing to be broken into.
If you need to insert any kind of insoles (e.g. orthopedic or gel) then you can also easily do this without affecting the fit.
If you wear thick socks then maybe worth getting a slightly bigger size than your usual size.
What we don't like
Not waterproof and no insulation.
Laces – however, the upper area is covered by the metatarsal guard.
Check prices with Shoebacca – 110% Price Match Guarantee
---
3.  Thorogood 11 Inch Men's Heritage I-Met 2 Steel Toe Internal Met Guard Pull on Wellington Work Boot – 804-4841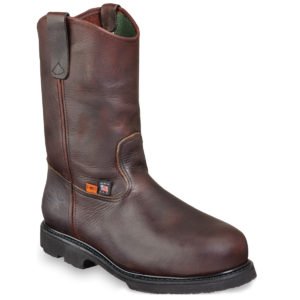 Why did we choose this work boot for you?
Internal Metatarsal guard which is integrated with the steel Toe to give you complete protection.
Heat, slip and Oil resistant Vibram outsole.
Made with full grain leather
Fibreglass shank, that means its light and very strong.
Comfortable
Very little 'breaking in' required.
11 inch height. That means your ankles and lower leg are supported.
Removable footbed so you can insert your own insoles. Ideal if you have a specific foot condition that requires specific insoles.
Electrical Hazard (EH) protection.
Kevlar stitching on the Goodyear welt construction and upper.
Very good looking pair of boots.
Things we don't like
Not waterproof
Check price with Optics Planet
---
4.  Timberland Pro 53530 8 Inch Metatarsal Guard EH Steel Toe Heat Resistant  Work Boots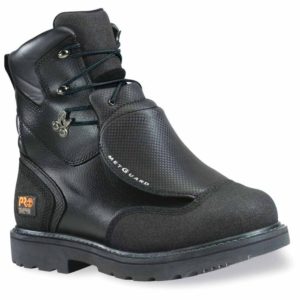 Why did we choose this for welders?
This is a seriously good-looking boot.
They come with Steel toe and Metatarsal guard protection.
Goodyear welt construction, which means you can replace the outsole.
The outsole is also heat, slip, oil, and abrasion resistant.
Kevlar thread stitching means the boots can withstand some serious heat.  Up to 1000F.
They also are Electric Hazard (EH) compliant.
What we didn't like
The boots are not waterproof
No insulation
Other things you should know
There is a break in period required at first but you should find them very comfortable after that.
They might be slightly on the heavier side.
Lacing them up might not be as easy as having an internal met guard.  However, this should not be a deal breaker over safety.
Check Price with ShoeBacca – 110% Price Match Guarantee
---
5.  Iron Age Ground Breaker 6 Inch Steel Toe EH Metatarsal Guard Heat Resistant Kevlar Stitching Slip On Work Boot – IA5018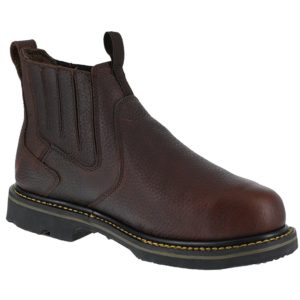 Why did we choose this boot for you?
This is a very tough boot.
Steel Toe and internal metatarsal guard to protect you from falling objects.
Electric Hazard (EH) Protection
Resistant to Heat, abrasion, chemicals, slip, oil and metal chips.
Leather upper so it's very tough.
No laces
Quick release elastic collar with 2 pull tabs.
Built like a tank with Goodyear welt construction, Kevlar stitching (aramid fibres) and a Vibram heat resistant outsole.
Removable insole made of memory foam to keep you comfortable when you're standing on your feet all day.
A seriously good looking pair of boots.  You could wear them with your jeans and they'd still look good.
Additional Things you should know.
This is the newer style Goundbreaker boot which is a slip-on unlike its predecessor the IA5016.  Do not get this confused with the older style (although that is also a great welding boot).
What we didn't like
Features wise we couldn't see a lot to complain about.
This particular style only comes in brown which looks pretty good.  However, a bit more variety would have been good.
Check Price with ShoeBacca – 110% Price Match Guarantee
---
Who should read this…?
If you are in the Welding industry or considering a career in the welding industry, this article is for you.
Let's face it, being a welder isn't like working in an office where you can wear whatever shoes you like.
There are a number of safety requirements that need to be considered before you can even start to think about purchasing a safety shoe.
Before we can even try and attempt to work out which work boots to consider, let's try and identify what your job entails on a typical day.
Let's put ourselves in your shoes (excuse the pun) and look at the most common parts of your job as a welder.
You essentially use equipment to cut or join metal together
You use high heat which helps to soften this metal allowing you to move and shape it how you wish.
You can work in various industries from a small welding shop, on a construction site or even putting together a submarine or an airplane.
You work indoors as well as outdoors
Kneeling, bending down and heavy lifting is 'part and parcel' of the job which you take in your stride.
You can work long hours and be on your feet all day.
Despite these huge challenges, you still LOVE what you do.
Before you even look for a pair of safety boots, I'd suggest that you consult your Human Resources (HR) team or familiarise yourself with the Personal Protective Equipment (PPE) regulations stated by the OSHA, HSE or relevant authority in your country to identify the risks associated with your job.
The PPE Requirements will give you a good idea as to what to look for when buying a welding boot.  Without this, you may buy the wrong boot.  Nobody wants that.
A good starting point is 1910.136(a) general requirements and should give you an idea of what your specific footwear requirements are.
You can also take a look at the American welding Society's factsheet.
The United States Department of Labour has some guidelines on what you need.
---
Hazards, Dangers, and Risks at Work
A workplace hazard is essentially the potential of something to cause harm or a 'health and safety' risk.
Let's take a look at some of the Hazards that you face as a welder with regards to footwear (Budhathoki et al., 2014).
We've carried out research on workplace hazards and they've been highlighted below.
I've tried to identify how this hazard can affect you, the impact of it on your feet and what kind of protection and mitigation is required for that particular hazard.
Sparks and Fire
Working with hot metals mean that Spatter (droplets of molten material) could be flying around and land on your boots.
As a result, you need to ensure your feet are protected from this while you work.
Impact:
Spatter can burn through shoes and cause serious injury to your feet.
Spatter can cause your laces to burn.
Footwear Protection to Consider:
Flame retardant leather
Stitching that is heat resistant
Avoid
Any material that is flammable
Importance:
Heat
Heat is the one thing you are always working with.  An arc welding machine can reach temperatures of between 3,000 – 20,000C.  ('Temperature of a MIG Welder – The Physics Factbook', n.d.).
As a result, it is important that your feet (as well as the rest of your body) are protected.
Impact:
Feet can become incredibly sweaty which can cause moisture.
Conditions can become very uncomfortable
Moisture is also a breeding ground for bacteria
Heat can also cause tiredness.
Footwear Protection to Consider:
High heat resistant upper
High heat resistant outsole
High shank – at least 6 inches
Breathability
Avoid
Any material that is flammable
Importance:
Falling Objects
You've probably already experienced some kind of falling metal or objects on your feet right?
Some of what you guys lift is DARN heavy.  You don't want that falling on your toes now do you?
Impact:
Upper foot, toes, and ankles can be seriously injured.
Footwear Protection to Consider:
Composite Toe / Steel Toe / Aluminium Steel toe caps to prevent from your toes from being damaged.  This will be dependent on your particular job function as a welder.  If you work with heavy objects then steel toe should be the minimum option.
Metatarsal Guard.  This will essentially protect the whole upper part of your foot from heavy objects that could potentially crush your feet.
Sole piercing protection.
See guidelines ANSI Z41-1991 and 1910.136(a) for further reading.
Boot with a shaft of at least 6 inches to protect your ankles
Importance:
Slippery Surfaces
Trips and slips are a real risk as a welder.
The surface you work on is probably going to be slippery in some cases.
If you DO work in a slippery environment, especially where there is oil, water or even sand then you should definitely consider slip and oil resistance as part of your buying choice.
Below are some guidelines on what we think you need.
Impact:
Slippery surfaces can cause falls and injury.
Protection to Consider:
Non slip outsole (slip-resistant)
Oil resistant (if required)
Importance:
Electric Shock
Working with metals and electricity is dangerous.  You should consider purchasing work boots that protect you from electric shock.
Impact:
With so many metal objects and electric equipment around, there is a potential danger that you may face a chance of electric shock.
Protection to Consider:
EH Protection Boot
Anti static
Importance:
---
Your Challenges, Frustrations and Problems
In addition to the points we made earlier about what your job entails, let's look at some of the day to day challenges you face in your job as a Welder and how it might affect your ability to do your job as best as you would like to.
Slips and falls – This by far is still one of the biggest causes of accidental death in the US. OSHA statistics claim that 15% of work based falls result in death.
Kneeling on your feet – Sometimes you may be required to get down on your hands and knees, squat or even lie down in order to complete the task in hand. These body postures can cause pain, general discomfort, and fatigue if you are doing this for long periods of time.
Standing on your feet all day – standing on your feet all day can become very tiring for your feet and to your overall body. As a result, you need a safety shoe that will help to reduce the fatigue you experience. Standing on your feet all day may have caused you to get blisters.
Physically demanding on the body – welding is a tough manual job which requires you to do the same thing continuously for long periods of time.  Not only that, heavy lifting, working in confined environments can also take its toll.
 Working very long hours.  It's not uncommon for you to be working 10-12 hours per shift so we need to look for a boot that's tough but is also gentle with your feet.
Working outside in extreme weather – You could be on a scaffold very high up in all kinds of conditions such as extreme cold or heat.
Boots getting sweaty which cause moisture
Blisters in the foot
Socks getting pulled during the course of the day
---
Buying Guide Criteria and Tips for buying Work Boots for Welders
In order to pick the right safety shoes, you need to know firstly what it is you are looking for.
Below we captured a list of key criteria we think you need for a top pair of work boots for a welder.
Twist-Rowlinson, (2013, p.26) helps us to identify some of the hazards that welders face as well as possible features to look for when selecting the right work boots.  Some of these have been listed below.
Feature
Benefit
Importance
Flame retardant leather
Suited for extreme environments
High
Comfort

Suited for extreme environments
When standing all day, a comfortable boot will help with getting less fatigued and also help with productivity.

High
Metatarsal Shields / Guard
Suited for extreme environments

Protects against heavy objects falling on the metatarsal bone (top part of the foot).

High
Electrical Hazard (EH)
Protects against electrocution
High
Abrasion and Heat Resistant Stitching
Suited for extreme environments
Heavy-duty rubber outsoles
Suited for extreme environments
Anti slip soles
Toe protection
Protects from falling objects.

Ideally steel toe.

Slip-on
Laces cannot be burnt through

Saves cost on buying more pairs of laces

Medium
Improved cushioning
This goes parallel with comfort.
Medium
Foundry Boots
Essentially they protect you from flying molten metal, have no laces and you can take them off pretty quickly if anything gets into your shoes. (Clabault, 2002).  These can be considered as an option.
Waterproof
Medium
Breathability
Medium
No Laces
A number of you have mentioned how laces can either get ripped when tying your laces or get burnt.  The lace holes can also cause a problem so we think we may have to eliminate boots with laces.
High
Buying Criteria
Below is a buying criteria checklist you should use if you want to find suitable work boots for welding.
Criteria
Description
Essential or Desired?
Fit For Purpose
This is a generic requirement, but in essence, for the work boot to be idea, it needs to be suitable for your particular job.

How: Consult your PPE requirements.

Essential
Fire and spark Resistance
Since your job requires you to work with extreme heat, this has to be one of the top priorities.  Twist-Rowlinson, (2013) also advises this.

Fire resistance/flame retardant leather – This is an incredibly important requirement.

Heat resistant stitching (Reilly, 2014)

No laces – We hear all the time of boots where laces get worn out or burnt.

Essential
Falling Objects
Falling Objects are a common in welding so ensure you have the following foot protection;

Metatarsal guard – will reduce any injury to the upper foot region.

Steel Toe Protection – Will protect your toe region from heavy falling objects.  Ideally, the boot must adhere to ASTM or safety standards within your country as a minimum.

Essential
Heat
You'll most likely be working in some VERY hot conditions so you need boots that can regulate the heat.

You should look for those that are breathable so your feet don't get uncomfortable due to the moisture.

Desired
Electrical Hazard Protection
EH protection is essential.  This will protect your feet when exposed to an open circuit in dry conditions.
Essential
Upper
The upper has to be full grain leather.  This means that the hyde is in its natural state, much stronger and is the best leather money can buy.
Outsoles
Ideally must be made of heavy-duty rubber

Heat resistance – Ideally the higher the temperature resistance the better.  Reilly (2014) recommends those made of rubber which could also include nitrile and Kevlar.

Slip resistant.

Essential

Essential

 

Essential

Comfortable Fit
This can be quite a subjective term so we will look at it from the perspective of how well the boot fits and the least 'breaking in' period.

Other factors such as breathability, fatigue also play a key role in defining what a comfortable work boot is.

Desired
Comfort – Cushioning and Insole support
Some work boots come with some really good insoles and cushioning support so this has been selected as a desirable option.  The fit of the boot in my opinion will supersede this option in most cases.
Desired
Comfort
Wider toe box – Will be superseded by comfort.

Lighter footbed – Will be superseded by comfort.

NA

NA

Durability and Construction
How well the boot is built is definitely a consideration.  There are numerous brands who build durable work boots so finding them should not be too problematic.
Desired
Cost
We want to purchase the best boots we can at the most affordable price.

However, we shouldn't just go for the cheapest boot that is available.

Desired
Waterproof
Please refer to your PPE requirements.
Desired
Breathable
Desired
Lightweight
You could be on your feet for 10-12 hours a day so heavy boots can tire you out.  However, some of the safety features such as steel/aluminium toe caps and Metatarsal guards can add to the weight.  Therefore the weight of the boot was a desired feature rather than essential.
Desired
Laces
Ideally go for slip-ons with no laces to protect yourself from burning laces. (Reilly, 2014).

If a 'pull on' solution is not feasible and laces are a must, then look for external metatarsal guard protection that can cover the laces.

Desirable
TIP: Do not tuck your pants into your work boots.  This is to avoid any sparks flying and getting caught inside your boot.  Please remember to leave them on top.
The key criteria for finding a Work Boot for Welder's will be;
Have a steel toe cap
Metatarsal guard to keep you safe from falling objects
Slip-on work boots with no laces
Outsoles – heat and slip resistance
Electric Shock Protection
Comfortable – protects you from fatigue and being on your feet all day.
Ankle protection – 6 or 8 inch shank
Affordability
---
Our Recommendations – The Best Work Boots for Welding chosen by us
I thought I knew welding and the challenges you guys face on the job.
I'll tell you what though, writing this article was an eye-opener and the research carried out was quite tough.
However, I'm really glad that I did it and makes me appreciate the hard work and effort that goes into the job.
To ensure the safety shoes are correct for your needs, please consult with your PPE requirement.
The list is based on research that was carried out for welding in general and not specific roles.
Things you should try and avoid where possible
We have been quite cautious in our approach when coming up with selection criteria
There are certain things you should try and avoid where possible.
No reinforced toe cap – The nature of your job will involve falling objects. In a lot of cases, objects will be heavy.
No metatarsal guard
No ankle support
No Heat resistance outsole – the last thing you want is your boots burning.  Ensure they are resistant to high heat.
Laces – Laces can get in the way and can also burn when exposed to sparks.
You should always refer back to your PPE Requirements so you know what's suitable for your job.
---
Final thoughts
What is important that you always ensure that working in such a tough environment, you try and buy the best boot you can afford.
Due to the nature of the job, you know how hard it is and for this profession in particular we wouldn't recommend you go for anything that is 'cheap' but one that can protect you from the dangers of your job and keep you safe.
Also, footwear is only one part of keeping yourself safe so please ensure you wear the correct safety wear.
We didn't choose a winner from the selection of boots above as we think they are all suitable for welders as they ticked most of the boxes that we felt were the most important for you.
We would love to hear your thoughts and whether you thought this was useful.
Did we miss anything? Can you recommend what you think are the best work boots for welders?
Have you purchased any of the boots we've recommended? Do you have any feedback for us?
---
References
Anon (n.d.) Temperature of a MIG Welder – The Physics Factbook [online]. Available from: https://hypertextbook.com/facts/2003/EstherDorzin.shtml (Accessed 7 October 2018).
Budhathoki, S. S. et al. (2014) Awareness of occupational hazards and use of safety measures among welders: A cross-sectional study from eastern Nepal.
BMJ Open. 4 (6), e004646–e004646.
Clabault, D. M. (2002) 10 features to look for when choosing foot protection. Industrial Safety & Hygiene News. 36 (5), 40.
Reilly, M. (2014) From the ground up: safety footwear should be job-specific. Industrial Safety & Hygiene News. 48 (6), 64.
Twist-Rowlinson, K. (2013) HOT SPOT for hazards. 12. Vol. 47