Where Are Ariat Boots Made?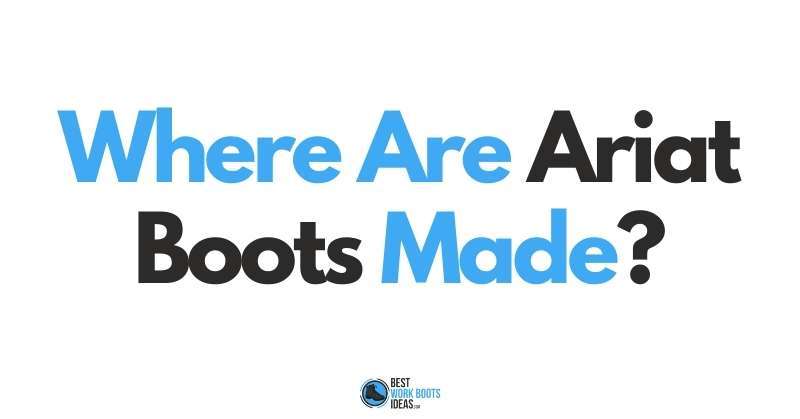 Ariat boots are produced and manufactured in various countries around the world, primarily Mexico, Italy and China. The products are designed at its HQ in Union CIty, CA, US. Some of the boots from the Two24 line are produced in the US. The majority of leather (cowhide) is also sourced from the US.  
When you think of a Cowboy Boot, there are a handful of names that come to mind.  
I'm sure the Ariat Boot company is amongst that list.
Have you ever wondered where Ariat boots are made?
In this article we go through the various styles of Ariat boots and talk about where they're made. 
Where it all Started
I really love the Ariat International story.  
Beth Cross, the CEO and Co-Founder grew up on a farm in the 1970's surrounded by animals.
The name 'Ariat' was inspired by 'Secretariat', the 1970's thoroughbred who had a heart three times that of a normal horse.  
He still holds records today.  His big heart and willingness to keep going was what motivated the company name.
Beth's story is one of the American dream and today she runs one of the world's most successful boot brands.
Where are Ariat Boots Manufactured?
From our research, it seems that the majority of Ariat boots and Ariat western boots are manufactured in Mexico, Italy and China.
Are Ariat Boots Made in the USA? 
No.  The majority of Ariat boots are manufactured in China, Mexico and Italy.  
This includes most styles including work boots, riding boots, western and cowboy boots and more.
Unfortunately, due to increased competition and increasing labor costs, a large portion of manufacturing has to be outsourced abroad.
Whilst this may have a detrimental effect on the US economy, a lot of companies in this day and age are resorting to outsourcing abroad as a matter of survival.
Not to mention pleasing their shareholders.
It's a catch 22 situation.
Do you keep factories in the US and make almost little or nothing risking profits and unhappy shareholders?
Or
Outsource, keep profits healthy, shareholders happy but risk quality of product and lose your US staff?
It really is a tough decision one and ideally a balance must be struck somewhere along the lines.
I'm glad this isn't a choice that I have to make.
Do Ariat Make Custom Made Boots?
No, they do not make custom boots or modify existing styles. This is clearly stated on their website.
Are Ariat Boots Made in China?
Yes, a selection of boots are made in China.
Cleaning your Ariat Cowboy Boot
If you already own a pair, then there is an entire article written on how to clean Ariat work boots.  
What about Comfort?
If you're someone who is thinking about purchasing a pair of cowboy boots, you might want to know if they're comfortable. Feel free to read the article we wrote on it.
How About the Fit?
As a really popular brand, you might want to also know how Ariat boots fit. Worry not as we have an article for that too.
What happens if I need my Shoes Resoled?
Ever wonder if Ariat boots can be resoled? Read our full article to know more.
Summary
Even though the majority of Ariat boots are made outside of the USA, it doesn't necessarily mean that the quality of their footwear will be low.
In fact many companies such as Irish Setter boots also have factories outside of the US.
Major companies have quality control units in place that ensure that the final product is to a very high standard.
A company like Ariat isn't going to create shoddy products.
It may lose some of its 'story' in where the products are currently made, however this does not always mean a lower quality product.
In fact they DO mention this on their website.