What are the Best Work Boots for Flat Feet to keep you comfortable?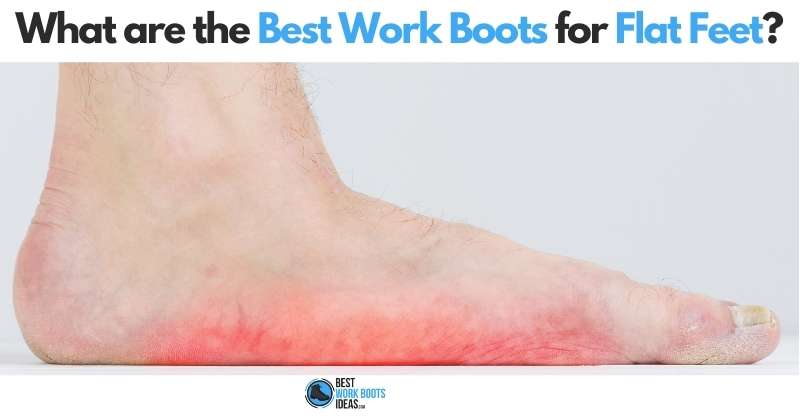 For anyone with flat feet (sometimes called "fallen arches", heel spurs or overpronation), buying work boots can be a huge pain both literally and figuratively.
Too little arch support can worsen the condition, possibly even rendering it permanent if it wasn't already so, while too much can prove uncomfortable and impede working performance.
Furthermore, shoes not specifically built for flat-footed individuals are come with certain structural issues: because flat feet tend to be larger around the lower phalanges (the area where the toes meet the rest of the foot), those with flat feet are often forced to buy larger, loose-fitting boots.
This can result in discomfort, poor performance, and twisted ankles.
Fortunately, there is a solution.
A number of high-quality work boots for men with flat feet on the market exist.
When combined with orthopedic products such as foot gels, these shoes can even move towards repairing the arch damage that characterizes the condition.
Even in cases where the damage is irreparable, the following list of the best work boots for flat feet can still be used to insure maximum comfort and work performance.
Affiliate Disclaimer
Affiliate links may be present throughout the Bestworkbootsideas.com site and we (the site owner) may earn a commission from any sales made from recommending products on this site at no extra cost to you.
---
1. Justin Original Double Comfort Conductor Pull on Work Boots – Men's Style Aged Bark (4760)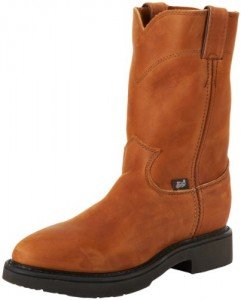 When it comes to arch support, Justin Double Comfort's are unparalleled.
These pull ons have a fairly massive arch, but one that's been specially designed to be comfortable to flat footed men by shifting weight towards the front of the boot.
Even aside from their orthopedic comforts, Justins are excellent working boots, with many customers praising their traction and tendency to shed dirt instead of tracking it around.
Handcrafted in the USA.  The boot consists of a round toe and a mid-calf  shaft height.
However, the boots do not feature a steel toe, which, while not exceptionally important for most, is required in certain industries.
The price is very reasonable for premium work boots designed to last upwards of ten years.
---
2. Best Work Boots for Flat Feet: Rothco Forced Entry Deployment Tactical Boot
If you don't mind a slightly military look, the Rothco deployment boot offers a number of unique advantages to the flat footed man.
First and foremost, the boot offers a slight increase in size towards the toe while narrowing significantly towards the heel, making them some of the best fitting flat foot boots available.
In addition, the running shoe-style base is great for those who work extensively on concrete floors or other hard surfaces.
That shouldn't imply a lack of durability, however: the shoes have a high quality steel base that unerringly protects the feet of the wearer from punctures.
Finally, the mesh design on the sides means that the Deployment Boots are extremely breathable for a working boot of their class.
Those put off by the slightly odd looks of the desert-colored line may prefer the more prototypical black leather variety.
FREE Shipping
Free 30 Day Returns
---
3. Georgia Boot Georgia Giant G4374 – Wellington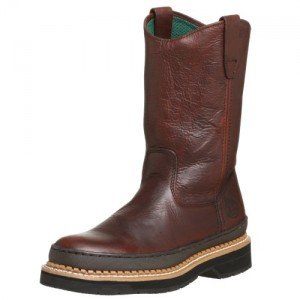 Those looking for a spectacularly rugged work boot need look no further than the Georgia Boot Georgia Giant line.
It's rubber sole is designed to, in addition to being almost preposterously large, to be extremely customizable and repairable.
While the boots already have decent arch support on their own, the ability to increase or even lessen the arches depending on your feet is extraordinarily useful.
While this does take a modicrum of effort (and a willingness to cut up your newly purchased  boots), the operation can be performed with no specialized equipment other than measuring tape and a sharp pair of scissors.
Even aside from the customization potential, Georgia Giants are some of the best work boots for flat feet based sheerly on their comfort and quality.
The fact that they literally slip on is also an advantage.
---
4. Caterpillar Men's Diagnostic Steel Toe Waterproof Boot (73687)
Value is always a big concern when it comes to any work boot, and Caterpillar unquestionably delivers.
For the price of a typical steel toe work boot, the customer gets high-quality, waterproof leather, excellent insulation for cold weather, a comfortable leather sole, and a rugged, yet professional, appearance.
Importantly for flat footed men, the Diagnostic's name comes from its "Ergo" comfort system, which directs pressure away from high stress areas and distributes it evenly throughout the foot.
This means that, while the Diagnostic can't compete with other shoes on this list for arch support, most flat footed men will find their need for arch support obviated by the boot's construction.
That being said, extreme cases of flat foot might be better served with the earlier suggestions.
---
Quick Overview of Flat Feet (Pes Planus)
---
5. Wolverine Men's Buccaneer Steel Toe 6 Inch Contour Welt Waterproof Work Boot (4820)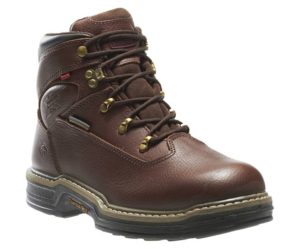 A bit of an outlier in this list, the Buccaneer is unique in how well it meshes with orthopedic gel insets and other such additions.
The advertised "contour welt" translates into extreme flexibility which, when combined with premium insoles like those sold by Superfeet and Cyrano, produces unrivaled comfort for men with flat feet.
In addition, the boots themselves are of excellent quality, featuring extremely moisture resistant construction and a very cool overall design.
It must be noted, however, that the Buccaneer worn alone is actually a quite substandard boot for men with flat feet due to relatively poor arch support.
It's unique advantages only come out when worn alongside additional products, especially high-quality insets such as the Superfeet Premium line.
Once such insets are added, however, the Wolverine Men's Buccaneer with Contour Welt becomes one of the absolute best work boots for flat feet available.
---
Wrapping Up
Hopefully you've found our list of safety shoes for flat feet useful.  I'm very interested to hear your thoughts.
You might also be interested in zero drop work boots as they may also be beneficial to those with flat-er feet and overpronation of the foot.
Have you already purchased the above boots? What is your feedback?
Are there any other boots you think we should've added?