What are the Best Work Boots for Carpenters? 5 Great Footwear Options + FREE Complete Buying Guide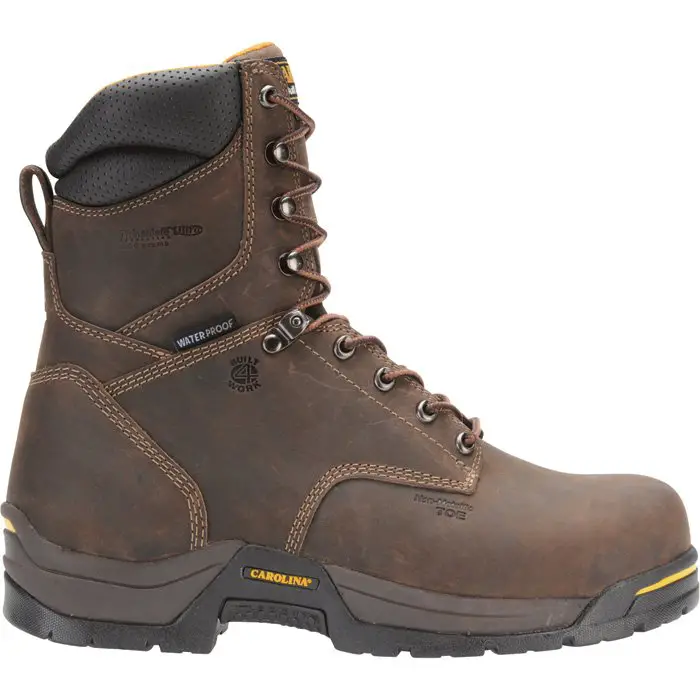 My Dad is in his 80's.
He went into the Building trade as a young boy.
Later through his career, he became a Carpenter.
He was REALLY good.
As a young boy growing up, he'd often take me and I'd watch him.
It was incredible what he could create with the limited tools he had.
It was a tough job.
He would leave when it was dark and arrive home when it was dark.
He really loved what he did and even to this day, people talk about how my Pop helped them with their house.
Anyway, I completely digress.
The point I'm trying to make is that I've seen how tough working as a Carpenter is.
It's a rewarding job nonetheless.
I've also seen how dangerous it can be.
I remember as a young man in my 20's, trying to avoid walking over sawdust and tiptoeing around the power tools.
Planks of wood lying on the floor.
Heavy doors waiting to be fitted.
Power tools such as drills, sanders, circle saws as well as tools from other construction workers also laying around.
To say it was a hazardous and dangerous environment is a total understatement.
As a result of my experiences and also those of who I know in the industry, its fair to say that a pair of good footwear is essential.
I'm hoping to find you a handful of what I feel are the best pair of work boots for Carpenters on the market today.
Hopefully they will provide you the protection and comfort you need for your feet and toes.
There'll also be a Work Boot Buying Guide for Carpenters after the recommendations. 😊
What I should be Looking for in Carpenter Boots?
In a nutshell, the key features you should be looking out for are;
Outsole
Slip resistance sole – To protect yourself from slipping or damp floors
Puncture resistant sole – Protects you from any nails or anything sharp getting through to your feet.
Chemical Resistant – When you work in construction, you often work with Plumbers and other trades people who like to use various chemicals as part of their job.
Safety Toe – Will prevent your toes crushing from heavy falls objects such as a big door.
Flexibility – It means that you'll be a little bit more comfortable with all that bending and kneeling you do. However you still need something that protects your feet.
Waterproof – working in a construction environment means your feet are likely to get wet. Nobody wants that!
At least a 6 inch shank – This means your ankles have support and protection.
Electric Hazard (EH) protection to prevent your feet from open circuits and sizzling like an English breakfast.
Comfort
I'm not going to mention comfort as I'd expect this to be a standard requirement for every boot.
Unless you have a thing for discomfort.
Anyway.
---
Our Top Picks
---
Affiliate links may be present throughout the Bestworkbootsideas.com site and we (the site owner) may earn a commission from any sales made from recommending products on this site at no extra cost to you.
---
Irish Setter Crosby Men's 8-Inch Composite Toe Work Boots for Carpenters
The 8 Inch 83830 Irish Setter boot packs quite a punch.
Where do we start?
When I look at this shoe, it reminds me of an off-road jeep with roll cages, body kits and everything else.
It looks and means the business.
Whatever life throws at it, you just KNOW this boot is ready to handle anything and everything.
Having a pair of these seems is like having the big brother I had never had. A personal bodyguard perhaps. Someone whose got your back…or feet at least.
Someone who can take a punch, a kick and like a BJJ fighter get back up and carry on.
It's a war out there.
The elements and tough conditions seem to be your enemy.
Thankfully you have your tank.
It will protect you from the world as long as your feet are inside.
Interested?
Here's some specs.
Firstly, lets talk about the outsole.
Remember all those times you slipped or just about slipped?
These boots have a non-marking 'Diamond Tred' outsole.
It means that they have exceptional grip.
A Non-Metallic Composite Safety toe protects your toes getting injured from falling objects
I think these pair of Irish Setter boots are possibly one of the best composite work boots available on the market.
Made from Nano Carbon, it means the material is lighter keeping your feet protected and comfortable.
Furthermore, they have low thermal conductivity, making them ideal for working in hot weather conditions.
Want strength and corrosion resistance?
They've got that too in addition to ASTM F2413-11.
The boots come equipped with UltraDry waterproofing technology and a CuShin tongue for ideal comfort.
These boots are highly recommended for carpenters who are more concerned about comfort, as they feature removable memory foam footbed that adjusts to the shape of your foot.
It's not just that they have plenty to offer, they are reasonably-priced too.
Pros:
Extremely lightweight and comfortable
Have a strong, ASTM-rated construction
Waterproof and shock-resistant
A perfect pair for hot weather conditions
Cons:
Not recommended for heavy-duty carpentry
Not the best insulation against loss of heat
---
Gravel Gear Men's 10-Inch Logger Steel Toe Carpenter Work Boots
The Logger Work Boots from Gravel Gear feature ASTM-rated steel safety toes that provide a great deal of protection.
These steel toes are capable of handling up to 75 pounds of impact, making it suitable for carpentry work.
The boots are also waterproof, so you won't have to worry about electric shocks or wet toes.
They are highly breathable for comfort and freshness.
Full-grain leather uppers are good for durability and strength.
We're quite fond of the repairable welts which means you wont need to buy another pair if the rest of the boot is still in good condition.
Gravel Gear has put a lot of thought and effort into making this pair supportive and stable by adding steel shanks, which allows you to handle hours of standing without problems.
Pros:
Lightweight and durable construction
Waterproof and highly breathable
Available in a wide range of sizes
Offer remarkable toe preservation
Cons:
Not insulated
They don't offer the best traction
Gravel Gear is a brand by Northern Tool who have been in business since 1981.
They have first hand experience with the construction business and what their customers want.
Don't cast this boot aside just because it isnt a big named brand.
I think it's definitely worth trying out.
Norther Tool offer a 45 day return policy (at the time of writing) so if you don't like your boots for whatever reason, you can return them.
Do double check the return policy though.
---
Carolina Men's 8-Inch Insulated Safety Toe Work Boots for Carpenters
This is yet another pair of composite safety toe work boots that provide great protection for your feet.
The composite safety toes are ASTM-rated, so you're ensured high impact resistance.
The reason we've included this pair on our list is for their very good insulation.
With 600 grams of Thinsulate technology, you won't have a problem working in arctic weather conditions as they offer plenty of warmth for your feet to keep them functional.
Carolina feature their own Pillow Cushion technology for comfort.
For additional comfort, the boots feature polyurethane footbeds.
The strong rubber outsole has great traction which means it is both Slip and Oil resistant.
Electric Hazard protection is also included.
If you like your own insoles then this is also possible with the removable footbed.
The boots are available in a wide range of sizes and in regular or wide widths.
Pros:
Lightweight and durable construction
Great insulation
Heavily geared towards comfort
Available in regular or wide widths
Cons:
If you're looking for breathability then this probably isn't the best solution.
Not the best for hot weather conditions
Known for their quality boots, Carolina is a globally recognized brand.
---
Irish Setter Men's 6-Inch Aluminum Moc Toe Carpenter Work Boots
Looking for a pair of work boots that offer steel-like protection without weighing you down?
This pair of Moc Toe work boots from Irish Setter is the perfect blend of weight and protection.
They have been rated to provide 75 pounds worth of protection against impact and compression.
Furthermore, they're rated for protection against electric shocks which result from ground-conducted electricity.
If you're based in an area that's accustomed to extreme heat, this pair of work boots are a great pick because they are highly breathable.
Full-grain leather uppers that provide ideal water resistance to keep your feet dry.
Lastly, the pair features a polyurethane footbed cushioning that offer maximum comfort for your feet.
Pros:
Ideal boots for hot weather conditions
Great protection without being too heavy
The cushioning provides ideal comfort
Resistant to water, heat, and abrasion
Cons:
They don't offer a great deal of traction
Not recommended for colder conditions
---
Georgia Brookville Men's 8-Inch Steel Toe Work Boots for Carpentars
We're aware that there are people that care about style just as much as they care about comfort and protection, which is why the Georgia Brookville Work Boots have made our list.
These boots provide steel-toe protection to keep your feet away from harm's way.
We also like the comfort that the EVA interior footbed provides.
This is a pair of extremely durable work boots, so they should last a while if maintained correctly.
In addition, they're highly flexible despite their steel-toe construction, which is pretty uncommon to see in the majority of steel-toe work boots on the market.
They're ASTM-rated for toe protection and electrical hazard protection.
Overall, these are great all-around boots for your everyday activities.
Pros:
Arguably the best-looking pair on our list
The EVA interior provides great comfort
Waterproof and resistant to electricity
Highly durable and flexible construction
Cons:
Not the best pair in terms of breathability
The outsole needs to be more slip-resistant
---
Which of These Are Right for You?
Irish Setter Crosby Men's 8-Inch Composite Toe Work Boots. Recommended for light carpentry work in hot weather conditions
Gravel Gear Men's 10-Inch Logger Steel Toe Work Boots.
We'd suggest this pair for workers that are seeking maximum breathability and comfort
Carolina Men's 8-Inch Insulated Safety Toe Work Boots
This is a great pair of boots for workers seeking warmth in arctic weather conditions
Irish Setter Men's 6-Inch Aluminum Moc Toe Work Boots
Recommended for carpentry work in dry work environments and hot weather conditions
Georgia Brookville Men's 8-Inch Steel Toe Work Boots
If you're concerned about style as much as you're concerned about protection, this is the pair for you
If you're concerned about style as much as you're concerned about protection, this is the pair for you
Selecting the Right Work Boots for Carpentry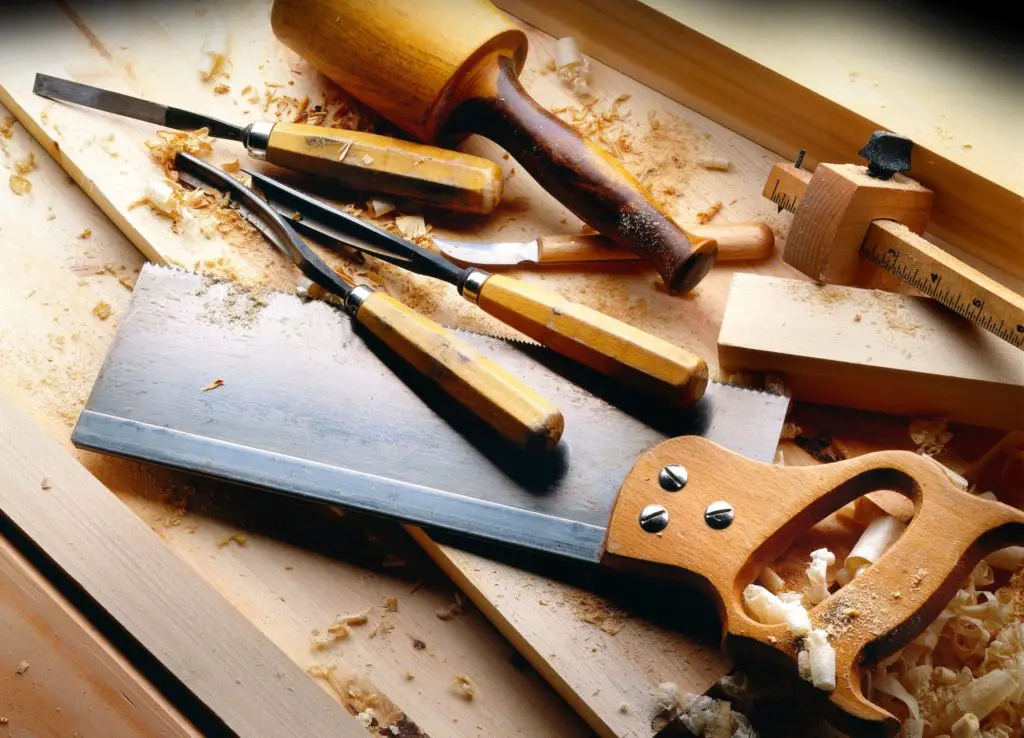 Woodworking definitely isn't a walk in the park.
From working with heavy items and machinery to the possibility of electrical or fire hazards taking place are all part and parcel of the job.
To ensure workplace safety, there are a number of factors that you need to take into consideration.
What Exactly Do Carpenters Do?
Carpenters are artists that use their creativity and the palm of their hands to translate ideas into reality.
Not only do carpenters create, but they also have the ability to repair.
An essential part of being a carpenter is having the ability to operate and control a wide range of machinery in order to reform wooden objects into anything from doors and windows to trims and moldings.
What Are the Footwear Challenges That Carpenters Face?
Your work environment as a Carpenter is a very strenuous one.
With many carpenters working around 40+ hours a week, it doesn't take me to tell you that you face prolonged standing, working with sharp objects, and being in situations where slipping or falling is always likely.
In addition, there are carpenters who are outdoor-workers, meaning that they have to deal with variable weather conditions on a daily basis.
This can be on both extremes.
Hot as well as cold.
With the points mentioned above, imagine how hard it can be for a Carpenter who is wearing a poor pair of work shoes in tough conditions?
There are a number of factors to consider when making your purchase decision.
The most important is how 'fit for purpose' the boot is. This should never be overlooked.
However, there are two main features that we all want in our work boots and we have seen this time and time again in every single decision: fit and comfort.
Regrettably, many compromise on the above for the sake of a good deal.
What Hazards Do Carpenters Face at Work?
As a carpenter, it's important that you understand the various health and safety hazards that you may be susceptible to during a normal day at work in order for you to take preventive measures.
I've already mentioned some of these towards of the top as I was relaying some of my own experiences.
Working with tools and machinery, there is every likelihood you'll be subjected to injury and hazards.
Your feet may also be exposed to bacteria, fungi, and toxic molds, especially with regards to footwear.
Moreover, you may be exposed to toxic chemicals that you don't want getting in your feet.
Not to mention that wood dust is combustible, making it a cause of fire hazards.
As a carpenter, you also run the risk of eye injury from dust particles in the air.
Carpenters do a lot of standing, bending, kneeling, crouching, lifting, and a ton of other arduous movements and positions.
The risk of falling when working at heights is also something to be mindful of.
And lastly, the variable weather conditions that carpenters deal with when working outdoors can be hard to handle.
What Preventive Measures Should Be Taken?
It would be good if none of these hazards existed.
However that's unlikely to happen anytime soon.
We wouldn't be Carpenters otherwise would we?
What we can do is to reduce the amount of exposure to these hazards or potential risks.
As they say "Prevention is better than cure".
We're going to do exactly that.
How?
Taking precautionary measures and safe work practices seriously will help reduce your chances of going through any of the above-mentioned health and safety hazards.
You need to look at your work requirements and understand EXACTLY what protection you need.
We talk about PPE throughout this website in many places and will continue to do so.
As far as footwear, you need to consider the different toe types available on the market so that you can decide on which type suits your work environment and comfort needs the most.
Below is an overview of the the various toe types.
---
Steel Toes – These have been the industry standard for many years.
They provide ideal protection from heavy falling objects.
They completely shield the toe area and provide it with the most protection.
Many of these provide shelter against electrical hazards as well.
On the flip side, steel safety toes are the heaviest of the group.
They are also known to sometimes to cut into your toes, however this may be due to an incorrect toe box size.
If you want the best protection of them all, then Steel Toe work boots are the most ideal.
Aluminum Toes – These are the best option for someone who's looking for a lightweight alternative to steel without compromising on safety.
Aluminum toes provide an improved level of comfort than steel because they're thinner and offer more room.
Sadly, aluminum toes are temperature-sensitive, so they're not ideal for outdoor carpenters.
---
Composite Toes – These are generally the lightest of all three types because they're not of a metallic construction.
They're usually made of Kevlar, carbon fiber, or plastic. They are still very strong.
Maybe they're not as impact-resistant as steel or aluminum, but they still provide shelter against bumps and impacts.
Moreover, they don't conduct heat or electricity whatsoever.
Oh and they wont trigger of metal detectors.
Footwear Safety Factors to Consider:
Slip Resistance – Like we've already mentioned, carpenters tend to deal with chemicals in their workspace, which can make for a slippery work environment that may lead them to slip or fall.
As a carpenter, you need to ensure that your work boots provide adequate traction and that they have slip-resistant outsoles.
In an ideal world, you want to look for boots that offer multi-directional treading as they provide more grip across surfaces.
Puncture Resistance – Carpenters deal with sharp objects such as nails and debris on a daily basis.
It's ideal to be wearing work boots that have a puncture resistant outsole.
You really don't want anything penetrating the sole and into your feet.
You want to look for shoes that have midsoles made of steel, aluminum, or Kevlar.
Also, make sure that the sole can handle no less than 1100N of penetration force.
Waterproof / Water Resistance – Having a pair of waterproof work boots is essential for anyone who works outdoors.
It's not just uncomfortable to have wet feet but annoying and has health implications such as bacteria.
Please remember that there is a difference between water resistant and total water proof.
If your feet are being exposed to some water and going to get wet, then Water resistance might be sufficient.
If however, your feet might need to be fully submerged into water then Water proof will be a better option.
Temperature Insulation – Whether it's too hot or too cold, temperature-sensitive work boots can be a huge pain in the neck.
This is especially important if you're based in an arctic environment because body parts tend to function less efficiently when the weather is cold.
You should look for work boots that provide adequate insulation against loss of heat when working in cold weather conditions.
Footwear Comfort Factors to Consider:
Boot Weight – This is a factor that a lot of people tend to overlook, but don't you think it would be more convenient to work while wearing boots that won't slow you down?
Also, this is important for carpenters that carry their shoes along with them to work.
Size Fit – We're quite certain that you know the importance of wearing shoes that fit you.
On one hand, work boots that are too small will uncomfortably constrict your feet, and on the other hand, work boots that are too large will just fall off your feet while walking.
Comfort 'Break In' Period – Some boots require a 'Break In' period. This is usually only a few days at most.
This will allow the boot to adjust to the shape of your feet to give you maximum comfort.
When breaking into the shoe, it may initially cause you some discomfort and potenaitlly some pain.
Breathability – Breathability is pretty much the opposite of insulation. This means that if you're based in an area known for its hot climate, you should opt for boots that provide great breathability, rather than insulation.
Sweaty feet are not nice at all.
---
Your choice of work boot as a Carpenter will be dependent on your work environment.
Unfortunately, there is no one size fits all.
Our job would be a great deal easier.
The choices we have made above are based on research.
We have tried to keep them as generic as possible.
However, please do keep in mind the conditions you work in, the severity of the hazards, the weather etc to allow you to make a much more informed decision.
As usual, we would reiterate that you look at your PPE requirements to gauge as a minimum what you need.
Based on your work environment, we hope at least one of the boots mentioned above meet your needs.
Also, you want to keep in mind that the climate of your working environment will determine whether you need a breathable or insulated work boot.
Which types of boots you decided to go with? I'm definitely interested to know.