5 Best Construction Boots for Men & Women Reviewed: + Free Buyer's Guide on what to wear on site.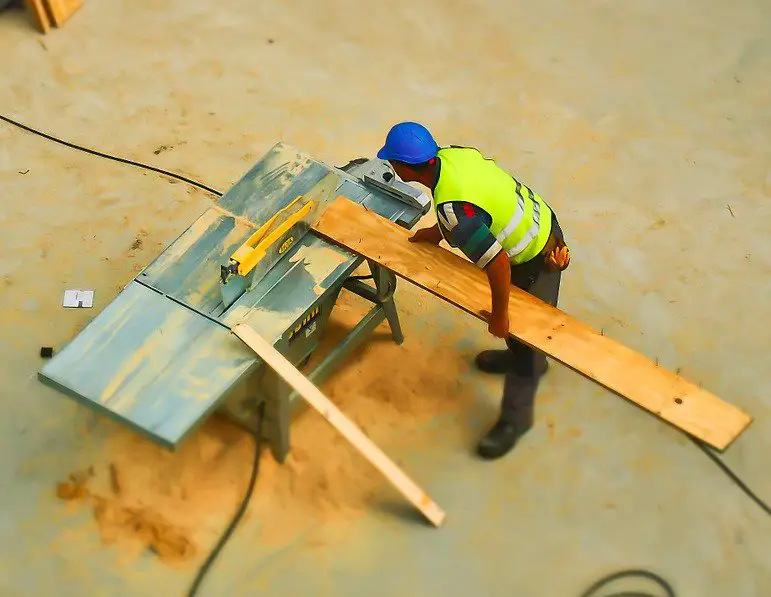 As on-site construction workers, we have to make the appropriate choice when it comes to the best construction boots.
To make an incorrect choice in this decision can lead to disaster on the worksite.
Many construction workers know that you should always wear boots with sturdy, steel toe construction.
These boots protect your toes from falling objects and can even save your feet from plunging cutters and saws.
Outside of this protection, there is much more to consider in a construction work boot.
Let's take a look at some of the most important protection features; outside of toe protection that you should look for in a construction boot.
Scroll down to check specifications, latest prices and to buy online.
---
---
Protection from Slippery Surfaces
Simply put, you can find slippery surfaces at any construction site.
If you tend to do work in cold worksites that can accumulate ice and snow or a site where oil, chemicals, or just plain wet surfaces are common, then a slip resistant boot is mandatory.
There are a few methods for adding traction to a work boot, the most common is the addition of a wide-set outsole.
The top rated boots of this type will have an outsole made of rubber that will flex when you step, granting you a higher level of traction.
This is even more important when you have a job such as a contractor or bricklayer.
In addition to this, a wider set construction will grant you a larger surface area for your feet with plenty of space to push slippery substances outwards and away from your foot.
Protection from Nails and Other Worksite Sharps
Construction sites are dangerous. Some of our careless coworkers can leave blades, nails, and sharp pieces of metal around that we can step on and injure ourselves.
Fortunately, a good pair of construction boots will help you avoid this situation by providing great protection.
Sole Protection: A good pair of boots will have a plate between the sole of your feet and the base of the boot.

This way, if you accidentally step on a nail or a pinned blade, your feet will be protected from injury. This is especially important for Carpenters.

Puncture Protective Lining: Puncture danger doesn't come exclusively from below on an active worksite, so a good feature to look for is a puncture protective lining that's made of nylon or fiberglass.

This lining will provide a great layer of protection for your feet and the shoe should still be comfortable enough to flex with your stride.
Protection from Electrical Discharge
Firstly, if you find yourself working around a lot of electrical hazards, avoid using a boot with a steel toe or sole lining.
There are great composite options that provide the same impact and blade protection that won't expose you to unnecessary danger from electrical currents.
Most electrical resistant safety shoes are made with rubber soles that safely resist electrical currents; helping you avoid a nasty shock.
Protection From the Cold
It's not uncommon for construction workers in the northeast and Midwestern areas of the country to work in freezing environments.
In these jobs, it's very important to protect your feet and ankles from frostbite.
Fortunately, many work boots have built-in linings that will deflect a lot of the cold from your feet.
As a matter of fact, a quality pair of insulated work boots will protect your feet from temperatures as low as -30 degrees Fahrenheit.
Best Construction Work Boot Reviews
Now that we know what to look for; what are the best work boots for construction?
Well here is a list of excellent boots that will provide protection, comfort, and reliability while you complete your work.
Affiliate Disclaimer
Affiliate links may be present throughout the Bestworkbootsideas.com site and we (the site owner) may earn a commission from any sales made from recommending products on this site at no extra cost to you.
Option 5. Timberland PRO Men's PitBoss 6″ Steel-Toe Boot
Timberland has been making boots for professional and casual use since 1918, but their Pro series is 100 percent designed for the rough and tumble world of construction.
This boot has a plethora of great features designed to protect your feet from dangerous construction sites, yet are exceedingly comfortable to wear for long periods of time.
This work boot packs in protective features like a steel toe (I/75 and C/75) and an outsole that is slip-abrasion and oil resistant.
These shoes also protect against the shock that can occur on a active construction site.
For the sake of comfort, these construction shoes for men also have a midsole that wicks moisture away naturally, so that your feet stay comfortably dry and breathable.
In addition to this, Timberland has also included a antimicrobial cover that will kill odor-causing bacteria.
This boot also adheres to ASTM F2412-11, ASTM F2413-11 and ASTM F2892-11 safety standards.
It's no surprise therefore that yet again we see this boot featured. Click here to read the full review.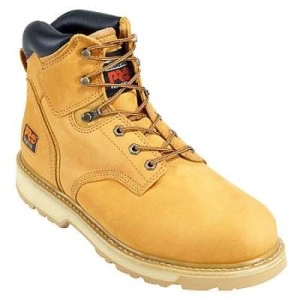 >> Check Latest Prices with Eastern Mountain Sports<<
---
Option 4. Caterpillar Men's 2nd Shift 6″ Steel Toe Boot (P89135)
Caterpillar is a brand that is well-known in the construction world.
Their 2nd shift line of boots is designed for the toughest worksite, so you know that you'll have great protection with these boots.
Since slippage is one of the most dangerous risks in a modern worksite, this Caterpillar boot has an oil-resistant and slip resistant outsole, so that you can always have good traction in oily situations.
The steel toe adheres to ASTM F2413-11 I/75 C/75 as well as Electric Hazard (EH) standards (ASTM F2413-05 1/75 EH.
Since these boots are made of leather consisting of a Goodyear Welt construction, wearing them on-site is very comfortable.
This is ideal if you're standing on your feet all day.
They flex naturally and provide a good deal of airflow without exposing your feet to danger.
Once broken in (which may take a few days), these boots will hopefully last for years of strenuous service.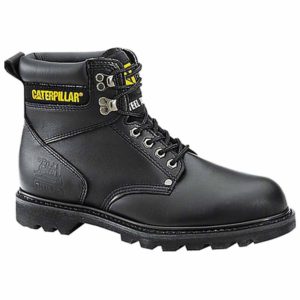 >>  Get the latest prices with Shoebacca <<
---
Option 3. Timberland PRO Men's 26078 Titan 6″ Waterproof Alloy Toe Work Boot
This is another great boot in Timberland's Pro line. If you find the standard construction boot uncomfortable, then this is the boot for you.
A more conservative boot and lighter boot. Its outer layer is composed of soft, full-grain leather that is quick to break-in and wear on the site.
In addition to this, these boot's sole is of the PRO series type.
This means that its outsole is slip, oil and abrasion resistant so that you'll always have your footing as you work.
If you stand on your feet all day then this one might be for you.
The safety toe adheres to the ASTM F2412-11 and ASTM F2413-11 standards. It also meets the I/75 and C/75 impact and compression safety.
Those that have purchased the boot have praised it for being very comfortable with a minimum breaking-in period.
However, we cannot stress enough how important it is for the boot to fit in order to ensure there isn't any discomfort which is quite a common reason for pain.
One critical point we did come across is where a few customers expected the sole of the boot to last longer.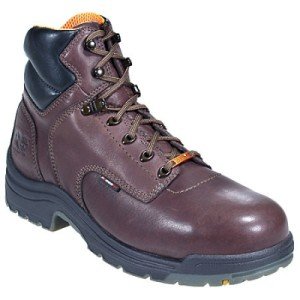 >>  Get latest deal for this boot now with Shoebacca  <<
---
Option 2. Reebok Women's RB765 Trainex Waterproof EH Composite Toe Boots
This boot utilizes a waterproof construction, an electrical hazard safe composite toe and shank, and a slip resistant outsole.
As the first boot that we've reviewed that incorporates a protective shank for nails and sharps, this boot is still quite flexible.
These are also some of the best construction boots for women that we have seen.
These boots also have another unique feature from the rest of our reviewed products: they are are also chemical resistant in addition to resistance to oil.
This is perfect for worksites that have you working around dangerous chemicals.
Adheres to ASTM F2413 safety standards.
6 Inch Puncture Resistant
Water resistant full grain leather upper
Innovative Heel Airbag Technology
Composite Toe
Electric Hazard (EH) Protection
Removable insoles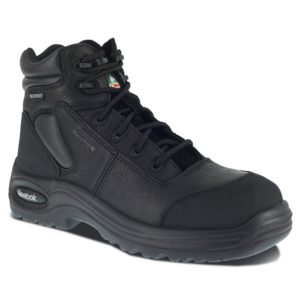 >> Get Pricing Details from Shoebacca <<
---
Editor's Choice:
Option 1. Keen Men's Milwaukee 1009174 Waterproof Heavy Duty Steel Toe Slip-Resistant EH Work Boots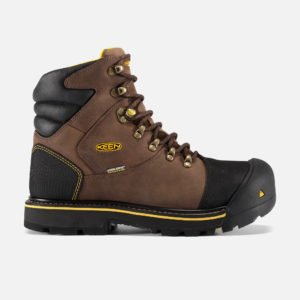 >> Check the latest deal on this boot with The Sportsman's Guide <<
Our Editor's Choice boot has a ton of great, construction-friendly features that make it perfect for any worksite.
Firstly, this very nice looking boot is one of the few pieces of work footwear that has a protective toe that isn't dome shaped.
This foot-shaped design will protect your toes from impacts and cuts, while still providing a comfort.
Besides this forward protection, the sole is thick, and there is even a thick layer of heel protection.
This feature will protect this often neglected area of your foot.
On top of this, these are also slip resistant and have more than enough material in the sole to protect against the nails and sharps on the site.
There is an option for either the regular or the wide width boot so ensure you select the right one.
If you go for the wider boot then you may want to select half a size bigger than your regular size in order for it to fit right.
You might also want to take into consideration that the boot isn't light or overly heavy.
Working in hot climates where your feet sweat shouldn't be a problem.
The KEEN Dry Waterproof breathable membrane helps to address this for your boot stays fresh from inside.
Some of the features and characteristics include;
Electric Hazard Protection – Adheres to ASTM F2412-11, F2413-11 I/75 and C/75.
Slip and Oil Resistant which is ideal for construction sites where there is unstable flooring.
Steel Toe – Left and Right Asymmetrical Steel Toe which aligns to the natural shape of your foot.
Keen Welted Construction
Full grain waterproof leather upper
Removal footbed
Waterproof Leather Upper
Finding the best work boots for construction isn't easy, but this list has provided you with some great leads when it comes to foot protection.
Remember, the best construction boots will provide both comfort as well as protection, which is why we picked the products we've listed in our reviews.
You might want to also look at the Roofers or Carpenter's work boot choices page too.