Are Tactical Boots Good For Hiking? Advance Farther, Climb Higher, and Dream Bigger by Escaping the City Today With a Clear Head and Happy Feet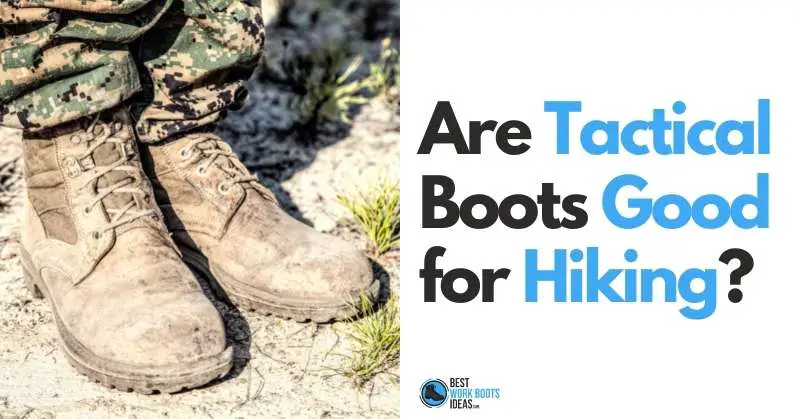 Tactical boots are an extremely reliable style of boot originally designed for use in active combat.
The popularity of this boot style amongst the civilian population has raised the question: are tactical boots good for hiking?
In this article I'll detail the reasons why tactical boots are good for hiking. 
I'm also going to discuss the specific times when you should or should not turn to this boot style as a solution for your hike.  
Are Tactical Boots Good For Hiking?
Tactical boots are great for long hikes on the toughest terrains. 
This boot style is designed to help soldiers with the challenges of combat, so it can handle whatever backpacking you're doing. 
Tactical boots provide a superior level of support compared to hiking boots, so they'll be easy on your ankles. 
Furthermore, their outsoles are usually made of ethylene vinyl acetate (EVA) or polyurethane (PU), reducing the level of shock you'll feel from stepping or hopping down hard.
When Should I Use Tactical Boots and When Should I Use Hiking Boots?
You should choose tactical boots for longer hikes, and hiking boots for shorter expeditions. While tactical boots will provide better support and durability, they're probably going to be less comfortable than hiking boots in the short term.
To be perfectly clear, I would choose low-cut, highly breathable hiking boots if I was going out for a couple hours in good weather. 
If I was planning to do a full-day, or even a multiple-day trip, I would choose a pair of tactical boots.
I'm imagining advising a friend of mine who has the dream of hiking the full Appalachian Trail.
This is a hike that takes even the most seasoned hikers around a half-year to complete. 
If he were to ask me what footwear he should get, I would immediately and without question tell him tactical boots. 
This isn't just a suggestion for style or comfort, it's a suggestion of safety.
Imagine being miles away from any civilization, and even further from a hospital. 
Even more seriously, it's possible you're in a location that you couldn't be rescued from.
Tripling-down, there's a good chance your phone has no battery or reception. 
In this scenario, trench foot, frostbite, fungal infections, a sprained or broken ankle, a poisonous snake or spider bite are all potentially deadly. 
The features of tactical boots lower the risk of every last one of these situations.
Why Do Tactical Boots Have Zippers?
To quickly get the boots on or off, depending on the situation. Lacing boots can take a long time and require some adjustment to fit and feel the way you want them. The side zipper allows you to get more than one wearing before you have to relace, saving time and effort. 
What Are the Features of Tactical Boots that Make Them Good for Hiking?
The height of the shaft, numerous eyelets for lacing, waterproof exteriors, insulation, side zipper, and modern outsole material and design all result in a boot that is excellent at dealing with the elements and dangerous inherent on serious hikes.

Tall shaft

Provides protection against unwanted passengers inside your boot. Whether it's dirt, debris, snow, water, or bugs, the tall shaft will reduce the chance of something getting inside your boot.
Protection from snakes or other animals that can attack you from ground-level.
Added support and stability for the ankle over extended periods of time.


Many eyelets for lacing

Adds to ankle support by providing a snug but controlled fit so your boots firmly grip your feet and ankles without strangling them.


Waterproof

Usually a waterproof membrane prevents your feet from getting trench foot, fungal infections, or just experiencing general discomfort.


Insulated
Side zipper

Helps prevent nerve damage, trench foot, and fungal infections by allowing the wearer to let their feet breath each break by quickly and easily putting the boots on and taking them off without having to lace and unlace everytime. 
Allows the wearer to quickly escape from dangerous situations without having to relace their boots.


Outsoles

Rubber outsoles reduce shock to the body caused by repetitive stepping and jumping.  Especially useful when on rough terrain.  A Vibram outsole is probably one of the best options for this.


Tread/Lug Pattern

Provides traction without deep lugs and tread patterns that collect mud and increase the boots' weight.

Why Should I Use Hiking Boots For Shorter Hikes Instead of Tactical Boots?
Traditional hiking boots excel at providing comfort and performance in a controlled environment. They offer breathability, are lightweight, and almost as comfortable as sneakers. Also, most people don't go hiking on days with terrible weather, so the features of tactical boots aren't needed.
Additionally, hiking for a couple hours won't be so stressful on your ankles and feet, so the extra protection and support you'd get from tactical boots is unnecessary. 
If you're only going for a couple hours, you'd much rather have something light and comfortable than heavier and durable. 
Durable only matters if you have a prolonged and acute need for a reliable boot. 
Are Tactical Boots Waterproof?
Yes. Real tactical boots will be waterproof, just make sure your pair isn't only made in the fashion of tactical boots. This distinction is important, as there are plenty of military boots that are made for fashion, but not intended for actual use in challenging situations.
I recently wrote an article on how military boots should fit that will help you understand the difference between military boots and tactical boots. 
What Are Tactical Boots Used For?
Tactical boots are made primarily for war, combat, and other military operations. This durable, performance-focused design is intended to mitigate the physical and environment challenges of being in active operations. This includes being in surroundings such as a Jungle or the Desert.
Can I Use Tactical Boots For Work?
In some cases, yes. The people who usually use tactical boots are those whose occupations are physically demanding, but don't need to worry about workplace hazards. Tactical boots are not suitable for jobs that require OSHA compliance, as they're usually not made with toe caps.
Don't misunderstand me, there are tactical boots made with toe caps, it's just not a standard design feature. 
If you're interested and committed, you can absolutely find a pair of tactical footwear that have passed the ASTM f2413 test that OSHA requires on job sites.
Whether you're looking for a steel toe, alloy toe, or composite toe tactical boot, you'll be able to find it if you look hard enough. 
Just letting you know that the majority of tactical boots will be soft toe boots (without a safety toe cap).
What Kind of Jobs Are Best for Tactical Boots?
Athletically demanding jobs that don't pose any threat of something falling or crushing your foot are best for tactical boots.. The primary examples are EMTs, firefighters, and police officers. All need to move quite quickly, but they're not at risk of a 4×4 post falling and breaking their toes.
Another job that comes to mind when thinking of benefactors of tactical boots is a surveyor. 
I'm not sure who's run into a surveyor while on a hike, but it's shocking when you remember that someone has to walk out into the sticks to map the land. 
Even surveyors who work in more urban settings are still required to go outside, regardless of the weather, and stand for hours on end. 
This is the perfect candidate for a pair of reliable tactical boots. 
We've picked our favorite tactical boots for work in the past, you should check it out if you're interested in learning what models we liked best
Do They Make Tactical Boots For Women?
Yes. There are a large number of options of womens' tactical boots. 
Any women interested in getting a pair for a long hike can check out their choices here. 
Tactical Boots Brands you might want to consider for Hiking
If you prefer to purchase Tactical footwear as opposed to a Hiking shoe then there are a number of brands you can consider.
ATAC 5.11
Bates Boots
Rocky
Tactical Research
You might also be interested in knowing whether you can go hiking in steel toe boots.
Time for My Tactical Retreat
I'm certain that you now have a better idea of when it's good to use tactical boots for hiking.
Beyond that, you know the reasons why you'd choose one or the other. 
As a Hiker, the information above will allow you to make the right decision based on the specifics of your hiking situation.
So Is it going to be a Military boot or a hiking boot?
Happy trails!