What are the Best Tactical Boots? 5 Military Boots to help keep your feet safe during combat + Buyer's Guide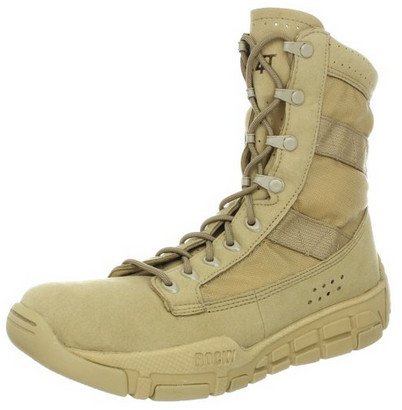 The Purpose of Tactical Boots
Law enforcement, Military personnel, firefighters and anyone working in a hazardous environment understand the importance of tough, light and protective footwear.
Tactical boots are typically designed with all of these features in mind.
The very best tactical boots incorporate most if not all of a list of important features which we will cover below.
The Broad Functionality of Tactical Boots
Tactical boots are not limited to use by the police and military. Anyone who braves difficult terrain can derive great benefit from a quality pair of tactical boots.
The sport-like grip they offer is especially useful in uneven or wet terrain.
Ankle support provides protection from scrapes and abrasion as well as working to prevent ankle injury.
Strategically placed protective features around the toe, heel and other vulnerable parts of the foot enable confident movement through hazardous environments.
Scroll down to read reviews
Finally, good tactical boots breathe, unlike popular (yet impractical) fashion boots.
The feet of those who work under tough or hazardous conditions are prone to sweat, and proper ventilation allows the wearer's feet to stay free of fungus and other infections that can be deadly under certain extreme conditions.
6 Critical Features of a Tactical Boots;
Comfort & Flexibility: helps you to stay fresh and ready for action
Traction & Grip: keeps you from slipping on uneven terrain
Light Weight: reduces fatigue
Ventilation: reduces microbial growth
Protection: helps avoid crushing and abrasions lesser footwear may leave you vulnerable to
Before you consider the tactical safety boots that we have selected below, please ensure that these are suitable for the role they are intended for.  For example, do they need a steel toe or do they need to fit a specific criteria.
Top 5 High Quality Tactical Boots
Affiliate Disclaimer
Affiliate links may be present throughout the Bestworkbootsideas.com site and we (the site owner) may earn a commission from any sales made from recommending products on this site at no extra cost to you.
1. 5.11 Men's A.T.A.C. Storm 8″ Side Zip Boot 12004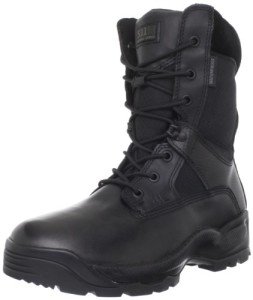 This good looking and rugged 5.11 tactical boot is famous for its durability, toughness, comfort and superior protection.
It is especially built to support the ankle and protect the top of the foot.
It also features perhaps the best toe protection of any tactical boot.
Surprisingly light for a boot of such formidable construction, the 5.11 supports excellent maneuverability.
These military boots have thick padding worked into the full grain leather construction.
Once you add in the side zipper and hidden pocket you get a boot with superior functionality.
It's only drawback is a matter of preference- if you prefer a black and shiny boot, this isn't it.
Also, it is unsuitable for most uniform standards.
It is not the lightest tactical boot, but is the lightest boot that offers as much protection as it does.
These boots are recommended for those to whom fatigue due to weight is not a paramount problem.
Check Latest Price and Buy with Optics Planet
2. Blackhawk Men's Warrior Wear Black Ops Boots
An exceptionally light and comfortable tactical boot, the Blackhawk also features terrific grip – a critical advantage for those who have to move about in rocky, uneven or debris covered terrain.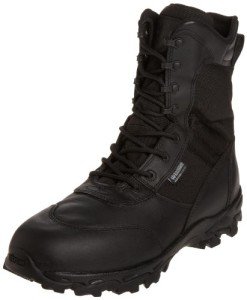 Check Latest Deal with Optics Planet
It has good ankle support, which you need on uneven ground.
They are also highly breathable, have low abrasion and very good water resistance.
These are arguably one of the best combat boots available and are extremely popular as such.
Sturdily made with full grain leather and cordura.
They also feature a Vibrum sole, SympaTex waterproofing, a Dri-Lex lining, and an antimicrobial/washable Ortholite insole.
Their one drawback is that they can become a bit slippery in wet conditions due to their otherwise gripping rubber sole.
They are an ideal cold-weather military boot and practically cry out for heavy outdoor and tactical or competitive use, just watch out for wet surfaces!
3. Danner Men's Acadia 8 Inch Waterproof Oil/Slip Resistant Uniform Boot – 21210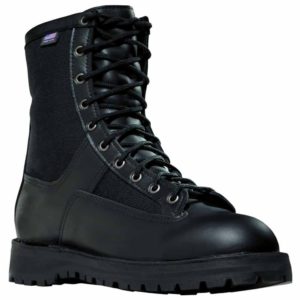 This rightfully top rated boot suffers only in that its apparent popularity is due in large part to its being a uniform boot– which can artificially boost sales.
Nevertheless, this tactical boot has got a lot going for it.
They sport the famous Vibram sole and Danner's patented stitch-down style construction.
If you are looking for shock absorption, traction and durability then the Vibram 148 Kletterlift outsole will take of that.
Waterproof and breathable liners using Gore-Tex technology.
Made from cordura and high-quality leather formed up into an 8-inch ankle support, these boots offer outstanding support and stability making them perhaps the best police boot on the market.
The plain toe and clean style make it acceptable for most uniform standards.
It is also quite light, a feature that can be hard to find in uniform footwear.
That, in combination with its surprisingly springy sole, will negate the usual fatigue you can expect from most boots.
These are great boots for law enforcement officers and come recommended for security personnel or for anyone who has to work long hours on their feet.
Skip to 7 minutes 35 seconds if you don't want to watch the whole video.
Click here to check latest prices on Shoebacca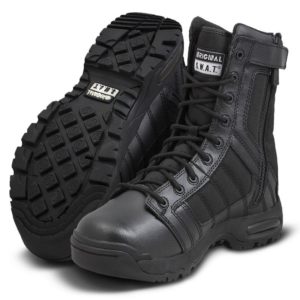 The classic tactical boot of choice for police, hunters, motorcycle riders and adventurers of every stripe, the original SWAT Metro remains a boot for all seasons.
It's exceptional protection and warmth makes it ideal in many hazardous situations. They are comfortable, strong and extremely well made.
The side zipper adds a level of convenience you cannot find in a lot of tactical boots.
It features a waterproof yet breathable membrane that keeps your feet warm as well as dry- usually a great point of compromise in work boots.
It has the added bonus of being compliant with many uniform standards due to its relatively simple black appearance coming quite close to that of most standard issue military boots.
There are no noticeable flaws in this boot.
It is not the lightest tactical boot on the market, but it does not attempt to be.
It comes recommended to those who place a premium on protection and durability.
5. Rocky Men's C4T Tactical Boot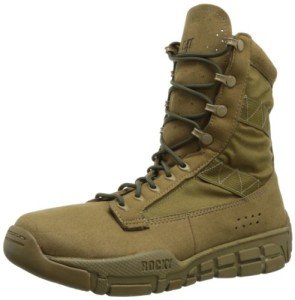 Arguably the best tactical boot on the market, the Rocky C4T feature superior lightness, comfort, and ventilation.
Most surprisingly, these boots offer high flexibility without a significant sacrifice to protective features.
The one noticeable flaw is the low ankle support. But this can be compensated for with careful lacing.
A properly fitted and laced pair of "interceptor" boots will feel like running shoes.
They are by far the most comfortable tactical boots of their kind.
Their outstanding ventilation and high water resistance lets them dry out fast.
They are especially stylish for a tactical boot, but suitable for uniform standards with the possible exception of certain desert military commands.
They are ideal for trail running and hiking.
These come highly recommended for those who favor footwear optimized for maneuverability and light weight functionality.
Our Recommendations For The Best Tactical Boots
Because the difference between these outstanding boots is due to their various intended use rather than to any real deficiencies in quality, our recommended picks are the Rocky C4T for mobility, the 5.11 ATAC for protection and durability, and the Original SWAT for its compliance with uniform standards. However, none of these tactical boots are likely to disappoint. They will do well in just about any role to which you apply them.