What are the Best Work Boots for Firefighters? Your Complete Buying Guide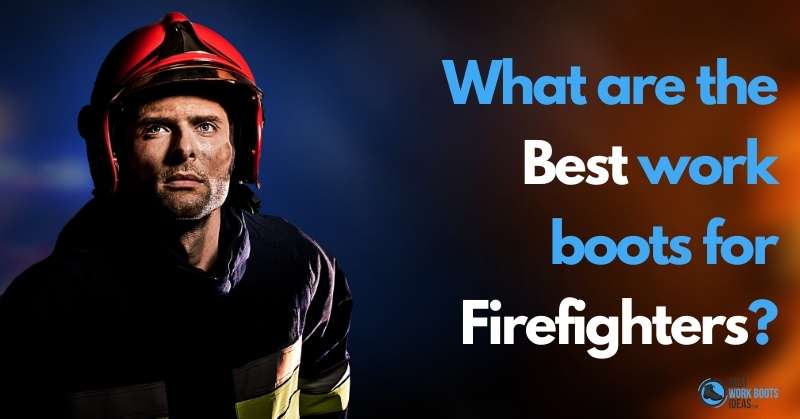 The first thing that probably comes to mind when looking for a good pair of firefighting boots is durability.
At the same time, firefighters can often contend with falling objects, slippery surfaces and sharp debris.
A firefighter's job can be hazardous, so that's why I've reviewed five pairs of urban fire boots (turnout boots) that can withstand such a demanding occupation.
This article does not cover protective footwear for wildland firefighting or station boots.
What Makes A Good Pair of Urban Firefighter Safety Boots?
A good pair of urban fire boots should come with multiple safety features yet still be comfortable while walking and standing.
You'll Want Boots With A Good Insole
Firefighting involves a great deal of standing.
As a result, this can lead to sore feet, an aching back, and knee pain.
Boots with a good insole should have a good cushion.
Insole cushioning can grant stability and comfort to your feet which helps reduce back, foot, knee, and ankle pain.
PU (polyurethane) foam insoles are also particularly good at providing comfort.
Insoles are soft, elastic, and don't deform.
They're an excellent shock absorber, so they're good for the knees and back
Your Firefighting Boots Need Safety Features
Firefighting can be a dangerous occupation and you'll need to purchase boots that reflect this.
An ideal pair of boots will be at least 8-inches tall with a heel.
Firefighting shoes should be water-proof and adhere to the ASTM F2913 certification.
All urban fire boots should be compliant against the American Society for Testing and Materials (ASTM) requirement to be puncture-resistant and have toe caps.
You also need work boots that meet the NFPA standard 1971.
The shoes have to withstand minimal amounts of environmental, physical, thermal, and pathogenic hazards while you fight building fires.
Another important safety feature to look out for is a moisture-absorbing interior lining to keep your feet from getting sweaty.
Your Boots Should Be Easy to Remove
It would be best if you had a pair of easy to remove boots because, as a firefighter, you're always on call.
Having to unlace and re-lace your shoes frequently is a hindrance
You can select a pair of lace-up boots if you want, but slip-on (especially when climbing ladders) front zipper and side zipper boots might be more convenient.
Choosing a boot you can slip on lightning-fast is for the best, given the nature of your job.
Features to Look For
The primary features your firefighting work boots need to have are
Good insole
Minimum height of 8-inches
Water resistance
Puncture-resistance
Safety toe-caps (composite or steel toe)
Heat resistance
Moisture-wicking interior
Our Top Picks for the Best Work Boots for Firefighter's
Firefighter boots have to come with many benefits and safety features given the nature of the job.
As a result, there is a lot of variation between each shoe. Some of them have features that others on this list lack, but they're all excellent firefighting boots.
What made me pick these boots was primarily that each of these boots meets ASTM (F2913) and NFPA (1971) required guidelines for urban firefighting boots.
They also offer plenty of protection and comfort.
Haix Fire Flash Xtreme Boot
The Haix Fire Flash Xtreme boots are 13-inch, front-zip boots with a steel toe cap.
They are made of waterproof leather that keeps them from becoming damaged by residual water from putting out fires.
The HAIX MSL System sole consists of polyurethane foam that absorbs shock and reduces stress on the knees. A stainless steel layer in the sole keeps sharp debris from puncturing the feet.
HAIX's Xtreme boots also have a CROSSTECH inner lining to keep the feet dry (and protects from bloodborne pathogens) and a heat-resistant rubber outer sole.
A steel shank specifically made for ladder rungs makes this an ideal firefighting boot.
These Haix boots are also ideal for wildland firefighting.
Features:
Waterproof boot
Heat resistant
Interior lining keeps feet moisture and pathogen-free
Puncture-proof stainless steel sole
Steel toe cap
Ankle support
NPFA Quad certified
Pro Warrington 5050 Struximity Leather Proximity & Structural Boots
When it comes to a structural firefighting boot, the Pro Warrington 5050 is a great option.
The Pro Warrington 5050 boots are 14-inch leather pull-ons with a waterproof leather exterior.
What makes these boots suitable for firefighting are the heat-resistant soles using its Crosstech moisture barrier technology.
These boots also have enough traction to withstand slippery, icy ground.
Pro Warrington's work boots have a puncture-proof steel underside and steel toe protection caps that conform to your feet' shape.
The boot's inside lining is antimicrobial and resistant to various liquid types such as water and bodily fluids.
You have the option of using the contoured shoe inserts or swapping them out with orthotic cushions of your choice.
Features:
Waterproof leather exterior
Antimicrobial, liquid-resistant interior lining
Heat-resistant soles with heavy traction on icy surfaces
Puncture-proof steel underside
Toe cap that conforms to the foot shape
Removable cushion insole
Goodyear welt construction
Made in the USA
NFPA 1992 and NFPA 1971 compliant
LION by Thorogood 14″ Knockdown Elite
The Thorogood Knockdown Elite boots are 14-inch oil, chip, heat-resistant, and waterproof slip-on leather boots suited for firefighting in various environments.
You can take comfort in the all-terrain slip-proof soles and the added protections that the shin guards and composite toe caps provide.
Just imagine, you're fighting a fire in the winter and the water turns to ice.
The last thing you want is to slip or trip.
The Vibram outsole ensures that this safety boot provides traction on tough surfaces such as fire, ice and pitched roofs to name a few.
Speaking of pitched roofs, when climbing up ladders, these boots also have a steel shank to protect your feet from impact.
Feet are kept comfortable with shock-absorbing dual-density polyurethane insoles that make standing and walking less painful.
These PU insoles also pull double duty by protecting the feet from injury and punctures.
Thorogood's boots keep feet dry, bacteria-free, and are rated to protect from electrical shock.
Features
Oil-resistant
Heat-resistant
Chip and slip-resistant
Shock absorbing PU insole
Moisture absorbing interior
All-terrain slip-proof soles
ASTM electrical shock protection rating
NFPA 1971 structural compliant
NFPA 1992 compliant
Built using cement construction. This means you will not be able to resole the boots.
Pro Warrington 5006 Ultimate Power 14″ Bunker Boot NFPA
Pro Warrington returns to the list with the 14-inch slip-on Ultimate Power boots. Heat and debris are kept away from your feet and shins by the leather and Kevlar exterior.
These work shoes come with an antimicrobial, tear-resistant interior lining that keeps feet dry and cool.
The steel toe caps conform to the foot's shape and are protected by abrasion-proof "PowerToe" covers.
The boots have Vibram Fire/Ice PowerSoles have plenty of traction that provide plenty of grip in harsh environments
Features:
Leather and kevlar puncture-proof exterior
Antimicrobial, tear-resistant interior lining
Abrasion-proof, steel toe caps
Vibram sole – For traction in fire or ice.
Steel ladder shank
NFPA and BERRY compliant
Globe Men's Supreme 14″ Structural Fire Boot Pull-On NFPA
You know sometimes when you look at a work boot and you think to yourself…"can it really have all that technology inside it….?"
That's exactly what I thought when I looked at these.
From top to bottom, inside and out, Globe have really gone to town to ensure your feet stay protected.
Not only does the company use their own technology, but they harness some of the best names in the industry.
For example, Gore Crosstech, Kevlar, 3M and Vibram to name a few.
Globe's Supreme pull-on, 14-inch boots are made of a tough flame and water-resistant leather.
Globe used softened leather to make them very flexible, so they move with each move your foot makes.
There is a CROSSTECH moisture barrier inside that protects from debris and keeps out water and other liquids.
Each boot has shin guards and composite toe caps that keep toes and shins safe from impact.
Urethane foam cushions keep your feet comfortable and alleviate heel pain by providing arch support.
A composite underside substitutes steel for puncture protection.
The soles of the shoe have slits cut into the bottom to grant extra traction and to prevent slipping.
Features:
Softened flame and water-resistant leather exterior
Composite toe
CROSSTECH interior moisture barrier
Urethane foam inserts
Composite puncture-proof layer
Slitted soles for extra traction
NFPA 1971, NFPA 1992 compliant
The grand prize for the best work boots for firefighters goes to…?
My vote goes to the Thorogood 14″ Knockdown Elite boots. They're the clear winners out of all the other boots on the list.
To be fair, the shoes listed above are ASTM F2413 and NFPA 171 compliant. However, the Thorogood's are the only ones that included electrical hazard protection.
The Knockdown Elite boots even come with the added perk of oil-resistance as well.
Although only two additional features, in a dangerous job like firefighting, it never hurts to have extra safety features.
Which firefighter boot did you like? Or do you have your own recommendation?