5 Best Work Boots for Railroad Workers and Buying Guide to Help you Decide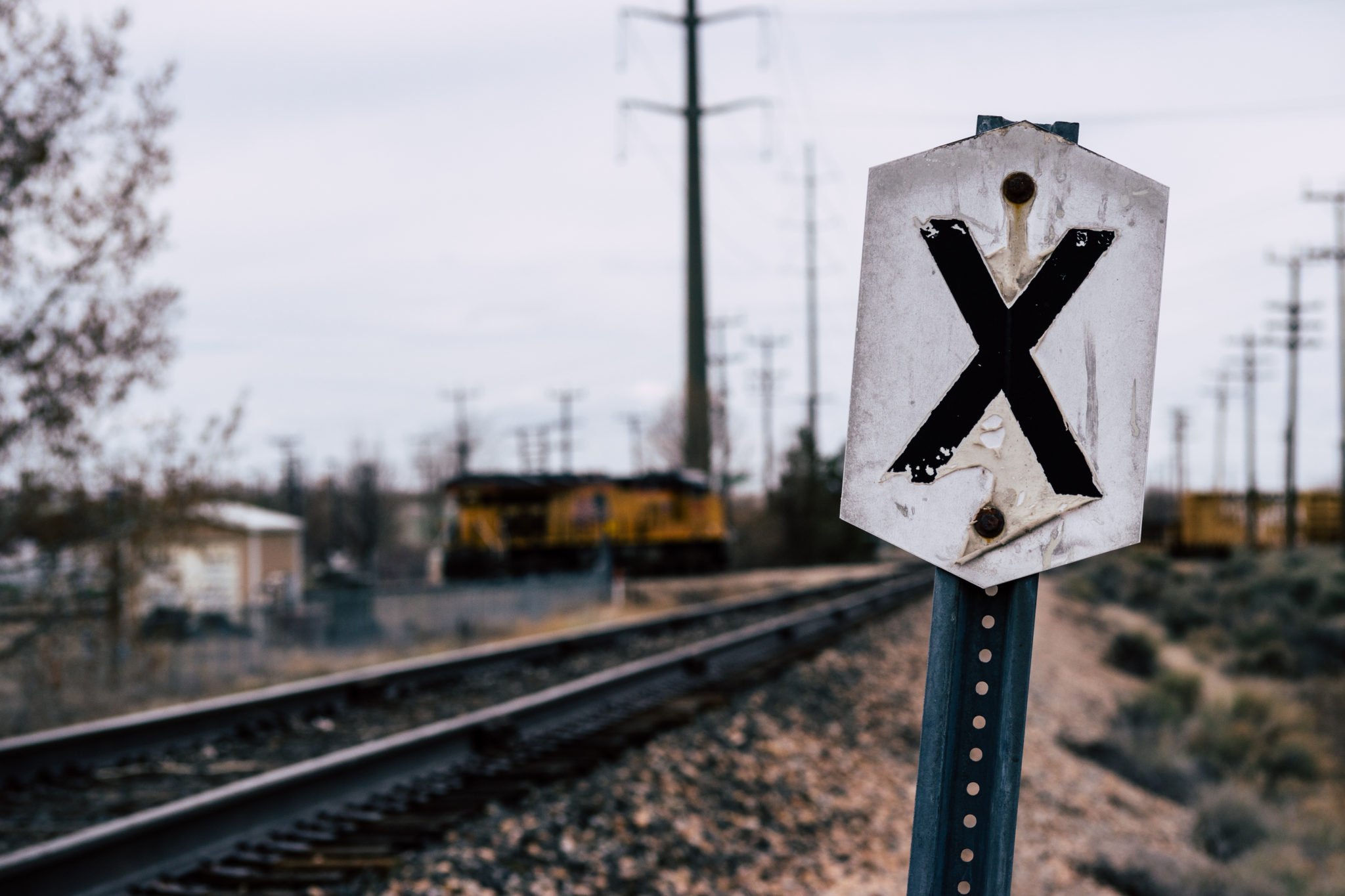 Railroads are some of the most hazardous workplaces.
Are you a railroad worker who is constantly exposed to extreme temperatures? 
What about being constantly on your feet for more than 8 hours per day?
It's crucial that you choose the proper gear, especially when it comes to your work boots.
Without the right footwear, you'll only be increasing your susceptibility to blisters, bruises and cramps.
This may compromise your health and reduce your work efficiency.
So where do you start with finding work boots for Railroad workers?
Don't worry, we've conducted the research and compiled a list of what we think are the best work boots for the railroad.
What's the Right Railroad Work Boot for You?
Best Overall: Timberland Pro Hyperion Work Boots
If you're looking for work boots that have all the bells and whistles, the Timberland Pro Hyperion is an excellent choice.
From the affordable pricing to the durable waterproof construction and alloy safety toe design, these are one of the best pairs of shoes on the market for Railroad workers.
Best Runner-Up: Carhartt Men's Traditional Welt Work Boots
Worried about the durability of your railroad footwear?
Then consider the Carhartt Traditional Welt Work Boots. Leather uppers for durability, a moisture-wicking lining for breathability and steel toe design are just a few of the features that make this pair worth considering. 
Best Slip-Resistant: Thorogood Men's GEN-FLEX Composite Work Boot
Whether you have to walk on wet, dry, smooth or gravelled surfaces, the Gen Flex II rubber outsole provides a firm grip. It's outsole is also flexible, allowing for natural foot movement.
Best for Comfort: Wolverine Cabor EPX Waterproof Work Boot
Featuring Wolverine's advanced cushioning system- EPX, the Cabor Waterproof Work Boots will enable you to work comfortably and not experience much fatigue.
They also have a mesh lining to keep your feet dry for those wet work days.
Most Stylish: Reebok Work Rapid Response Boot
When you think of railroad work boots, stylish and chic aren't the first words that come to mind.
That's because many manufacturers seem to focus more on functionality and not on aesthetics (it would seem that way).
If you want to look good in your footwear, the Reebok Rapid Response are a pretty stylish pair without comprising the purpose.
---
Affiliate Disclaimer
Affiliate links may be present throughout the Bestworkbootsideas.com site and we (the site owner) may earn a commission from any sales made from recommending products on this site at no extra cost to you.
---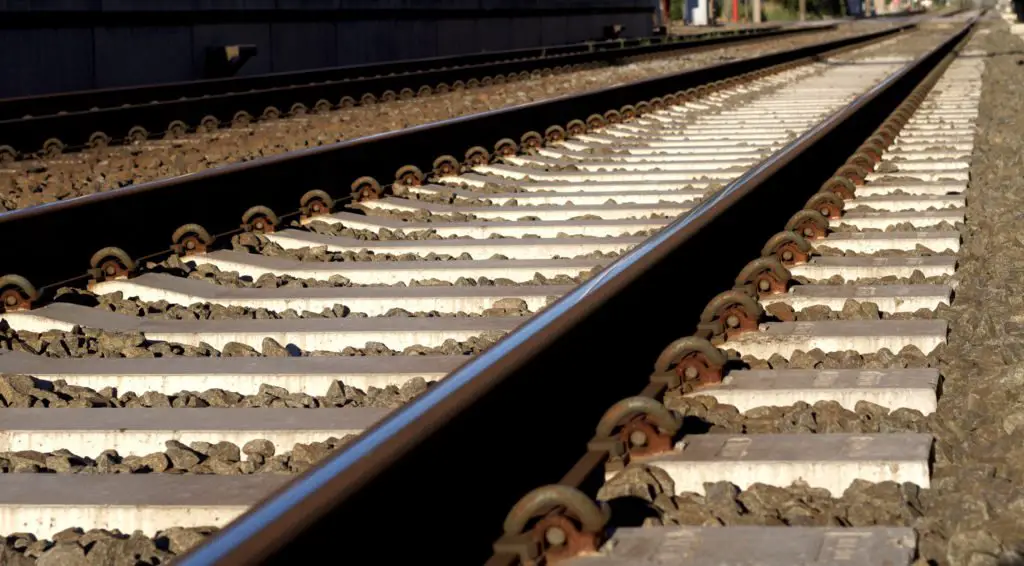 Our Top 5 Work Boots for Railroad Workers
1. Timberland Pro Hyperion Work Boots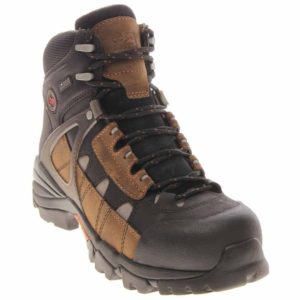 Timberland was looking to expand its Pro collection, which is how the Hyperion was born.
Sporting superior performance and safety features, these work boots are my favorite for railroad work.
They have a premium leather upper construction that is nicely complemented by a waterproof membrane.
Factor in the leather backstay and you have a shoe that is highly resistant to impact and compression.
Another thing I really love about the Hyperion is that they have safety toe caps.
These offer the ultimate protection for your toes, preventing them from getting crushed by any falling objects.
Also, they offer excellent support, which is a vital aspect when you have to be on your feet for up to 10 hours each day.
This is achieved by incorporating Vibram rubber soles to cushion your feet and a quality lacing system to provide a snug fit.
The Dynamic Anti-Fatigue technology incorporated in these boots is another welcome feature.
By absorbing shock and redistributing it to key zones in the foot, it adds to the overall comfort experience.
Things We Like
EVA midsole provides arch support and stability
Waterproof construction makes it suitable for all weather conditions
Offers protection against electrical hazards
Minimizes fatigue through the dual-density anti-fatigue technology
Mesh lining with anti-microbial treatment prevents bad odor
Things We Don't Like
Quality of insoles can be improved
Model Number: 90646214
---
2. Carhartt Men's Traditional Welt Steel Toe Work Boots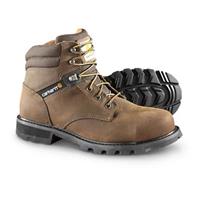 Looking for a work boot that can withstand tough conditions of railroad work?
Carhatt has the perfect footwear for you- the Men's Steel Toe Work Boots.
It achieves all this with the added benefit of providing all-day comfort thanks to the polyurethane insole that cushions your feet.
The uppers on these boots are made of high-quality leather, offering maximum durability.
Similarly, the soles are made of rubber.
There are several benefits of the rubber outsole construction.
For one, it makes this shoe suitable for all weather elements.
Whether you're walking on a rainy pavement or a snow-covered rail, these boots will give you good traction for those wet surfaces.
The outsoles are designed to offer protection against electrical hazards.
Also worth pointing out is the incorporation of steel toe guards, which protect your feet against falling objects at the worksite.
Things We Like
Polyurethane insole for optimal comfort
Moisture-wicking mesh lining
ASTM steel toe design to protect your feet
Leather upper and rubber outsole for durability
Things We Don't Like
Insoles don't offer adequate arch support
Model Number:
---
3. Thorogood Men's GEN-FLEX Composite Work Boot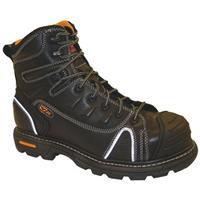 Thorogood Men's Work Boots are as durable as they get when it comes to railroad footwear.
They are available in three color options: black, brown and black leather.
However, the key highlight of the boot is the non-metallic composite toe construction.
Composite is a material that has the strength of steel without the added risks associated with metal build.
For instance, composite conducts heat poorly. What this means is that they'll offer excellent protection from cold.
However, take note that this does not make them waterproof.
Moreover, the composite toe design is more lightweight than steel.
Granted, its weight doesn't differ by much.
But when you have to stand for hours at a time, those extra ounces of steel toe design can quickly add up.
Definitely some brownie points there we think.
The EVA construction of the insole is another feature worth pointing out.
These further enhance the comfort of the boots, plus, they're detachable which makes them easy to clean.
Furthermore, Thorogood Work Boots have electrical hazard protection.
This is made possible by the electric shock-resisting outsole and heels that can withstand up to 18,000 volts (in dry conditions).
This is made possible by the electric shock-resisting outsole and heels that can withstand up to 18,000 volts (in dry conditions).
Things we Like
Reinforced with gen-flex technology to offer ease of movement
Lightweight and durable composite design provides comfort
Mesh lining for ventilation
Composite shanks suitable for cold environments
Rated for electrical hazard protection
Things We Don't Like
Lack waterproof capability
---
4. Wolverine Cabor EPX Waterproof Work Boot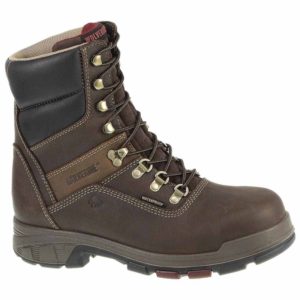 One of the primary factors you should look for when shopping for railroad boots is comfort.
The Cabor EPX from Wolverine provides maximum comfort and then some.
Thanks to the EPX technology, this shoe sports a revolutionary cushioning mechanism that makes your boot comfortable while minimizing fatigue.
This technology constitutes a dual layer foam that evenly distributes your weight across the sole.
Unlike Thorogood Boots that aren't waterproof, the Cabor has this capability.
Factor in the slip-resistant outsoles and you have quality footwear that can help you work in wet conditions.
Another perk of Wolverine Cabor EPX is that it's EH rated.
This simply means that it's been tested and found fit for professionals who're exposed to electrical hazards.
Things We Like
Has electrical hazard protection
Don't require a break-in period
Equipped with a mesh lining for breathability
EPX footbed provides good cushioning
Slip-resistant rubber outsole
Things We Don't Like
Some users complain that the tongue fails to protect the rivets of the lacing hooks
---
5. Reebok Work Rapid Response Stealth 8 Inch Side Zip Boot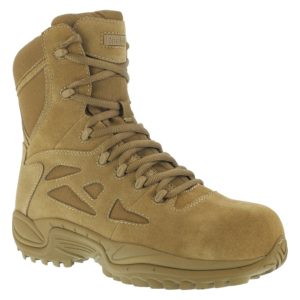 If you're big on design, Reebok Rapid Response are a quality pair of work boots that also look chic.
Sporting a military tactical boot style, the design of these boots means you can easily go from work to an evening party or simply go out for drinks with your colleagues.
The boots are constructed using ballistic nylon reinforced with a smooth leather construction.
Thanks to these materials, the footwear strike a good balance between comfort and durability.
Even better, they have a composite toe design, which is backed by ASTM rating for safety.
The nylon mesh lining is another noteworthy feature of Reebok Rapid Response.
With this, you can rest assured that there'll be optimal breathability, which is a vital aspect when working for prolonged periods.
Another feature that makes Rapid Response one of the best work boots for the railroad is their waterproof membrane that shields your feet from wet conditions.
There's also a removable polyurethane insole to cushion your feet from hard impact.
Things We Like
Military-style design looks chic
Waterproof
Side zippers for hassle-free fastening
Mesh lining to enhance foot breathability
Things We Don't Like
On the high-end price-wise
---
How to Pick the Best Work Boots for Railroad Workers
When choosing railroad work boots, there are a couple of features that you should look for in your footwear. These include:
Type of Safety Toe
The Safety toe is one of the best inventions for work boots because it protects your feet; hence preventing fatal injuries that could impede your productivity.
That said, there are two types of toe protection you can choose from as a railroad worker. 
Steel toes and Composite toes.
With steel toes, the toe area of the footwear offers complete coverage.
They provide the highest level of protection, which is great considering you'll be exposed to very tough conditions.
The downside to this is that they're bulky.
Steel is a durable material but it's also heavy and can weigh your feet down.
Your feet might have a semi workout wearing steel toes.  Who needs a gym?
However, in most cases, steel toe work boots tend to come with electrical hazard rating to shield you against shocks.  Please be sure to check.
Composite toe protection consists of different materials such as carbon fiber, plastic or Kevlar.
As such, they're lighter than their steel counterparts.
Even with the lightweight designs, the composite construction offers ultimate protection from potential impact.
These types of boots are also versatile; hence can be worn in hot or cold settings.
Durability
If you've purchased any type of work boots before, then you know that they don't come cheap.
You want a pair that offers the best bang for your buck.
Especially when it comes to how long they last. 
If you're paying good money then the last thing you want is for your work boots to start falling apart after a few months right?
Durability of your safety shoes is therefore also very important.
However, just a caveat here.
Be mindful that their usage may determine their shelf life.
If you're going to be battering the heck out of your boots 5-6 days per week between 8-10 hours a day then don't expect these to last years. 
But saying that, if they start falling apart after a few weeks then you have a problem.  It's all about expectations and applying common sense.
Construction and Build
As a Railroad worker, how your work boot is built is also important. 
What kind of materials are used in making the uppers?   Are they full grain?
What about the midsole and outsole?
Will they offer long-lasting service are they likely to start wearing out after a few weeks?
Do they offer a Cement or Welt construction?
Comfort
As mentioned earlier, you're likely be working for extensive periods of time if you're a railroad worker.
For that reason, it's important to ensure that your footwear is as comfortable as possible.
Check the material used in making the insoles; ensure that it's one that can wick moisture.
Similarly, check whether the outsole is reinforced with any special technology that can help in shock absorption.
In addition, the size and fit of the railroad work boots will also determine just how comfortable they are.
The ideal footwear should not be too tight, short or narrow.
But neither should it have too much space left that it comes off easily.
Whenever possible, go for boots that have a good lacing system to provide a snug fit.
Electrical Hazard Compliance
With railway work, there's always a possibility of getting exposed to electrical currents.
Due to this, you should look for work boots with an EH or electrical hazard rating.
Advisably, invest in footwear that adheres to ASTM F2412-11 or CSA 2011 standards.
As explained in safeandhealthymagazine.com shoes that meet these standards have been tested for impact, compression and electrical hazards.
Wrap Up
For any railroad worker, having to walk for multiple hours on uneven terrain can take a toll on your feet.
The best way to ensure you're keeping yourself safe and healthy is to invest in a good pair of railroad work boots.
This means they should be 'fit for purpose', feel comfortable, feature durable materials and include a safety toe.
One pair of work boots that checks all these boxes is the Timberland Pro Hyperion.
The Timbs come with a moisture-wicking insole to provide breathability.
They're also ASTM-rated for safety and are feature quality materials for durability.
However we feel all the above are sufficient as a Railroad worker.
I'm interested to know your thoughts.
Have you purchased the boots above already?
Do you have a suggestion we can include?