What Are the Best Work Boots for Roofing? 5 Shoe Options to help you keep safe + Free Buyer's Guide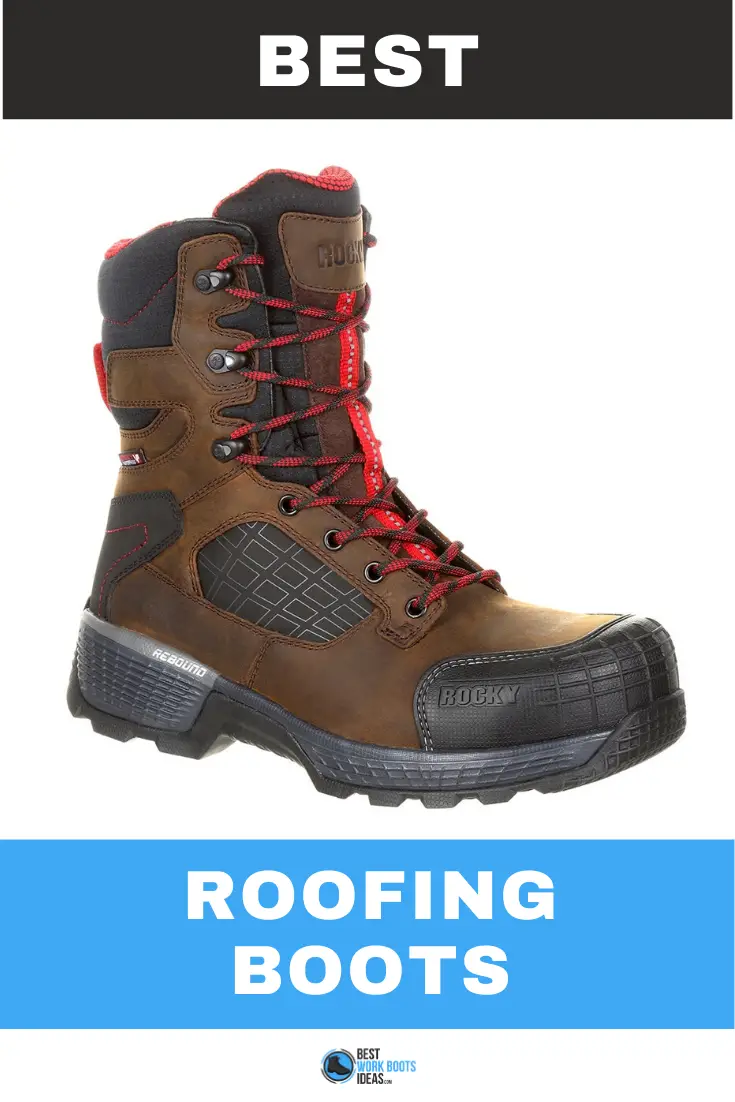 Roofing is a tough and high risk career.
Unlike most 'normal' jobs which are carried on the ground, you're based many feet above the ground.
This can present many hazards.
Tripping, falling and slipping.
Exposure to the elements.
Working in extreme cold and extreme heat.
All the other hazards you'd expect from working in the construction industry.
As a roofer you'll need non-slip footwear with good traction.
Your work boots should be rugged, durable and at the same time comfortable.
Quality boots don't come cheap and not all of them are well-suited for the job.
We can help with that.
Below is our list of what we think are one of the best work boots for roofing that are available.
We'll also tell you how to choose the right pair in the Buying Guide below.
Our Top Picks for the Best Work Boots for Roofing are
Below is our list of the best roofing boots.
It includes a wide variety of features, styles and price points.
Affiliate links may be present throughout the Bestworkbootsideas.com site and we (the site owner) may earn a commission from any sales made from recommending products on this site at no extra cost to you.
---
1. Timberland Pro Rigmaster 8 Inch Steel Toe Work Boots
The Timberland Pro work boots offer a high level of protection paired with comfort.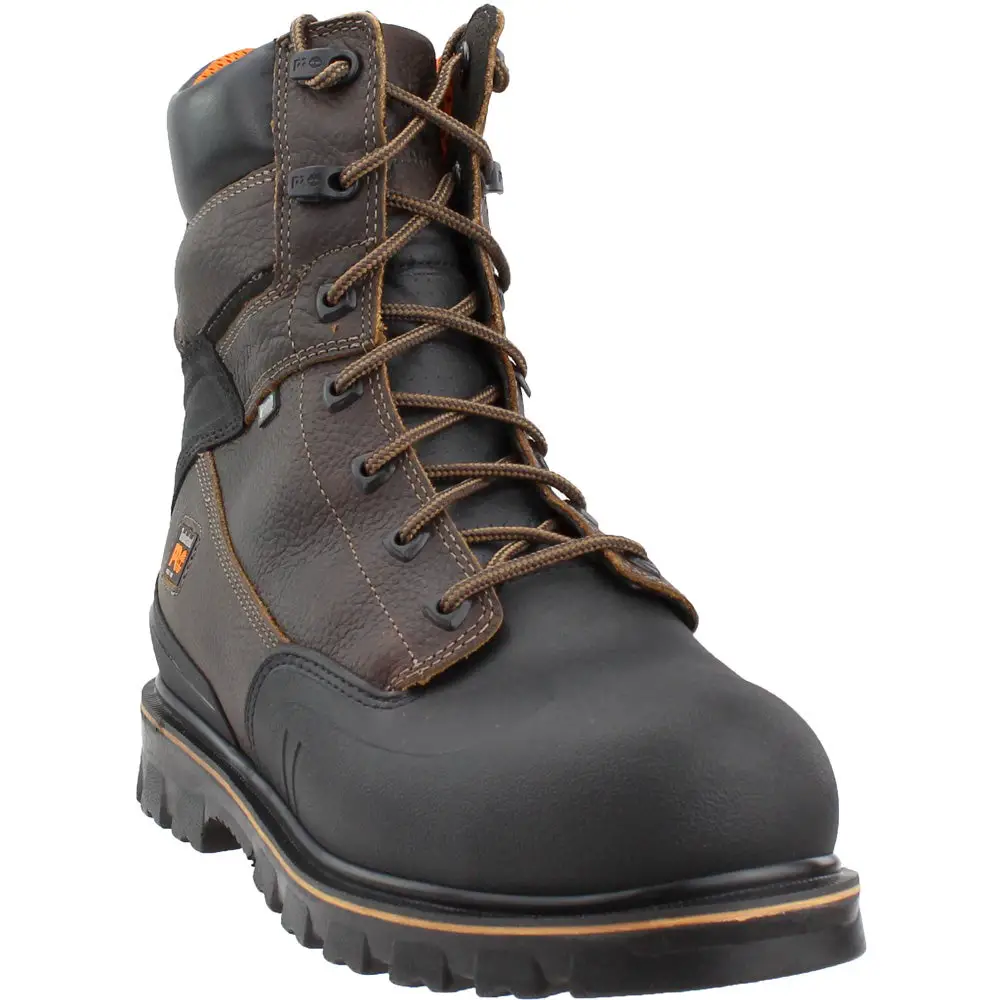 These boots are non-slip, meaning they have exceptional grip on slippery surfaces.
Ideally that's exactly what you need when you're so high up.
If you want to prevent slipping whilst on ladder rungs then this boot features a 'Ladder lock outsole radius'
Nice!!!
You can wear them around rough objects as their uppers are robust and resistant to abrasions.
If it rains heavily or your boot becomes submerged in water, these boots are made of waterproof leather.
You should find these boots quite comfortable as they include an "Ortholite footbed' and contouring midsoles.
Good if you're standing on your feet all day.
The last thing you want is something falling on your feet.
As a result, these boots have a Steel safety toe so you can reassured that your toes will be protected against falling objects.
If you find that the sole has worn out but the rest of the boot is still in good condition, you can get it resoled.
That's the benefit of having a Goodyear Welt Constructed boot.
In terms of weight, a size 9 boot will weight approximately 985 grams.
We also think they look REALLY good.
Things We Like
The boots are made from leather for comfort.
They offer a good fit. We've found they are generally true to size.
Breathability so your feet can stay fresh, especially in summer.
Manufactured in the USA so you can trust their quality
Easy to wear as they have a 'fingergrip' pull-on feature.
Odor control via 'Agion antimicrobial treatment' so your feet will stay fresh.
They meet ASTM and EH safety standards
Things We Don't
They might start showing wear and tear after approximately eight months
The laces are not as durable as we would like them to be.
If you bend your feet a lot then they may not be recommended.
Check Today's Latest Deal
---
2. Rocky Treadflex Composite Toe WP Work Boot
Rocky is another very well renowned workwear brand.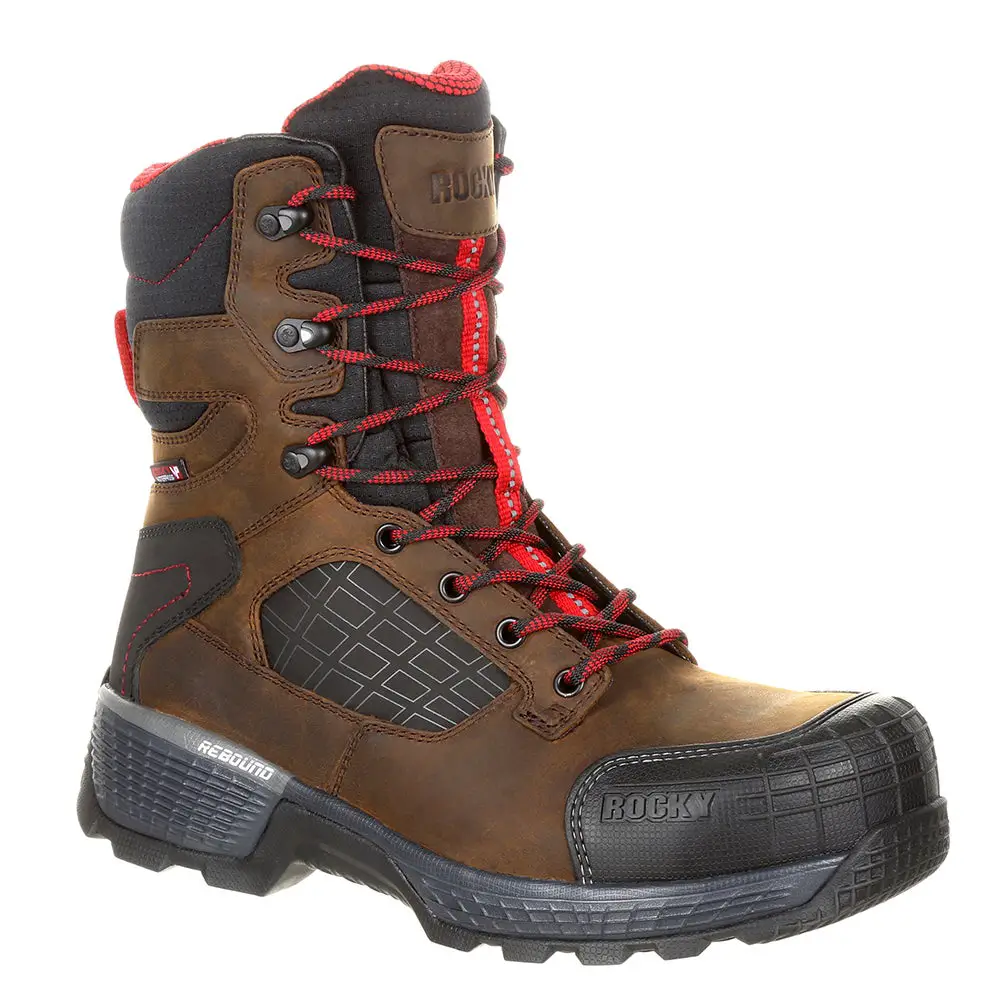 The best features of the Rocky Treadflex work boots are comfort and flexibility.
They come with a ton of safety features and they look fantastic.
Stability on an elevated place is paramount, and you get that through its slip resistance even on oily surfaces.
As a roofer, having a shoe that protects you from slipping I would say is probably one of the most important features.
The last thing you want is to slip, trip or fall.
Especially when working with sloping roofs and working so close to the edges.
The Rocky TreadFlex have good traction and their rectangular heel wedge enhances movement control on ladders.
These boots are also easy to move around with.
You can bend, squat or kneel and they'll follow your move smoothly.
If your toes get dragged a lot because you're on your knees a lot (hint hint commercial roofers), then the protective rubber toe might really be a life saver for you.
Unlike your usual safety toes which can get tight at the toes.
The squared off toe means your feet wont pinch as much which is certainly a welcome touch.
From a comfort perspective, there is a little or no break-in period so you don't have to suffer any pain from the outset.
Being quite light means they'll also add to the comfort experience and won't wear you down.
In fact, you could probably wear them on the weekend at a Church meeting,
They generally run true to size. You may want to also consider half a size bigger if you're wearing thicker socks.
This particular boot has composite toe protection to protect you from toe boards inadequate edge protection and general falling objects.
They comply with the ASTM safety regulations for optimal protection.
ASTM F2413 to be exact. This is for both toe protection and Electric Hazard.
Rocky are so confident your boots will be waterproof that they come with a 1 year guarantee.
This is because the boots use the Rocky Vapor Pass waterproof technology.
From a durability perspective, if you use them everyday then you should expect about 7 months or so usage from them.
However, it totally depends on how demanding your job is.
They come in dark brown and I think they are a very good looking pair of work boots.
Things We Like
Heel and toe protection for more comfort and safety
Made from leather which makes them waterproof
Good support through the 'Rocky Rebound Tech'
They're waterproof and electric shockproof for extra safety
Things We Don't
A bit bulky compared to other work boots
They might take a while to put-on with so many laces.
They might not be as breathable as some of the other options. If you work in the summer heat or your feet get hot then this may not be the best option.
---
3. Carhartt 10-Inch Insulated PAC Composite Toe Boot
When I first saw these boots, it was love at first sight.
I absolutely love the way they look.
They seriously mean business.
Anyway, looks aside.
The best feature of these Carhartt boots is their heat insulation feature.
Using Carhartt's 1,000 LiteFire Insulation technology, your feet will stay warm in harsh and extreme weather outdoors.
The soles are oil, slip and chemical resistant.
Using Carhartt's renowned 'Storm Defender' technology, the waterproof and breathable membrane ensures your feet stay fresh.
However, if you want to wear these in the summer or in extremely hot conditions, they might not be for you.
From a comfort perspective, they run true to size so you can wear your normal socks.
You'll require some time to break into them so please factor this in.
Foot protection comes in the form of composite toe which makes it lighter than aluminum and steel.
The composite toe adheres to ASTM 2413-11 EH rating.
The rubber outsole is also light due to its cement construction.
However, saying that, the boot is on the bulky side but thankfully not too heavy as you would imagine it to be.
I do like the heel guard as well as the ankle and side impact protection. That's a nice touch.
Things We Like
The insulation is the main selling point of this boot.
They're made from leather so they fit better and have more ventilation
They have a high resistance to abrasion due to the material coatings
Insole padding and extra ortho-supports offer stability and structural wellness
Things We Don't
They're a bit on the dearer side when it comes to cost.
Not ideal for anyone who works on concrete.
Not a dealbreaker we think but they might be a challenge lacing up.
If you're a roofer who works in cold conditions, then you should consider this pair of boots.
Overall this boot is packed with lots of features and protection.
---
4. CAT Footwear Threshold Waterproof Steel Toe Work Boot
Slip resistant, comfortable and suitable for tough jobs is how we'd describe this boot.
One of the main features you want as a roofer is slip resistance.
Caterpillar claim that this shoe "exceeds ASTM standards for grip on low traction surfaces".
That's probably exactly what you want to hear when your tens of feet up laying slate on a sloped roof with an angle grinder in your hand.
These boots come with Steel Toe protection. ASTM F2413-11 I/75 C/75 in fact.
The last thing you want is to drop a power tool on your foot when your 20 feet in the air.
Your feet are protected from falling objects.
Speaking of dropping electric power tools.
Electric hazard protection comes as standard.
It means that your feet will be protected in open circuits of upto 600 volts in dry conditions.
This boot, as expected from Caterpillar, is comfortable. This is supported by its ERGO technology.
The fit on these boots are true to size so they shouldn't fit to wide or narrow.
There's very little break-in period required with these boots so you should be up and about in no time.
There is nothing to suggest the boots have a specific breathability technology.
However there is a breathable mesh to keep your feet fresh.
If you work in super hot weather then you want to consider a breathable work boot.
When you're working with materials such as shingles, slate, wood and metals, your boot needs to at least be abrasion resistant.
This uses full grain leather uppers so it caters for that.
Working in wet conditions isn't fun and so it's always helpful when you have a waterproof boot like the CAT threshold which has seamed seals.
They're also generally good for most weather conditions.
Overall, we think these boots are good value for money.
They're non-slip waterproof work boots with safety features higher than the ASTM.
They're sturdy and wouldn't scratch easily.
We think they're a great looking pair of boots.
Things We Like
Moderately priced compared to similar work boots
Breathable leather and fabric for better ventilation
Steel toe protection from sharps and bumps adds more safety
Good grip and high traction offer increased stability and balance
Things We Don't
Slightly on the heavy and bulky side. Not a deal breaker if you're looking for protection and durability.
The shoelace-hook could be made more durable
Ideally, we would prefer thicker insoles
The toe box may pinch at first as it may be a bit snug. This can be overcome once its broken into fully.
Not insulated
---
5. Wolverine Floorhand Steel Toe Waterproof Work Boot
The Wolverine Floorhand work boots have high traction, optimal comfort and good weatherproofing features.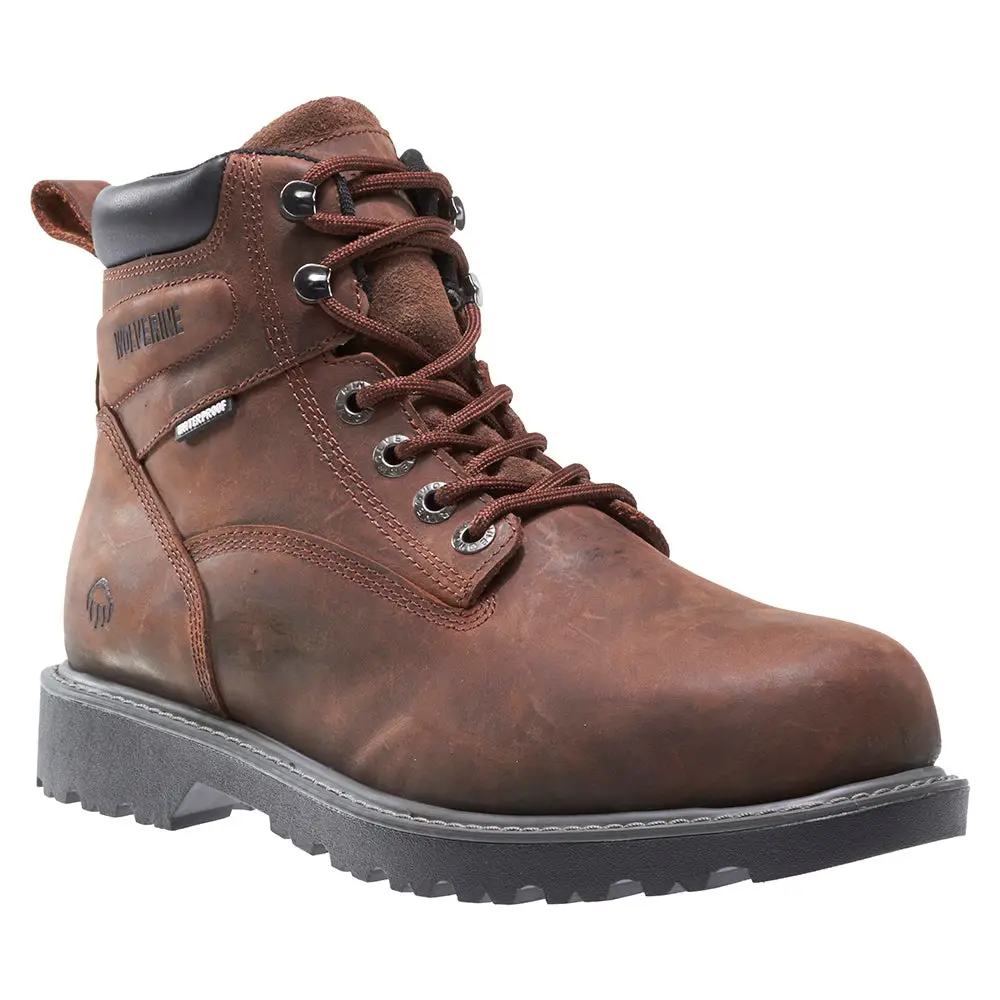 These boots comply with safety standards, they'll protect you from bumps, sharp objects, and getting wet.
The strong rubber outsole and midsole and will grip the ground to ensure good traction.
Premium quality full grain leather uppers are waterproof so this will keep your feet dry.
Moisture wicking mesh lining will mean the boot will give you a level of comfort and breathability.
Things We Like
Quick break-in time for extra comfort
Heavy-duty laces maintain good fit
Waterproof uppers for comfort
Moisture repelling fabric keep the feet healthy
Budget-friendly compared to other varieties
Things We Don't
They might not be warm enough in frosty weather
The soles seem to not last very long
---
What Are the Right Work Boots for You?
Stability is one of the most important features for roofers' work-boots.
The Timberland Pro Rigmaster are non-slip, waterproof, and they've a good grip even on slippery surfaces.
If you work in rainy locations, these boots should serve you well.
The Rocky boots seem to move with your foot when you bend or squat, so they don't put any extra strain on your joints.
They also come with multiple-padding for comfort.
These boots are suitable for a dynamic roofer, buy them if you're constantly on your feet performing multiple tasks.
The Carhartt boots have some of the best protection features.
They keep extreme cold at bay, offer electricity hazard insulation, and provide mechanical-impact protection.
They're also non-slip and waterproof.
These boots are suitable for high-risk sites.
CAT work boots excel in many areas.
They're comfortable, durable, waterproof, and generally safe in demanding work locations.
They're also budget-friendly which makes them a good purchase across the board.
The good price of Wolverine work-boots comes with a host of attributes.
They're among the best looking work-boots in this category, they have good traction, waterproof capabilities, in addition to durability and comfort.
They're best suited for administrators and contractors who spend much of their time on-site.
How to Choose the Right Work Boots for Roofing
Around 30% of foot injuries are caused by wearing the wrong kind of work boots.
Part of these result from work-related incidents, because the work boots don't fit the bill.
The others are more structural and result from poor posture.
Why Do You Need The Correct Work Boots?
The Bureau of labor statistics summary report mentions that over 60,000 workers suffer from foot injuries each year.
Construction, transportation, and manufacturing top the list.
Work boots are essential for compliance with OSHA and ASTM codes and standards. requirements.
The right gear would offer you protection, comfort, and stability.
Are Work Boots Job-Specific?
In a nutshell, yes!
Your work conditions and personal protection equipment will dictate the features that you need.
Roofing is a high-risk job.
You're constantly up and down ladders, you have to walk on high spots, and you could work around electric wires, wet surfaces, and sharp edges.
Not to mention the risk of falling!
You're also always on your feet and you bend a lot.
Ideally you need work boots that offer you traction, comfort and flexibility.
Comfort also comes from feeling warm in frosty weather and having breathable footwear in the summer.
Some boots will focus on one aspect more than the other, and there are mid-range boots that give a balanced performance all year round.
It's best to get work boots with good grip, wedged heels, electric shock insulation, and a non-slip sole.
They should also have generous padding for the arches of your foot.
What to Look for in Roofing Work Boots?
Below are a few considerations when looking to purchase boots specific to the roofing industry.
Protection
Each year tens of thousands of workers get foot injuries because they weren't wearing the right safety gear.
This is avoidable with one simple step: get the right work boots.
Work boots can protect you from:
Sharp shards penetrating your shoe
Heavy objects falling on your foot
Hot or burning materials reaching your shoes
Slipping on wet or slippery ground
Getting water in your shoe if you wade in a puddle
Bumping into a solid object (as they have a toe cap)
Electric shock from a live wire on the floor
Twisting your ankle
Fatigue or straining your feet, legs, and back
Comfort
Standing on your feet all day for 12 hours every day is hard.
You need boots that dissipate the load and offer support for the foot.
Being comfortable lets you concentrate on the job at hand, and at the end of the day, you'd still be up for a night out with the guys.
Comfort consists of a number of factors such as fit, weight, moisture, breathability and 'break-in' period.
Traction
Many occupational injuries are caused by slipping and falling.
This is easily avoided by wearing work boots with non-slip features.
As a roofer, one of THE most important features to look out for is traction.
Your work boots should stick to the surface like slick tires of a Formula 1 car on tarmac.
Also pay attention to the midsole area to see if it equipped with wedges to cling to ladder rungs.
Climbing up a 24 foot extension ladder then onto scaffolding with tiles in your hand could be tricky without the correct stabilization.
Good fit
Your work boots should fit correctly.
Most work boots have round or square toes and they're usually broad and spacious.
Choosing your regular size should work fine in most cases but do check our review to ensure they are true to size or not.
Some styles are better when they're one size up, but never wear loose-fitting work boots.
You'll probably be wearing thick socks with toe and ankle supports.
It's best to try your boots with these socks on. That would be more accurate.
Not all feet have the same shape, and some of us have narrow feet.
There are specific models to suit this contour and wearing them offers more comfort and better support.
Short Break-In Time
Some materials take the shape of your foot after a while.
They 'grow on you' after some time.
Some work boots are ready-to-wear and don't need adjustment at all.
The 'break-in' time does vary with each brand but we've found that most work boots do not take long to break into.
What we would say though is to expect 'some' breaking in time.
Weather Proofing
Hot climates could make wearing heavy boots highly uncomfortable.
Choose a pair with good ventilation and breathable materials for a significantly better result.
Contrary to that is frosty situations, where you need heat insulation.
You could also choose water-resistant or waterproof varieties depending on where you work.
Roofing means constant exposure to the elements, so pay extra attention to these features.
It's usually quite difficult to find boots that are suitable for both extra hot and extra cold environments.
For the winter season, you'll need a good pair of insulated work boots.
For the summer, a good pair of breathable work boots to keep the sweat out would be ideal.
Durability
Work boots aren't casual shoes.
They're made for tougher occasions, and they face far more wear and tear.
They should hold up and maintain their shape, comfort, and protection features during this time.
We sometimes see seams coming apart, soles being worn thin, insoles flattening, and sharp objects scratching the sides or uppers.
If you use your safety shoes everyday in very demanding conditions, then its unlikely your boots will last more than a year.
Compliance with Codes
Worksites are very strict with safety gear.
The same goes for supervisory organisations like the OSHA.
Contractors could pay hefty fines if workers aren't wearing the right gear.
In some cases, the whole site could be shut down.
The OSHA stipulates that:
"The employer shall ensure that each affected employee uses protective footwear when working in areas where there is a danger of foot injuries due to falling or rolling objects, or objects piercing the sole, or when the use of protective footwear will protect the affected employee from an electrical hazard, such as a static-discharge or electric-shock hazard, that remains after the employer takes other necessary protective measures."
Aesthetics
We're human beings.
We like to look good.
There's no reason why your work boots can't look good too.
Work boots should be rugged but they don't have to be ugly.
There's a broad variety of styles, colors, and materials or that are available.
Pick a pair that look cool to you but also adhere to your safety requirements.
Tom Ford the fashion designer says that 'Dressing well is a form of good manners'. This is so true.
Personal Protection Equipment (PPE)
We always recommend that you speak to your Human resources department or follow your industry body PPE guidelines.
This will give you an idea of what kind of workwear you need to look out for.
Roofing is quite a broad industry and your requirements can be dependent on the type of work you do.
Conclusion
With soo many work boots to choose from, finding the right pair isn't easy.
We hope to have chosen a pair that fits within your requirements.
Or at least given you a starting point.
Hopefully, it will help you to narrow down your choices in the future.
Our selection was based on a generic roofing criteria of non-slip, good grip, toe protection and comfort.
We also looked at waterproofing as an additional option.
Nice to haves would have been breathability and insulation but this is subjective of the time of year you may be working.
In a nutshell, we want you to have a good, safe day at work and also help to keep your fatigue levels down.
A nice looking boot is also a plus but not really a huge requirement.
It would be good to hear your thoughts and interested to know if you purchased any of the boot listed above or have other recommendations.