What are the Best Work Boots for Contractors? 5 Options to keep your feet safe on the job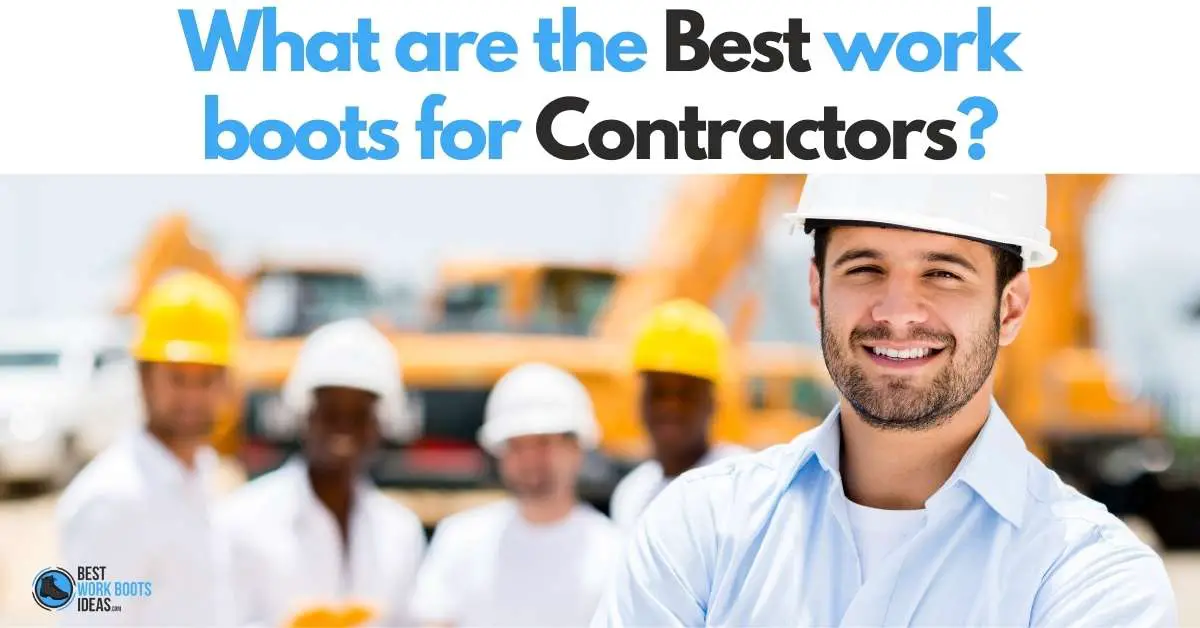 Contractors have a difficult job in more ways than one.
In addition to spending the entire day on their feet, they continually create and solve complicated mathematical problems, work in ever-changing environments, and frequently encounter on-the-spot decisions that determine whether or not a job is profitable or not.
Here are the best work boots for contractors to keep their minds on work and not their feet.
Work Boot Features for Contractors to Consider
I owned a contracting business and considered my experiences while writing. The safety boot features below reflect things that helped me during those years.
That said, this is your job and your feet. This buying guide exists to help guide your decision, but it's your decision.
Anyone reading this should consider their worksites. Be cautious about anyone who knows 'the right boot for you' without hearing your job's challenges.
With that, let's get into the features that make an excellent boot for contractors.
Puncture Resistance (PR)
Stepping on a nail is among the most memorable and least enjoyable aspects of working as a contractor.
For many years, along with missing the nail and hammering your thumbnail instead, it was considered a right of passage for young contractors. Unfortunately, this sometimes leads to time off work.
I still remember a moment my foot felt heavy, only to notice three feet of colonial casing attached to the bottom of my sole.
Fortunately, midsole technology has advanced, so a misstep won't be a mistake you remember forever.
There are boots offering PR midsoles made of steel or Aramid (a woven fiber material like Kevlar).
Steel is more affordable but heavier and less flexible. It also conducts temperature and electricity.
Aramid is lighter, more flexible, and doesn't conduct anything. They're more expensive, but so is a visit to the emergency room.
People do end up in the hospital for puncture wounds, so it might be cheaper to be prepared and protected. Add the risk of infection or tetanus, and it could be a life-changing situation.
Beyond the mights and shoulds, it's also a must for job sites with enforced OSHA requirements. Don't worry, you can still earn your contracting stripes with a bruised thumbnail.
I know my dad who is a retired carpenter and also worked as a contractor certainly earned his.
Breathability and Waterproofing
Contractors' boots get gross; that's a fact. You don't need to add to that problem by grabbing a pair that lacks waterproof and/or breathable materials.
Letting your feet get and stay soaked is just asking for a skin problem that can develop into a real debilitating situation.
When you properly prepare, you can ensure that water at work and sweat from your feet don't start calling your boots home.
Make sure to invest in a pair of boots with exteriors built from waterproof full grain leather and a breathable or moisture-wicking liner. 
Insulation
For contractors working in cold weather climates, this is for you.
There's nothing worse than getting to work in the morning and realizing you underestimated the weather that day.
A pair of insulated boots work to ensure that your feet will never suffer in the cold and protect them from serious conditions like frostbite.
The industry standard is a material called Thinsulate manufactured by 3M. If you find a different brand name, that's okay; they all work.
The insulating power is measured by the gram, from 200g for a slightly chilly morning to 800g to keep you warm in the depths of a winter day.
Flexibility
When working as a contractor, I believed range of motion was as important as slip-resistance for staying on my feet and off my rear.
Recent research has shown this to be true.
Working on pitched roofs, extension ladders, and all sorts of awkward positions as you finish caulking the crown moulding are examples of the ways that contractors push their bodies and balance to the absolute limits.
Several construction elements make for a more flexible boot.
Cement, direct-attach, and injection-molded construction styles provide more flexibility t.
A shank, the bridge area between your sole and heel, made of composite materials (plastic, nylon, fiberglass), will also add to your boots' flexibility.
Feeling like your feet are working with you and not against you can be the difference between safety and danger.
Studies show boots lacking flexibility stress your tendons, muscles, and joints.
Flexibility can also be the difference between moving a ladder every four minutes instead of every two. Contractors know how appealing that sounds. 
Buying Guide Features Overview
Puncture Resistance – Get midsoles of steel or aramid to stop sharp objects before they reach the foot
Moisture Management – Waterproof exteriors and breathable liners to keep your feet dry
Insulation – Where do you live? What hours do you work? How cold is it then and there?
Flexibility – Construction methods and materials that allows for more natural movement
We don't usually include a comfortable work boot or fit since this is something we would expect as standard.
Affiliate Disclaimer
Affiliate links may be present throughout the Bestworkbootsideas.com site and we (the site owner) may earn a commission from any sales made from recommending products on this site at no extra cost to you.
Our Top Picks
Carhartt is a familiar brand to most contractors. They're not traditionally a footwear company, but if this boot represents the quality they're going to deliver, they should carry on.
The Rugged Flex are built with a waterproof leather exterior and Carhartt's breathable, waterproof Storm Defender membrane.
Add 400g of Thinsulate, and you will feel and stay comfortable throughout the day, regardless of the weather.
The Rugged Flex rubber outsoles give the level of flexibility contractors require from their boots. No one has ever climbed a 40-foot extension ladder wishing their boots gripped the rungs less.
Furthermore, the outsoles over EH protection up to 18,000 volts in dry conditions, and PE midsoles give feet and legs relief from the all-day pounding down they experience.
A composite toe cap finishes things off by protecting you while keeping boots light and avoiding conducting temperature or electricity.
Pros
Waterproof/breathable
Insulated
Flexible
Cushioned insole
Shockwave-resistant
Meets ASTM 2413-18 Standards for Compression and Electrical Hazard
Cons
Model: CMF8389
For contractors' comfort, here are the Danner Calipers.
These safety boots feature a cement construction that offer flexibility and comfort to the person wearing them.
Full grain leather exteriors are durable and feature the Danner Dry waterproof membrane that keeps water out while letting moisture created by sweat escape.
Full grain leather uppers also delivers flexibility and stability to allow a comfortable range of motion for the contractor wearing them.
It also helps minimise the time it takes to break in.
A fiberglass shank adds to the impressive flexibility these boots offer.
With an aluminum toe cap, slip, oil,  and electric resistant soles, you will be sure-footed and safe.
A polyurethane midsole and a PU/memory foam insole ensure that the shockwaves to your feet and legs will be extremely limited.
Pros
Flexible
Waterproof
Breathable
Meets ASTM F2413-18 I/75 C/75 EH
Cons
No puncture resistance
Not suitable for cold climates
For contractors in the harshest weather conditions, here is your work boot!
The Megatar is a knee-high pull-on, rubber, cement construction. Rubber or not, your feet aren't at risk of injury.
A full rubber sole uses a cement construction process that allows for maximum flexibility.
The Megatars are puncture, oil, electric, and slip-resistant. They also have a steel toe and built-in metatarsal guard to protect the full foot.
Complete rubber construction with Hydrokote water-repelling technology, a breathable airmesh lining, and removable insulated liners made of 5mm of Densoprene keep your feet warm and dry.
The suitable temperature for the Megatars ranges from -20F to 75F, making these good for all seasons but summer.
For stability, these boots have a steel shank, both toe and heel are triple reinforced, and there is a double reinforcement for the Achilles heel ensuring these are not the floppy pair of yellow slickers you had as a kid.
Pros
Waterproof
Breathable mesh lining
Insulated
Puncture resistant
Steel toe metatarsal protection
Meets ASTM F2413-11 M I/75 C/75 EH for toe protection.
Adheres to ASTM-471 for oil resistance
Achieves ASTM F-1677 for slip resistance
Cons
Not summer suitable
Steel Shank and Toe Cap Conduct the Elements
SKU: MEGMHBKM07 / 810228038491
Hoss must have had a contractor on their team of advisors because this boot is looking good.
The exteriors of this boot feature full grain Muddy river leather uppers and an Aramid fiber vamp.
The Lenzi aramid vamp (area covering the sides and top of your foot past the toes) are cut, abrasion, and chemical resistant.
There's also a spacious composite toe cap for comfort and protection. A PR Lenzi midsole keeps your soles safe.
The outsole is oil and slip-resistant, electrical hazard resistant, and constructed using a direct-attach welt method.
This combined construction method gives the durability of a welt construction with the mobility of a direct attach construction.
To finish off this boot's features, it's certified waterproof with a Hydry membrane that keeps any liquids from making their way from the world to your feet.
Pros
Puncture, Slip, and Oil Resistant
Flexible
Waterproof
Protective Vamp
ASTM F2413-18 rated for EH
Cons
No breathability
Not insulated
SKU: 62705
Reebok isn't the first manufacturer that comes to mind when discussing contractors, but the Trainex offer many features that contractors want.
Waterproof leather exteriors, moisture-wicking nylon liners, and a waterproof membrane work together to keep water away from your foot, regardless of the source.
With a direct attach, Athlite traction, EH-rated rubber outsole that features a 90-degree heel for stability, and a puncture-resistant PU midsole, the soul of these boots' soles is hearty and reliable.
The direct attach construction allows for good flexibility and will aid contractors as they lean, reach and crouch throughout their workdays.
A metal-free composite toe cap closes out the Trainex' features to ensure no falling hammers bruise or break toes.
If you're a contractor looking for a comfortable and lightweight work boot, this is a good choice.
Pros
Waterproof leather upper
Breathable
Flexible
Puncture Resistant midsole
Meets ASTM F2413 Standards
Electrical hazard protection
Cons
SKU: RB6765
Our Choice
The Dryshod Megatar and the Reebok Trainex split the top spot in this guide.
Both had excellent features, it just depends on the climate and work conditions you experience at your job as to which you should choose.
The purpose of researching and writing these guides made itself apparent as I'm recommending two boots that I never would have considered at first glance. 
Are you a contractor? Which work shoe from the list above do you like?