What are the Best Work Boots For HVAC Professionals? Free Buyer's Guide + 5 Great Options for You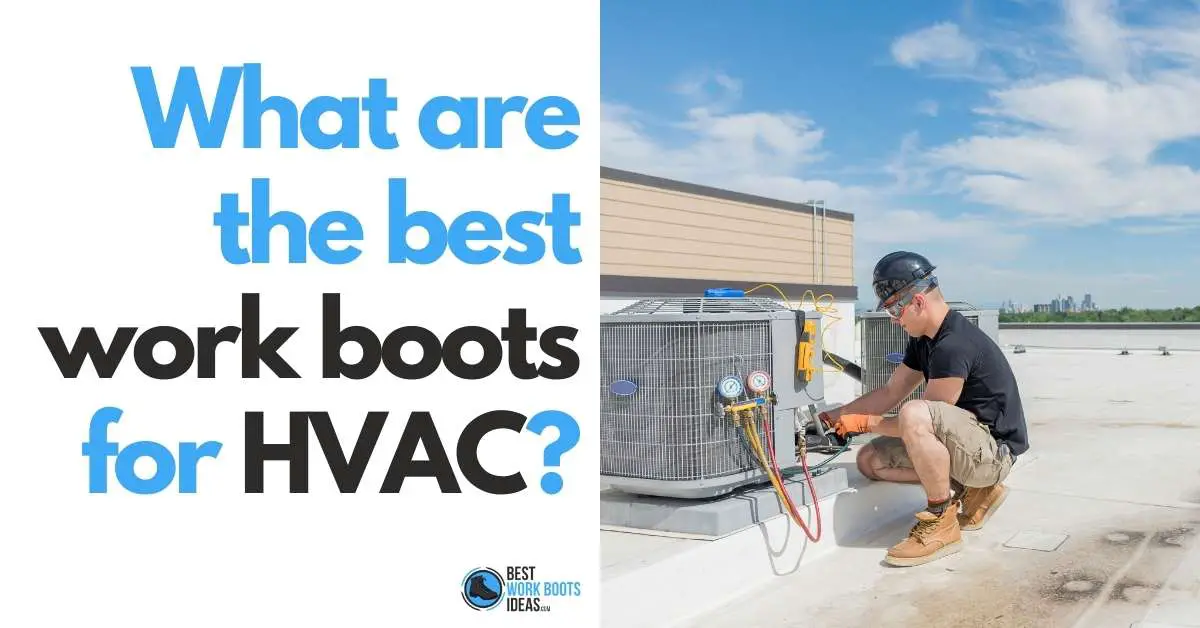 Heating, ventilation and air conditioning (HVAC work) is particularly challenging to prepare for. 
There is a substantial range in the conditions that a hvac worker will find themselves in. 
You can find yourself in a sweltering attic one day and outside in the rain the next. 
The conditions workers find themselves in change but the risks stay constant. 
This is fortunate in a way, because it allows you to prepare for the risks by heading into work with the proper PPE. 
Work boots don't represent the full scope of the precautionary measures you should take, but they are a very important one. 
Let's begin and get into the features that determine the best work boots for HVAC.
Work Boot Features to Consider for HVAC
Electrical Resistance
Electrical resistant boots will mitigate the risk of shock to HVAC workers. 
The units they install and service draw large electrical currents. 
Beyond the danger inherent in an electrical machine, HVAC workers are usually there because something is working improperly with the unit. 
You might imagine that the vast majority of electrical injuries come from those employed by the power company, but 44% of electric injuries/fatalities occur in the construction trades. 
Getting electrical hazard resistant boots is an easy way to limit your risk and stay on the job.
Slip Resistance
HVAC workers spent their days in varied conditions, all of them creating a slip risk. 
Whether you're in an attic, on a roof, in the basement, or outside in the yard, you're somewhere out of the way and not intended for foot traffic. 
I haven't done HVAC work, but I've done renovations to allow for new HVAC units to be installed so I know how easy it can be for your foot to slip and go right through a customer's ceiling or take a tumble in their basement. 
Boots with good traction and a slip resistance rating have saved me time and pain. 
Composite Toe
HVAC workers are lifting heavy units all day so it's imperative to protect their toes and to limit the weight of their boots at the sametime. 
A composite toe cap can kill two birds with one stone by keeping your toes protected from those heavy heating or AC units, god forbid they slip and fall
At the same time they limit the weight you have to carry around on your feet. This will reduce your boot fatigue by days' end. 
Puncture Resistance
Puncturing your foot with a nail or similar object can be extremely serious. 
The last job I did with an HVAC crew, we were working in an attic. 
They were there to run new air ducts and we were there to frame in a way that they'd be able to do it. 
All the floor joists were covered with nails that had shot through the cross bracing or were left over from when they used to hold down plywood subfloor. 
We pulled and cut all the nails we saw, but there's always one you miss, and it's for these moments that puncture resistant boots are a must.  
Buying Guide Feature Overview
Electrical Resistance – Stay protected from the electric currents you work with each day
Slip Resistance – Stay vertical with slip resistant outsoles
Composite Toe Cap – Drop the weight and stay light on your feet
Puncture Resistance – Expect the unexpected from your work site, prevent unwanted passengers from making a home in your foot.
Affiliate Disclaimer
Affiliate links may be present throughout the Bestworkbootsideas.com site and we (the site owner) may earn a commission from any sales made from recommending products on this site at no extra cost to you.
Our Top Picks
1. HOSS K-Tough 6 Inch Composite Toe EH Waterproof 
We begin with the Hoss K-Tough which are sure to suit HVAC workers everywhere.
The RX grip slip outsoles are made of  sturdy, oil and slip resistant rubber that will keep your feet right where they ought to be, under your body. 
They are also ASTM rated for electrical hazards so you can relax a little regarding the chance of a shock when working on a unit.
These outsoles are affixed to the shoe with a hybrid direct attach/welt construction that provides structural integrity and flexibility.
Going a level up we reach the Lenzi puncture resistant midsoles. 
These aramid fiber midsoles ensure that no rogue attic or roof nails have you taking the rest of the day off to get a tetanus shot.
To keep your toes safe while ensuring your feet stay light, these boots feature a composite toe. 
The exterior of these boots feature a chemical resistant aramid fiber vamp and full-grain, waterproof, Muddy River leather uppers.
Underneath it all is the HyDry waterproof membrane.
Pros
ASTM 2413-18 I/75 C/75 EH PR 
Slip and Oil Resistant
Puncture and Electrical Resistance 
Composite Toe
Agile
Cons
Model Number: 62705
2. ReebokTrainex 6 Inch Waterproof Composite Toe EH 
HVAC industry experts need to start paying attention to Reebok if this is the kind of gear they're producing.
These direct attach outsoles feature the durable Athlite Traction rubber and a 90 degree heel to give you an added grip. 
They are also ASTM rated for electrical hazard resistance.
The polyurethane midsole provides comfort and reduces the shock to your feet and legs with AirCushion technology. 
It serves your feet in a second way as it protects your soles from any piercing objects with its CSA rated puncture resistance (greenpatch). 
A composite toe cap keeps the front of your feet protected from any falling or crushing objects without adding excess weight to the boots.
The uppers are made of waterproof leather, embedded with a waterproof and breathable membrane that keep your feet dry from the world and dry from themselves.
Pros
ASTM 2413-18 I/75 C/75 Rated Composite Toe
Electrical Hazard Resistant
Flexible
Breathable
Lightweight
Cons
Not Full Grain Leather
Not ASTM Slip Resistant
Model Number: RB6765
3. Carhartt Rugged Flex 6 Inch Waterproof Composite Toe EH 
A familiar name to HVAC workers for their clothing might just round out their work wear.
Durable Rugged Flex rubber outsoles provide solid traction on treacherous terrain and feature oil resistance. 
Their cemented construction also provides a high level of mobility and flexibility keeping you agile even in difficult conditions.
They're also ASTM rated for electrical hazards. 
EVA midsoles paired with a polyurethane insole reduce the pounding on your feet and add to the comfort factor. 
Swen Flex puncture resistant plates ensure your feet stay intact no matter what you might accidentally stumble upon.
Oil-tanned leather uppers ensure any rainfall will run right off these boots rather than lodging inside them. 
The waterproof and breathable Storm Defender membrane ensures that you'll stay working in comfort no matter the temperature or weather. 
Finishing off, the composite toe cap keeps you safe and keeps you mobile and lightweight throughout the day.
Pros
ASTM 2413-18 Rated Composite Toe Cap I/75 C/75
ASTM 2413-18 Rated Electrical Hazard
Puncture Resistant
Breathable
Waterproof
Cons
Model Number: CMR6971
4. Irish Setter Crosby Men's 6in. Waterproof Nano Carbon Composite Safety Toe EH
One last pick for HVAC specialists' feet: The Irish Setter Crosbys.
These boots were designed with mobility first and foremost in mind.
They feature the mixed  StableFlex construction style that features cemented outsoles in the front transitioning to a traditional welt construction in the back 
These outsoles offer hearty lugs that give grip and traction.
At the same time they provide protection against electrical hazard, chemicals, heat, oil, and offer slip resistance. 
Full-grain leather uppers are durable and waterproof.
They also feature the Ultra Dry waterproof membrane keeping your feet dry from morning to night. 
The inners feature a heat-resistant memory foam insole that keeps you in comfort throughout your work.
A light composite toe cap keeps you protected without ever weighing you down and tiring you out. 
Pros
Electrical/Heat Resistant Outsoles
ASTM 2413 I/75 C/75 Rated Composite Toe
Slip/Oil Resistant
Waterproof
Cons
Not Puncture Resistant
Not Breathable
Model Number: 83628
5. HOSS Range Composite Toe EH 
Hoss is proving to be the HVAC workers' boot of choice with two picks in this guide.
The Range feature oil and slip resistant outsoles.
Whether you're in an attic, on a roof, or in the basement doing ductwork, you'll have no problems keeping your feet planted firmly on the ground.
The outsoles are also ASTM-rated for electrical hazards.
The goodyear welt construction ensures that just as easily as your feet stay planted to the ground these outsoles will remain attached to your boot. 
No need to worry about hidden nails, the midsoles come with built-in, Lenzi made puncture-resistant plates. 
The exteriors are made 100% waterproof, and include the HyDry waterproof membrane so you'll be good no matter where work takes you. 
Adding to the safety features mentioned above, the Hoss Range come with a composite toe cap, and cushioned ankle protection for the odd maneuvers that HVAC work often requires
Pros
ASTM 2413-18 I/75 C/75 Rated Composite Toe 
Electrical Hazard Resistant
Puncture Resistant
Waterproof
Slip Resistant 
Cons
Model Number: 60108
Our Choice for the Best HVAC Work Boot
It ended up being a competition between two offerings of the same brand, but the Hoss K-Tough ended up winning the day. 
While the Hoss Range offered the same features, the hybrid construction on the outsoles of the K-Tough offered the level of flexibility needed in HVAC work.
Whether you're a HVAC contractor, technician or installer we've got you covered.