Review of Meltonian Shoe Cream: Pros, Cons and Colors discussed! Is it Right For Your Work Boots?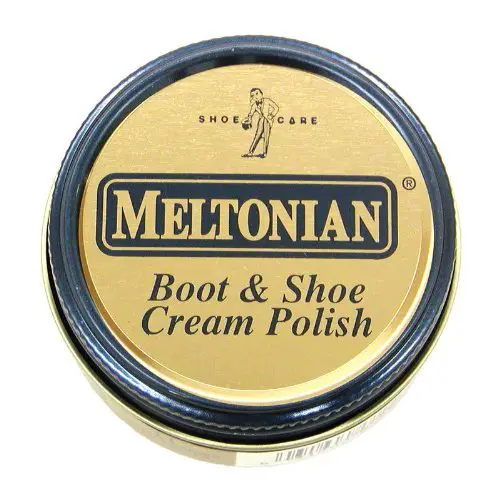 Note: This product is no longer available and has been discontinued. Below is a historical review that we've kept in case you feel a bit nostalgic.
Meltonian Shoe Cream Review
When buying a nice pair of work boots, the only way they are going to last a long time is if you make sure to properly maintain them.
Now, we understand that this might seem annoying to do, but it actually doesn't take that much time if done periodically.
You don't want them to start losing their quality at the drop of a hat. This is where Meltonian shoe cream comes in.
In order for boots to keep their shine after all the wear and tear they go through on a daily basis, Meltonian boot and shoe cream polish is absolutely necessary.
What is Meltonian Shoe Cream and What Does it Do
This shoe cream is specifically made from certain oils and waxes that are designed to make the material on the boots smoother and less weathered.
This specific cream comes in a small, 1.5 ounce glass jar and is made to spread easily.
Different colors can create different looks to a boot.
In fact, you should definitely experiment with some of the color variations to see which matches best with your boots.
This Meltonian boot cream is designed to make your boots last longer by buffing and softening the boot material, in order to prevent drying, as drying can lead to cracking of the material.
The cream is also used as a means of removing any scuff marks from the boot that can easily appear over time and after frequent use.
Is Shoe Cream the Same as Shoe Polish
When you're looking for a substance to keep your boots looking brand new, there are so many options available to you, that it can become quite frustrating to actually find what you're looking for.
Two of these options include shoe cream and shoe polish.
Overall, they are strikingly similar products, but do have their differences.
Meltonian leather lotion, also known as Meltonian leather balm, is also similar in nature to these two products, but is more of a liquid-based oil that replaces the oil within the leather, helping to return the boot to its original quality.
As for shoe polish and shoe cream, the former utilizes a mixture of wax and certain chemicals to gloss over the surface of the boot.
While polish provides an extremely good shine, the substance builds up over time and gradually becomes more difficult to use.
On the other hand, shoe cream doesn't contain wax, and mostly has to do with adding dyes to the shoe.
It will produce a decent shine if applied a couple of times.
When using both polish and cream, it's important to go over the shoe once with boot cream before proceeding to do so with polish, which should be applied 2-3 times for the best results.
How to Use Meltonian Cream
One of the best aspects of Meltonian shoe cream is how easy it is to use.
First, you're going to want to clean your boots with a bit of soap and water, so as to make the application of the shoe cream as smooth as possible.
The only material you will need in order to apply the cream to your boots is a cloth or even a special shoe dauber brush, which should cost around $5.00.
After this, you might want to use a shine brush to make sure your boots are smooth and buffed.
When you're applying the cream, simply make sure to cover the entire boot area.
That's really all it takes to polish a boot with Meltonian boot cream, so you shouldn't have any problems.
Meltonian Shoe/Boot Cream Color Chart
When purchasing a Meltonian shoe cream, the first thing that will stand out is that there are a wealth of colors to choose from.
When glancing at the Meltonian color chart, there are a total of 33 different colors available.
While it is understandable that you might be feeling a bit wary after seeing such a huge number, it's not that difficult to find a color that suits your boots.
Some of the more popular ones include Meltonian delicate cream, burgundy, banana, goldenrod, imperial blue and London tan.
You will also be able to find standard colors, such as the usual black, light brown, grey, navy blue and red.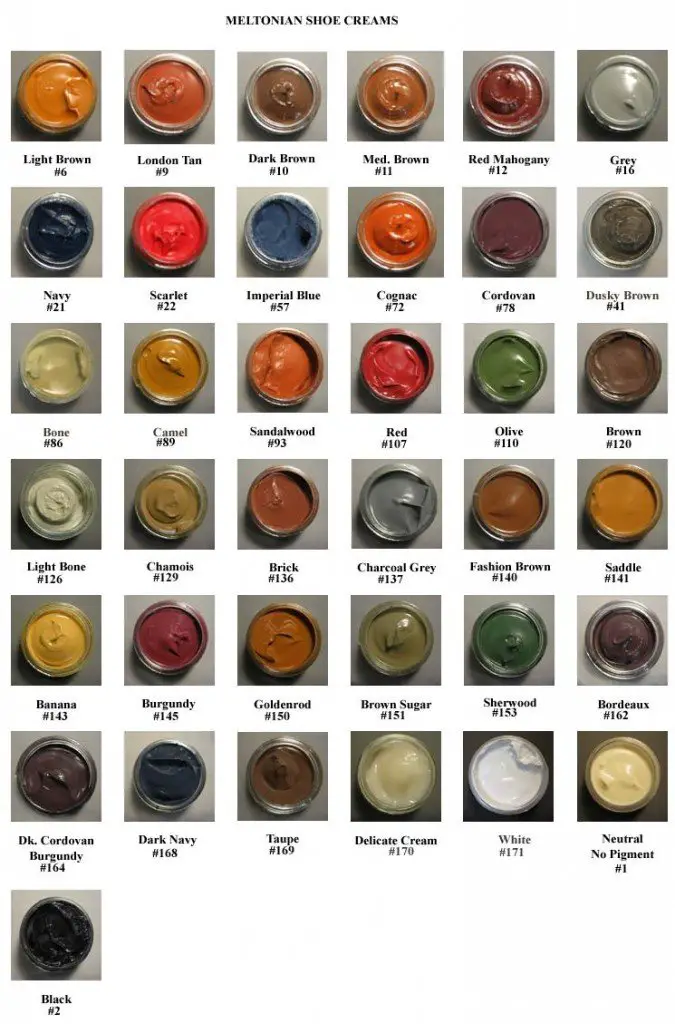 Positives of Meltonian Shoe Cream
For anyone that is looking to buy an attractive product that keeps their shoes looking as good as new, then there really is no better product than Meltonian shoe cream.
Not only does it provide a sleek shine to your boots for around $5.00, a price that won't break anyone's bank, it's also exceedingly easy to use.
It does great to prevent leather cracking, which is typically a big problem for boots. You will also find that the cream creates a soft, more professional shine.
Finally, it's shockingly easy to change the color of your boots using this cream, only taking a few applications before working adequately.
Negatives of Meltonian Shoe Cream
Quite honestly, there aren't really many noticeable negatives when it comes to this product. The one thing you should keep in mind is that this shoe cream won't provide a huge shine.
However, if you want a larger shine, you can simply apply a coat of the cream and follow it up with a coating or two of polish, as polish tends to provide a bit more shine.
We also noticed that this product is difficult to purchase in the UK for our British readers.
Similar Meltonian Boot Products
When considering a Meltonian shoe cream purchase, you might want to think about picking up a few other boot care products as well.
Meltonian provides a wide selection of products that each offer different advantages.
For instance, Meltonian mink oil paste will ensure that your boots are waterproof, while Meltonian's color spray can actually permanently change the color of any boot made from leather, plastic or vinyl.
These are top notch products that you should definitely consider if you're looking to keep your boots in the best shape possible for years to come.