Review of the "Mickey Mouse" Combat Genuine US Military Issue Boots: Are these the Best Army Boots Ever?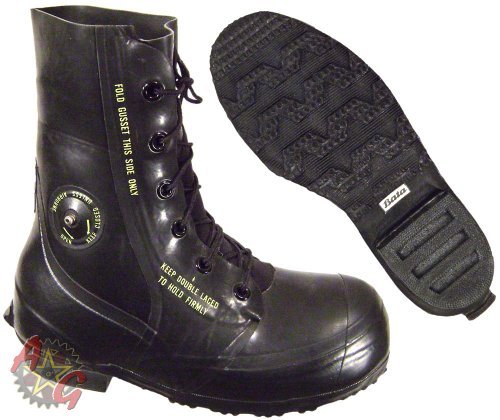 ---
This product has now been discontinued by the manufacturer. As an alternative, you might be interested in;
What You Need to Know on Vapor Barrier Boots aka "Bunny Boots"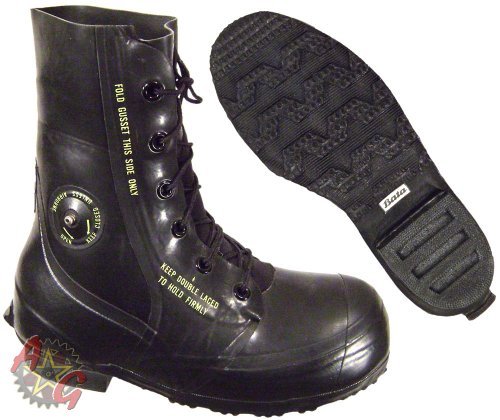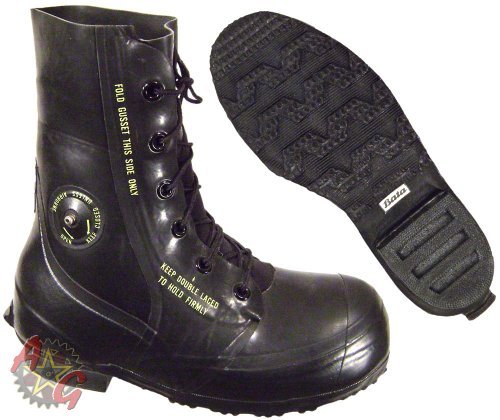 The Mickey Mouse combat military issue boots are designed to keep your feet comfortable at temperatures of -20.
Initially designed for the military and to withstand all kinds of conditions, these boots are actually used more by Joe Public as opposed to service personnel.
The "Mickey Mouse" Extreme Cold Weather Boots are commonly known as the Mickey Mouse boots.
These boots use what is called a clothing system designed for extreme cold weather, which allows them to be used for temperatures up to 20 below zero.
The "Mickey Mouse" Extreme Cold Weather Boots are manufactured in the United States, which means that they are of the highest quality.
Below is an overview of this footwear which will allow to make an informed choice prior to purchasing.
---
Mickey Mouse Boots Are A Solution to Water Evaporation Issues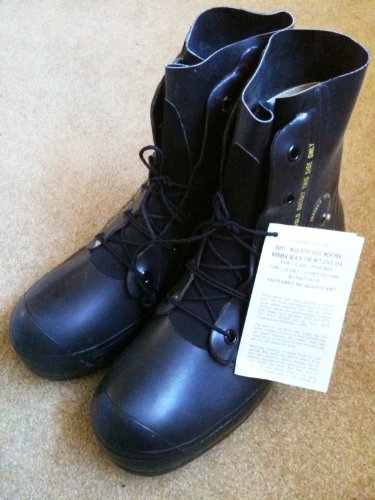 The "Mickey Mouse" Extreme Cold Weather Boots are one of the best military boots are available.
One of the problems they solve is that of water evaporation which is the leading cause of cold injury and frostbite during the winter.
These boots use a layer of felt and relatively thick wool that are sandwiched between two other layers of waterproof rubber and arranged to create a flexible, thin and insulated barrier that is watertight at the same time, which will be unaffected by outside sweat or moisture from your feet.
The "Mickey Mouse" Extreme Cold Weather Boots feature a shell design in its high blucher along with a molded sole, and gusset that are fused to the main body of the boots.
Complete Water Protection
Your feet will need to be completely covered before any water can get in the boot.
If however, any water does manage to get in it will be warm, which will prevent frostbite.
Ideally, you need to use these boots with padded-sole socks, and they need to be changed at least once per day so that you can get the cold weather protection you need.
When climbing or engaged in high-altitude activity, you can release air pressure with the built in air pressure release valve.
Outstanding Features for Mickey Mouse Boots
No foreign-made imports or imitations used to make the "Mickey Mouse" Extreme Cold Weather Boots.
The insulated rubber comes with vapor lock, and they are also waterproof and sealed.
Gusset tongue that comes with waterproof rubber.
Insulation of the vapor barrier that comes with a valve.
The "Mickey Mouse" Extreme Cold Weather Boots can be used for temperatures below 20 degrees Fahrenheit.
Made by different U.S. contractors.
Military Issue Boots That Keep Your Feet Warm
These U.S. Army air force boots will keep your feet warm regardless of the weather.
They are made of rubber, and therefore they come with waterproof features.
If you want a boot to keep your feet warm, then these military issue boots are exactly what you need.
People going outside during the extreme cold will find these boots very useful but the best way to ensure they stay warm is to heat them up slightly before you go out.
This means that they will retain the heat.
Keep Out The Cold With Great Insulation
The Cold Vapor Barrier Boots are very well insulated.
For example, if you were to put them on when they are cold, chances are they will stay that way. However, if you heat them up slightly and put them on, the insulation will ensure that the shoes stay warm.
This demonstrates that the shoes are doing exactly what they should be.
Extremely Comfortable Boots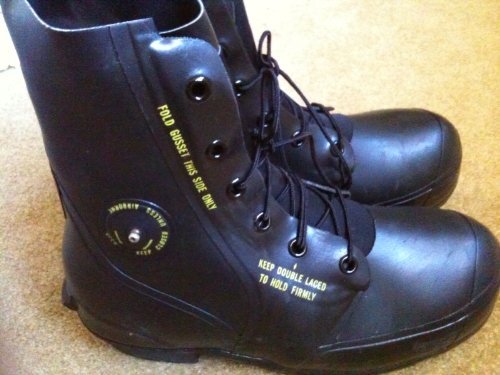 Even though these boots are heavy, they are comfortable to wear.
The traction is also very good on ice too, but you should avoid getting diesel fuel on these boots because this could potentially ruin them.
These are genuine military boots with water proof rubber.
One of the things that must be addressed is the fact that these boots are not breathable so some kind of absorbent liner to get rid of the odour will need to be purchased.
Another key feature is the great ankle support. People who spend a great deal of time outside will find a friend in these boots.
These boots are not fancy or heavy, but they are one of the warmest boots money can buy.
Fair Price 
Which leads us onto the next point nicely. The price of The Mickey Mouse Boots is very reasonable and its no wonder why they are so popular.
If you compare them to other work boots, the price is a steal simply because of the amount of boot you get for your money.
You would expect to pay a few multiples more than the amount for other work boots.
Allows you to Keep Extreme Weather at Bay
People that need to be in extreme weather conditions will find the "Mickey Mouse" Extreme Cold Weather Boots very useful.
An air nozzle will allow you to fill them with air so that you can be insulated pretty well.
You will never feel the cold anymore with the help of these "Bunny Boots".
Pros
These boots offer real changes for your life with its waterproof rubber and comfortable materials.
 Your feet will be kept warm all the time.
 You just need wool socks if your feet are shorter than the size of the boots.
 Very comfortable to wear
 Great traction on rough as well as slippery surfaces such as ice.
 Ideal for extreme cold weather conditions
 Very cost effective for the amount of shoe you get
 Excellent materials and construction
 Outstanding waterproof technology
 Unisex, so suitable for both Male and Females.
 Made in the USA.
Cons
The "Mickey Mouse" Extreme Cold Weather Boots come with laces that seem too short, but you will fix this issue if you go to a store and replace the laces quickly.
The laces are mediocre, but this can be solved by purchasing something of better quality, for example parachute laces.
The interior might not be as soft as you might think, but you will solve this issue with a thick pair of socks.
The shoe size seems to be a size larger than the usual foot size. This can easily be overcome by purchasing a boot one size smaller or by simply wearing thicker socks.
Some people may consider them to be on the 'heavy side' compared to other shoes.
These boots are not breathable so you may need to purchase some kind of liner.
Although they are very warm, if you take them outside when they are cold, you may find it difficult to warm them up. This can easily be resolved by just heating them up before you go out. You can either put them on a radiator or consider buying a specialist device like the PEET boot Dryer for this.
Not the most fashionable footwear but functionality and safety should really be the main priority when buying these boots.
Should You Buy Them?
The "Mickey Mouse" Extreme Cold Weather Boots are great and should certainly be considered as a potential purchase.
These boots will keep you away from frostbite as well as cold injuries too because of their sturdy materials and waterproofing technology.
The price is superb if you compare them to other boots in its category.
There are plenty of features to list, the most important being, comfort, warmth and being waterproof.
Yes, you should buy the "Mickey Mouse" Extreme Cold Weather Boots because these boots have all the qualities of a great boots: outstanding insulation materials, fair price – these boots are a steal!
They also offer protection from extreme weather, made in the USA, comfort, waterproof rubber and much more.
The main point that is echoed over and over again from reviews for this product is the fact that these boots are very warm, very comfortable, have lasted a long time and are incredibly good value for money.
Based on these points, we would certainly recommend them to anybody thinking about their next extreme condition footwear.
You might want to also consider USMC Military style tactical boots if that is an option.