Review of the PEET Boot Dryer M97-FSB Original 2-Shoe Electric Dryer: Should You Get One?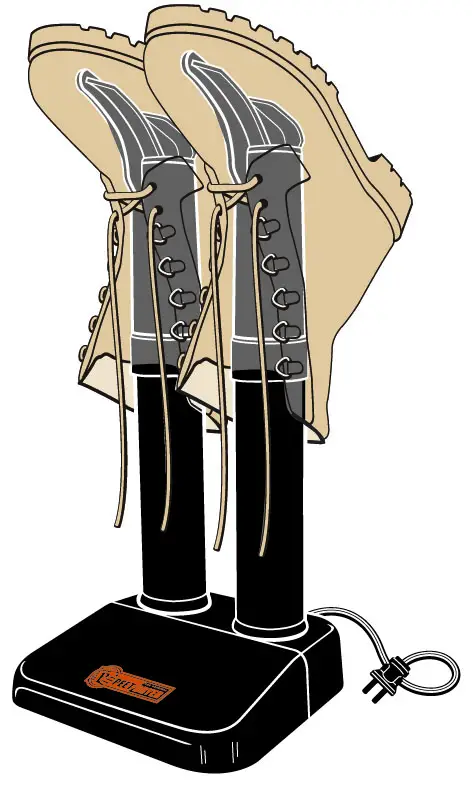 The PEET Dryer M97-FSB Original 2-shoe electric dryer will help you eliminate bacteria, odor and moisture from any kind of footwear.
After using this product, you will be assured your favourite work boots, no matter how damp are nice and fresh for the next work shift.
This is because it ensures your shoes smell nice and fresh all day long. Read on to find out more about the PEET Dryer M97-FSB Original 2-shoe electric dryer.
We just HAD to write a review on this neat little gizmo, the PEET Boot Dryer Original 2-Shoe Electric Dryer.
It's not a shoe but something that we feel will help to maintain the longevity of your work boot.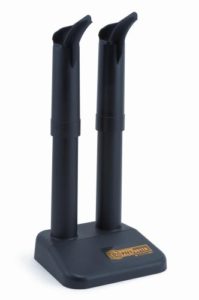 Pros
Wearing wet shoes can be a terrible mistake.
They are likely to cause skin irritation and the development of fungus and mold.
Additionally, wet footwear ends up smelling horrible and can leave your feet being cold all the time.
This is why the PEET Dryer M97-FSB Original 2-shoe electric dryer was designed.
The sole purpose is to give you healthier and cosier feet while extending the life of your footwear.
This electric shoe dryer is efficient, inexpensive, stable and silent.
It is made of good quality plastic that will not topple over when you plug it into a socket.
The boot is designed to point up at a steep angle to ensure that the toe box dries out completely.
Save Time by drying two shoes concurrently as opposed to one.
Very Easy Assembly: Just put a few pieces together without any tools and you're ready to rock and roll.
An incredible 25 year warranty You do have to check each individual item to make sure the warranty is the same.
I did find that a bit strange as that's what the warranty page indicates.
The plastic material also means that this dryer is lighter than its counterparts in the industry. Other benefits that come with the PEET electric shoe dryer include:
Faster Drying and Warming: With this shoe dryer, you can safely dry and warm your footwear.

The patented design will draw air in through the vents to warm your shoes.
It uses thermal convection mildly, meaning you can leave it plugged in overnight without any fear or alarm.
Additionally, the PEET electric shoe dryer can be used as a warm and cosy storage space for an extra pair of shoes.
Apart from this, the PEET dryer can be used with gear and footwear made from most materials, including modern fabrics, plastic, cloth, vinyl, rubber, canvas and leather.
You do not have to worry about the material getting damaged because this dryer works slowly, efficiently and mildly.
Energy Efficiency: If you have concerns about saving energy, you should note that the PEET electric shoe dryer uses minimal energy, less than a regular 40- watt bulb. The mild thermal convection will raise air through the shoe dryer for efficient and effective drying and warming.
Mobile: If you work in various places or need to travel, you can literally take it with you.
Almost Silent: The dryer works almost in complete silence so you'll hardly even notice it's working. In fact, the first time you use it you'll probably think its not even working…its THAT quiet.
Use in your vehicle: You can also charge the unit in your vehicle.
=====>> Get Latest Prices Here <<=====
Cons
Although the PEET electric shoe dryer was designed according to and above set industry standards, some customers have complained about certain aspects and traits, including:
Material:
Since the dryer is made of solid plastic, it will feel flimsy at first.
However, after repeated use, you will notice that it stays upright on its own. This is even when you place boots or shoes on it.
The Switch:
On the other hand, the PEET electric shoe dryer has no switch.
The only way you can turn it off or on is by plugging or unplugging it as required.
This has caused alarm and complaints from most customers who bought the product.
However, this is also easy to deal with once you use the product a couple of times.
What is more, it does not consume a lot of electric energy, meaning you can leave it running overnight without any cause for alarm.
Added to this, the base never gets hot, irrespective of how long you leave the PEET electric shoe dryer running.
Therefore, it is not a fire hazard.
It also does not really affect the user's experience or the final outcome.
In our view its a very minor point.
Still, if you feel a need to have a proper switch, you can get a 24- hour timer, similar to those used for lighting and set it according to your needs and requirements.
With the timer, the dryer can be turned off automatically after 2 or so hours.
Speed:
When you wash your shoes and place them on the dryer, it takes about 6 hours for them to dry out.
Although this may be considered to be too slow (especially in comparison to the clothes dryer), it pays off in the long run.
This is in the sense that your leather shoes will not shrink and the PEET electric shoe dryer will effectively dry your shoes.
One must remember that this product is designed specifically to address the issue of damp shoes and a clothes dryer or washing machine could actually cause the boot damage.
If you were to also put your boots to dry on a heater overnight, they would also take far longer to dry and who knows even if they would completely dry by the time your next shift comes around.
As a result, we do think that the product is the better option.
Smell:
According to its design, the PEET electric shoe dryer will blow unpleasant odor out of your footwear and into the surrounding area, leaving your rooms smelling horrible.
To ensure this does not happen, it is advised that you use the dryer outside or open the windows when you use it indoors.
This has only been mentioned as a minor point and this issue can be resolved if you have a very well ventilated room.
Longer Boots:
If you have really long boots, you may need to purchase an additional 'boot extension attachment'.
Voltage outside USA:
If this product is being purchased for use outside of the USA, then you need to check that the voltage is compatible with that of your country.
A Detailed Description  Of The Peet Dryer M97-Fsb Electric Shoe Dryer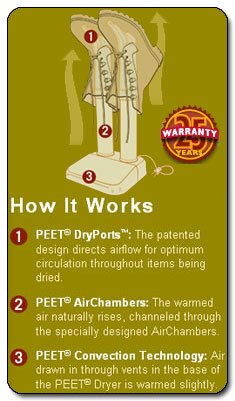 The PEET electric shoe dryer will dry all your footwear safely and effectively. This means that you no longer have to endure stiff and shrunken gear dried using conventional heat- drying methods.
This dryer uses thermal convection to silently and safely remove odor and moisture caused by wet weather and/ or perspiration.
It is ideal for all footwear, irrespective of the material used.
Value for Money?
The PEET electric shoe dryer is as inexpensive as they come. Although you may be tempted to overlook it, consider the value it will add:
It will arrest bacteria and eliminate odors meaning you don't have to buy a new pair of shoes every few months
The PEET DryPorts and AirChambers are patented. Therefore, you can be sure that the product works reliably
If you wear heavier- than- usual boots, the large and sturdy base will provide additional assurance that your shoes will be dried without falling off
The PEET electric shoe dryer also comes with a 25- year limited warranty that protects your investment. Should you have any complaints, you can direct them to the manufacturer and/ or retailer for a refund or a replacement
Definitely a small price to pay if you have boots that are worth hundreds of dollars per pair.
Unique Selling Points
Most people prefer the PEET electric shoe dryer over other dryers because it works silently and is energy efficient.
In the long-term this means a potential saving on your energy bill.
Similarly, the PEET electric shoe dryer comes with a 30- day money back guarantee.
Should the product fail to operate as advertised, you can return it to the manufacturer and get your money back.
As earlier mentioned, the PEET dryer comes with a limited 25- year warranty.
Additional Information
Overall, the PEET electric shoe dryer will work perfectly for various types of footwear, these are not limited to; rubber/ leather footwear, athletic shoes, Nordic ski boots and hiking boots.
Even though the heat level is modest, the PEET electric shoe dryer will keep your electric bills low, protect your footwear and thoroughly dry your shoes in a couple of hours.
Perfect for when you wake up in the morning or when you start your work shift.
Extra TIP:
You can also put your already- dry winter boots on the PEET Dryer M97-FSB Original 2-shoe electric dryer before you venture out.
It will warm them up for a truly comforting foot experience.
For further info on this product or to buy it, please click here.