What are the Best Work Boots For Bricklayers? 5 Great Options to Choose From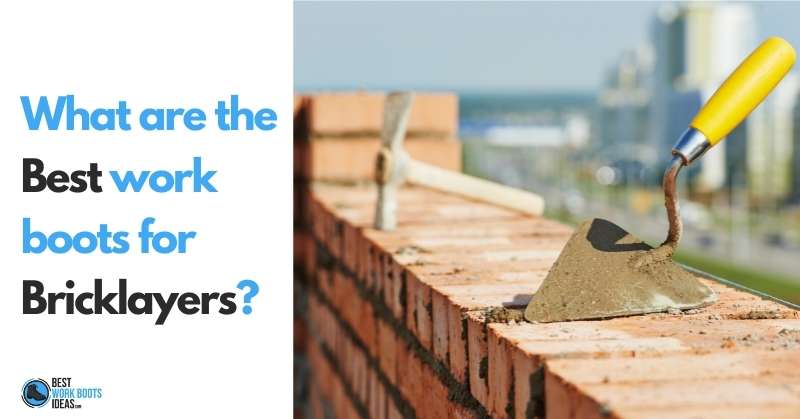 Finding the best work boots for bricklaying is like the work itself: It's a labor of love and worthwhile pursuit.
You wouldn't buy a boot that doesn't fit your foot, so why buy a boot that doesn't fit your profession?
With that in mind, here is a guide to help bricklayers to choose boots that suit them best.
Factors Bricklayers Should Consider When Buying Boots
What's In A Day?
Believe it or not, I, the guy writing this, have worked as a mason.
I was up and down all day, on my feet and ladders.
I was vulnerable to and usually unprepared for whatever the weather had in store for me.
I worked with brick and other heavy materials that, by some miracle, didn't damage my toes, feet, or ankles.
That's my own stroll down memory lane. I highly recommend you do the same before reading on or making an impulse purchase.
Don't listen to what worked for another person because you and they might have drastically different experiences at work.
A boot that's great for a person working outside in dirt and gravel might be frustrating or even dangerous for a person working inside on finished concrete floors.
If you can remember the moments you tried to forget, it might just land you the proper pair of boots.
Get In Your Element
Frostbite on your toes and feet is painful and dangerous. It can even happen in temperatures above freezing. Further, it makes you less coordinated with time, increasing the risk of hurting yourself or someone else before the day ends.
Heat and moisture can cause fungal infections and other skin issues. Prolonged exposure can even cause Trench Foot or Immersion Foot, potentially limiting your ability to work altogether.
It sounds strange, but consider your comfort a safety measure. It might be the thing that keeps you at work.
If you expect to be soaked, you're probably best suited by a boot made of waterproof leather.
If the wind is a concern, look into a Gore-Tex liner.
If your focus is the moisture or bacteria created by sweat, look for moisture-wicking and antimicrobial liners.
It's A Physical Fact
Slip resistance
Your muscles, tendons, and bones are all at risk when you slip , even if you don't take the big spill you're imagining.
The jolt to your body alone can cause severe consequences as your reflexes work to keep you upright.
Slips are responsible for 18% of all workplace injuries in the US and are the 2nd leading cause of accidental workplace death (opens a Powerpoint Presentation). It's worth looking into the tread pattern and material of the soles in your boots.
With that in mind, it's imperative that bricklayers find slip-resistant outsoles that keep them on your feet. After all, staying on your feet means staying at work.
Toe Caps Keep Toes Intact
The risk of something falling on your feet is something that comes with work. It's so common that 8.5% of all injury-related time off is due to foot injuries.
You can do your best to avoid it, but often it's something that happens to you, not because of you. A bruise, sprain, or even a break can put you out of work for days or months.
With the proper foot protection, you'll be in a much safer position.
It's good to know the pros and cons surrounding each material option.
Metal toe caps are traditional and affordable, but they conduct temperature and electricity. Steel is heavier and more affordable, alloys are lighter and most costly.
Composite toe caps are non-metallic. They offer equal protection, reduce electrical shock risk, are lighter, and less responsive to the temperature outside. They also tend to be pricier.
For Bricklayers, it might be worth paying a little bit more for a composite toe cap. Besides the reduced risk of shock, they're lighter, and laying brick is job that requires carrying heavy objects all day.
No need to make your boots any heavier than they have to be.
Quality or Quantity?
You'll have to decide whether purchasing a new pair of boots is an annual event or a distant memory.
We can pose some questions that will help guide your decision.
Does your job deliver a consistent worksite? You might want to think about boots with replaceable soles. It could be in your best interest to shell out a little more money upfront.
This will add years of life to your boots and months of comfort where you're not breaking in another new pair.
If your work environment is always shifting, you're probably better off buying cheaper boots with a shorter lifespan.
Warning! If resoling is something that you're interested in doing, you're going to have to choose a boot made using welt construction.
Injection-molded, direct attach, and cement (gluing) construction methods have their benefits, but longevity is not one of them.
Buying Guide Features Overview
Slip Resistance – Look for a thick outsole with a good tread
Toe Cap Protection – Spring for a composite toe cap and save some energy
Water and Moisture – Trying to keep water out, get it out, or both?
Insulation – Know the conditions you'll be working in.
Longevity – Check the boot's construction method if you plan to resole it
Affiliate Disclaimer
Affiliate links may be present throughout the Bestworkbootsideas.com site and we (the site owner) may earn a commission from any sales made from recommending products on this site at no extra cost to you.
The best work boots for bricklayers: Our top picks
For those that lay brick in cold weather climates, check it out!
These boots feature a thermoplastic urethane (TPU) outsole. This sole offers advanced slip resistance to water and oil with its meaty lugs.
The boots' construction is a hybrid method—Goodyear welt construction up to the heel, where it's finished with cement construction.
With this hybrid method and a fiberglass shank, the Pro Boondock offer increased flexibility compared to soles and shank, adding to your maneuverability in treacherous conditions.
Waterproof leather, a waterproof membrane, excellent insulation, these boots are ideal for those in northern latitudes.
Add the asymmetrical composite toe for safety and warmth, and cold feet will be a distant memory.
Pros
Excellent for cold weather
Advanced slip resistance and safety
Highly maneuverable
Composite Toe adheres to ASTM F2412-11, ASTM F2413-11, I/75 and C/75
Cons
Not a year-round boot
Cement heel prevents resoling
Not breathable
The first noticeable difference to a bricklayer is the extra 2" of protection this pair offers your ankles.
These boots feature Vibram Quarry outsoles, are made of a rubber compound, feature 90-degree heels, and an irregular lug pattern for advanced slip resistance.
Danner's unique stitch-down construction method makes these boots well balanced and easily resoleable.
With an alloy toe, an ASTM rating for shock-resistant soles, and an impact rating up to 75lbs, safety concerns should be a thing of the past for anyone laying brick.
Moving on, the Quarrys also offer full-grain leather outers and a GORE-TEX liner that delivers a hearty outside with an inside that allows your feet to breath comfortably at the same keeping them dry.
Pros
Resoleable
ASTM rated slip and shock resistance
Breathable
Cons
Heavy (over 4 lbs)
Not winter-proof
Arador is moving beyond ankles and is interested in protecting bricklayers' calves with these 9" boots.
Vibram Tacoma logger outsoles offer shock protection and hearty lugs that will give you a grip in the most rugged outdoor environments.
They offer a leather exterior that is both waterproof and breathable. This is achieved through Arador's Chip-A-TEX membrane, keeping you dry from both ends of the spectrum.
Going further to keep you dry, these boots have the addition of a Texon 460 waterproof insole and Thinsulate Ultra insulation made by 3M that features moisture-resistance and breathability.
They keep you warm while working to keep you dry.
They feature a traditional steel toe and meet ASTM requirements for impact, compression, and electrical hazards.
Pros
Waterproof
Warm & Breathable
Resoleable
Electrical Hazard (EH) protection
Cons
Not slip-resistant but Lugz are quite large
Low mobility
Not summer suitable
The Wolverine Tremor DuraShocks are best for bricklayers whose legs and feet take a beating from the shockwaves of stepping down hard.
They designed their patented polyurethane outsole to reduce the shock running through your body.
Built using Goodyear welt construction, these boots are easily resoled as soon as you and your cobbler are ready.
With a flexible shank made of nylon, you're going to feel lighter and more agile than you ever have in a pair of boots.
Uppers made of full-grain leather, liners featuring Dri-lex technology that wicks uncomfortable sweat away from your feet and allows you to continue working in comfort.
Are Wolverine boots good? We've written about it so do check out that article too.
Pros
Reduced impact
Excellent mobility and comfort
Resoleable
Cons
No toe cap
Not slip-resistant
Bad for cold weather
Timberland shoots right down the middle with these ankle-high work boots.
The standard rubber outsole is slip, heat, and abrasion-resistant. It's secured with a cement construction with a focus on the boots' flexibility.
Add in the shock-reducing Step Propel footbed, a padded tongue, a flexible fiberglass shank, and you're going to forget that you're even wearing work boots.
Timberland built the exterior with waterproof, full-grain leather. The interior is not just breathable and moisture-wicking but also antimicrobial.
The boots' exterior features EXOSPINE technology, designed for increased support and balance on uneven surfaces.
For safety, the Summits offer a composite toe that gives protection without weighing down your foot.
Pros
Comfortable
Flexible
Waterproof
Lightweight
Shock absorbent
Anti-microbial
Cons
Not resoleable
Unsuitable for winter
The winner is…
I can't get enough of the Timberland Summit.
I have found in my work experiences that I prefer mobility and comfort today over longevity.
Today is the day I might hurt myself, and I want to limit that risk today.
The Summits protect against shock, slips, water, moisture, bacteria, and offer flexibility that others didn't get close to.
I considered the lack of insulation, but insulated or not, that boot won't work in either summer or winter. I can always get warmer socks for the winter. I can't remove any boot for the summer.