What are the 5 Best Work Boots for Electricians? FREE Buying Guide and 5 Options to get you going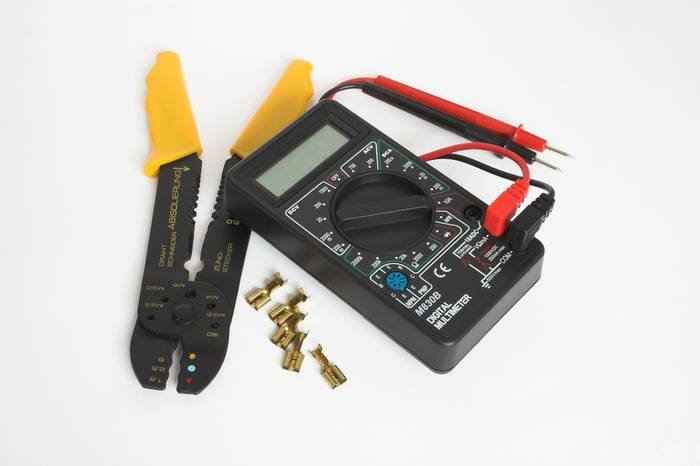 An electrician faces daily challenges that other men and women working in the same type of environment may not have to worry about.
Accidents can happen, and electrical shock can cause serious nerve damage, tissue damage, and even cardiac arrest. Some of the best work boots for electricians have been manufactured with potential electrical hazards in mind.
Scroll down to read the reviews and Buying Guide!
---
Our Top Picks for Electrician boots summarised below.
---
OSHA/ASTM Standard Requirements for Safety Footwear
One way to assure safety when working in this type of environment is to make sure OSHA (the Occupational Safety and Health Administration) standards are followed.
OSHA has the following ASTM electrical hazard shoe standards; F2412-05, F2413-05 and F2413-011.
Any pair of safety boots that have the letters "EH" marked on them assures the purchaser that the boots meet OSHA's electrical hazard standards.
OSHA guidelines for electrical work boots require the manufacturer to make the shoes with non-conductive electrical shock resistant soles and heels.
The work boots must be able to withstand 14,000 volts at 60 hertz for one minute under dry conditions without leaking current in excess of 3.0 milliamperes.
Meeting these standards and still obtaining a durable boot that will be comfortable throughout the work day is the goal of any safety manufacturer.
Please refer to your Personal Protective Equipment (PPE) requirements so you are familiar with what work boots you need for your job.
Here are our list of five of the top work boots for electricians available on the market today.
Affiliate Disclaimer
Affiliate links may be present throughout the Bestworkbootsideas.com site and we (the site owner) may earn a commission from any sales made from recommending products on this site at no extra cost to you.
1. Timberland PRO Men's Hyperion Waterproof Work Boot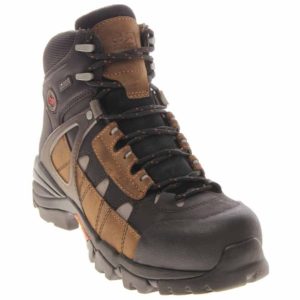 The Timberland PRO Hyperion work boot provided the perfect combination of performance and safety features for any industrial electrician.
The boot is made from premium leather that is designed to protect the wearer from electrical hazards as well as keep the feet dry.
Another feature that adds comfortability to these electrical hazard shoes is the anti-fatigue technology.
The soles of the boot absorb shock and release it back into key zones to reduce foot fatigue.
Some wearers believe these safety boots for electricians are too bulky for a lot of movement, but they provide all of the features an average industrial worker needs.
It has a Vibram outsole as well as it being oil and abrasion resistant.
Oh and it also comes with an alloy safety toe.
This safety shoe conforms to the following safety standards; ASTM 2413-11, ASTM F2412-11, F2892-11 and ANSI Z41PT99 which means your feet are well protected from open circuits.
An Electrician who bought these electrical work boots at an online retailer's said: "Pleasantly surprised! Very comfortable boot. Love the extra width. I'm an electrician who's on my feet most of the day, so far, my feet feel great after being on them all day. I wish someone in the work boot industry would put a heavier piece of rubber on the toe. This one isn't bad, just wish it was thicker. Overall a great boot, and have already recommended them to others."
110% Price Match Guarantee
365 Day Return policy
FREE Shipping
---
2. KEEN Utility Men's Pittsburgh Steel Toe Work Boot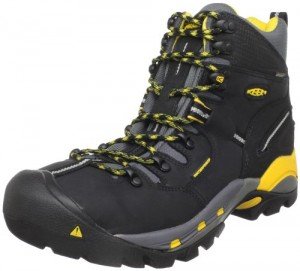 This casual looking work boot features all the qualities that help Pittsburg industrial workers tackle a tough day.
The safety boot features a oil and non-slip resistant sole that meets all OSHA standards for electrical protection (ASTM F2412-11, ASTM F2413-11).
These comfortable boots are comprised of a breathable, waterproof membrane that will let foot vapors out without allowing water in.
These boots also offer support for arches in the foot which is ideal if you suffer from conditions such as Plantar Fasciitis.
The Keen Pittsburgh Steel Toe work boot (I/75 and C/75 compliant) has a narrow fit, so be aware of this when deciding what size to order.
An online user who works in an industrial setting said this about his recently purchased electrical work boots:
"Best boot I have ever worn. I've been working in an industrial setting for over 40 years and have always worn Red Wing steel toe boots but these boots are far superior. They are light weight due to the composite "steel toe" and fit like a glove. Wish I would have had these 30 years ago. Great product! "
Reuptable brand
60 Day Return Policy
---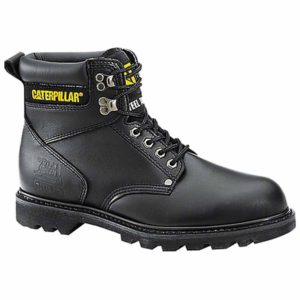 Caterpillar has been making work boots for about 100 years, so it is no surprise they make one of the top boot options for electricians.
This very good looking boot features a durable Goodyear welt construction that meets all slip and electrical hazard (EH) standards (ASTM F2413-11) for heavy industrial work environments.
The Caterpillar 2nd shift also has a climate control sock liner that provides heat and warmth in the cold and keep feet cool in humid environments.
The steel toe is also I/75 and C/75 compliant so you're in safe hands if anything heavy drops on them.
Do remember though that the boots require a break in period after which they will become comfortable.
A construction worker who purchased these electrical hazard shoes online said: "The fit is true on these! I wear these boots at least 5 days a week working in new construction for 5 sites. I walk on average 7-12 miles a day tracked by a pedometer. My feet never hurt after a long day and they have saved my toes on numerous occasions. I will buy another pair of these when my current ones need to be replaced."
110% Price Match Guarantee
365 Day Return policy
FREE Shipping
---
4. Timberland PRO Men's Boondock 8 Inch Composite Toe Waterproof Insulated Work Boot (89628214)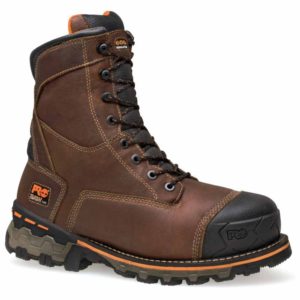 Working in extreme weather conditions may require waterproof and insulated boots.
Timberland's Pro Boondock is a safety boot for electricians that provides lightweight insulation (600 grams of Thermolite) and a waterproof sole to keep the wearer warm and dry.
This shoe meets OSHA requirements when it comes to electrical hazards and also features comfortable anti-fatigue technology so you won't feel as tired on your feet all day.
As an electrician, you'll be happy to know that the boot comes with additional underfoot protection against live electrical circuits, conductors and any apparatus that may be lying around.
Electric Hazard (EH) rating standards conform to ASTM F2412-11, ASTM F2413-11, ANSI Z41PT99 as well as ASTM F2892-11 .
This boot also comes with a composite-toe (non metallic/non magnetic) and complies with ASTM F2412-05, F2413-05, I75 and C/75 standards respectively.
Being a mechanic, you absolutely want footwear to be oil, slip, and abrasion resistant, which this boot is.
From a traction perspective, the outsole has deep lugs
Moisture-resistant insulation will ensure that feet are kept warm in all types of weather.
The shank is made from fiberglass.
The boot will give the wearer a snug fit, so make sure to accommodate for this when purchasing.
Standing on your feet all day is tiring so using Timberland's 'Anti Fatigue' technology, the boot absorbs shock and returns energy back to your feet.
An online user who recently purchased these electricians safety boots said: "Best work boot I ever worn. The fit is right on. 10hrs a day in them, and my feet and back is no longer hurting at the end of the day."
110% Price Match Guarantee
365 Day Return policy
FREE Shipping
---
The Wolverine Hudson is designed specifically with comfort and protection against electrical hazards in mind.
5. Wolverine Men's Hudson EH Steel-Toe Work Boot (W06654)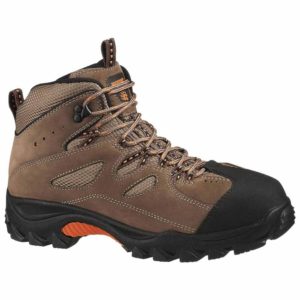 As an Electrician, you'll be pleased to know it comes with a steel toe which adheres to ASTM F2413-11 M I/75 C/75 EH.
You'll also be pleased to know that the materials are non-conductive.
These quality boots are constructed of suede with fully cushioned insole and a mesh lining to help manage moisture and comfort.
If you have specific requirements where you require specific insoles, then the footbed is also removable.
This lightweight boot meets all OSHA requirements for electrical hazards.
When thinking about the fit, the boot tends to be narrow and on the small side at the toe for some wearers so make sure to account for this when purchasing.
We think this is a great choice due to the fact that it is comfortable, lightweight and at the same time protects you from hazards too.
An online user who recently purchased these electrical work boots said: "These have been some great boots I am an auto technician and on concrete floors all day I had these in the past and finally found them again plan on buying several more pairs great work/hiking boots."
---
Our Top Pick for the Best Work Boots for Electricians Is…..?
Some of the best work boots for electricians are listed in this article.
Our favorite would be the Timberland PRO Hyperion work boot because it provides all of the comfortability and safety features needed for an electrician's safety as well as a stylish look.
It is absolutely packed with all sorts of technology you would expect and more for an electrician.
You can feel free to explore safety boots for electricians to discover what shoe is best for each work environment but we think our choices above should suffice.