What are the Best Work Boots for the Oilfield? 5 Great Options to keep you comfortable and safe. Plus FREE Buying Guide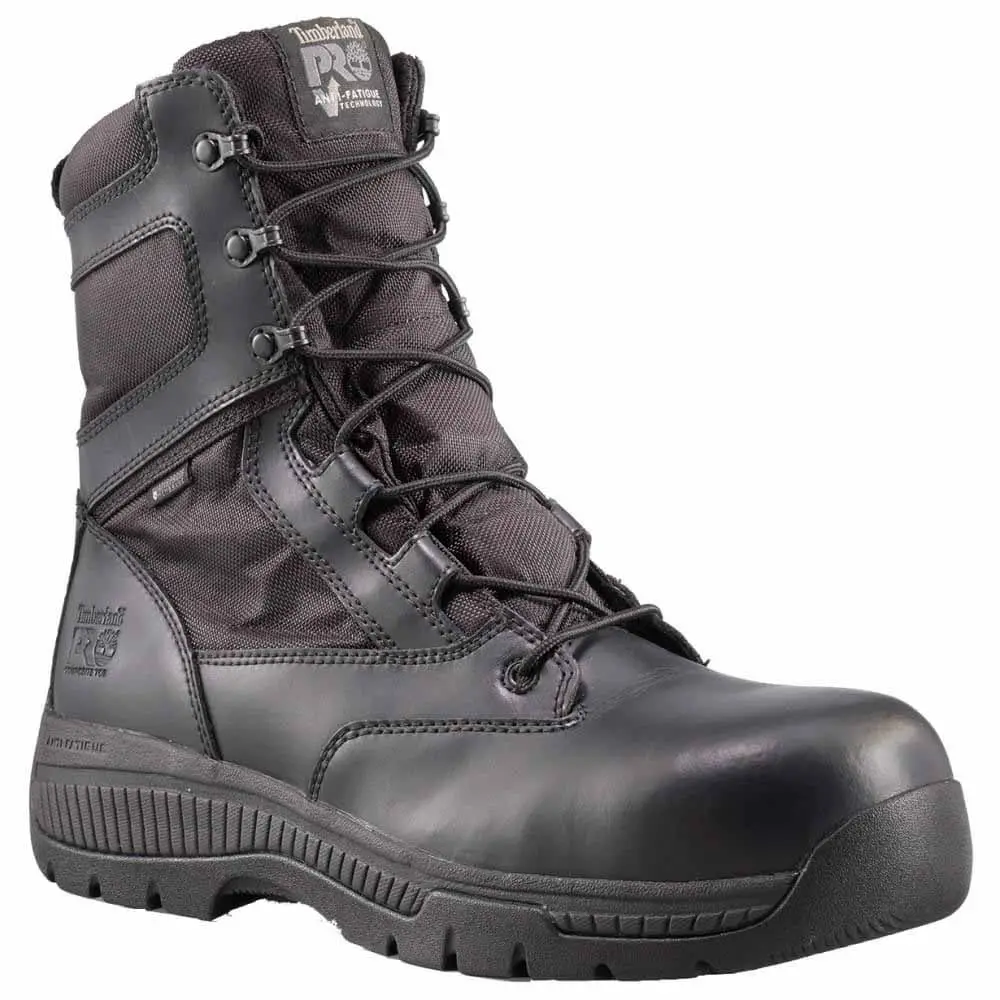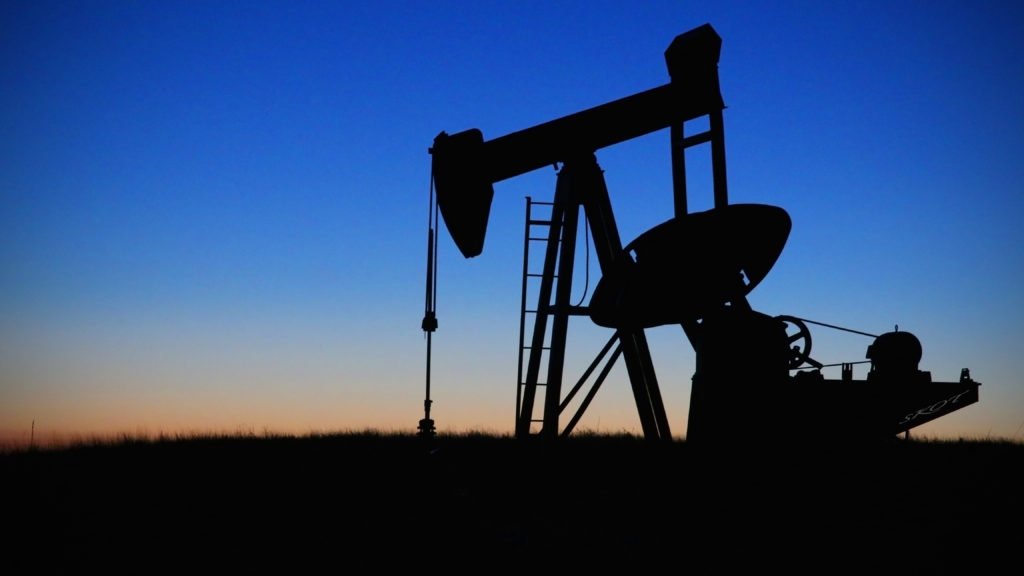 Shopping for oilfield work boots is not to be taken lightly.
Selecting the correct footwear is just as crucial as buying any other personal protective equipment (PPE).   
As a worker on an oilfield, you will be constantly exposed to extreme weather and dangerous hazards.
As a result, should choose your shoes accordingly.
Our top 5 list and detailed buying guide will help you find the best work boots for the oilfield.
Affiliate Disclaimer
Affiliate links may be present throughout the Bestworkbootsideas.com site and we (the site owner) may earn a commission from any sales made from recommending products on this site at no extra cost to you.
Best 5 Oilfield Work Boots
---
Timberland Pro Men's Valor Duty 8in Side-Zip Composite Toe Work Boot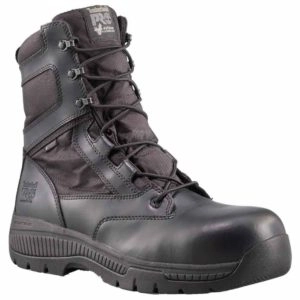 From Timberland Pro, the Valor Duty Work Boot is a black mid-calf shoe packing lots of features, suitable for those seeking a reliable and professional performance.
The upper portion is made of black leather and ballistic nylon measuring at 1200 denier, which means it can take a beating like a champ.
The midsole is molded EVA material, delivering lightweight smooth performance.
It's also lined with a waterproof membrane to keep your feet dry and comfortable.
The convenient side-zip allows you to swiftly put on or take off the boots, eliminating the frustration factor.
The Valor Duty features Timberland Pro non-marking outsole is made of sturdy rubber.
It does an excellent job resisting oil and water, providing maximum traction with anti-slip properties.
Additionally, the Valor work boots carry composite toe caps that boost protection against impacts and punctures.
Pros
Made of 1200 denier ballistic nylon
Waterproof
Lightweight
Side-Zip for convenience
Cons
The zipper can be stronger
110% Price Match Guarantee
365 Day Return policy
FREE Shipping
---
Irish Setter Men's Farmington 6 Inch Toe Steel Work Boots (83624)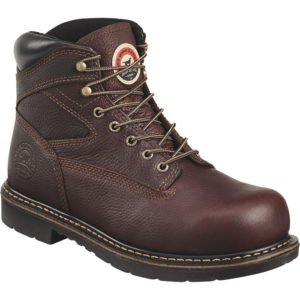 Manufactured by Irish Setter, the Men's Farmington 6in. Work Boots are a terrific choice if you're looking for superior comfort and durability.
The upper part is made of full-grain leather to ensure maximum longevity. It's attached to the outsole using premium welt construction that allows for a sturdy performance.
Speaking of outsoles, the Farmington Work Boot features polyurethane outsoles that are resistant to slipping, oil, chemicals, heat, and abrasion.
They're non-marking as well as ASTM rated for high protection against electrical hazards.
These boots also have steel toe caps to keep your feet safe in the event of falling or sharp objects.
King Toe technology gives you extra toe box space for improved circulation and enough room to add socks.
Moreover, the footbeds are removable polyurethane cushioning that provides long-lasting comfort, with a steel shank for more support and stability.
Pros
King Toe technology
Steel toe cap
Electrical hazard protection
Superior quality
Cons
Long breaking in time
A bit too heavy for some users
---
Georgia Boot Wedge Steel Toe Work Shoe
Designed to serve workers under various harsh conditions, Georgia Boot Work Shoes is an excellent option if you need high levels of resistance.
These boots are made using premium SPR leather which is 3 times stronger than traditional leather and 2.5 times more resistant to abrasions. 
Ideal for the extreme conditions and life on the oilfield.
The wedge outsole of the Georgia Boots is a solid anti-slip rubber that resists oil and chemicals with an integrated steel shank for extra support.
It attaches to the upper via a double-stitch Goodyear welt construction which significantly extends its service time.
The Georgia Boot is fitted with a steel toe cap for reliable impact safety, adhering to the ASTM F2413 regulations.
It features a nail-free build that provides insulation against electric hazards.
The collar and tongue are padded to add comfort and the EVA footbed delivers good cushioning as you stand all day.
Pros
Made with SPR leather
Impressive abrasion-resistance
Goodyear welt construction for extra durability
Has steel toe cap
Cons
Not waterproof
 Slightly dearer than equivalent boots.
---
Irish Setter Men's Ashby 6 Inch Safety Toe Work Boots (83605)
Another fantastic candidate from Irish Setter, the Men's Ashby 6″ Safety Work Boots are superb if you're on the hunt for lightweight shoes to endure heavy-duty stress.
The upper is made of exclusive Trout Brook hand-crafted leather, which is naturally rugged and resistant to water.
It attaches to the outsoles utilizing Goodyear welt construction to guarantee a solid build.
The white outsole is thick rubber EVA which is traction tread to provide you with maximum grip.
It's also resistant to heat, developed to withstand high temperatures up to 475 degrees Fahrenheit.
The outsole is also oil, gas, and chemical resistant, designed to reduce the risk of exposure to electrical hazards.
The Ashby Boots are equipped with aluminum toes for added protection, with a removable polyurethane insole and non-woven nylon lining to give you as much comfort as possible.
Pros
Trout Brook leather
Heat-resistant up to 475 °F
Aluminum toe cap
Very comfortable
Cons
Water-resistance needs some work
Pay 4 interest free monthly payments
90 Day Return Policy
FREE Shipping over $49
---
Gravel Gear Men's Waterproof 6 Inch Steel Toe Work Boots (875520)
Last but not least, the Gravel Gear Men's 6 inch Work Boots are an amazing choice if you want affordable yet dependable footwear to keep you safe without breaking the bank.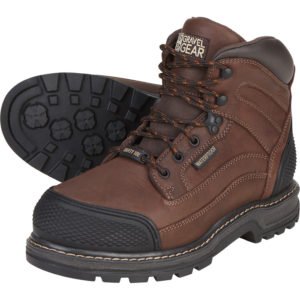 It has nearly all the features you'd want in oilfield work boots, starting from a rugged upper made of soft waterproof full-grain leather which is highly durable but comfortable at the same time.
The insoles are mesh-lined and made of polyurethane to provide breathability and cushioning comfort as you stand for extended periods.
These boots feature a double-density outsole, where the inner layer is made of polyurethane and the outer layer is slip/oil resistant, delivering outstanding traction performance.
The Flexion welt construction further contributes to the overall durability of the shoes.
The Gravel Gear also features a steel toe cap that's ASTM rated for protection against an impact up to 75 pounds, and the toe bumper ensures abrasion-resistant wear.
Pros
Affordable
Waterproof
Mesh lining to minimize moisture
Extra padding for comfort
Cons
 Durability could be improved.
---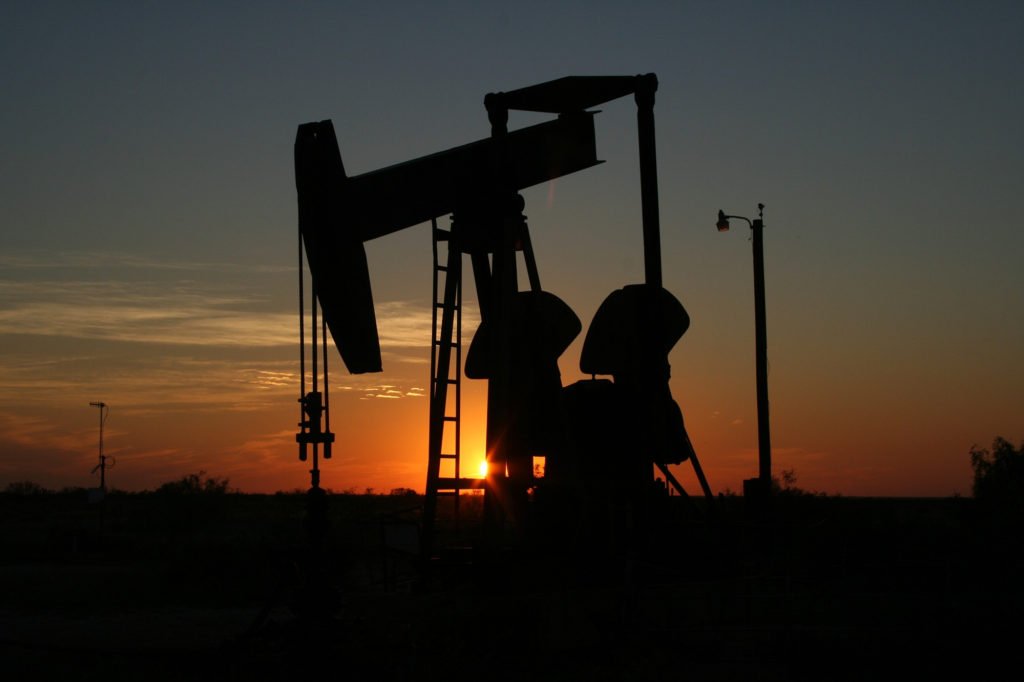 Why Buy Work Boots for the Oilfield?
As an essential part of protective personal equipment (PPE), work boots are obviously designed to keep your safety intact against any sort of occupational hazard that may cross your way while on an oilfield.
This includes physical, electrical, chemical, or heat-related risks that could potentially compromise your well-being.
However, since we're talking about work boots, let's explore the specific events where such protective footwear are highly needed:
Slips, Trips, and Falls
When it comes to working on oilfields, slips, trips, and falls are major culprits behind an alarming number of injuries as well as fatalities.
According to the data presented by the Bureau of Labor Statistics, 247,120 non-fatal incidents caused by falls, slips, and trips were reported in 2014.
Throughout the years 2014, 2015, 2016, and 2017, more than 3300 fatalities were listed under the same reasons.
In Canada, at least 42,000 workers sustain injuries due to falls, as per the statistics offered by the Association of Workers' Compensation Boards of Canada.
Upon investigation, the most common causes of slips were found to be wet or oily floors, surfaces with varying traction, as well as spills and weather conditions. All of which can be significantly avoided just by wearing protective boots.
Fires and Heat
Due to the flammable nature of oil as well as the high temperatures of some oilfield locations, it's quite common for workers to face situations where they have to endure extreme heat to complete certain tasks or to get away from explosions and fires.
So it makes sense for oilfield workers to wear heat-resistant boots to protect their feet and be able to move around easier.
Chemical Exposure
Oilfield workers are required to handle numerous chemical compounds over the course of their jobs.
Unfortunately, most of these chemicals are highly toxic not only when inhaled or ingested, but also upon coming in contact with your skin.
Chemicals such as PAHs (Polyacrylic Hydrocarbons) can cause a wide array of skin conditions.
Wearing tightly secured work boots will most likely protect the skin of your feet from such hazards, keeping you safe against harmful chemicals.
What to Look for in Quality Oilfield Work Boots?
When deciding on a new pair of work boots for oilfield, take into consideration these factors while adhering to OSHA (Occupational Safety and Health Administration) standards:
Slip Resistance
Besides gas-related accidents, slipping and falling are a major cause of injuries for workers on an oil field. This calls for extra care when you're shopping for work boots to make sure they deliver great traction and solid grip.
What part of your shoes is responsible for slipping reduction? The outer soles.
Rubber Soles
Rubber is a widely used material in manufacturing soles. It has a natural tendency of gripping onto various surfaces despite the presence of water or oil, as well as being resistant to most chemicals and abrasion risks.
TPU Soles
TPU (Thermoplastic polyurethane) is a highly flexible material characterized by impressive resistance to stress, abrasions, and lubricants such as oil.
Such soles are a great alternative, especially if you deal with dangerous chemicals.
Vibram Soles
Vibram is an excellent material for oilfield work boots.
It's made of vulcanized rubber, designed specifically to provide maximum grip traction and durability across an extensive range of wet and dry surfaces.
EVA Soles
EVA (Ethylene-vinyl acetate) is also a good option, it's comfortable yet tough and flexible.
However, it's not as sturdy as previous material, which means there's a higher chance that it'll wear down over a shorter period of time.
Safety Toe Cap
Working in an oil field, you're bound to deal with heavy machinery, whether you operate it regularly or on occasions.
An oilfield job also comes with risks of sharp or heavy objects hitting your foot.
This requires additional protection in the form of toe caps, made using one of the ASTM (American Society for Testing and Materials) approved materials: steel, aluminum, or composite.
Steel Toe Cap
Steel is a non-corrosive material offering the highest level of protection. Taking into account how tough steel toe caps are, they're your safest bet if you work mostly around heavy equipment.
That being said, you should note that steel toe caps are the heaviest, which may cause some discomfort.
Aluminum Toe Cap
Aluminum toe caps are a wonderful alternative to steel toe caps if you're looking for substantial puncture resistance at a lighter weight.
An aluminum toe cap is also better suited for workers handling smaller equipment or less hazardous materials.
Composite Toe Cap
Composite toe caps are made of non-ferrous materials such as rubber, carbon fiber, plastic, and Kevlar. They're rather lightweight, offering great protection from high and low temperatures as well as electric hazards since they don't conduct heat or electricity.
Composite toe caps are also the most expensive option out of the three materials.
Boot Durability
One important aspect to work boots for oil fields is how durable they can be.
Such a quality is directly related to the boot construction; how was the shoe built and how much stress can it withstand?
Cement Construction
Work boots with cement construction have the upper portion of the shoe attached to the sole via molten rubber or strong adhesive to ensure a sturdy mount.
This technique allows for the production of affordable, flexible, and lightweight shoes.
However, the catch here comes when the boot is damaged and the sole begins to separate since it's virtually impossible to fix and re-fasten the sole as it originally was.
Welt Construction
On the other hand, welt construction utilizes a rugged piece of rubber or leather which is stitched to the sole and the upper part of the shoe, thus, tightly connecting the two.
Despite being the more expensive method, welt construction yields far more solid and durable boots.
This means they deliver higher endurance for wear and tear, making them the better option for oil field workers.
The fact that welt construction consists of stitches means that repairs can be much easier to carry out. This will add extra life to your work boots.
Comfort and Size
You can choose work boots with the toughest toe caps, highest traction, and most durable construction, however, if they don't provide sufficient comfort, you might as well go barefoot! (This is just an analogy, please don't go barefoot).
As an oilfield worker, you're going to wear your boots for extended periods. You may need to stand all day or do some climbing, all of which can leave your feet suffering from fatigue and sores.
This is why it's critical for you to pick a correct fit. You want a snug fit, not too tight that your feet suffocate, nor too loose that you keep slamming your feet against the shoes.
It's also recommended that you try on the boots in the afternoon or evening (as your feet are at their biggest), to determine a comfortable fit.
Moreover, you need to pay attention to the material of the upper part of the boots. You want it to be somewhat breathable yet still water-resistant.
As for the inside of the boots, extra padding and arch support is always welcome.
Wrap Up
If you work on an oil field, you probably know how vital footwear is as a part of personal protective equipment.
If you're looking for all-round reliable work boots, you should definitely check out the Irish Setter Men's Farmington Work Boots.
However, if you want something a bot more budget-friendly, the Gravel Gear Men's Waterproof Work Boots should be right up your alley!
The best oilfield boots are those that will ensure you can do your job safely and as comfortable as you can.